NVIDIA GeForce RTX 3080 Ti Review: Amped-Up Ampere For Gamers
NVIDIA GeForce RTX 3080 Ti: A GeForce RTX 3090, In RTX 3080 Clothing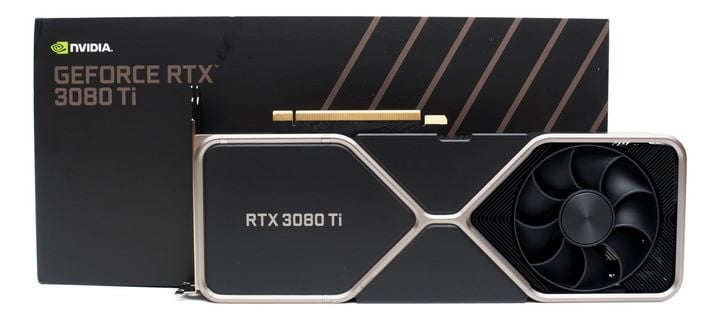 During their Computex 2021 keynote, NVIDIA's Jeff Fisher, GeForce Senior Vice President, and Manuvir Das, Head of Enterprise Computing, unveiled a number of new enterprise and consumer products, targeting multiple market segments. For all of the gamers though, it was Jeff Fisher's official unveiling of the oft-rumored
GeForce RTX 3080 Ti and RTX 3070 Ti
cards that most likely got your juices flowing. The new GeForce RTX 3080 Ti is the spiritual successor to the previous-gen flagship RTX 2080 Ti, while the GeForce RTX 3070 Ti builds upon the popular RTX 3070 with much faster memory and some goosed specifications that should boost performance quite a bit.
We're about a week away from digging into the GeForce RTX 3070 Ti, but the new GeForce RTX 3080 Ti goes on sale tomorrow and we're able to give you the full scoop right here, with cards from NVIDIA and
EVGA
. We've had an NVIDIA GeForce RTX 3080 Ti Founders Edition and EVGA GeForce RTX 3080 Ti XC3 Ultra on hand for a few days now and have put them through their paces, alongside an array of other cards. Since you're probably itching to see which rumors were true and how they perform relative to the competition, let's jump right in and get down to business...
NVIDIA GeForce RTX 3080 Ti

Specifications & Features
Find GeForce RTX 3080 Ti Cards @ Amazon.com
---
NVIDIA is positioning the GeForce RTX 3080 Ti as the true successor to the
GeForce RTX 2080 Ti
. Above is a quick spec comparison between the Ampere-based GeForce RTX 3080 Ti and its Turing-based predecessor. And as you can see, there's really no comparison – the RTX 3080 Ti has a significantly more powerful GPU, with more – and faster – memory. Memory bandwidth, Compute performance, and fill rate are all improved on the RTX 3080 Ti.
It's Sort Of Like A 3090 -- Only Smaller
Before we get too far ahead of ourselves though, we suggest checking out a few previous articles to best understand what we'll be covering here today. Because we've covered NVIDIA's Ampere architecture in-depth previously, we won't be rehashing things again in this article. Perusing our coverage of NVIDIA's
initial GeForce RTX 30 series
announcement and the deeper dive on its
new features and Ampere architecture
would be ideal, because the new GeForce RTX 3080 Ti uses the same exact slice of silicon (the GA102) that powers the current GeForce RTX 3080 and RTX 3090 – it's just configured differently.
The GA102 packs 28 billion transistors in its 628.4mm
2
die and it's manufactured on a custom, Samsung 8nm process (8N). As configured in the GeForce RTX 3080 Ti, the GPU has 10,240 CUDA cores, with 320 Tensor cores, and 80 RT cores. It also has 320 texture units, 112 ROPS, and a wide 384-bit memory interface, which connects to 12GB of GDDR6X memory operating at an effective data rate of 19Gbps (9500MHz). At that memory speed, the GeForce RTX 3080 Ti offers up to 912GB/s of peak memory bandwidth, which is about 30% higher than the top-end RTX 20-series cards and only 24GB/s below the
RTX 3090
.
Versus the current crop of RTX 30-series cards, the GeForce RTX 3080 Ti is essentially a hybrid of the RTX 3080 and 3090. The GeForce RTX 3080 Ti has half the memory (12GB vs. 24GB) of the RTX 3090, but has the same 350W TDP and uses the same 384-bit memory interface, clocked only slightly lower (19Gbs vs. 19.5Gbps). Two SMs are disabled in comparison to the RTX 3090 as well, which results is slightly lower core counts all around (10,240 vs. 10,496). Despite its increased memory capacity and a GPU configuration that's only a couple of notches behind the RTX 3090 though, the GeForce RTX 3080 Ti takes shape in the same (smaller) form factor as the current GeForce RTX 3080.
Like the GeForce RTX 3080, the cooler on the GeForce RTX 3080 Ti Founder Edition features dual axial fans, and a split heatsink design. One end of the heatsink array sits directly atop a vapor chamber that is affixed to the GPU and memory. The fan above that section directs air through the heatsink and immediately funnels it out of the chassis through large vents in the case bracket. The heatsink on the back half of the card, however, which is linked to the front vapor chamber via heat-pipes, allows air from the second fan to pass all the way through the card, where it is rises to the top of the chassis and is eventually exhausted, assuming the system's case has adequate ventilation.
OLED
TVs and allows for 8K resolution over a single cable.
The EVGA GeForce RTX 3080 Ti XC3 Ultra
The EVGA GeForce RTX 3080 Ti XC3 Ultra has the same 12GB of GDDR6X and a similar memory clock to NVIDIA's Founder Edition, but with a slightly higher boost clock (1,665MHz vs. 1,725MHz) and of course, some of EVGA's distinctive flavor.
The EVGA GeForce RTX 3080 Ti XC3 Ultra requires a pair of traditional 8-pin PCI Express power connectors, and EVGA recommend a 750W PSU at minimum. In terms of display outputs, the
GeForce
3080 Ti XC3 Ultra has triple full-sized DisplayPorts (1.4a) and a single HDMI 2.1 output, just like the Founders Edition.
With all of that out of the way, let's get to some numbers...
Related content