GeForce RTX 3070 Ti Review: Supercharged Midrange Gaming
NVIDIA GeForce RTX 3070 Ti: 3DMark, Ungine, and VR Benchmarks
How We Configured Our Test Systems: We tested the graphics cards represented in this article on a MSI X570 Godlike motherboard, equipped with a Ryzen 9 5950X and 16GB of G.SKILL DDR4 RAM clocked at 3,200MHz. The first thing we did when configuring the test system was enter the UEFI and set all values to their "high performance" defaults, then we disabled any integrated peripherals that wouldn't be put to use. The memory's clock was dialed in to its optimal performance settings using its XMP profile and the solid state drive was then formatted and Windows 10 Professional x64 was installed and fully updated. When the Windows installation was complete, we installed all of the drivers, games, applications and benchmark tools necessary to complete our tests. For all of these benchmarks, the Radeon RX 6000 series cards were tested using their "Balanced" performance profile with Resizable BAR / Smart Access Memory enabled.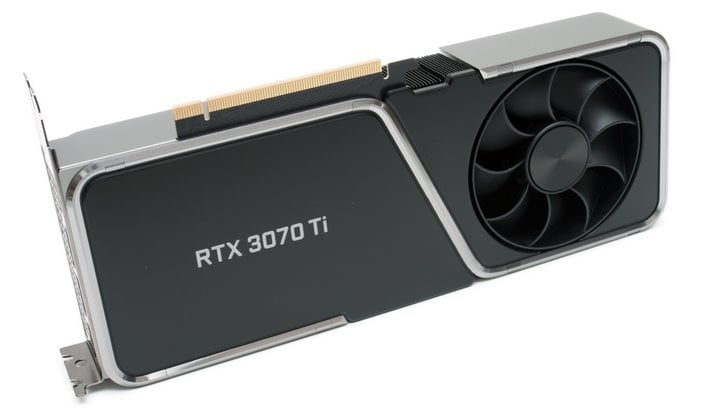 HotHardware's Test System

Ryzen Powered
Hardware Used:


AMD Ryzen 9 5950X


(3.4GHz - 4.9GHz, 16-Core)



MSI X570 Godlike

(AMD X570 Chipset)


16GB G.SKILL DDR4-3200



Samsung SSD 970 EVO




Integrated Audio




Integrated Network



NVIDIA GeForce RTX 3070 Ti FE
NVIDIA GeForce RTX 3080 FE
NVIDIA GeForce RTX 3070 FE
NVIDIA GeForce RTX 2080 Ti FE
AMD Radeon RX 6800
AMD Radeon RX 6800 XT


AMD Radeon RX 6900 XT



Relevant Software:
Windows 10 Pro x64 (v2004)
AMD Radeon Software v21.3.2
NVIDIA GeForce Drivers v466.54



Benchmarks Used:


VRMark
3DMark (Time Spy, Fire Strike, Port Royal, DXR)
Unigine Superposition
Crytek Neon Noir
Metro Exodus
Red Dead Redemption 2
Gears Tactics
F1 2020
FarCry: New Dawn
Unigine Superposition

Pseudo-DirectX / OpenGL Gaming
Superposition is the latest benchmark from Unigine, powered by the UNIGINE 2 Engine. It offers an array of benchmark modes, targeting gaming workloads as well as
VR
, with both DirectX and OpenGL code paths. There is an extreme hardware stability test built-in as well. Unigine Superposition uses the developer's unique SSRTGI (Screen-Space Ray-Traced Global Illumination) dynamic lighting technology, along with high quality textures and models, to produce some stunning visuals. We ran Superposition in two modes using the DirectX code path – 1080p Extreme and VR Future -- to compare the performance of all of the graphics cards featured here.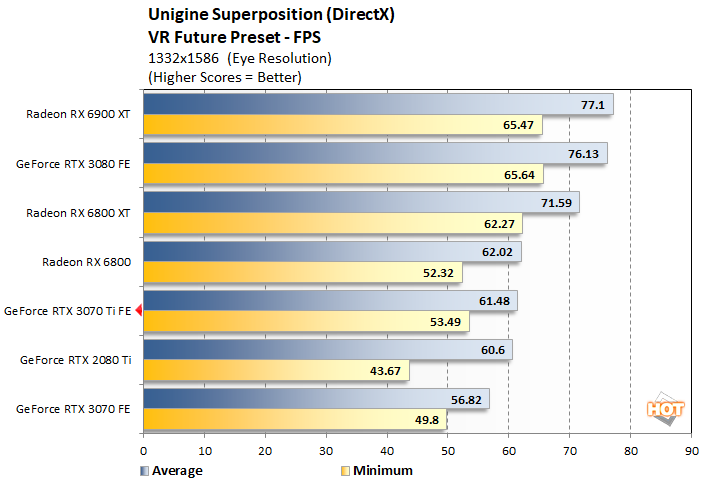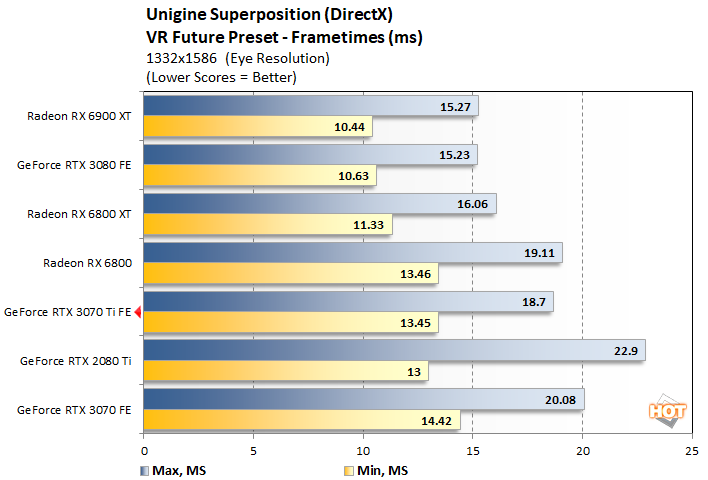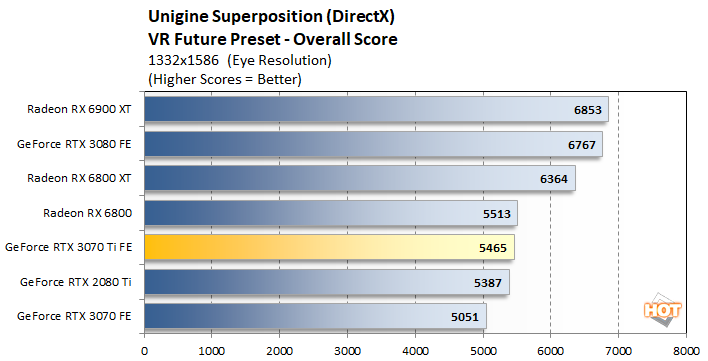 The pecking order changes somewhat in Superposition's VR Future benchmark. Here, the GeForce RTX 3070 Ti still outruns the GeForce RTX 2080 Ti and RTX 3070, but the
Radeon RX 6800
squeaks past the 3070 Ti with a slight edge.
UL VRMark

Testing Rift And Vive Readiness
UL's VRMark is designed to test a PC's readiness for the HTC Vive and Oculus Rift virtual reality headsets. The benchmark does not, however, require that one of the headsets is attached to the PC to run and it uses an in-house graphics engine and content to ensure comparable results between different platforms. We ran the
"Blue Room"
VRMark test at defaults settings here, which is currently the most taxing test offered by the tool.
In our second VR-centric test, the GeForce RTX 3070 Ti slots in just behind the GeForce RTX 2080 Ti and Radeon RX 6800, but beats the original GeForce RTX 3070 by nearly 9%.
UL 3DMark Time Spy

Direct X 12 Performance
3DMark Time Spy is a synthetic DirectX benchmark test from UL. It features a DirectX 12 engine built from the ground up to support bleeding-edge features like asynchronous compute, explicit multi-adapter, and multithreading. Time Spy is designed to test the DX12 performance of the latest graphics cards using a variety of techniques and varied visual sequences. This benchmark was developed with input from AMD, Intel, Microsoft, NVIDIA, and the other members of the UL Benchmark Development Program, to showcase the performance and visual potential of graphics cards and other system resources driven by close-to-the-metal, low-overhead APIs.
3DMark Time Spy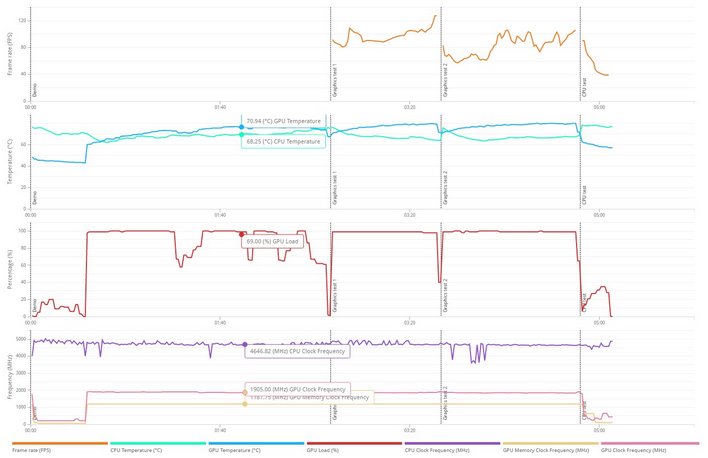 NVIDIA GeForce RTX 3070 Ti Time Spy Details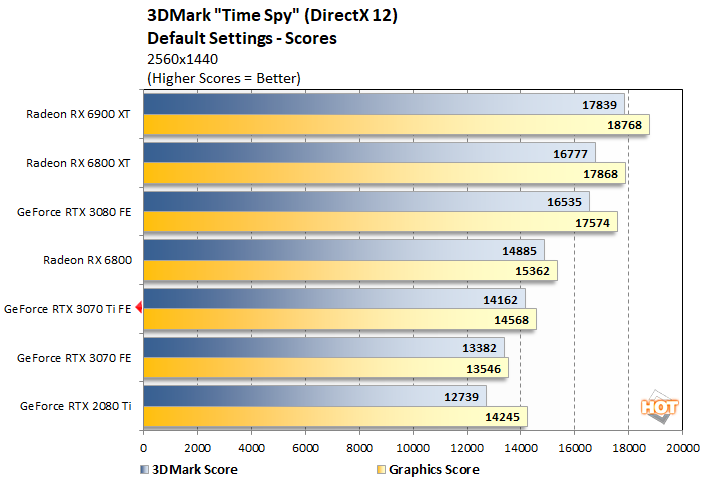 In the
DX12
-based 3DMark Time Spy benchmark, the Radeon RX 6800 edges out the new GeForce RTX 3070 Ti by a couple of percentage points. However, the 3070 Ti once again outperformed the RTX 2080 Ti and, of course, the original 3070 by a decent margin.
UL 3DMark Fire Strike

Synthetic DirectX Gaming
3DMark Fire Strike has multiple benchmark modes: Normal mode runs at 1920x1080, Extreme mode targets 2560x1440, and Ultra mode runs at a 4K resolution. GPU target frame buffer utilization for normal mode is 1GB and the benchmark uses tessellation, ambient occlusion, volume illumination, and a medium-quality depth of field filter. The more taxing Extreme mode targets 1.5GB of frame buffer memory and increases detail levels across the board. Ultra mode is explicitly designed for high-end and CrossFire / SLI systems and cranks up the quality even further. GT 1 focuses on geometry and illumination, with over 100 shadow casting spot lights, 140 non-shadow casting point lights, and 3.9 million vertices calculated for tessellation per frame. GT2 emphasizes particles and GPU simulations.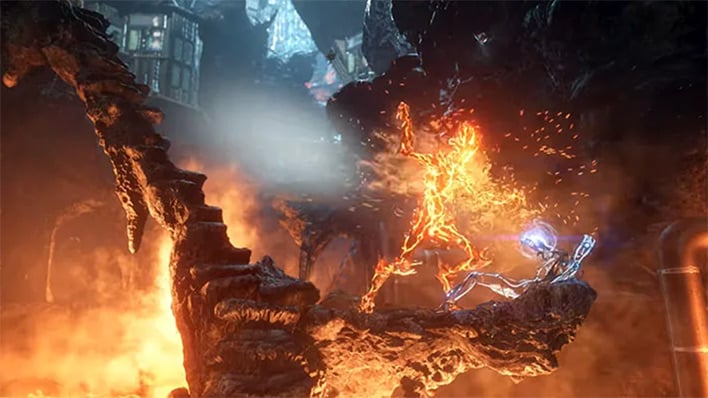 3DMark Fire Strike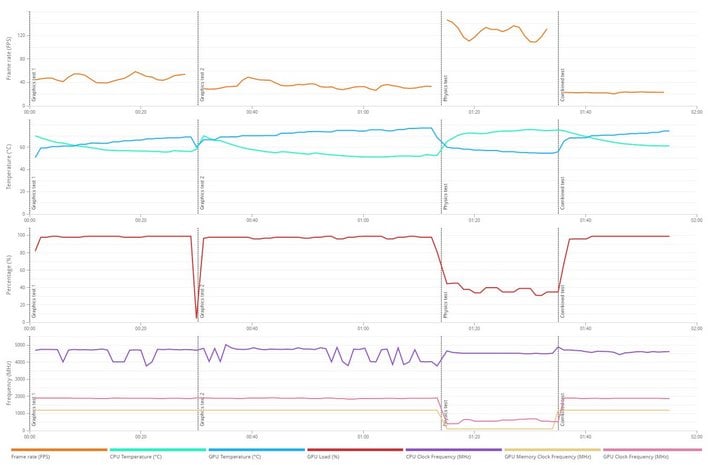 NVIDIA GeForce RTX 3070 Ti Fire Strike Details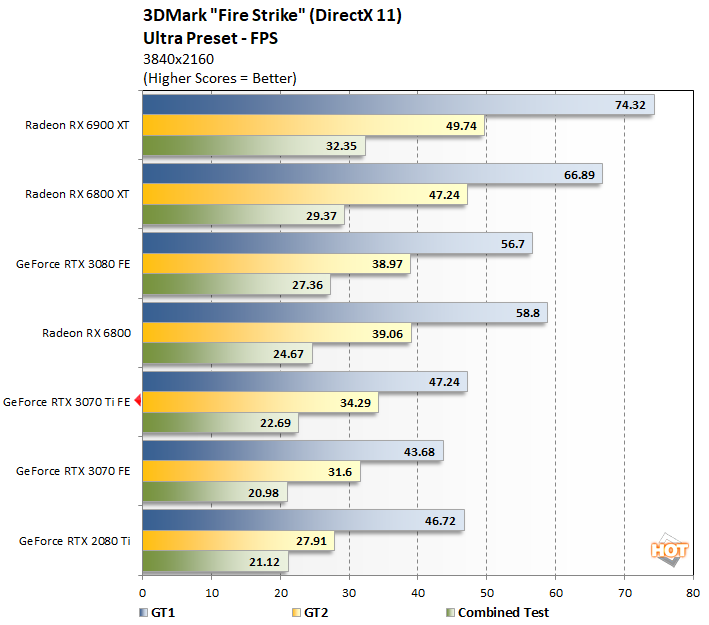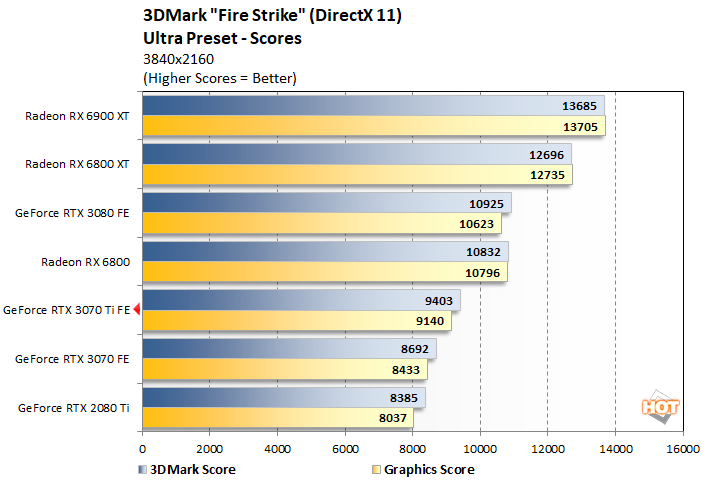 Fire Strike's pecking order looks similar to Time Spy's, but the delta separating the Radeon RX 6800 and GeForce RTX 3070 Ti is measurably larger. The few additional cores, texture units, and higher GPU and memory clocks allow the GeForce RTX 3070 Ti to pull a bit further ahead of the original RTX 3070 here, however, in this more demanding test.


UL 3DMark Port Royal

DXR Ray Tracing Benchmark
Port Royal was released earlier this year as an update to UL's popular 3DMark suite. It is designed to test real-time ray tracing performance of graphics cards that support Microsoft DirectX Raytracing, or DXR. Although DXR is technically compatible with all DX12-class GPUs, the graphics card must have drivers that enable DXR.
The GeForce RTX 3070 Ti performed relatively well in 3DMark's Port Royal benchmark. In this test the GeForce RTX 3070 Ti is once again able to outperform the Radeon RX 6800 and GeForce RTX 2080 Ti and RTX 3070. It comes within striking distance of the Radeon RX 6800 XT as well, but ultimately can't catch the higher-end cards.
We also did some testing with the more focused and demanding DirectX Ray Tracing Feature test, which was recently released as an update to 3DMark...
Ray Tracing
performance, the GeForce RTX 3070 Ti looks particularly strong versus the other upper-mainstream GPUs. Here, the GeForce RTX 3070 Ti outruns every other card we tested, except for the higher-end GeForce RTX 3080. Even the Radeon RX 6900 XT falls victim to the 3070 Ti.
Related content
Comments