Radeon Pro W6800 Review: AMD RDNA 2-Infused Workstation Muscle
AMD Radeon Pro W6800: RDNA 2 Invaded The Pro-Vis GPU Market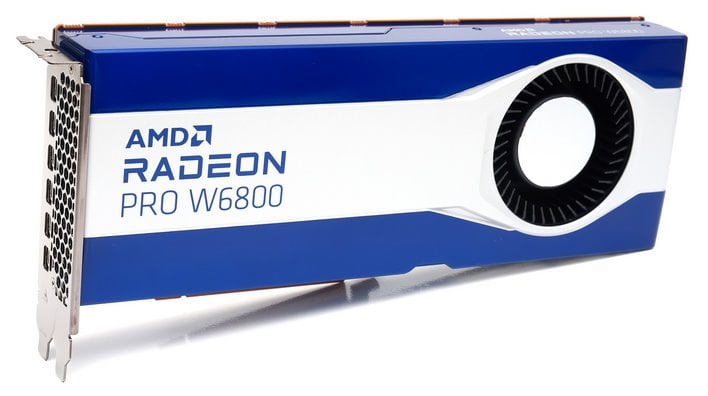 AMD is expanding its line-up of RDNA 2-based GPUs today, with a trio of new Radeon Pro graphics cards targeting the professional workstation market. These new
Radeon Pro
cards leverage the same GPU architecture as their consumer-class Radeon RX-branded counterparts, but Radeon Pros feature completely different designs, go through additional qualification and are certified for a myriad of pro-vis applications.
The new line-up is spearheaded by the Radeon Pro W6800. The Radeon Pro W6800 is packing AMD's current
top-end Navi 21 GPU
and a beefy 32GB of GDDR6 RAM with ECC support. Though the Radeon Pro W6800 is AMD's newest flagship professional GPU, the card's configuration foreshadows even more powerful potential future products. But we're getting ahead of ourselves here. Let's dig into today's launch and see what AMD has in store for its professional workstation customers...
AMD Radeon PRO W6800

Specifications & Features
---
Although we'll be focused on the Radeon Pro W6800 in this article, AMD is actually launching three new professional GPUs today, mobile and desktop versions of the lower-power Radeon Pro W6600 and the new flagship W6800. Before you continue though, we strongly suggest checking out our
Radeon RX 6800 and Radeon RX 6800 XT
launch article. In that piece, we provide additional details regarding the "Big Navi" GPUs and the RDNA2 architecture at the heart of these latest Radeon Pro cards. We discuss AMD's new Infinity Cache technology and the GPU's new cache hierarchy, the new Compute Unit (CU) design and their integrated Ray Accelerators, and Smart Access Memory (SAM), among many other things. If you'd like the additional architectural detail, you'll find it all there – we won't be rehashing it again here.
Navi
23 GPU, which features 28 Compute Units (CUs) with a total of 1,792 cores, 28 Ray Accelerators, 32MB of Infinity Cache, and 8GB of GDDR6 memory, linked to the GPU over a 128-bit interface, for peak memory bandwidth of 224GB/s.
The W6600 GPU is comprised of 11.06 Billion transistors, and like its more powerful cousins, is manufactured using a 7nm process. Peak half-precision FP16 throughput is rated for 20.8 Teraflops (10.4 Teraflops peak FP32) and cards feature 4 display outputs. We didn't get our hands on a Radeon Pro W6600 just yet, but suspect we'll get to check one out in the not too distant future.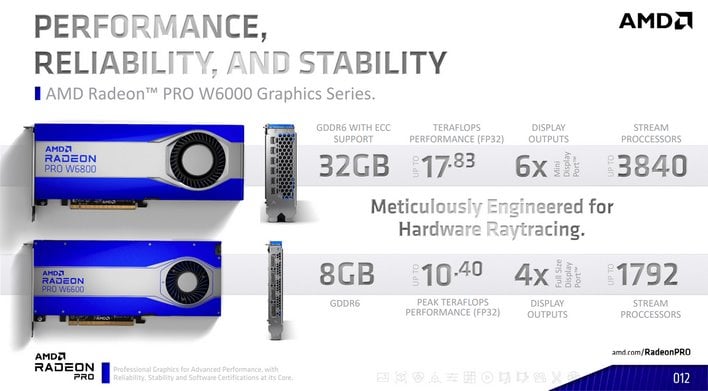 Now for the flagship. The new Radeon Pro W6800 is built around the same Navi 21 RDNA 2-based GPU that powers the consumer-class
Radeon RX 6800 / 6800 XT
, which is also manufactured on TSMC's 7nm process node. The GPU is comprised of roughly 26.8 billion transistors and has a die size of 519mm2. That's a much bigger chip than what powers the older Radeon Pro W5700 (which is 10.3 billion transistors with a 251 square millimeter die), but as you'll see later, this bigger chip offers significantly better performance across a variety of workloads and additional features as well, so those additional transistors were put to good use.
The Navi 21 GPU powering the Radeon Pro W6800 has a somewhat scaled back configuration, however. AMD's current flagship, Navi 21-based GPU, the Radeon RX 6900 XT, features a fully-enabled chip with 80 Compute Units, each with a Ray Accelerator, and a total of 5,120 steam processors. The Navi 21 at the heart of the Radeon Pro W6800 has 60 CUs enabled, for a total of 3,840 stream processors and 60 Ray Accelerators. As its name suggests, the Radeon Pro W6800's GPU configuration is similar to
the Radeon RX 6800
. 35.66 Peak FP16 throughput tops out at 35.66 Teraflops, or 17.83 Teraflops of FP32.
The Radeon Pro W6800's massive 32GB of GDDR6 memory with ECC support – double what's included on consumer cards -- is connected to the GPU over a 256-bit interface with an effective clock rate of 2,300MHz. That equates to peak memory bandwidth of 512GB/s. At its default clocks, the Radeon Pro W6800 offers about 6% - 14% more memory bandwidth that its predecessors, but the integration of 128MB of Infinity Cache in the GPUs makes effective bandwidth in some situation much higher.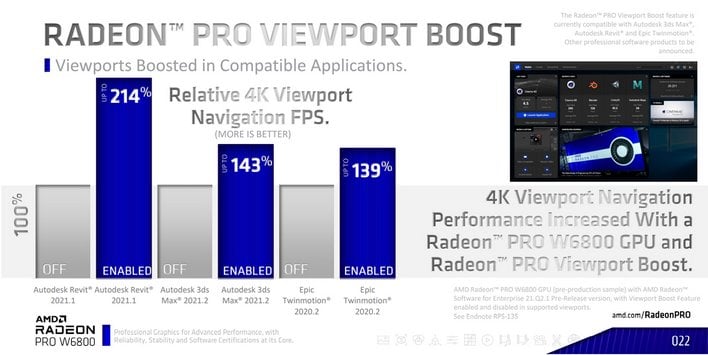 These new Radeon Pro W6800 GPU (and presumably others) also supports a new feature dubbed Radeon Pro Viewport Boost. Viewport Boost increases performance and reduces latency with 4K viewports in compatible applications. Currently Autodesk 3ds Max 2021 and Revit and Epic Twinmotion 2020 support Viewport Boost, but AMD claims support for additional professional applications is coming.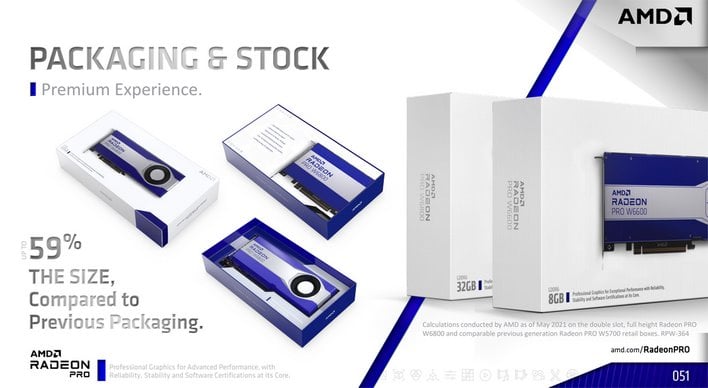 AMD also points out that it has revamped its packaging with this latest generation of Radeon Pro cards. The packaging has a more premium look and it's been reduced in size by up to 59% to limit its environmental impact.
Meet The AMD Radeon Pro W6800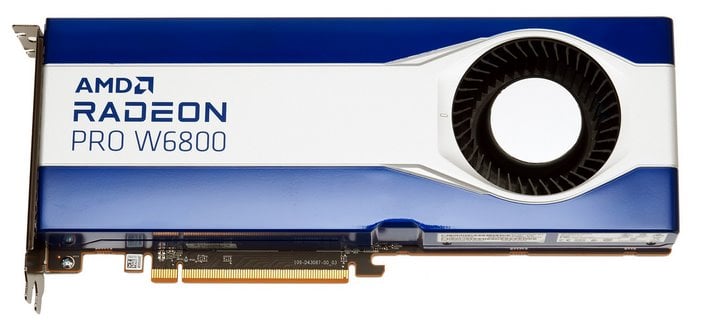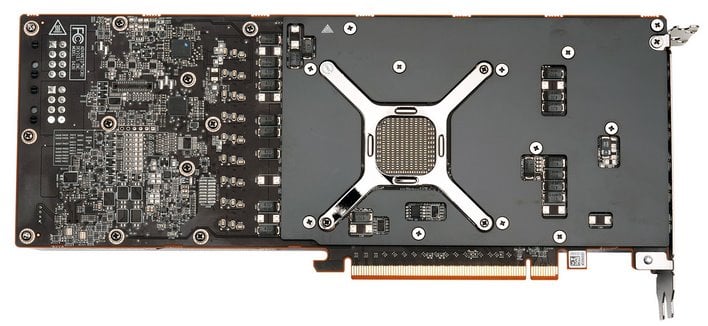 In terms of its industrial design, the Radeon Pro W6800 looks much like the previous-gen Radeon Pro W5700 and
Radeon Pro WX 8200
, with similar coloring and a boxy, blower-style cooler. There is a hefty array of heatsink fins under the attractive blue shroud, that sits directly atop the GPU and RAM, with the barrel-type fan offset towards the back of the card, pumping air out of the system, through vents in the card's mounting bracket.


The Radeon Pro W6800 features 8-pin and 6-pin PCIe power feeds, which provide copious amounts of power to the card. Between the PCIe slot and the supplemental feeds, 300W will be available to the Radeon Pro W6800 (150 + 75 + 75), which is 500W higher than its max board power rating.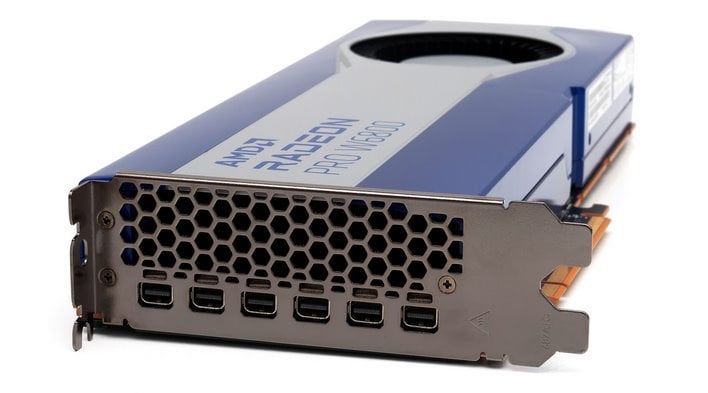 The display outputs on the Radeon Pro W6800 consist of 5, mini-DisplayPort 1.4, all of which can be used at any given time for multi-monitor configurations. The remainder of the case bracket is essentially one large vent, for exhausting warm air.
Now, what do you say we get the
Radeon
Pro W6800 plugged into the test rig and see how she performs...
Related content