LG G8X ThinQ Review: Dual OLED Screens, Affordable Android
LG G8X ThinQ: Battery Life And The Verdict
LG G8X ThinQ Battery Life Testing
UL's
PCMark for Android
Work 2.0 Battery test takes workloads from the benchmark itself (image and video editing, email and web browsing) and runs them in a loop until the battery level drops below 20 percent. We calibrate display brightness on all devices to 200 Lux and turn off adaptive brightness in the settings to lock in that brightness. In these tests, Bluetooth connectivity and Location services are disabled, though Wi-Fi and mobile data is left enabled as part of a traditional use case workload.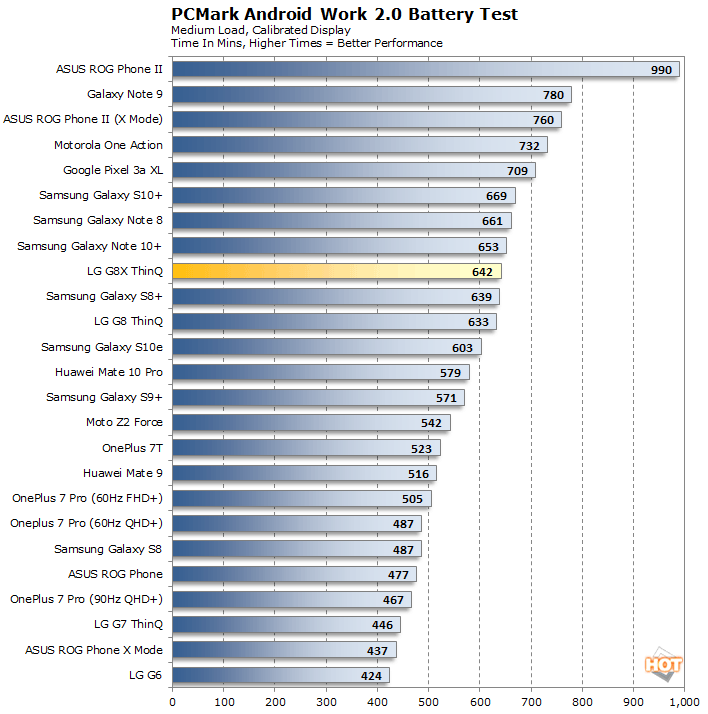 The LG G8X ThinQ offers respectable battery life and was able to edge out the LG G8, but not by as large a margin as we were expecting. The LG G8X ThinQ's batter is a much higher capacity (4,000mAh vs 3,500mAh), but it only outlasted the G8 by a small margin. That said, battery life is still very good and right up there with devices like the Note 10+. In typical, day-to-day use, the LG G8X ThinQ had no trouble maintaining a charge through an entire day.
We should note, however, that we were unable to get PCMark's battery test to complete with the Dual Screen accessory attached to the phone and the second screen will significantly affect battery life. In real-world use, we were still able to use the
LG
G8X ThinQ for more than a day with the Dual Screen attached, but battery life was shortened by about 30%, give or take depending on how heavily the device is being used.
LG G8X ThinQ -- The Verdict
If you go back and look at its specifications and performance in the benchmarks, the LG G8X ThinQ doesn't particularly stand-out from the crowd. Performance is on par with LG's G8 and in the same ballpark as other Snapdragon 855-based devices, the screen has a lower resolution, battery life is decent, and the array of cameras on the LG G8X ThinQ won't wow anybody by just looking at the numbers. But the LG G8X ThinQ is one of those products that's more than simply the sum of its specifications.
We have been using the LG G8X ThinQ for quite a while now, and have found it to be a highly-reliable, solid, well mannered smartphone, which is much more than we can say for some other devices we've lived with recently. Not only does the LG G8X ThinQ feel solid and well-built, it behaves in the same manner. The user experience has been top notch from start to finish.
Despite its somewhat lower resolution than other similarly-sized devices, we also really liked the LG G8X ThinQ's displays. And we can say the same about the cameras. In light of the super-zooms and ultra-high megapixel ratings of some newer phones that have been releases since the G8X ThinQ arrived, its camera array may seem lackluster, but it is not -- the output from the camera looked very good to our eyes, with excellent sharpness and white-balance. Its standard and wide angle shooters should cover the vast majority of scenarios, and for typical social media sharing there is very little to complain about.
The
LG
G8X ThinQ's Dual Screen accessory also opens up a variety of new use cases. In practice, there are some caveats in terms of usability, since Android isn't particularly well optimized for this type of setup, but for gaming (when compatible), shooting photos from different angles, or simply keeping two apps open side-by-side, it does the job. We also like the addition of the small notification screen on the front. The large hinge running down the center of the device isn't particular attractive, and the Dual Screen accessory adds a significant amount of bulk, while also sapping battery life though, so this device is probably not going to be for everyone.
With everything the LG G8X ThinQ has to offer, it can currently be had for
roughly $710, unlocked
. In light of today's high-end Android phone market, where $1000+ smartphones are rapidly becoming the norm, the LG G8X ThinQ with its Dual Screen accessory is a relative bargain. If you're in the market for a quality, reliable phone, and don't need to be on the absolute bleeding-edge, the LG G8X ThinQ is worth checking out.





Good Value
Versatile Features
Solid Build Quality And Reliable
Dual-Screen Accessory

Middling Performance
Dual-Screen Not IP68 Rated
Related content
Comments