Hands-On Lenovo's Wild Yoga Book 9i Dual Screen Laptop
This
CES
, we have seen some wild products and pitches from various companies, such as
haptic chairs
and shark-shaped PC cases. Lenovo has also made some rather exciting product announcements and updates for the
Legion to ThinkPad lines
, and everything in between. This includes the wild
Yoga Book 9i
, a dual screen 'foldable' laptop we managed to get our hands on out in Las Vegas.
'Foldable' devices are starting to hit the market in earnest. Some of them leverage single, foldable displays. However, there are currently caveats to using foldable display tech, such as concerns about the longevity of the display itself, due to stresses along the crease or hinge, among other things. There are obviously other ways to design a foldable though, as evidences by the Lenovo Yoga Book 9i. The 9i consists of two 13.3" 2.8K OLED displays (60Hz, 400 nits), boasting 100% DCI-P3 color accuracy, with a 360-degree rotating hinge equipped with Bowers and Wilkins soundbar.
To better leverage the dual-screen design, Lenovo has worked with
Microsoft
to develop a user experience that makes exploiting the benefits of two stacked screens a breeze. You can see an example of this in our video coverage of the 9i above. As you'll see, using five fingers on the bottom display enables waterfall mode, so the content on the top screen flows to the bottom. However, you can also use the 9i more traditionally with a keyboard that magnetically attaches to the bottom screen and enables a smaller display above the keyboard or a virtual trackpad below with haptic feedback from the buttons. In this latter mode, you can also use a stylus to doodle, take notes, or jot things down, which is super convenient.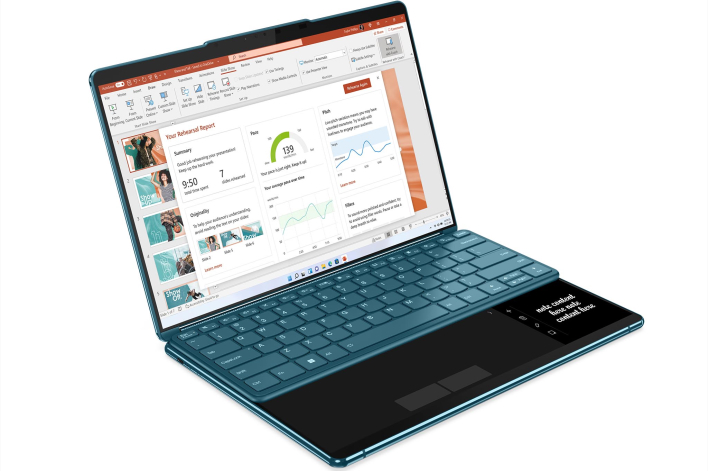 If you do not want to use the keyboard, you can pack it away neatly into the kickstand for convenient carrying and touch the bottom screen with eight fingers to enable a virtual keyboard. Whichever way you prefer to leverage the input capabilities of the Lenovo Yoga Book 9i, the intelligent design of the device can accommodate.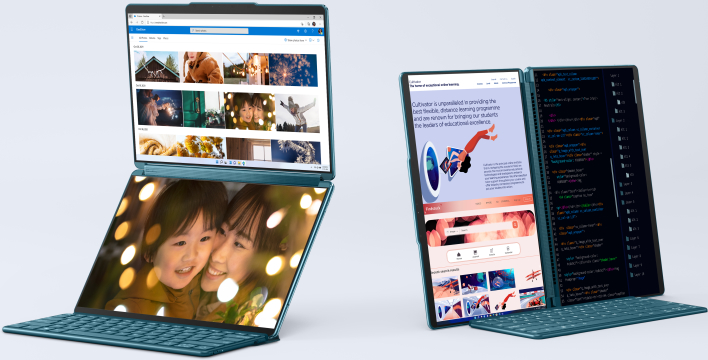 Due to the dual displays, the Yoga Book 9i has a somewhat larger form factor than other 13.3" class machines, but it remains compact and easily portable. Under the hood is Intel's latest 13th Gen Core platform, with Intel Xe Graphics paired to 16GB of LPDDR5X RAM and up to 1TB of PCIe Gen 4 SSD storage. The device is powered by an 80Whr battery, all of which comes in a package that weighs a total of 3.04lbs.
The Lenovo Yoga Book 9i may not be for everyone, but it should be an impressively capable device for several use cases. The dual screens would be useful across the board, from content creation to photo editing and even article writing. Further, the hardware in this device should be powerful enough for any productivity task.
If you're interested in the the Lenovo Yoga Book 9i, it should be available in April 2023 starting at around $2,000.