Lenovo ThinkPad X1 Carbon Gen 9 Review: Ultralight Greatness
ThinkPad X1 Carbon Gen 9 Battery Life, Teardown, Thermals And Review Conclusion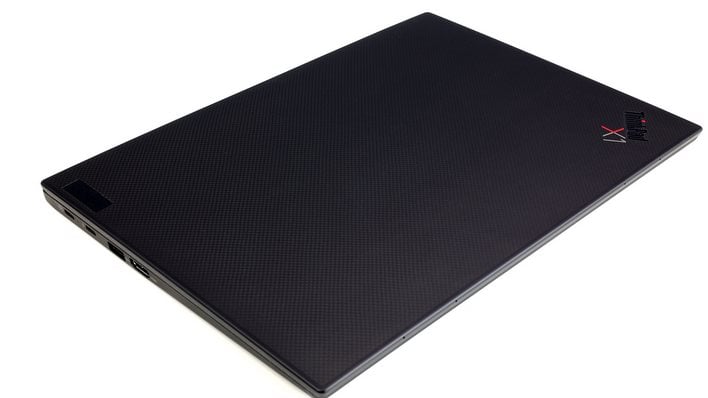 The new ThinkPad X1 Carbon has 5 simple Philips Head screws on its bottom panel that, once backed out, allow easy access to the machine's internals, at least on the bottom side of the motherboard. And though you do get access to a few key components, not all is user serviceable.
ThinkPad X1 Carbon Gen 9 Teardown, Thermals And Acoustic Performance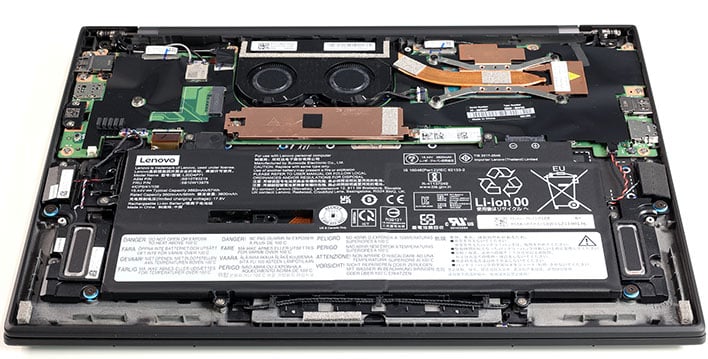 Once inside this wafer-thin beastie, you can see the bottom-firing woofers that we mentioned earlier, along with a large area for a thin, but capacious, 57 Wh battery. Here you can also see a copper heat spreader for the machine's primary M.2
SSD
, though there is a spare M.2 socket with a
short M.2 2242
style port available as well (top left corner). This does give users the option of dropping in another SSD for additional storage, which is a nice touch. Our hunch is that Lenovo designed the machine this way to make storage configurations as flexible as possible in their production flow, but it also serves the consumer well.
Unfortunately, as is common these days, the ThinkPad X1 Carbon Gen 9's DDR4x RAM is soldered to the motherboard and not visible here, nor are there any SODIMM sockets, so choose that memory configuration wisely boys and girls.
The other notable observation here is the X1 Carbon's single heat pipe and fan sink design, which is strapped with a pair of blowers, that pull cool air in through the bottom of the machine and exhaust it immediately through the back edge of the keyboard, just under the display. Here's how that cooling system performs under load...
ThinkPad X1 Carbon
. Not only is it well-behaved with completely tame acoustic output at around 44db (ambient room noise floors are typically around mid 30s or so) but it also stays cool under load. The warmest part of the machine is just under the display where the back edge cooling vent is located. This area is completely out of contact with the user with normal typing hand position, but also at 111 degrees F, thermals are well within skin contact thresholds. Finally, what was most impressive perhaps is that Lenovo's thermal solution with the new ThinkPad X1 Carbon only bled off about 5 percent of its full performance, when plugged in and under continuous load of a 10 minute Cinebench R23 stress test loop. Well done.
ThinkPad X1 Carbon Gen 9 Battery Life Test
Our custom video playback battery test times how long each laptop can play back video at the display's native resolution. Windows 10's Focus Assist was enabled to block all notifications and the screen was calibrated to as close to 115 lux as possible according to
our light meter
. On the Windows Power slider, we selected the position labeled "Better Battery Life" and we stuck to the default power profile Lenovo configured on the system.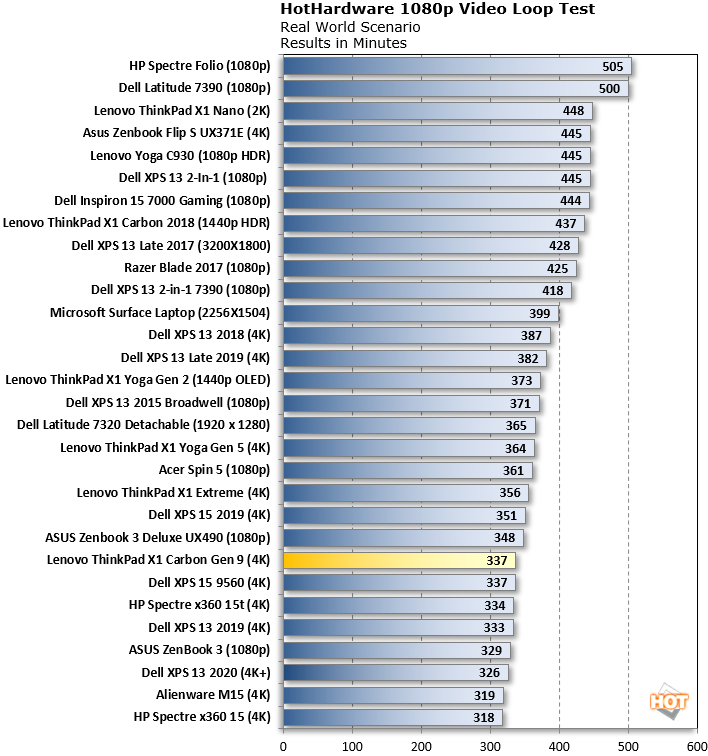 We should probably label this chart "All The 4K Displays Go Down Here." Though Lenovo claims greater than 9 hours of battery life (depending on workload) on its FHD+ display option with the new ThinkPad X1 Carbon, our UHD+ 4K display-equipped model managed only a little over 5.5 hours of uptime during always-on HD video playback. Undoubtedly, the 1920X1200-equipped models of this laptop will perform much better in battery life tests, but this is what we had in for testing at the time. Obviously, an ultra-high resolution display like this simply has a lot more pixels to light up, so if you're looking for battery life that hangs up there on high with the 1080p-strapped machines, then by all means, go with Lenovo's FHD+ display option.
ThinkPad X1 Carbon Gen 9 Review Take-Aways And Conclusion
Lenovo's new 9th generation ThinkPad X1 Carbon is an interesting machine to be sure. On one hand, it offered some of the best numbers we've seen from this new breed of ultralight
Tiger Lake
11th Gen Intel Core-powered laptops, with chart-topping benchmark results virtually across the board. It also exhibited well-behaved thermals and acoustics, with what is obviously a well-design cooling solution on-board for sustained performance when plugged into the wall, and with relatively low fan noise.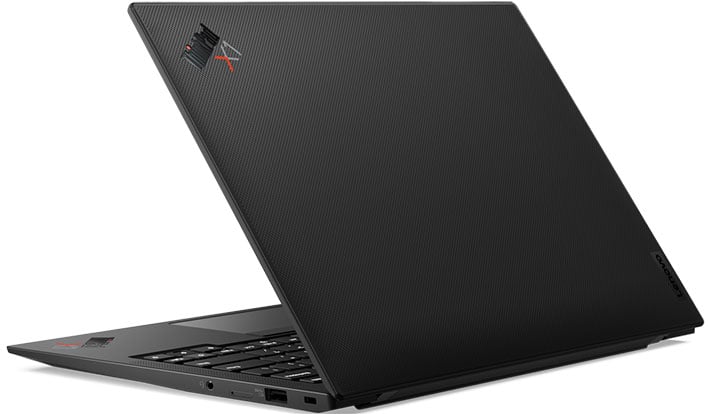 That said, untethered and on battery power, the machine does drop a bit of performance off in exchange for battery life, which makes sense considering the target user demographic for this laptop. When you need to crunch more serious content creation work, you may want the extra juice that the X1 Carbon's AC adapter provides for its Intel 11th Gen Core series processor's power envelope. These power profiles are a design choice Lenovo made that we think is reasonable and even on battery, the machine should handle any typical task you'd throw at this class of notebook with ease.
Design-wise, the 9th coming of the ThinkPad X1 Carbon is easily our favorite yet. The system's new 16:10 format UHD+ (3840X2400) HDR display is simply gorgeous, though you do sacrifice battery life in exchange for lighting up all those crispy pixels. Go for the FHD+ (1920X1200) display, if battery life is more important to you, for undoubtedly better longevity. In addition, with the machine's optional, fantastically well-done human presence detect feature enabled, you'll conserve even more power, as it drops to standby almost instantly when left unattended but wakes up in an instant as well, when your gaze locks back on.
The other aspects of the X1 Carbon Gen 9 that have returned, like its sleek, matte black finish with carbon fiber weave, continue to impress us, every time we unbox one of these machines. And that ThinkPad keyboard on a 14-inch form factor, in a word is just
perfect
, though whether or not you'd prefer a slightly smaller 13 inch-class or larger 15-inch frame, is personal preference of course.
The only real drawbacks here are the
ThinkPad X1 Carbon Gen 9's price point
and that still curiously-missing MicroSD card slot. Starting at $1400 and listing for around $1900 and change as tested here, this new ThinkPad is a bit of a tall order. However, if you're in the market for one of the best all-around ultralight laptops out there currently, Lenovo's ThinkPad X1 Carbon Gen 9 should definitely be in the running, and we consider it an Editor's Choice.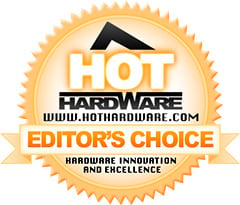 Top-end performance in its class
Beautiful, premium understated design
Gorgeous 16:10 UHD+ Display
Good thermals and acoustics
Freakishly-good human presence detect
Fantastic ThinkPad keyboard and trackpad

Pricey
Middling battery life with UHD+ display
No MicrSD card slot
Related content
Comments