Intel Tiger Lake And Xe Graphics Benchmarks: Laptops Will Roar
Intel Tiger Lake Gaming Benchmarks, Power, Thermals, Acoustics And Performance Summary
In the following benchmarks, we'll look at Intel Tiger Lake performance versus the field in a number of synthetic gaming benchmarks, as well as popular retail game titles. Here we'll be looking at the performance of Tiger Lake's integrated Iris
Xe
Gen12 graphics engine.
3DMark Benchmarks
3D Performance
3DMark has several different graphics tests which focus on different types of systems. We start with Time Spy, which is 3DMark's headline benchmark. This test presents a pretty significant challenge for the system's CPU and GPU employing Microsoft's DirectX 12's API for fantastic visuals. 3DMark Night Raid on the other hand, is the lightweight 3DMark DirectX 12 benchmark for casual gaming on thin and light mobile platforms. It's a perfect candidate for these low-power mobile processors...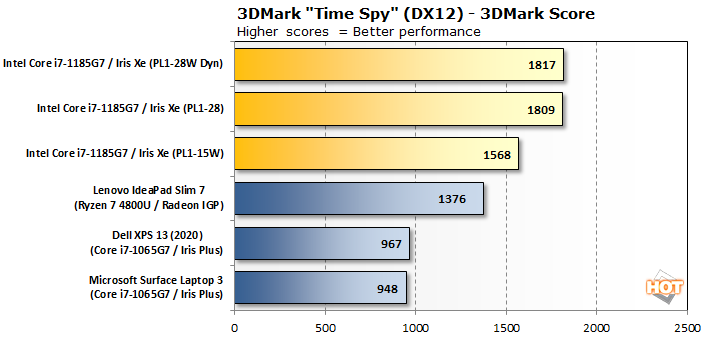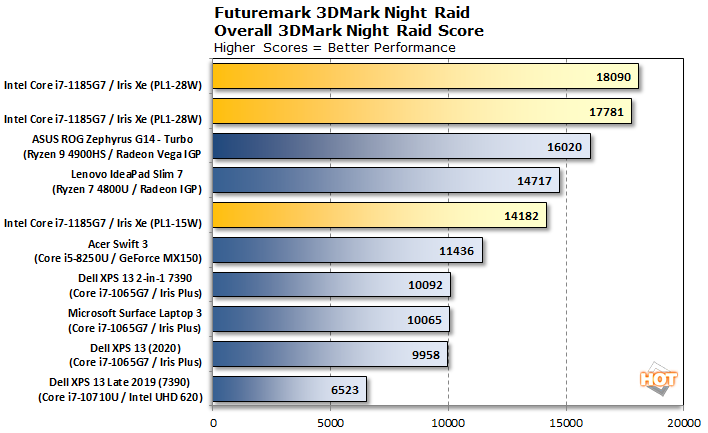 Though both tests are
DX12
-based, Time Spy is a heavier duty graphics workload. Here Tiger Lake once again dominates the field, no matter what power envelope its configured for. With Night Raid we see similar results, though at its 15 Watt setting the Core i7-1185G7 is more in-line with Radeon IGP performance.
Let's look at some real-world game titles...
Middle Earth: Shadow of War
Gaming Performance
Middle Earth: Shadow of War is a fun and and beautiful game title set in Tolkien's Lord of the Rings universe. To test the game's performance relative to other systems, we set the resolution to 1920x1080 and turned the visuals up to the High, Medium and Low presets. The frame rates here are the average reported by the game's built-in benchmark utility.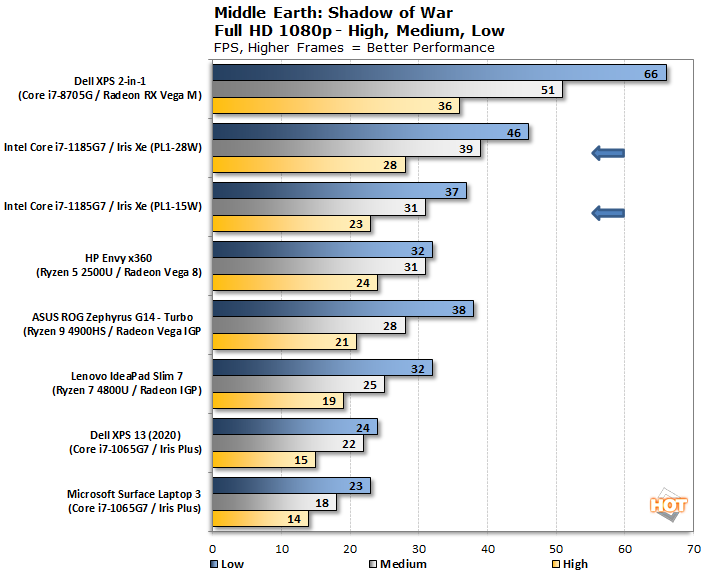 Here we're not showing Intel's PL1-28 Watt Dynamic Tuning setting (which is supposed to let power scale even a little higher) because, like in our Time Spy test, it wasn't showing much if any performance gain. Regardless, what we see here is that Tiger Lake once again dominates the integrated GPUs of the other machines, even the high-end AMD Ryzen 9 4900HS-powered ASUS ROG Zephyrus G14 (on its IGP). However, Tiger Lake's Iris
Xe Graphics
with 96EUs are no match for the beefier multi-chip module discrete AMD Vega graphics in the now discontinued, co-developed intel Core i7-8705G, but with respect to three pound class machines like the Dell XPS 13 and Lenovo IdeaPad Slim 7, its another clear victory for Tiger Lake. In fact, Tiger Lake Iris Xe Graphics indeed offers about 2X the performance of Intel Iris Plus Gen11 Graphics in Ice Lake.
Gears Tactics

DirectX Tactical Shooter
Gears Tactics is a turn-based tactical game spun-off of the popular Gears of War franchise. Technically, Gears Tactics is a prequel to the first game, but it was just recently released. Like
Gears 5
, Gears Tactics features a wide array of graphics options that can be tweaked and tuned to optimize performance on a given system. We tested with the game's built in benchmark utility and High, Medium and Low image quality presets.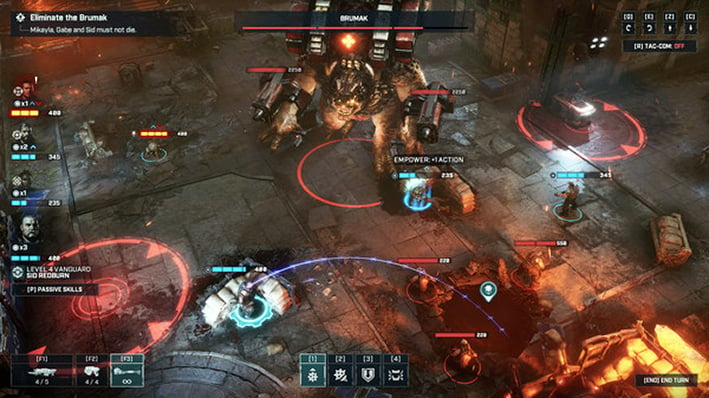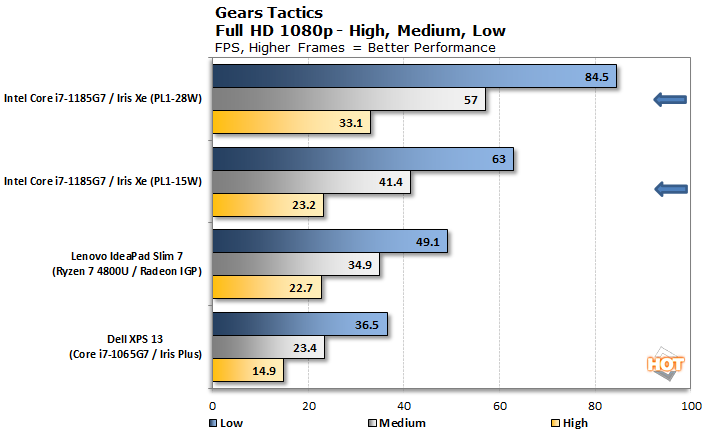 Gears Tactics is a newer game title so we have fewer results to share but the performance picture looks quite similar. Tiger Lake dominates again. Although, at its 15 Watt settings and at the High image quality preset, the field is tightly grouped, likely because its more limited to frame buffer memory bandwidth. Scale up TGL's power envelope, and by the way a Ryzen 7 4800U also has the ability to scale towards 30 Watts, and its no contest with the Core i7-1185G7's Iris Xe graphics being the only integrated processor able to maintain playable frame rates. Further, in this turn-based game title especially, north of 30 fps is still playable. Finally, at its 28 Watt setting, Tiger Lake puts up over twice the frame rate of Ice Lake.
A Note On Tiger Lake Thermals, Acoustics And Power Draw

At this point, you're probably wondering what Tiger Lake's battery life, power and acoustic signature look and sound like, so we'll share some measured data, as as well as anecdotal insight for you. Unfortunately, we can't give you firm battery life metrics here because the Tiger Lake reference design laptop we tested is not a retail product and not something you can actually buy in its current state. In other words, battery, power and performance tuning is still going on at the OEMs, all of which can have a dramatic affect on battery life.

However, we'll offer that the cooling fans in this system, when spun up under heavy load, did not emit a noise level we felt was annoying. We actually measured about 47 - 48db peaks during benchmark runs even while gaming, which was in-line with what we experienced with mainstream machines like Lenovo's IdeaPad Slim or the Dell XPS 13. Examining CPU core temps under load showed spikes similar to that of our Ryzen 7 4800U system north of 90º C, but for only short bursts. Eventually, even at Tiger Lake's PL1-28 Dynamic settings, core temps leveled-off in the mid 60º C range when the fans ramped up to bring temps down.


Intel Core i7-1185G7 Performance Summary: Tiger Lake In The Early Innings Is Strong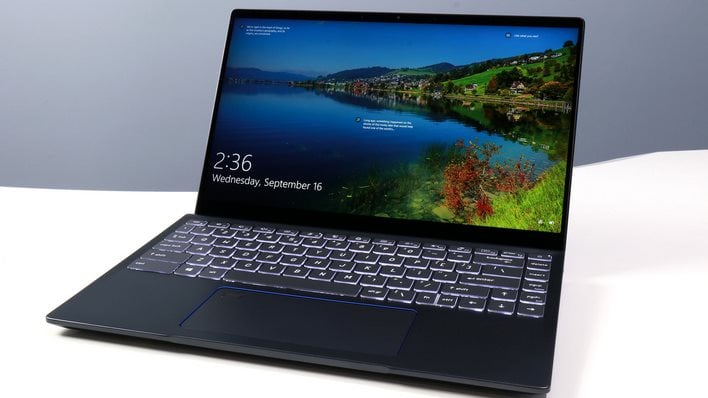 We've spent the better part of two weeks testing Intel's new
Tiger Lake
Core i7-1185G7 processor, housed in its pre-production MSI skins here, and we have to say we're thoroughly impressed. Intel made bold claims about Tiger Lake in terms of its performance gains over the previous gen Ice Lake architecture, as well as how it compares to AMD's Ryzen 4000 Series processors. Today we were able to show you that Intel indeed
should
be able to make good on those claims. We only use the word "should" here because, again, our testing was done on a pre-production laptop that you can't buy in its current state. That doesn't, however, mean we're not confident in what you should expect from Tiger Lake-based retail products. Rather, we simply just need to get said retail product in here for hands-on testing, before we can pass definitive judgement on to you. And of course we need to look at actual battery life results as well, again with a retail-ready product.
Regardless, in terms of raw performance, from its 15 Watt to 28 Watt power profiles, Tiger Lake delivers in spades, offering huge gains in both single and multithread workloads, as well as easily the fastest integrated laptop graphics solution currently, bar none. And just think what
an 8-core Tiger Lake variant
might do...
Perhaps that's a lot of words to simply say, we
really
like what we've seen so far, and are excited for what Intel Tiger Lake-based retail OEM laptops will bring here in the holiday shopping season that's right around the corner. Personally, I say give me a
Dell XPS 13
or Lenovo
ThinkPad X1 Carbon
with Tiger Lake on board and I'd be one happy geek, complete with Thunderbolt 4 and USB 4 connectivity to future-proof things with glorious bandwidth down the road.
For now, we'll just have to be patient and await the arrival of retail Tiger Lake laptops. Bring it Intel, TGL is looking GOOD.
Related content
Comments