HP ZBook Firefly 14 G8 Review: A Premium Mobile Workstation
HP ZBook Firefly 14 G8: Teardown, Thermals, and Conclusion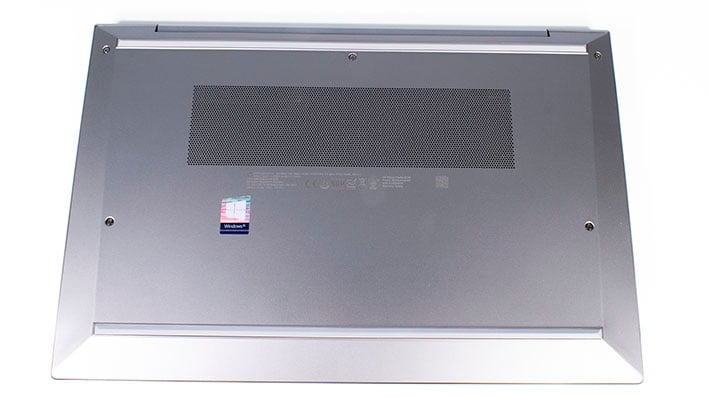 The bottom of the HP ZBook Firefly 14 G8 is riddled with ventilation holes in the center of the removable panel. The fan inside the notebook draws cool air in through the bottom and pushes it out through the rear vent built into the hinge. A pair of long bar-shaped feet prop the Firefly up off a desk or table, providing ample room for that air to come into the system to keep the components cool.
Getting into the Firefly is just a matter of loosening five captive Phillips head screws and prying gently to pop the back off. Unlike the larger
ZBook Fury 15 G7
, the Firefly doesn't have an easy slide-off panel or a lock to keep the chassis from coming apart, making this smaller notebook much more similar to the other high-end ultraportables we get in our offices.
Once we're in, we can see how the Firefly keeps cool. A pair of heat pipes cover both the Intel Core CPU and the NVIDIA T500 GPU and pull heat to a fin array on the rear, where a single blower-style fan pushes heat out the back of the system. Both the CPU and GPU have relatively light thermal requirements, so intricate cooling setups like we find on most gaming notebooks would be overkill here. We'll test how this hunk of metal and fan handle the load shortly.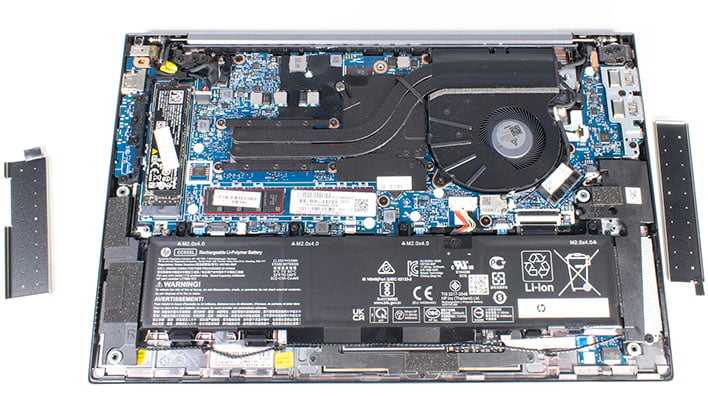 The RAM and SSD are both covered by removable shields that are held on by a series of small clips. There's no adhesive, thankfully, but there's no thermal interface material, either. These small metal covers may just be for shielding, as they seem like they'd be ineffective as heat spreaders. The SSD is a standard M.2 2280 NVMe PCI Express x4 drive, making an upgrade easy. On the other hand, the 32 GB of DDR4-3200 RAM is soldered to the motherboard, so buyers should get all they think they'll need at the time of purchase.
Below the motherboard we find the 50 Wh battery, flanked by the Bang & Olufsen speakers on either side. Curiously, it seems there's plenty of room around the battery that it could have been a bit larger. Its longevity was a little off the pace thanks to the system's discrete graphics, and even an extra 10 Wh of juice would have been appreciated. However, the capacity is pretty standard fare for small notebooks. Fortunately it does seem that the battery is user replaceable. Just a handful of screws hold it in place.
HP ZBook Firefly Thermal Performance
To load down the CPU and GPU in the HP ZBook Firefly 14 G8, we fired up the Gears Tactics benchmark on repeat. This gave the system as good of thermal workout as it could conceivably see without running some sort of power virus like Furmark or Prime95. Once the system was good and warm, we used our trusty laser thermometer to find the hot spots and our sound meter to measure noise.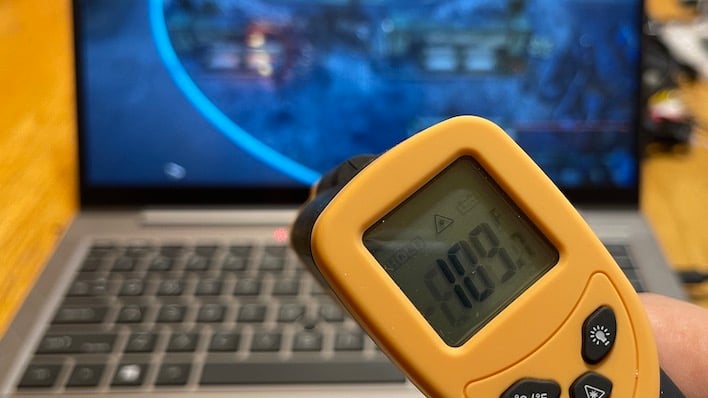 Temperatures were relatively mild. The hottest spot we could find was right above the fin array where hot air exhausts from the system, indicated by the red dot in the photo above. Even in the hottest location on the whole notebook, we only measured 109-110 degrees Fahrenheit, which is warm but not bad at all. The keyboard and trackpad never got too warm to handle, or even uncomfortable for longer periods of time. The
HP
ZBook Firefly's single fan and dual heat pipe cooler do their job.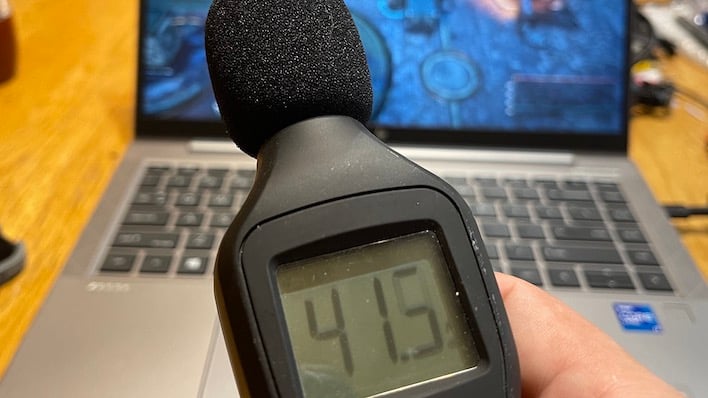 Noise was also never an issue for the Firefly. Holding our sound meter about where a user's head would be resulted in measuring just about 41 to 42 dBA of noise. That's pretty quiet as far as a notebook under load goes. The noise character was not annoying or distracting at all, either. Instead, the fan produced the sound of a gentle "whoosh" while spinning. We could feel a light breeze coming up from the vent in front of the display, so air was definitely making its way through the cooler. These are the kinds of results we like to see from an ultraportable: not too hot, and not too loud.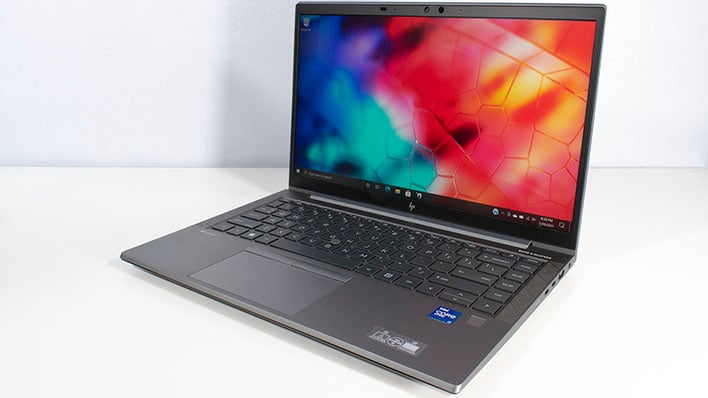 HP ZBook Firefly: The Final Verdict
HP built the ZBook Firefly 14 G8 to be a lightweight mobile workstation in a premium aluminum body. The system is lightweight and beautiful, and its slightly darkened tone gives it an understated look that won't draw attention away from business in any meeting or conference room. The keyboard is one of the very best notebook keyboards we've ever used, bar none, and it has plenty of security features including firmware protections, biometric authentication, and a smart card reader. The Firefly is targeted at business users and every feature shouts it out.
We'd also be remiss if we didn't talk about the display. The DreamColor display in HP's notebook has some of the very best color reproduction we've witnessed, and it comes calibrated from the factory for accuracy. The display doesn't have that OLED "pop" of color like the
ASUS ZenBook Flip S
, but bright tones are nicely saturated all the same, and the 500 nit backlight is plenty bright enough for anything outside of HDR editing. Many users demand displays suitable for color-critical work, and the DreamColor display does it very nicely.
The HP ZBook Firefly 14 G8 is made for light-duty CAD and modeling work. We're talking about field engineers who need to load models and compare against the real thing, or sales folks who need to give interactive demos with their company's designs. The star of the show, as a result, is the NVIDIA
Quadro
T500 graphics processor, which comes with NVIDIA's software and independent software vendor certifications. The make-or-break benchmark for a system like this is SPECviewperf, and the Firefly passed with flying colors. It was anywhere from two to three times faster than Intel's integrated graphics in nearly every test, and its 3D modeling performance is the most important reason anybody would go for a lightweight GPU like this.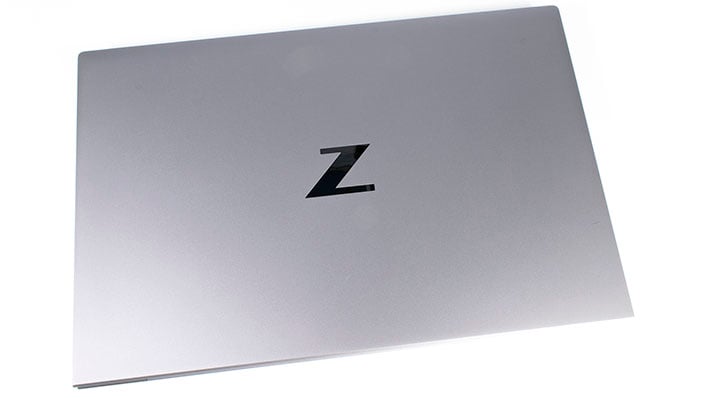 That's not to say that performance wasn't satisfactory elsewhere. On the contrary, the Core i7-1185G7 processor in our review unit topped the charts as far as ultraportable notebooks go. All of the productivity tests from web benchmarks to office applications handled like a dream on this thing. The T500 isn't a gaming GPU by any stretch of the imagination, but it still handled some light duty gaming, which may come as a welcome respite to weary travelers cooped up in a hotel room.
The only thing that wasn't really great about the ZBook Firefly 14 G8 was its battery life. In its 14" chassis, there's a little more room, and from our teardown it seems like HP could have possibly used a bit more space to give this notebook a slightly bigger battery. Lasting over five hours is solid though, and a discrete GPU is going to draw extra power, so we shouldn't complain too much. This is the one thing that we would have liked to see improved on this notebook, however.
Pricing on the ZBook Firefly 14 G8
starts at $1,535
, which gets a Core i5-1135G7 processor with Iris Xe graphics, 8 GB of DDR4-3200 memory, a 256 GB NVMe SSD, an integrated webcam, and a standard 400-nit 1080p IPS display. Our review unit has a Core i7-1185G7 CPU, the NVIDIA T500 graphics option, 32 GB of memory, a 512 GB SSD, and an infra-red camera. Stepping up to this high-end model is $2,687. That's certainly not an impulse buy, but users who need ISV certified drivers are using these notebooks for productivity, and time is money.
Overall the HP
ZBook Firefly 14 G8
is an excellent option for users who need a lightweight mobile workstation. The premium fit and finish, excellent security features, and the necessary hardware to drive heavy-duty CAD software will make the Firefly attractive for the people who need it. While its features aren't for everyone, the target audience will know exactly what to do with it. For that reason, we're granting the Firefly our Recommended award.





ISV-certified NVIDIA graphics
Outstanding DreamColor display

Tiger Lake CPU impresses

Cool and quiet thermal performance
Premium build quality

Certified drivers and high-end hardware command a price premium
Shorter battery life due to discrete graphics
Related content
Comments