Gigabyte AERO 16 OLED Review: Solid Performer, Stunning Design
Gigabyte AERO 16 OLED: A Gorgeous and Powerful Creator PC With A Premium Build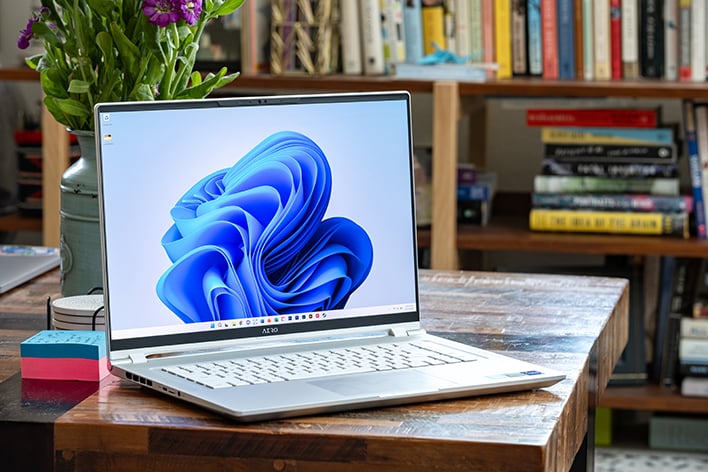 Gigabyte AERO 16 OLED (2023) - Starting at $2,199


Gigabyte's 16-inch AERO laptop combines solid performance with a stunning OLED display and premium design, making it one of the prettiest laptops we've evaluated to date.









Gorgeous OLED display
Sleek design
Premium build quality
User upgradeable RAM and storage
Top-tier CPU and solid graphics performance
1080p webcam with Windows Hello support

No full size SD card slot

Terrible battery life
Aluminum finish scuffs easily
No fingerprint reader






The market for "creator PCs" has exploded in recent years. Not long ago, if you wanted a high-performance laptop for creative work, you
either bought a Mac
and locked yourself into the Apple ecosystem or you picked up a gaming machine with a bright green snake or a roaring dragon logo on the lid. You'd probably get some strange looks at your next client meeting, the battery life was lackluster, and the screen prioritized speed over resolution and color accuracy, but in return you got a powerful PC laptop with user-upgradable RAM and storage that could churn through creative tasks.
That was then. Now creative professionals and hobbyists alike have their pick of sleek, powerful machines that are specifically designed for creative work. Razer, MSI, Gigabyte,
ASUS
, Acer, all of them now make "creator" or "art" branded laptops that offer a much more appealing combination of specs if you're interested in using your notebook for design, photography, or video work. These laptops typically feature a much sleeker and more understated design, a factory-calibrated color-accurate display that prioritizes resolution over refresh rate, and (usually) halfway decent battery life so you don't always have to bring your power brick along for the ride.
Today we're looking at one such device, and it's a beauty. The Gigabyte AERO 16 OLED, updated for 2023, is one of the best looking laptops we've reviewed. All-aluminum construction paired with a white keyboard and subtle AERO branding on the trackpad make for a very sleek and professional looking chassis, the display is also a showstopper, and battery life... well, we'll get to battery life. The Gigabyte AERO 16 OLED should be on everybody's creator PC shortlist, and today we want to find out how it compares to the competition...
Gigabyte AERO 16 OLED (2023) Specifications
In terms of its specs we're off to a pretty good start. The Core i9-13900H with 6 performance and 8 efficiency cores is near the top of Intel's 13th-gen laptop CPU lineup and the
NVIDIA RTX 4070
should hold its own for both creative tasks and gaming without wrecking the price-to-performance ratio, especially if the AERO can actually push the advertised 115W to the card without making too much of a racket. 32GB of DDR5 should also do nicely and the 1TB PCIe Gen4 M.2 NVMe drive is table stakes for this kind of machine, both of which are user-upgradable up to 64GB of RAM and 4TB of storage.
It's also worth calling out the display, which is important enough that the company literally includes it in the name of the device. The AERO features a 16-inch 16:10 UHD+ OLED display that's just dazzling. The display is factory calibrated by XRite, boasts 100% coverage of the DCI-P3 color gamut, and comes with several presets that allow you to toggle between pre-calibrated modes like Display P3, AdobeRGB, and sRGB. We'll dive deeper into the specifics in a bit, but the display is one of, if not the, most important components on a computer designed for creative work, and Gigabyte has clearly put many of their eggs in this particular basket.
Where the AERO 16 falls a bit short compared to its competition from companies like
MSI
, ASUS, and Apple is the lack of full-sized SD card slot, opting for a microSD slot instead, and the relatively small battery for a 16-inch device, weighing in at just 88Whrs. All in all, if they can manage to keep the computer cool, the specs give us hope that this will be an excellent performer. But we'll get into benchmarks soon enough, for now let's take a closer look at the chassis itself.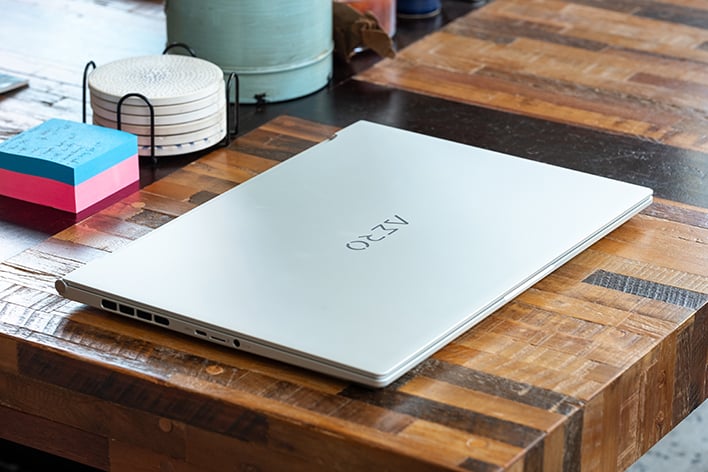 Gigabyte AERO 16 OLED: Features and Build Quality
The aluminum chassis feels very premium, with zero deck or display flex even if you really go to town. There's no need to baby this computer; throw it into any laptop bag or backpack and you can trust that it'll be okay. The one downside of the light colored aluminum chassis is that it picks up scuffs from just about anything else in your bag, especially the black plastic power brick that comes with it. It's a minor annoyance since the scuffs buff out without much effort, but you'll want to carry a microfiber cloth around with you at all times if you want to keep the laptop looking pristine.
In terms of design,
Gigabyte
goes to great lengths to make this laptop look modern by really focusing on a "clean" aesthetic. The light aluminum finish pairs well with the white keyboard, the silver trackpad with subtle AERO branding, and even the AERO logo itself to create an aesthetic that really suits the "aero" name.
And speaking of the keyboard and trackpad, they look great and feel decent. The keyboard uses rubbery feeling keycaps with a full 1.7mm of travel, which makes it feel a bit mushy compared to something from ASUS or Dell. And while the trackpad is extremely smooth and responsive, it features a sub-par springboard click that occasionally played up during use. Tap to click and other multi-touch gestures were great, so you probably won't be relying on the physical click very often, but if you like physical buttons this is not the trackpad for you.
and the back
of the chassis, which makes the laptop better in two important ways: (1) it's much more convenient to use with the power plugged in or a secondary display attached in our opinion, and (2) the rear exhaust doesn't blow right onto the bottom of the OLED panel, so you don't get the typical laptop hotspot right by the display.
Connectivity is also great, with only one issue: instead of including a full-sized SD card slot, Gigabyte opted for a microSD slot that's really only useful if your primary camera is an action cam or a drone. Pretty much every competing "creator" laptop features a full-sized SDXC or SD Express card slot, so this omission is a bit of a bummer.
On the left side of the display is a 3.5mm audio combo jack, the aforementioned microSD slot, and a USB Type-C port with 3.2 Gen 2 speeds: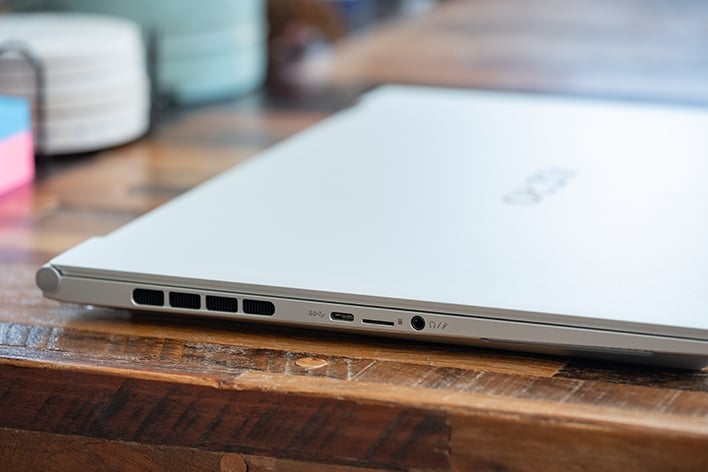 The right side features two more USB Type-C ports, both of them Thunderbolt 4 with DP support. However, only one of the two (the one closest to the front of the laptop) features power delivery, so if you want to charge through USB-C this is the only port that will do so, delivering up to 100W of power: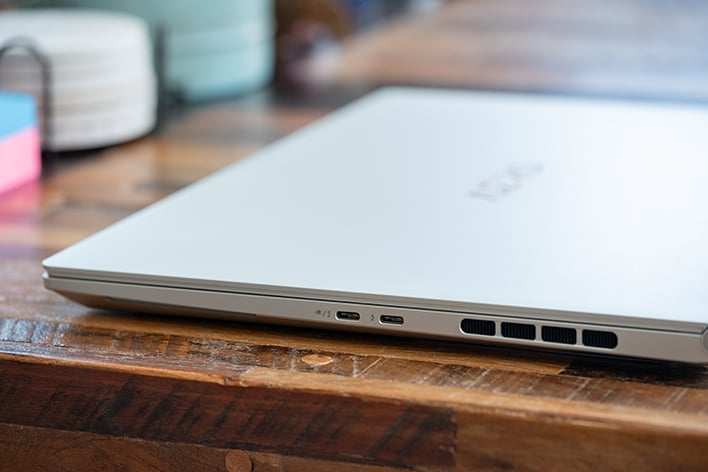 Finally, on the rear of the chassis you'll find an HDMI 2.1 port, a USB Type-A port that supports USB 3.2 Gen 2 speeds, and the DC-in port that draws power from the included 240W power adapter: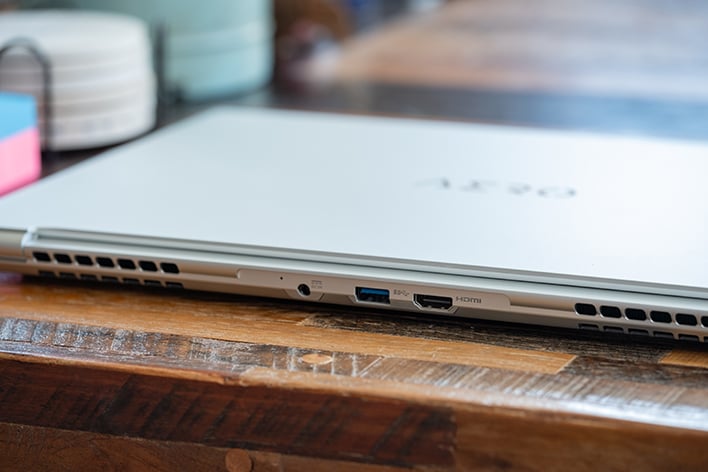 The inclusion of USB Type-A and HDMI 2.1 is great, as is the ability to use USB Type-C in pretty much every configuration available. If only Gigabyte had managed to include a full-sized SD card slot and maybe an ethernet port, we'd have nothing to complain about. As it stands, connectivity is
nearly
perfect.
The final bit of design worth talking about is upgradability, and in this case Gigabyte checks all the boxes. The bottom panel can be removed by unscrewing 10 standard T6 torx screws, two of which are covered by anti-tamper tape for warranty reasons, and then popped out with just a little bit of force to unseat the retaining clips. From there you have immediate access to the battery, WiFi card, both DDR5 RAM slots and both PCIe 4.0 M.2 2280 slots, one of which is pre-populated with the 1TB system drive.
One quick note, however. The empty slot, which sits to the right side of the battery, explains why Gigabyte had to settle for 88Whrs on the included battery. For our part, we think they made the right choice including a second slot, but this sacrifice will come up again in our battery life testing.
Regardless, swapping out all of the above or adding a second M.2 drive should be extremely easy, just be aware that both M.2 slots are PCIe 4.0, not 5.0, so don't pony up for anything faster because you'll be wasting your money. This may be an issue for some people, especially since some competing devices like the MSI Creator Z16 advertise PCIe Gen5 compatibility, but a good quality M.2 drive with PCIe Gen 4 speeds is more than fast enough for the vast majority of creative work so we'll file this complaint under "nitpicks" and move on.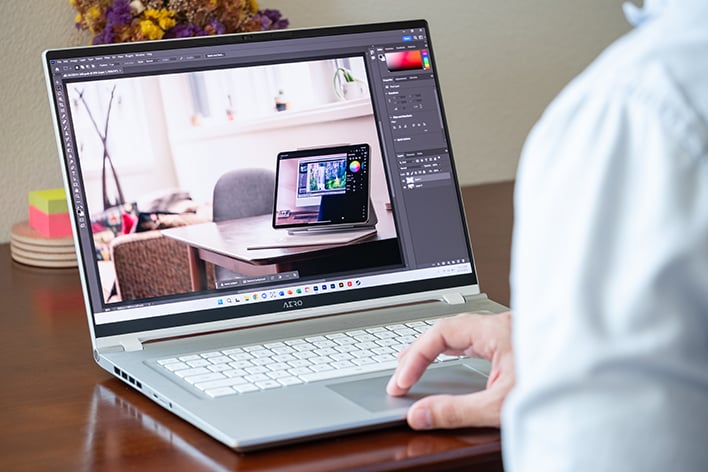 Gigabyte AERO 16 OLED (2023): Display Quality
Another bit of design that we need to talk about is the display, and given how important this part of the notebook is for creative work, it deserves its own section. Every "creator" laptop prioritizes the display, but not all companies go all-in like Gigabyte did here. Some, like MSI's "Creator" lineup, try to split the difference between creativity and gaming by installing a color accurate display with a high refresh rate and QHD resolution. This approach will definitely appeal to hobbyists who want a more well-rounded machine, but if you're all in on the creative side of things, the AERO 16 OLED is a better fit.
The UHD+ (3840 x 2400) 16:10 OLED display on this notebook is a showstopper thanks to its perfect black levels, ultra-wide-gamut RGB primaries, and factory calibration complete with several useful presets. The peak brightness can hit 600 nits if most of the screen is black or 400 nits for full-screen white, the tone response is quite smooth with a default gamma of 2.2 out of the box, even if you set the computer to its "uncalibrated" preset, and the monitor was able to cover 100% of DCI-P3 and 97% of AdobeRGB..
These results are guaranteed, including an average Delta E of less than 1, and you can check the performance in the included factory calibration reports provided by Gigabyte. If you open up the pre-installed X-Rite color assistant app you can inspect the calibration results for each of the pre-calibrated profiles, complete with patch-by-patch Delta E values: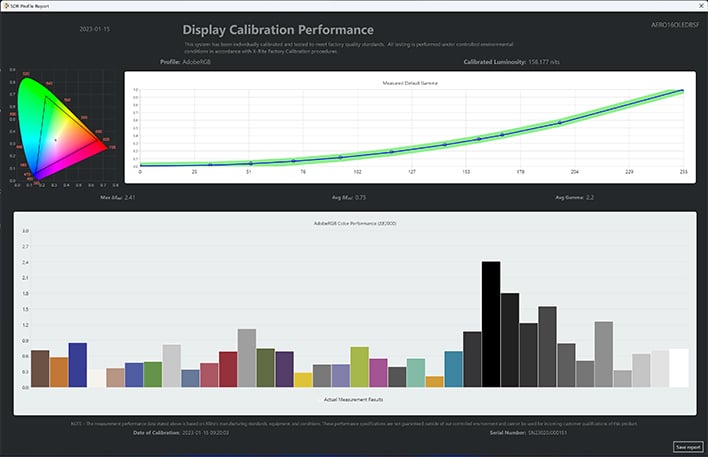 The other really nice feature included in the AERO 16 OLED is a dedicated MUX switch, which lets you decide whether the laptop's display will be handled by the iGPU most of the time, with Windows deciding when and how to hand things over to the RTX 4070, or if you want the display to always use the 4070. For creative work, this makes a big and often underappreciated difference because it allows you to manually tweak your display settings in NVIDIA control panel.
There are creator laptops out there with identical specs that
cannot
take advantage of 30-bit display in Adobe Photoshop, even though the GPU and built-in display are capable of higher color depth, because the iGPU won't let you set the color depth any higher than 8-bits per channel. Thanks to the MUX switch, you can manually swap between Intel and NVIDIA graphics output, earning you a few frames in gaming and a lot more control over your display output through the NVIDIA control panel.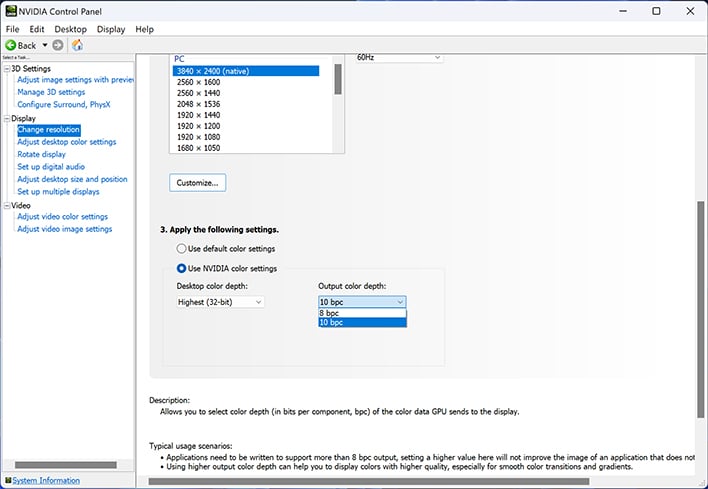 There's really only two downsides to this display, and they're more like trade-offs: the display is limited to 60Hz refresh rate, and it drains battery much faster than your typical LCD. The second issue is the real killer, and it's a problem with most OLED laptops, but Gigabyte made it worse by putting a relatively small 88Whr battery inside. Some 16-inch laptops max out the allowable airplane carry-on capacity by installing a 99Whr battery, which would have helped a lot here, but as we mentioned above that probably would have required Gigabyte to leave out the second M.2 slot.
Battery life concerns aside, we can wholeheartedly recommend this display for color critical work right out of the box. Whether you're a designer, photographer, video editor, or you're just dabbling in creative work, you'll be thrilled with this screen. It makes most other laptop displays, even pretty good ones, look a muted and dull by comparison.
Gigabyte AERO 16 OLED (2023): Software Experience
Finally, we should talk about the software experience because Gigabyte is giving you a lot of settings to tweak on this laptop. Unfortunately, this is one area where Gigabyte may need to adjust their approach.
Out of the box, the AERO 16 OLED we received for review didn't actually have the company's Gigabyte Control Center (GCC) software installed. Normally we'd applaud the lack of bloatware, and it's true that the computer was extremely "clean" out of the box compared to some that we've tested. However, the AERO is also configured such that certain functions like changing the display brightness
are tied to GCC directly
and not to the system controls. This is a big oversight. It took me a minute to figure out why I couldn't adjust brightness using the generic "brightness up" and "brightness down" stamped onto the F3 and F4 keys, but I
could
adjust the volume and toggle the mute (F7, F8, and F9) just fine.
Beyond brightness, there are dedicated function keys that are unusable without the software. For instance, pressing Fn+Esc will cycle through GCC's pre-configured fan curves and pressing Fn+F12 toggles Gigabyte's AI-Boost setting that tries to adjust the usage mode on the fly based on whatever you're doing. If you don't have the software installed, these keys do nothing.
We're all for less bloat, but if you're going to require the software for certain built-in controls then it should probably come pre-installed.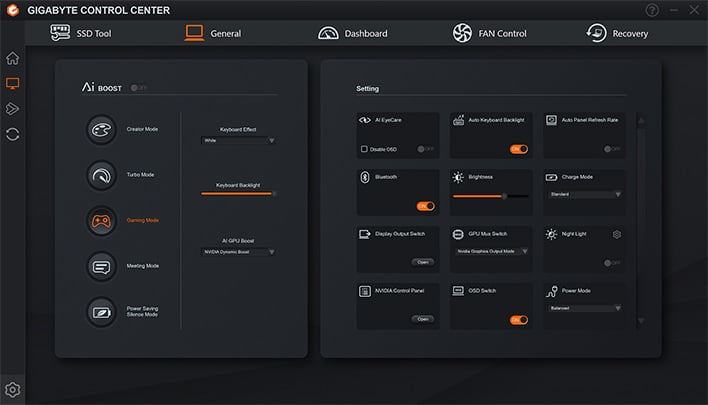 It's not all downside though. This integration means that the AERO 16 takes full advantage of GCC and we found ourselves using it quite often. Quickly changing the fan curve, changing power settings from "Balanced" to "Performance", or toggling between the iGPU and
NVIDIA
graphics card using the MUX switch (followed by a restart) can all be done quickly and easily within the software. Sure, you can achieve all of this in the Windows settings and/or BIOS, but if you're constantly switching between heavy duty creative work and more mundane day-to-day tasks, being able to access all of these settings in one place is convenient.
Finally, the software also includes your typical hardware monitoring, along with specific battery, display care, and drive health readouts. It's not something we used much over the course of this review, but if you like having this info at your fingertips—in particular the drive health metrics—they're there for you.
Okay, enough about design and usability, let's dive into performance...
Related content