Dell XPS 15 9510 Review: A Powerful RTX Laptop With OLED Pop
Dell XPS 15 OLED (9510): Cooling, Acoustics And The Verdict
Dell's Power Manager utility allows you to choose strike a balance between performance and battery life, along with tweak the battery charging characteristics. It is within the Thermal Management section that you can choose between one of four thermal settings. They include...
Optimized: This is the standard setting for cooling fan and processor heat management. This setting is a balance of performance, noise, and temperature.
Cool: Processor and cooling fan speed are adjusted to help maintain a cooler system surface temperature. This may mean reduced system performance and more noise.
Quiet: Processor and cooling fan speed are adjust to reduce fan noise. This may mean a higher surface temperature and reduced performance.
Ultra Performance: Processor and cooling fan speed is increased for more performance. This may mean higher system surface temperature and more noise.
We ran our benchmarks at the Ultra Performance setting to fully exercise the laptop, and because the noise level was acceptable. If you read our
Alienware m17 R4 review
, you may recall that we kept it in Balanced mode, because the higher settings resulted in a noise level that we considered too loud. That is not the case here.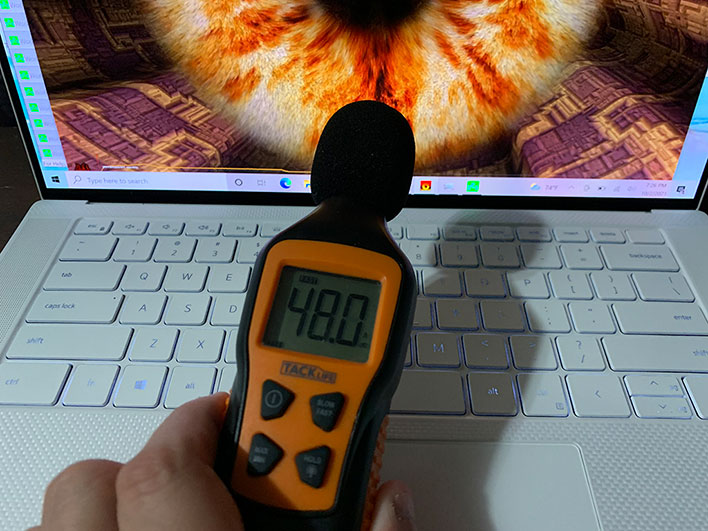 For the most part, the XPS 15 OLED runs virtually silent. Even in Ultra Performance mode, the fans refrain from spinning wildly when jumping around Windows, browsing the web, and generally just using the laptop in ways that do not put a big strain on the CPU or GPU. What happens when those parts are strained, though?
To find out, we summoned a hellish combination of Furmark and Prime95 to stress the GPU and CPU, respectively, and ran them for a period of time. In doing so, the sound pressure level peaked at around 48 decibels with the meter close to the display, and generally bounced around between that mark and around 46 decibels. Audible, sure, but certainly acceptable for a full load across both major components.
As for the temps, at idle, the CPU stayed around 32-34°C (one of the eight cores reported 28-31°C), while the GPU stayed at 39°C. At full load, the CPU cores ramped up to around 90°C before throttling kicked in, at which points temps drop to around 66-70°C. The GPU never rose much past 70°C.
At full load, the surface area on the top of the keyboard and underneath the laptop get warm to the touch, but not to the point of being painful.

Final Thoughts On The Dell XPS 15 OLED (9510)
Straight to the point, there's a lot to like about Dell's upgraded XPS 15 (9510) with the OLED display option -- and very little to dislike. The physical design is unchanged from last year's model, though quite frankly, we appreciate that Dell stuck with a mold that hits the mark, as opposed to forcing a change simply for the sake of change. This is a sturdy laptop imbued with premium craftsmanship, so no complaints there. We also really like the aesthetic combination of a 'Frost' exterior and 'Arctic White' interior on the model we received.
Performance landed about where we expected it to, given the component selection. There are some instances where it trails a similarly configured
XPS 17
, no doubt because that is a bigger laptop with more power and thermal headroom, which ultimately allows its internal components to run at full bore for longer stretches. But these difference in performance mostly only manifest when scrutinizing benchmarks. In terms of real-world usage, the XPS 15 is a stout, speedy laptop.
We're not quite as jazzed with the discrete GPU option. Yes, the
mobile GeForce RTX 3050 Ti
is based on NVIDIA's latest generation Ampere architecture, but it doesn't instill much excitement. Granted, this is not a laptop that a person buys for gaming—it simply wasn't designed with gaming performance as a priority, but as a sidebar when the doldrums of a long work day wear thin. Still, it would have been nice if Dell offered the same GeForce RTX 3060 option as found on the larger XPS 17. Nevertheless, you
can
play games on this laptop as configured, and even achieve a smooth 60 frames per second at high settings in some titles, as our benchmarks highlighted, which is a massive upgrade over today's integrated graphics solutions.
Overall, the pros heavily outweigh the cons. The XPS 15 (9510) is a workhorse with a great trackpad, a gorgeous OLED screen, and an attractive design, packaged in a thin and light chassis. This is all punctuated by long battery life. It's a bit on the pricey side as configured, though the starting price is significantly lower. Either way, this is yet another excellent iteration of the XPS 15 that hits the mark.
Solid build quality


Fast all-around performance


Vibrant OLED display with touch support


Thunderbolt 4 connectivity

Ginormous touchpad
Long battery life


So-so gaming performance from the GeForce RTX 3050 Ti


USB Type-A connectivity requires a dongle (albeit included)
Related content
Comments