Dell XPS 13 2-In-1 Review: A Stylish Tiger Lake Convertible
Dell XPS 13 2-In-1 (9310) For Late 2020: Evaluating Performance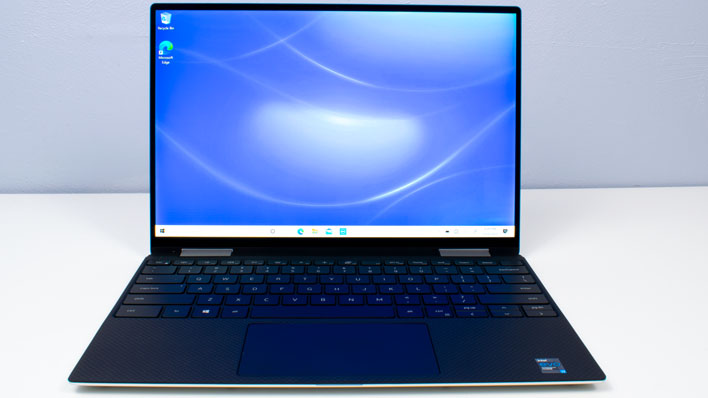 The new
Dell
XPS 13 2-in-1 is a nice notebook with what seems like plenty of horsepower. There's no better way to know that for sure than to verify, and that's what our benchmark suite aims to do. That means it's time to take this baby for a spin...
ATTO Disk Benchmark
Peak Sequential Storage Throughput
The
ATTO disk benchmark
is a fairly quick and simple test which measures read/write bandwidth and IOPS across a range of different data sizes. We get a pair of results at each data point: bandwidth measured on MB per second (or GB per second if the result is that high), and input/output operations per second (IOPS).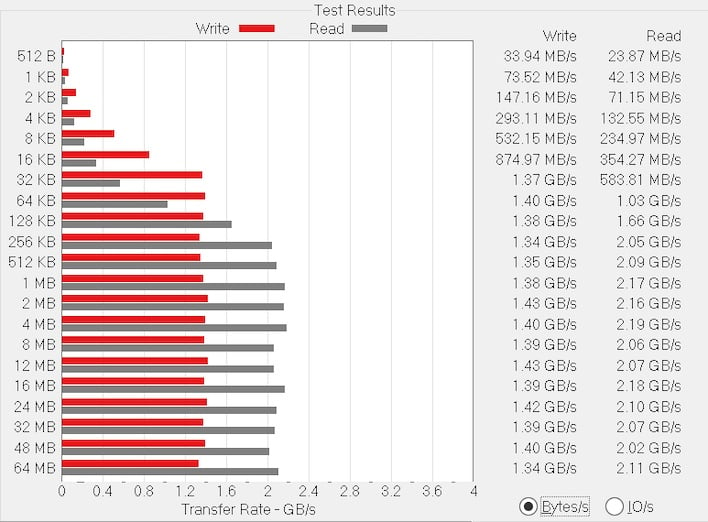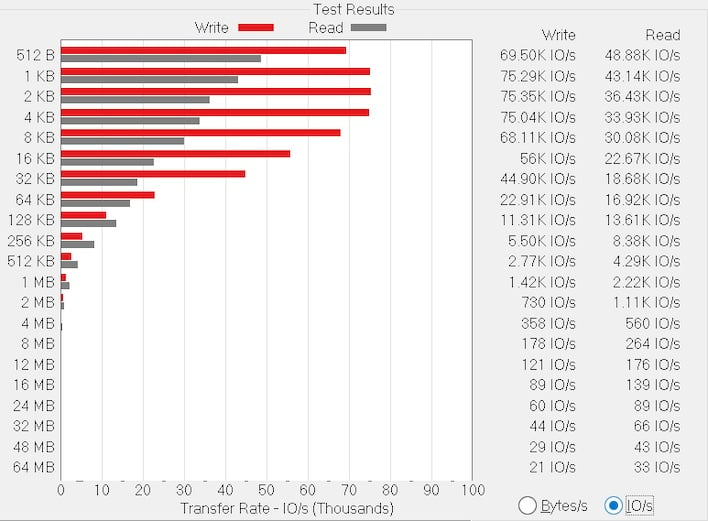 The integrated SSD built into the XPS 13 2-in-1 identifies itself as a Kioxia KBG40ZPZ512G. Overall, performance is very solid. Bandwidth tops out at over 2.1 GB per second for reads and over 1.4 GB per second for writes. As far as sequential throughput goes, that's pretty good, and it results in fast boot and application loading times. Measured IOPS is solid, but not spectacular. Writes topped out at around 45k IO per second, while reads hit a speedier 75k. With typical desktop work loads this means, practically speaking, that the drive won't be much of a bottleneck.
Speedometer Web Application Benchmark
Browser Performance
We recently moved on to BrowserBench.org's
Speedometer
test, which takes a holistic look at web application performance. This test automatically loads and runs several sample webapps from ToDoMVC.com using the most popular web development frameworks around, including React, Angular, Ember.js, and even vanilla JavaScript. This test is a better example of how systems cope with real web applications, as opposed to a pure JavaScript compute test like JetStream. All tests were performed using the latest version of Chrome.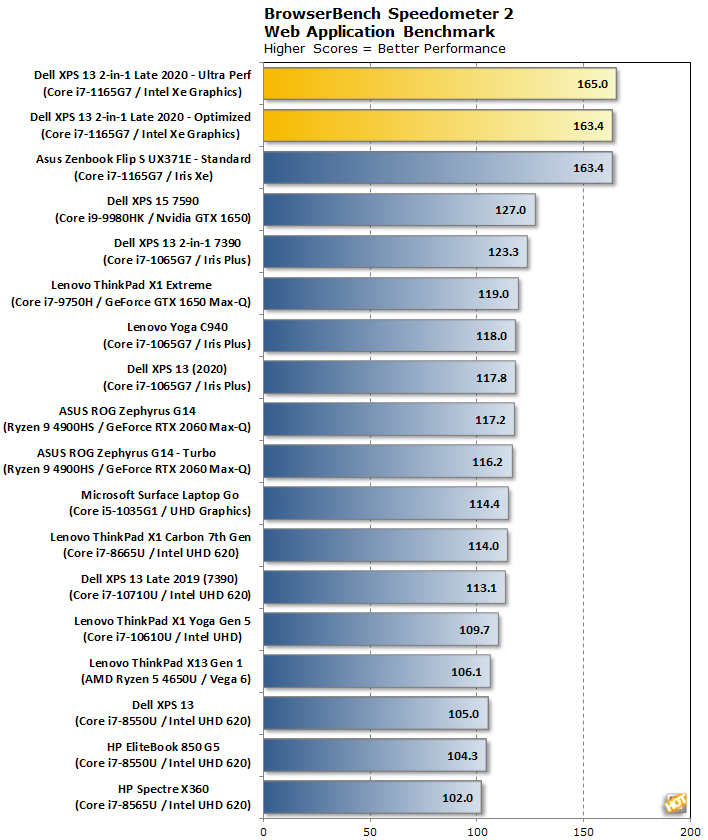 As expected, the Tiger Lake-infused
XPS 13
2-in-1 finds itself at the top of our charts. The single-threaded prowess of Tiger Lake is unprecedented in a Windows notebook, and this test is relatively burst-y in nature. That means that the Ultra Performance mode doesn't really gain any extra benefits over the Optimized setting, but it doesn't need to, either. Buyers who are primarily looking at the XPS 13 2-in-1 as a web browsing or web app machine will no doubt be quite pleased with the performance on offer here.
Cinebench R20

3D Rendering Performance
The current version of Maxon's rendering benchmark,
Cinebench R20
, is a sustained load, which makes it a good indicator of how well the cooling system performs. This version is a pure CPU benchmark, and we tested both single-threaded and multi-threaded performance here.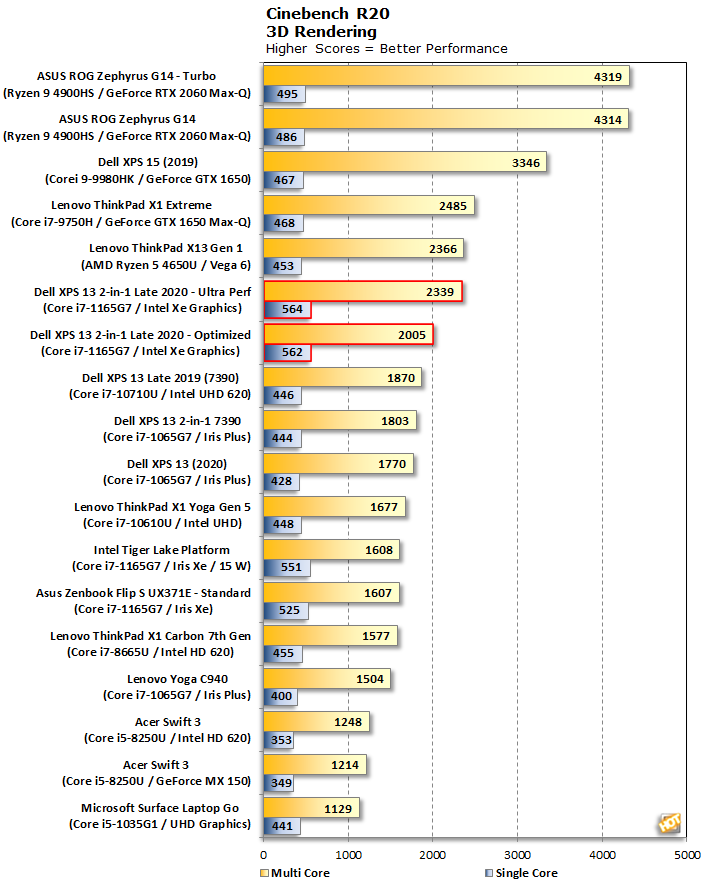 This quad-core laptop punches well above its weight class, hanging tight with six-core processors from both AMD and Intel itself. That's especially true with the fan profile set to Ultra Performance, which added around 15% to an already-impressive score for the multi-threaded test. In the single-threaded department, the XPS 13 2-in-1 performs even more admirably, edging out the
ASUS Zenbook Flip S
and the larger test notebook we saw during our performance preview. Even the XPS's Optimized fan profile performed better than we had expected, and that held true through multiple tests.
Geekbench 5

Single and Multi-Core Performance
Geekbench
is a cross-platform benchmark that simulates real world processing workloads in image processing and particle physics scenarios. We tested the notebooks featured here in Geekbench's single and multi-core workloads.
Once again, single-threaded performance makes up a great deal for the lack of cores when compared to AMD-powered competition. The Dell notebook beat out the hexacore ThinkPad X13 Gen 1, and just about the caught the much heavier and larger
Alienware m15 R2
. Normally we wouldn't put these two notebooks on the same chart, but this gives context to just how nice a processor the XPS 13 2-in1's Core i7-1165G7 really is, especially with the intelligent cooling in this machine.
PCMark 10

Productivity and System-level Benchmarking
PCMark 10
uses a mix of real-world applications and simulated workloads to establish how well a given system performs productivity tasks, including image and video editing, web browsing, and OpenOffice document editing. While these scores appear to be all over the place, the systems are sorted by their overall PCMark score, which is the third (gray) bar in each cluster.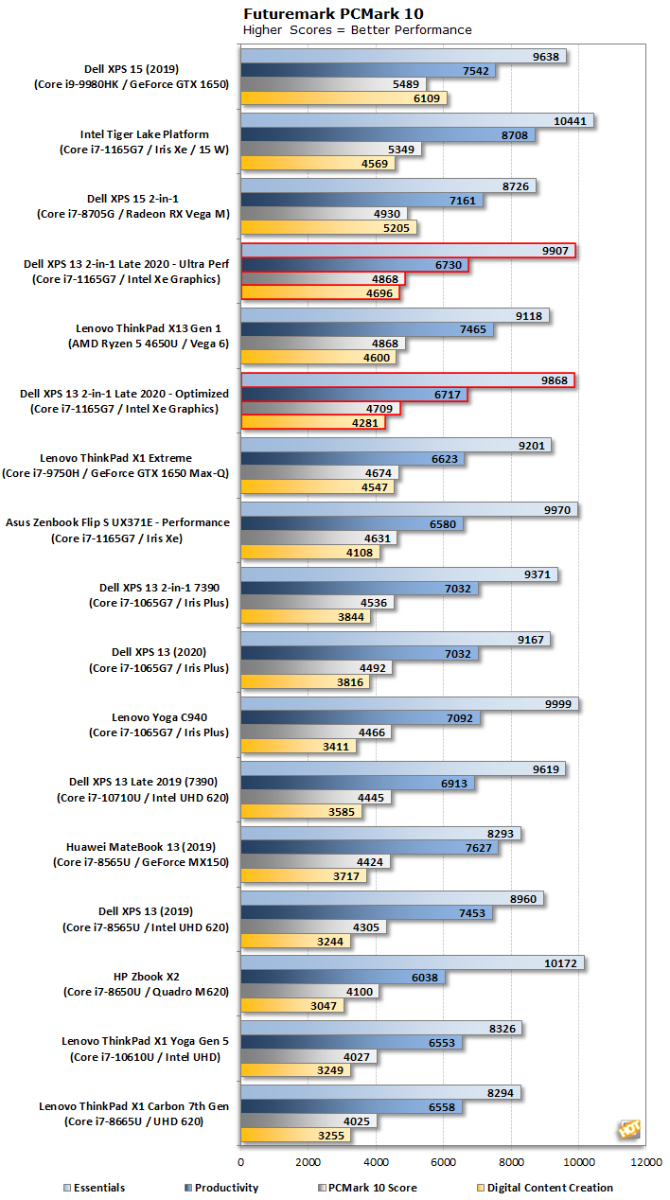 PCMark 10 most closely resembles the type of use case for a system like the XPS 13 2-in-1. Across the board, the Dell machine ran neck-and-neck with the six-core Lenovo with a six-core Ryzen CPU, and simultaneously buried the previous generation with an Ice Lake
Core i7-1065G7
. That's the kind of year-to-year performance uptick we would always like to see, but physics is a pain. Regardless of the reasons, it's great to see such a nice gain over the previous generation, for sure.
3DMark Benchmarks
3D Performance
3DMark
has several different graphics tests which focus on different types of systems. UL seems to have discontinued support for Cloud Gate, but fortunately there are a couple of tests remaining that run well on integrated graphics. First up is Sky Diver, which uses the DirectX 11 graphics API.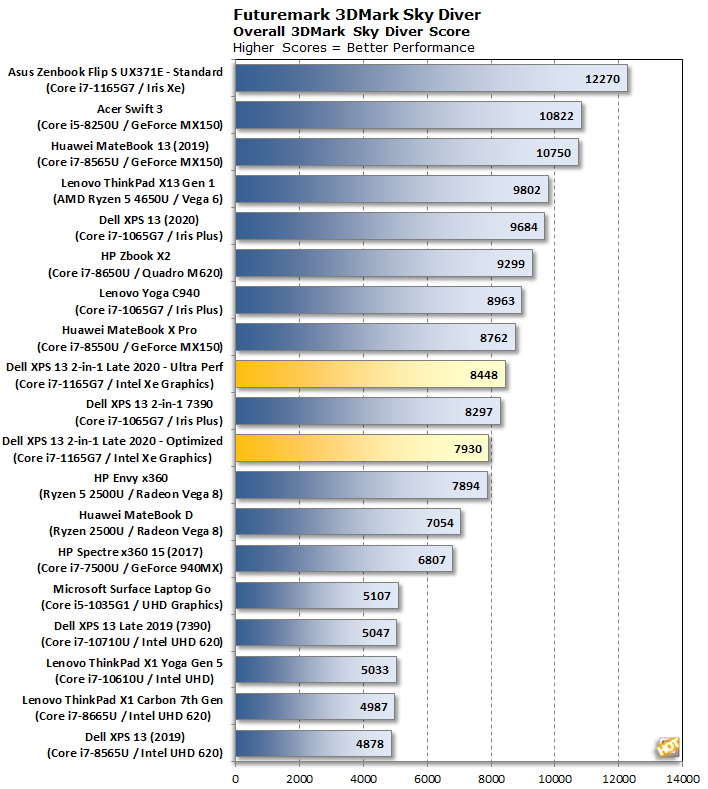 In 3DMark Sky Diver, the XPS 13 2-in-1's integrated Iris Xe graphics processor brought some serious hurt to older 10th-generation systems with CPUs that trace their lineage all the way back to Sky Lake. Intel UHD 620 graphics aren't particularly strong in 2020. Meanwhile, the system bookended the previous-generation
XPS 13
2-in-1, which is a good place for a new integrated graphics processor to be. We hope Intel is still refining and optimizing graphics performance on its nascent Xe architecture, but even at this point, it hangs with NVIDIA's discrete MX150.
Next up is the DirectX 12 test for "basic" PCs, Night Raid...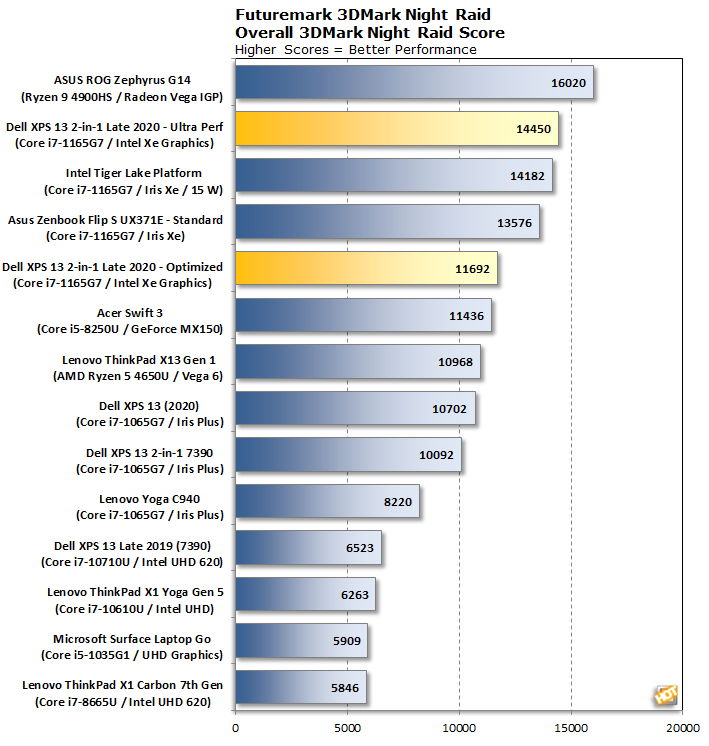 In 3DMark Night Raid, the new graphics processor, and probably the more efficient CPU cores, make a big difference for the new XPS 13 2-in-1. Not only did it leave the previous generation in its dust, it also put up great numbers against the six-core Ryzen CPU in the
ThinkPad X13
. Overall, graphics performance for these retail Iris Xe laptops looks to be pretty strong for an integrated unit.
Because of that strong performance, we thought it was time to break out the heavy artillery. 3DMark Fire Strike's Extreme preset renders a hefty DX11 test at 1440p natively before scaling to fit the display. If anything was going to slow the XPS 13 2-in-1 to a crawl, this test was it.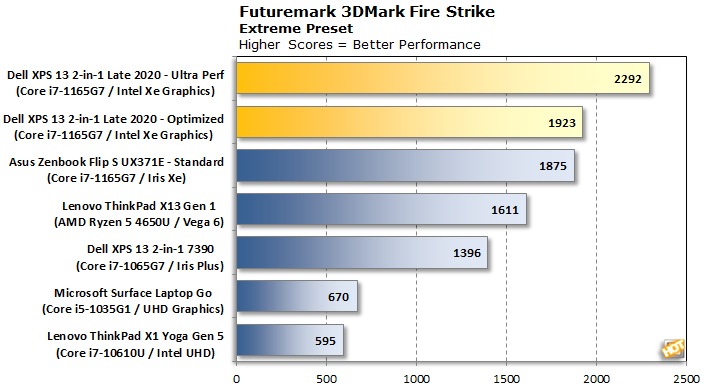 As expected, the Iris Xe graphics did a nice job on this test, but it's not going to masquerade as a heavy-hitting gaming GPU. The XPS 13 has enough graphical horsepower to to run the test around three times as fast as the older UHD graphics, and a minimum of 50% faster than Ice Lake's integrated GPU. It was also a good amount faster than the Vega 6 GPU in our Ryzen competition.
GRID Autosport
Gaming Performance
GRID Autosport
is a cross-platform racing simulation developed by Codemasters. The developer wanted to make up for GRID 2, which released to mediocre reviews from critics and gamerse alike. Codemasters set out to improve
GRID Autosport
's handling and environment rendering to make it a true racing simulator. The third GRID game is built on Codemasters' EGO engine that boasts more realistic physics and damage systems to add a bit of danger and some extra realism to the racing. Codemasters also tuned its graphics engine to perform well over a wide variety of mainstream systems, which makes it a great test for systems with integrated graphics. Codemasters also promotes that
GRID Autosport
is "optimized for integrated Intel HD Graphics", which is certainly something. We tested at 1080p with the High image quality preset.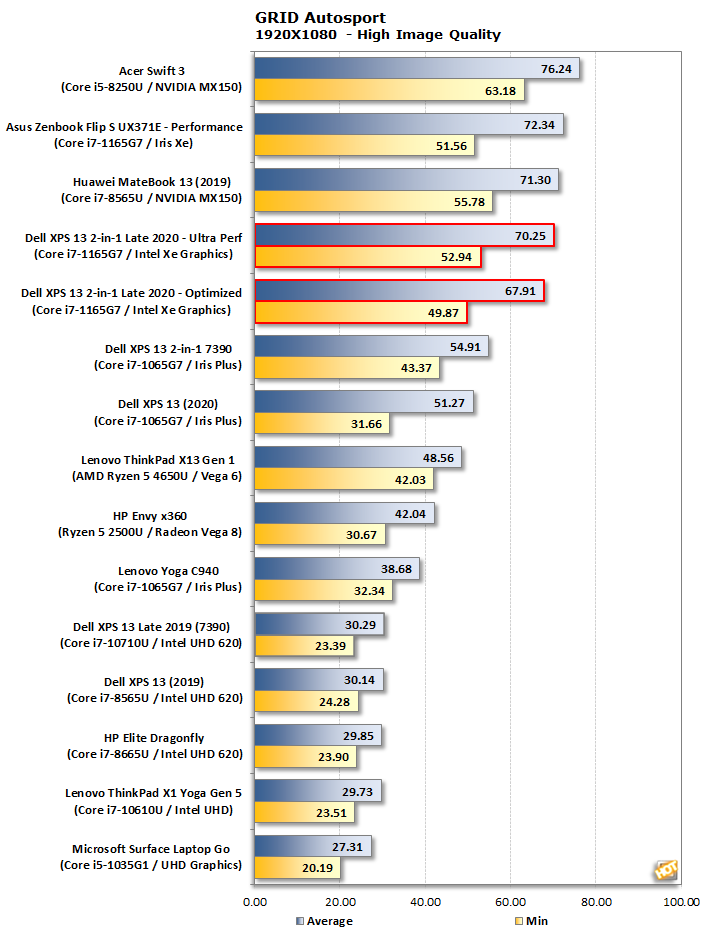 As expected, the performance on display here is quite nice. The XPS 13 2-in-1 can definitely handle
GRID Autosport
on high settings, and average well over 60 fps while doing it. Gameplay at this setting was very smooth, and the game looked great. In fact,
GRID Autosport
doesn't seem to be much of a challenge for modern integrated graphics, so that's why we're including the next test in our suite.
Gears Tactics
UE4 Gaming Performance
Gears Tactics is a much more recent title that runs on the Unreal 4 Engine. It's a pretty fun tactical real-time strategy game, and has a wide array of graphics options that can look pretty great if the system is up to the challenge. We turned off all the automatic frame rate adjustments, turned the resolution up to 1080p, and then tested at Low, Medium and High details settings.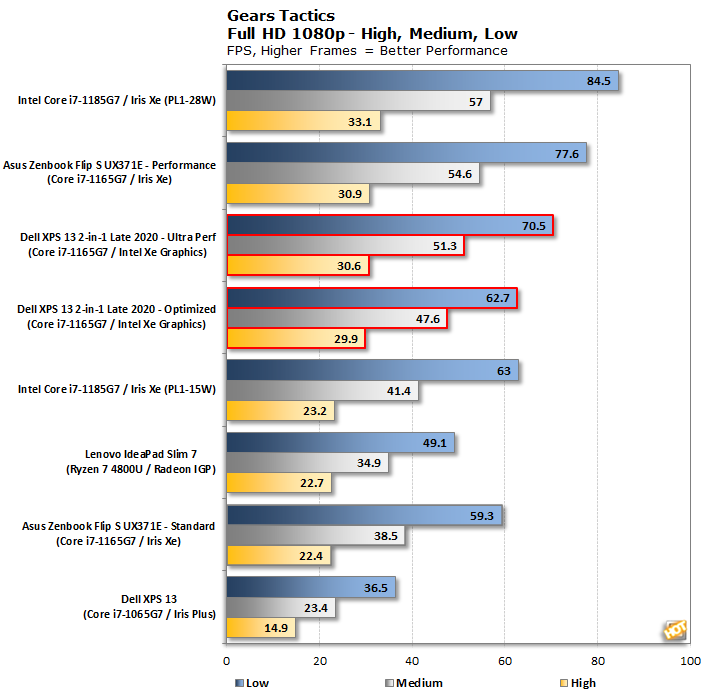 As we'd seen previously, the game runs buttery smooth on the Low graphical setting, and still has very solid performance at Medium settings. It's not as fast as a discrete GPU would be, but it does beat up the
Ryzen 7 4800U
's Vega-based integrated graphics. We found the game perfectly playable on Medium, but to get a few extra fps and get the average frame rate back up over 60, we had to drop the resolution to 1600x900. On High, it's dangerously close to the 30fps threshold of playable, but does just get over the mark. In a quick-click tactical game like this we'd like a higher frame rate, but again, that happens when adjusting the resolution. Regardless, this is very solid performance here.
HotHardware Custom Video Loop

Battery Life Performance
We run a custom 1080p HD video loop test developed in-house, to prove out battery life with our test group of machines. In all tests, Windows 10 Quiet Hours has been enabled and the displays are calibrated with lux meters on pure white screens to as close to 115 lux as possible. For the average laptop this is somewhere between a 40-60 percent brightness setting. In the case of the ThinkPad X13, this required lowering the brightness to 18 on the slider in the Windows 10 sidebar.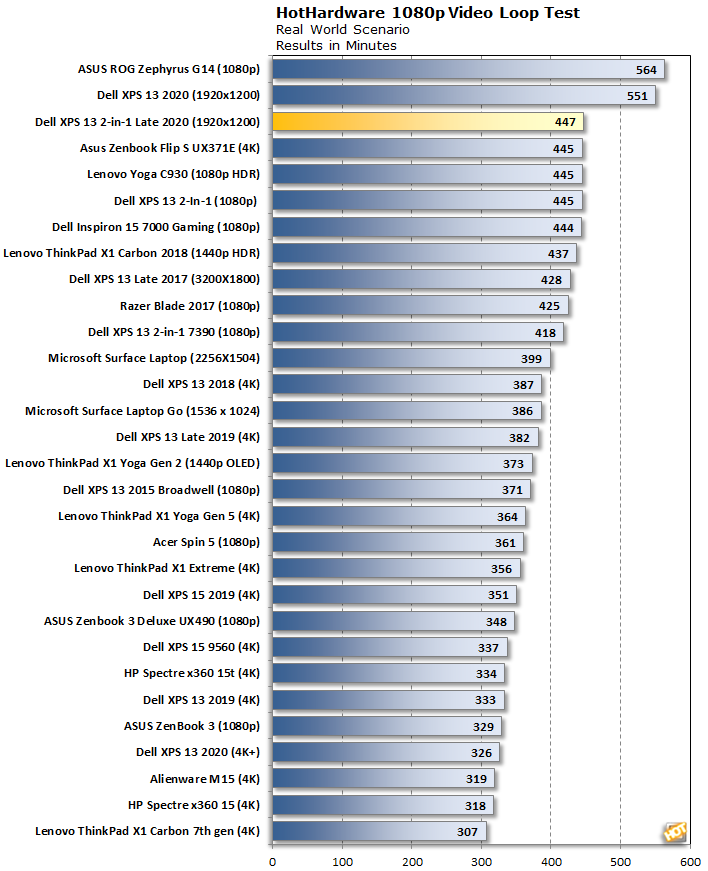 Battery life is excellent here, as Tiger Lake is incredibly efficient. The ASUS Zenbook Flip S had a bigger battery, but was saddled with a much higher resolution OLED display. As a result, the two machines run about the same length, but the Dell gets a bit more out of the battery. Regardless of how it happens, that runtime is also very nice. Getting nearly 7.5 hours on battery playback means that being away from the wall is no problem. In a word, the battery life is excellent.
Next up we'll take a look under the ThinkPad X1 Yoga's hood and check out cooling performance before we wrap it up with our final thoughts...
Related content
Comments