Dell Precision 7865 Workstation Review: Cool & Quiet 64-Core Powerhouse
Dell Precision 7865: A Beastly 64-Core Threadripper Pro Powered Workstation


Dell Precision 7865: As Configured - $15,840


The Dell Precision 7865 chews through workstation-class workloads with a 64-core AMD Threadripper Pro CPU and NVIDIA RTX A6000 GPU, while remaining cool and quiet.






64-Core AMD Threadripper CPU Performance
8-Channel DDR4 Memory
Mostly Toolless Design For Servicing
Astoundingly Quiet Operation Under Load
Can Support Dual Professional GPUs
Pre-Routed Cables For Easy Expansion
Lots of configuration options

Workstations Do Not Come Cheap
Proprietary Formfactor Components
Limited Rear I/O



---
When your work is mission-critical, and you need immense horsepower, a run-of-the-mill computer may not cut it. Sure, a high end gaming PC can be mighty powerful enough for most people, but they tend to lack resiliency when every bit of stability and performance matters. Instead, professionals turn to workstation-class systems like the Dell Precision 7865 we'll be showing you today, which can crunch massive workloads with better accuracy, and are equipped with
error-correcting memory
, and maybe even a RAID configuration to minimize downtime and offer better fault-tolerance.
Of course, pro workstations can also be ultra powerful, as is the case with the Dell Precision 7865. The Precision 7865 features a mid-tower chassis that can be packed to the gills with CPU cores, GPU compute, and system memory to tackle even the most demanding workloads.
The front panel provides two USB-A 3.0 ports, two USB-C 3.2 Gen 2 ports (one with PowerShare), a headset jack, and a full-size SD card slot for easy ingestion of camera footage.
The SD card reader is very capable, by the way, only taking about 5 minutes to ingest a 55GB video file from a
128GB Lexar Professional UHS-II 1800x
card. The card is rated for max read speeds of 270MB/s and achieved a steady transfer rate of around 250MB/s once it got going. There is certainly no need to spring for an external card reader here unless you are using a different format altogether, like CFexpress.
A pair of lockable drive bays complete our tour of the front. These "flexbays" as Dell call them can be configured to support either SATA or NVMe drives.
Our review unit is configured with dual 1TB NVMe drives configured in RAID 0 (striped) for performance, yielding a total capacity of 2TB. A RAID 1 configuration would be more fault tolerant, though it would halve the total capacity and performance. In any case, RAID in any mode is not backup, so whichever configuration you choose, remember to backup your data for safe keeping.
We find a traditional arrangement in the rear with a top-mounted power supply. The PSU is not a standard ATX form factor but is Platinum-rated and offers 1350W delivery. It is not modular either, though we'll get to more on that in a minute.
The motherboard I/O shield is fairly sparse, offering only a 3.5mm line-out jack, dual RJ-45 ethernet ports (1x 1GbE and 1x 10GbE), three USB-A 3.2 Gen 1 ports (one with Smart Power), and three USB-C 3.2 Gen 2 ports. It can optionally be configured with a serial port and two PS2 ports as well, if desired, but our unit lacks these. There's no onboard Thunderbolt to speak of here, as Threadripper Pro does not support it natively, but Dell does offer a
Thunderbolt 3
PCIe expansion card, if needed.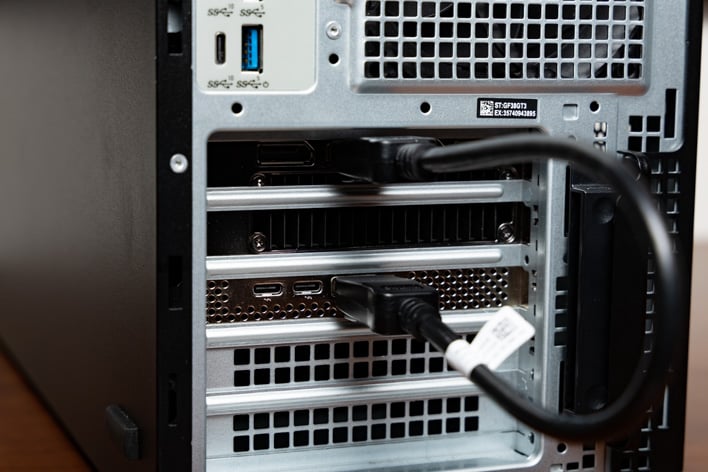 In fact, our system has the dual-Thunderbolt card in place just below the GPU. We'll also discuss this further in-depth in a moment, but the GPU offers four full-size DisplayPort outputs. The system includes a short-run DisplayPort cable to loop between one of these and the DisplayPort input on the expansion card to convert to Thunderbolt (Or USB alt-mode) displays, if desired.
The top panel features a recessed carry handle and the rear includes an overhang to act as a second grip point. The computer weighs in the neighborhood of 35 pounds (15.8 kg), so a little extra security is welcome to reduce the risk of dropping a $15,000 unit.
The right side of the tower also has rubberized feet for those who prefer to situate their system horizontally.
The Precision 7865 does have a rack-mounting kit available as an optional accessory. The top cover is removable, and doing so exposes the mounting points for the topside rail to be affixed as shown. Dell has a support video documenting the process
here
.
Dell Precision 7865: Internals
Access to the system is achieved through a lockable toolless latch on the left side. This uses a different key from the front drive-bays so system admins can provide some level of access to end users without completely opening things up. There is also a small honeycomb ventilation patch in the side panel to provide some fresh air to the GPU.
We don't typically show the reverse of the side panel, but will make an exception here. Dell includes a user-friendly diagram for servicing. This even includes the locations of various motherboard headers and numbering of the DIMM slots. The side panel also integrates a GPU brace which is interchangeable to support different-sized graphics cards.
Cables are also well-managed throughout the chassis. While the PSU is non-modular, Dell takes care to pre-route cables anywhere they may be needed in the future. This includes 8-pin PCIe power cables for a second GPU which stow in a dummy slot. A bit of slack is provided everywhere, and cables are neatly looped rather than stuffed haphazardly.
A baffle shrouds most of the interior apart from the PSU above, GPU chamber below, and drive bays in front. This helps ensure cool air reaches the CPU cooler from the front and mostly partitions away the GPU exhaust. The baffle simply slides out for servicing.
The CPU cooler is a server-style passive heatsink tower. There is a small 60mm fan built into the baffle driving CPU intake while dual 120mm fans in the rear channel exhaust. The lower front also houses a 140mm fan that primarily delivers air to the GPU chamber. We will have to turn to our thermal testing to see how the configuration performs in practice.
Dell Precision 7865 systems offer a choice of
AMD Ryzen Threadripper PRO
processors. Options span from the 12-core, 24-thread 5945WX all the way up to the 64-core, 128-thread behemoth that is the 5995WX in our test system. These Zen 3 processors not only need a ton of memory capacity to keep fed, but also high bandwidth. As a result, they are designed to support 8-channel DDR4 memory, which amounts to over 200 GB/s in theoretical bandwidth at 3200MHz.
Our system is configured with 64 GB of 3200MHz DDR4 memory with 8 x 8GB modules spanning all 8 channels. For a real-world configuration in a workstation of this cailber, we'd typically recommend outfitting a system with 2GB of memory per CPU thread for the best balance, which would suggest 256GB as a better starting point. If your workload can truly use all those threads, it can almost certainly benefit from the greater allotment. The Precision 7865 can be pushed even further, with up to a terabyte of system memory possible. Regardless, our benchmark routine is not so memory capacity intensive, so performance should translate provided all channels are populated.
The GPU options are similarly stout, spanning up to dual
NVIDIA RTX A6000
cards with 48GB of GDDR6 memory apiece (with or without SLI). The system we are testing uses a single RTX A6000, which is still a lot of muscle. The RTX A6000 matches the RTX 3090 Ti in CUDA core count while doubling the video memory. We will note, though, that the RTX A6000 is rated for about 2/3 the TGP (300W vs 450W) and has slower shader and memory clocks as a result.
There would be a one slot gap between cards for dual-GPU configurations, which ought to help airflow. Unfortunately, there's no bottom-side air intake for the chassis, so the bottom GPU may be a little starved for cooling regardless, but we do not have a configuration to test that for certain.
The motherboard is approximately standard ATX sized, but with a custom layout that Dell has favored recently. The motherboard spans all the way to the front panel I/O which presumably reduces complexity for mass assembly. Any reduced need to route a cable can save labor, and conventional front-panel headers are notoriously finnicky. The drawback is that owners will not be able to seamlessly swap in off-the-shelf replacements to upgrade in the future, though that tends to be less of a concern for the corporate customers this product targets.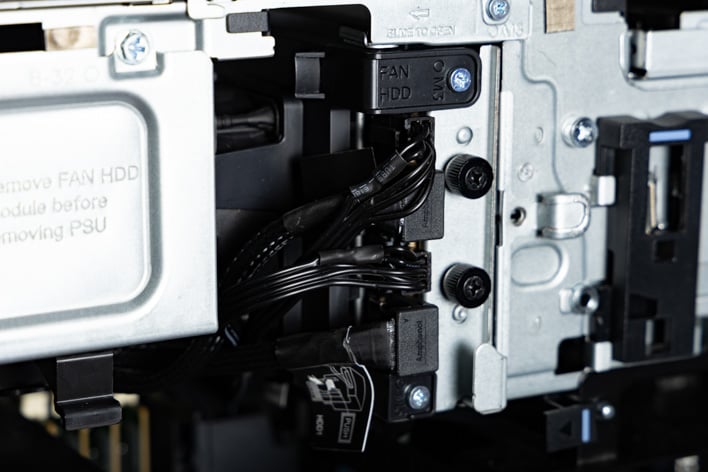 The system is well-designed overall for standard maintenance. Folks who are familiar with working in Dell's systems will be comfortable here, though there is some learning curve to finding where each necessary clip and tab is situated.
We will now turn our attention to the user experience and performance of the Dell Precision 7865 workstation…
Related content