Corsair Teases A Bodacious 27-Inch OLED Xeneon Monitor For Fast HDR Gaming At 1440p
There's not an abundance of
OLED gaming monitors
on the market, certainly not in comparison the sea of LCD options. Most of the ones that
do
exist tend to be larger in size. As in 34 inches and up, for the most part. There are exceptions, one of which is coming soon from Corsair—the company announced it's adding the Xeneon 27 OLED to its growing lineup of displays.
The Xeneon 27 OLED will be only the second OLED monitor from Corsair, the other one being the
Xeneon Flex 45WQHD240
. That one, as its model name suggests, is a mammoth 45-inch display with a bendable panel. It also carries a rather large price tag at
$1,799.99 on Amazon
(on sale from $1,999.99).
Corsair hasn't yet revealed the MSRP for its upcoming Xeneon 27 OLED, but the smaller size and non-bendable display are sure to translate into a
lower cost of entry
into OLED territory. While it doesn't tout a flexible panel, it still has plenty going for it.
First and foremost, it's an OLED screen produced by LG Display, which makes some of the best OLED televisions for gaming. LG's own 27-inch QHD 240Hz OLED monitor (27GR95QE-B) is
priced at $999
, for reference.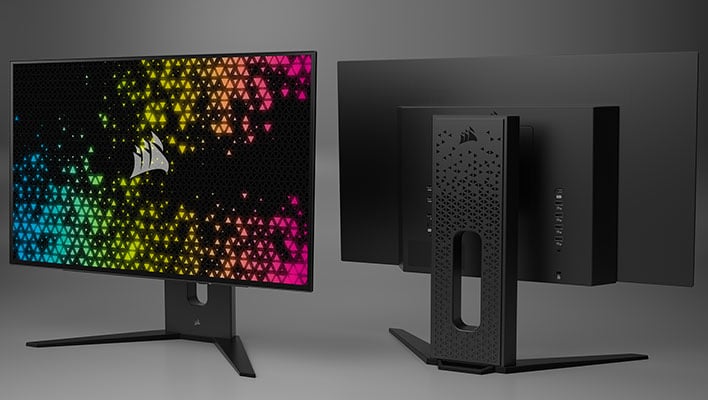 "Continuing the close partnership between Corsair and LG Display, the Xeneon 27 OLED boasts a cutting edge 3rd generation OLED panel with META Technology featuring Micro Lens Array (MLA). This innovative new technology places a focal lens to enhance brightness in front of every pixel, boosting brightness far beyond previous generation OLED panels and delivering breathtaking color vibrancy," Corsair says.
Brightness is one of the few weak spots of OLED compared to LCD, but that's not the case here. Corsair says the Xeneon 27 OLED cranks out an eye-searing 1,000 nits of peak brightness, along with a 1,500,000:1 contrast ratio to really do HDR content justice. Likewise, Corsair suggests superior image quality with 98.5 percent coverage of the DCI-P3 color space.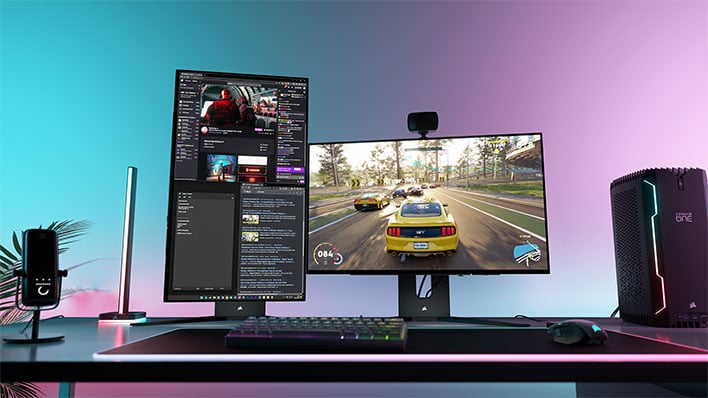 One of OLED's strengths is its response time, due to how the technology works. In this case, Corsair says the Xeneon 27 OLED boasts a 0.03ms response time and 0.01ms Pixel on/off to virtually eliminate motion blur. It's also capable of a fast 240Hz refresh rate to push triple-digit framerates (assuming your GPU can keep up). Addition, this is a
FreeSync Premium
monitor with G-Sync compatibility to tackle screen tearing.
Connectivity options include a pair of HDMI 2.1 ports, DisplayPort 1.4, and a USB Type-C DP Alt-Mode input that allows for connecting to four different devices at the same time (two of which can be display simultaneously via picture-in-picture or picture-by-picture). Users will also find four USB 3.1 downstream ports and a USB 3.1 Type-C upstream port.
What about
burn-in
? That's an inherent risk with OLED technology, especially with long periods of static images. However, Corsair assures the Xeneon 27 OLED boasts an "array of burn-in protection techniques" to keep the image clean, "even following extended overlay, UI, or operating system use."
Corsair says the
Xeneon 27 OLED
will be available in May 2023 with a three-year zero dead pixel and zero burn-In warranty.