ASUS ROG Phone 3 Review: Fastest Android On The Planet
ASUS ROG Phone 3: Software Setup, User Experience And Gaming
Whereas the previous two ROG Phones shipped with a version of Android that was a step behind the latest major upgrade from Google, the ROG Phone 3 comes with
Android 10
installed, so you get the newest build right from the get-go. ASUS also applies its ROG skin/theme, giving the phone's user interface an aggressive gaming aesthetic.
The ROG theme is based on the ASUS Launcher (previously Zen UI), the company's official launcher, just stylized differently. That's to say, the icons and other elements look different and are distinctly infused with ROG's DNA. Functionally, however, they are the same thing.
You can choose between a dark (default) or light version, which ASUS labels as Apex Galactic Armor and Light Luminous Core, respectively. Or if you are not a fan of the ROG styling, there is a Classic theme available that reverts the icons and everything else to the standard look of the ASUS Launcher.
Some elements fall by the wayside with the Classic theme, though. For example, when you squeeze the phone, it initiates or disables X-Mode, with the background changing accordingly with either of the ROG themes. But with the Classic theme, while you can still enable or disable X-Mode, there is no background animation to accompany it.
Regardless of the skin, the ASUS Launcher is pretty good overall, and not too overbearing with custom elements. Swiping down from the top brings up quick settings and notifications, while swiping up from the bottom brings up the app container.
ASUS ROG Phone 3 Armory Crate And X-Mode
Here is where things get fun. Software tweaks play a key role in the gaming experience. Or as ASUS puts it, X-Mode and Armory Crate are "the cornerstones of the performance tuning and customization in the ROG Phone series."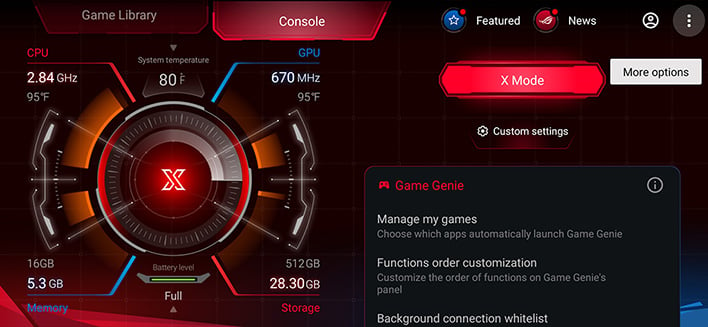 X-Mode is essentially a performance mode. When enabled (which you can do by squeezing the phone or clicking the X-Mode icon in the quick settings section), it dumps background apps to free up memory and optimizes the hardware for gaming. The latter partially consists of locking in higher frequencies for better performance, at the cost of thermals and battery life.
This latest iteration offers up three levels, the third of which can only be engaged when using the AeroActive Cooler 3 accessory.
You can also tune settings on a per game basis, through custom profiles. There is quite a bit you can adjust, from touch sensitivity (including separate controls for sliding sensitivity), the refresh rate, and more. If you want to go hog wild, there is a "Hardcore Tuning" section that lets you set CPU and GPU values based on temps. These are part of the scheduler settings, which yield unprecedented access to performance tweaking on a smartphone.
It can actually be a bit overwhelming. Most users will probably opt to leave things at their default values, but for enthusiasts with the knowledge and desire to dive deeper into advanced settings, there is a whole lot to play with here.
Beyond raw performance tweaks, the ROG Phone 3 affords gamers the ability to create macros and custom key mapping.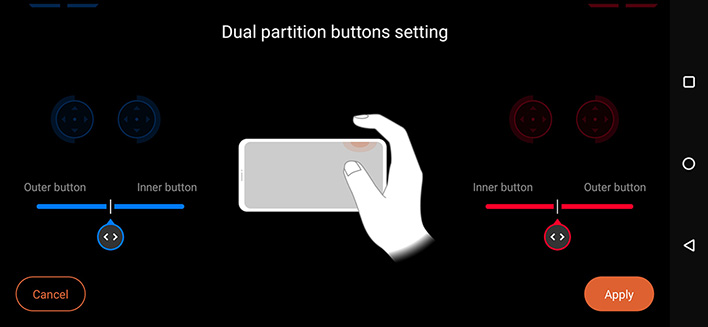 Arguably the best feature of the ROG Phone 3, however, is the inclusion of ultrasonic sensors, or AirTriggers, as ASUS calls them. These are on the top edges when holding the phone in landscape orientation. They are basically touch-sensitive versions of traditional shoulder buttons that you would find on a typical gamepad.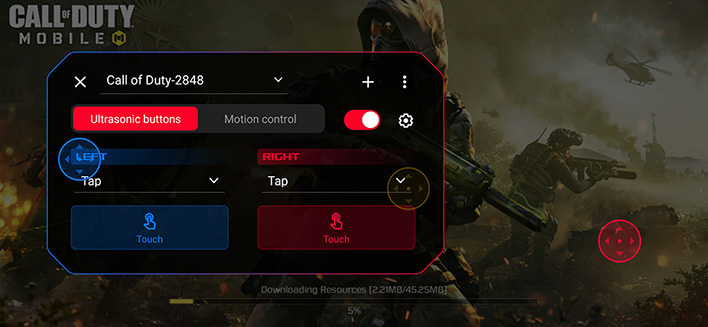 For the ROG Phone 3, the AirTriggers learned some new tricks. Namely, you can now divide each one into two smaller partitions, giving you four AirTriggers to play with instead of two. In addition, this latest implementation supports swiping left or right to trigger different touch points, and can serve as a continuous trigger if holding your finger(s) down.
AirTriggers truly amp up the gaming experience, depending on the title. Not every game will benefit from having touch-sensitive shoulder buttons, but for shooters like Call of Duty and PUBG, AirTriggers become an indispensable utility, once you've gotten used to them.
Gaming On The ROG Phone 3
The main reason to consider the ROG Phone 3 is to play games, because that is what it is primarily designed to do. Sure, it's a flagship smartphone in its own right, but just like few people buy a Ferrari to putter around the block to buy groceries, the ROG Phone 3 has a higher purpose than general usage chores.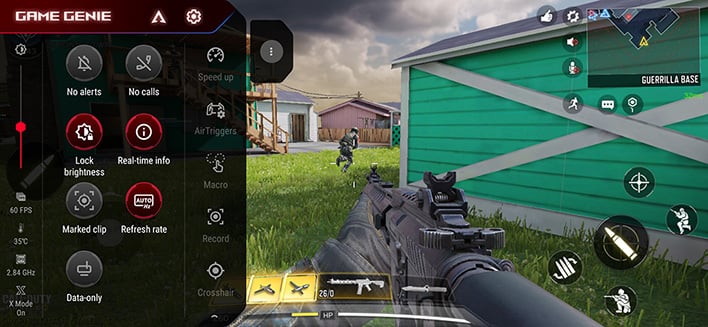 When gaming, you can bring up a wealth of controls and options by swiping from the left, which engages the Game Genie menu. This brings up a whole bunch of quick settings, as well as more advanced things like initiating a livestream or plopping a crosshair onto the battlefield.
This is also when you'll want to spend some time configuring proper AirTrigger placement. These are not mapped to any specific in-game controls. Instead, they correlate to hotspots on the screen. So for example you could drag the right AirTrigger control to hover over the shoot icon, then when you hit the right AirTrigger, the phone/game thinks you are tapping the shoot button. Pretty clever.

Will using AirTriggers make you a better mobile gamer? Maybe, maybe not. But in our experience (dating back to the original ROG Phone), AirTriggers are a game changer. We found they are best suited for shooters and driving simulations, but they can be applied to any type of game.

Related content
Comments