ASUS ROG Ally Goes Up For Preorder, Try This Checkout Trick To Save $70 Off MSRP
Preorders for the ASUS ROG Ally handheld game console are now live, at least for the higher end variant of the two initial models that will see the light of day this summer. This is the same console that was initially brushed off as an April Fools' Day prank due to ASUS teasing the system on April 1. To the delight of many, it
turned out to be real
and it could give the Steam Deck a serious run for the money.
That's because ASUS managed to keep the price well below a grand. As we've seen with numerous other would-be
Steam Deck competitors
, cramming desirable PC gaming hardware into a handheld form factor is expensive. Aggressive pricing is part of what gave Valve and its Steam Deck an edge, and now ASUS has officially joined the ranks with the ROG Ally.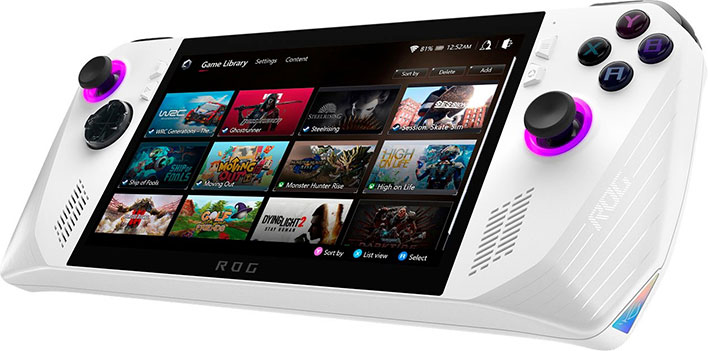 There are two version of the ROG Ally—one built around AMD's Z1 processor and another based on the Z1 Extreme. The higher-end model also doubles the amount of NVMe SSD storage from 256GB to 512GB. Otherwise, the specs are the same.
The
ASUS ROG Ally with a Z1 Extreme
processor and 512GB of storage is the version that's up for preorder for
$699.99 at Best Buy
. There's also a listing for the less powerful
ROG Ally with a Z1
processor and 256GB of storage for
$599.99
(also at Best Buy, which is exclusively offering the ROG Ally right now), but it's not yet available to preorder.
Pricing for the Z1 Extreme model comes in $50 higher than the top Steam Deck SKU with the same amount of storage (512GB). However, the ROG Ally is a more powerful handheld with a higher resolution display (1920x1080 versus 1280x800) that's also rated as brighter (500 nits versus 400 nits) and faster (120Hz versus 60Hz) to boot. There's also a potential way you can score the ROG Ally with the Z1 Extreme chip for $70 below its MSRP, which would make it $20 less than Valve's flagship Steam Deck model.
Discount Codes To Potentially Knock $70 Off The ASUS ROG Ally Price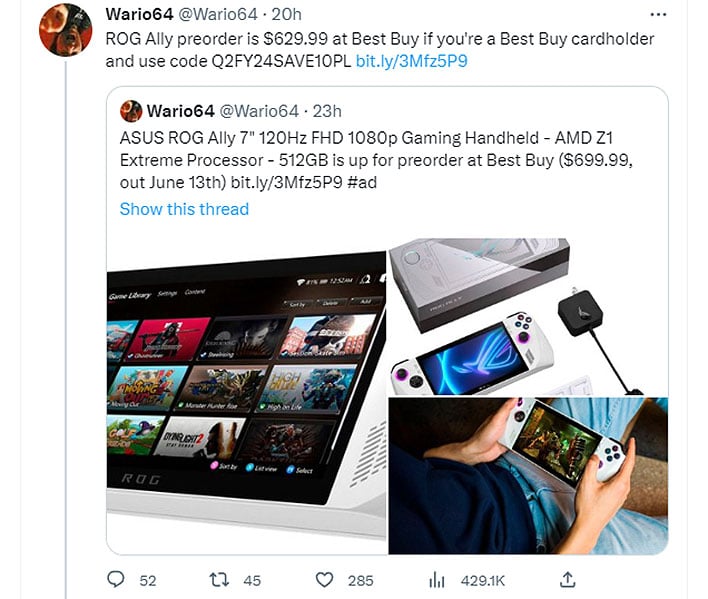 As pointed out by deals monger Wario64, Best Buy cardholders can apply coupon code Q2FY24SAVE10PL at checkout to score the handheld for $629.99. Your mileage may vary—some users report that the code isn't working for them, while others say it worked like charm. For it to have any chance of working, though, you'll need to use a Best Buy card (and presumably already have the details punched in).

Others have found luck using the discount codes
APR24EMOB25
and
MAY24EMOB25
. The former code expires this month while the latter is supposed to be good until July or August, according to
Reddit user exaltare
.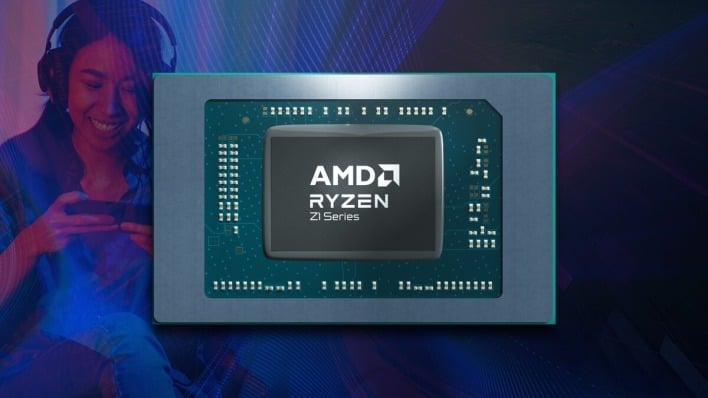 The ROG Ally is an intriguing handheld, even without the discount. In case you missed our previous coverage, AMD designed its
Ryzen Z1 series SoCs
specifically for handheld PC gaming consoles. These chips are based on AMD's latest-generation CPU and GPU architectures, those being Zen 4 and RDNA 3, respectively.
As it applies to the Z1 Extreme, you're looking at an 8-core/16-thread chip with 12 RDNA 3 GPU cores and 24MB of cache. The regular Z1, meanwhile, is a 6-core/12-thread chip with 4 RDNA 3 cores and 22MB of cache.
"At AMD, we're continually advancing the next generation of gaming experiences, from consoles to desktops to on-the-go handheld devices," said Jason Banta, corporate vice president and general manager, Client OEM at AMD. "Ryzen Z1 processors deliver gamers an elite gaming experience and extreme portability in exciting gaming form factors."
It will be interesting to see what other handheld consoles based on the Z1 series find their way to market, and how they compare to the ROG Ally and Steam Deck in price, performance, and features. In the meantime, we've secured an ROG Ally and will be posting a review soon.