AMD Unveils Ryzen Z1 Chips With Zen 4 And RDNA 3 Firepower For Gaming Handhelds
Both of AMD's latest-generation architectures, those being
Zen 4 for CPUs
and
RDNA 3 for GPUs
, can offer significant performance-per-watt benefits over previous-generation parts. That's most important in power-constrained battery-powered devices, and little is more power-constrained than a gaming handheld.
That's exactly what the Ryzen Z1 processors are meant for: PC-based gaming handhelds like the Steam Deck, or more specifically in this case, the
ASUS ROG Ally
. There are two models of Ryzen Z1 differentiated by the addition of "Extreme" on the higher-end model, but they're actually pretty different.

Image: AMD

Both chips will use the same Zen 4 CPU cores and RDNA 3 graphics, but that's where the similarities end. The Ryzen Z1 Extreme processor will have fully eight CPU cores with SMT (for 16 threads), as well as twelve AMD RDNA 3 compute units. While that may sound puny, taking into account the
doubled SIMD width of RDNA 3
, that comes out to more compute throughput per clock than a
Radeon RX 6500 XT
.
Meanwhile, the standard AMD Ryzen Z1 drops two of the CPU cores and fully two-thirds of the integrated GPU. This is an interesting product, because typically a device intended for gaming will have a greater emphasis on GPU performance. It's true that even with just four compute units, the Ryzen Z1 will likely have solid graphics performance for eSports and indie titles, especially on low-resolution displays. Still, it's a big step down from the Extreme.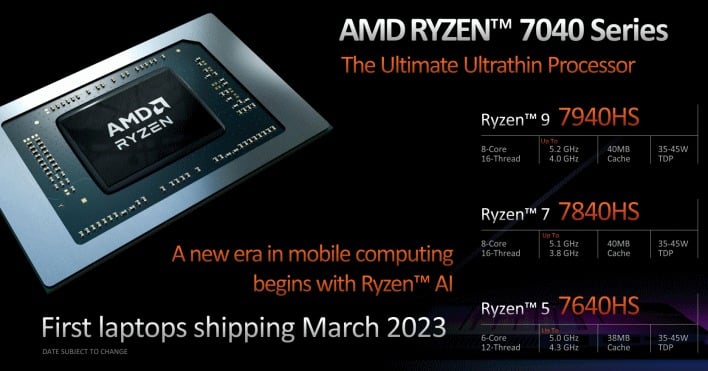 Frankly, both products may end up limited by memory bandwidth in some cases. AMD doesn't say, but we are fairly certain these are effectively
its Phoenix silicon
, customized in some way specifically for handheld usage. The Phoenix processors that AMD has announced so far are "HS" chips with TDPs starting at 35 watts, but we've already seen leaks of a
lower-powered Ryzen 7 7840U
, so ULV versions of those chips exist.
If that's the case, then the chips will have 128-bit LPDDR5/LPDDR5X memory interfaces. Without super-fast hot-clocked LPDDR5X, memory bandwidth will be a limiting factor (as it usually is for integrated graphics).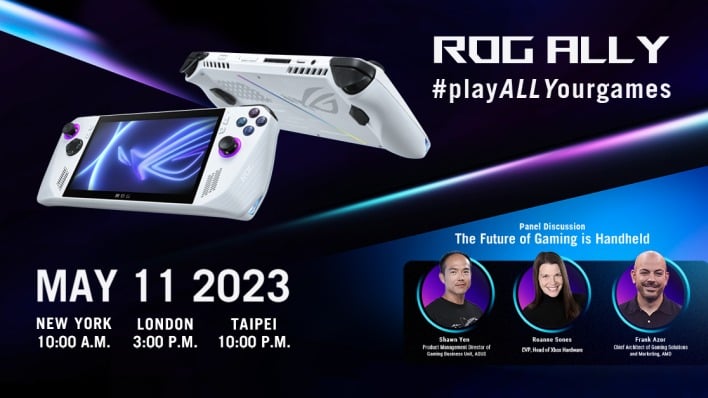 While AMD's press release
talks in general terms
about these processors, the only announced product for them so far is the
ASUS ROG Ally
handheld. While we have staggeringly few solid details on that machine, we don't have too long to wait to find out critical information like the full specifications, regional availability, and arguably the most important factoid: the price. ASUS has indicated all of this will be revealed on May 11th.