Ayaneo Unveils 2S Ryzen-Powered Gaming Handheld To Take On Steam Deck And ASUS ROG Ally
Portable gaming PC specialist Ayaneo has decided to refresh its
Ayaneo 2
model with a new 2S model hitting Indiegogo shortly. According to various reports, both consoles old and new will look pretty similar and have mostly similar specs, with one big exception. Last year's model gets a very welcome brain transplant, moving from the AMD Ryzen 6800U to the potent
Ryzen 7 7840U 'Phoenix'
in the Ayaneo 2S. Beyond the performance implications, it is hoped some thermal engineering tweaks will mean a quieter and cooler system.
The Ryzen 7 7840U offers a great mix of performance for portable gaming, as it wields AMD's latest
Zen 4
CPU and
RDNA 3
GPU architectures. On paper, it is very much like the new
AMD Ryzen Z1 Extreme
APU, which directly targets portable handheld gaming devices. It seems to have the same CPU core configuration, caches, and iGPU configuration. However, the configurable TDP of the Ryzen Z1 Extreme is 15-30W, and the Ryzen 7 7840U is officially 35-54W. Meanwhile, AMD hasn't specified the CPU base/boost clocks of the Z1 extreme, but the Ryzen 7 7840U CPU cores are said to run from 3.8GHz to 5.1GHz.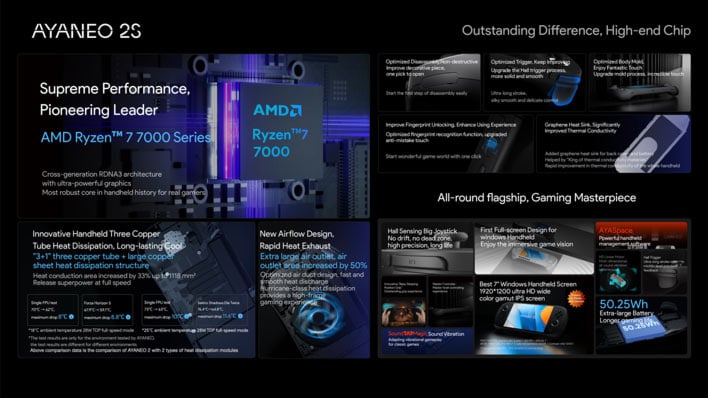 One last important aspect of the AMD Ryzen 7 7840U in the Ayaneo 2S is that the system designers have tuned it down to 15W. We guess that this will be impactful on limiting the performance of the CPU and GPU on the SoC, but theoretically it should perform similarly to the Ryzen Z1 at 15W.
Probably the next biggest change with the new Ayaneo 2S concerns its thermal design. Ayaneo says that it has made some heatpipe and heat spreader tweaks, and added a graphene heatsink, to come up with the new "3+1" cooling design. Overall, the new cooling system offers 33% more surface area and delivers SoC load temperatures with the new SoC which are 11.6 degrees Celsius better than the previous gen Ayaneo 2.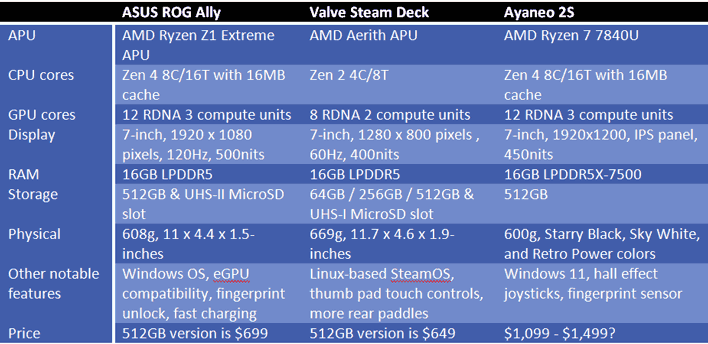 How does the new Ayaneo 2S stack up against the dynamic duo of the
ASUS ROG Ally
and Valve Steam Deck? Check out our comparison table above.
Ayaneo has also taken the opportunity to improve screen brightness and make some ergonomic and finish tweaks. For example, the body shape has been finessed to better fit the human hand, and the triggers have had similar attention. Disassembly is also claimed to be simpler – which will improve the ease of upgrades and repairs. Lastly, the new colorways are certainly welcome.
Pricing is a thorny issue here. The currently available Ayaneo 2 is sold with varying specs at between $1,099 - $1,499. Can it stick to that price level with the
Ayaneo 2S
, given the new competitive landscape? We might find out as soon as mid-May, when pre-orders via Indiegogo are scheduled to begin. The Ayaneo 2S is going to ship sometime in June, if all goes to plan.