ASUS ZenBook 13 OLED Review: Ryzen 5000-Powered Excellence
ASUS ZenBook 13 OLED (UM325S): Acoustics, Thermals and The Verdict
ASUS ZenBook 13 OLED Cooling And Acoustics
The ASUS ZenBook 13 OLED is only 12.0" x 8.0" x 0.5" and 2.5lbs, so there's not a lot of volume inside its relatively thin chassis to keep an 8-core / 16-thread processor with a decent-performing integrated GPU running ultra-cool and quiet. The machine does a fairly good job, however...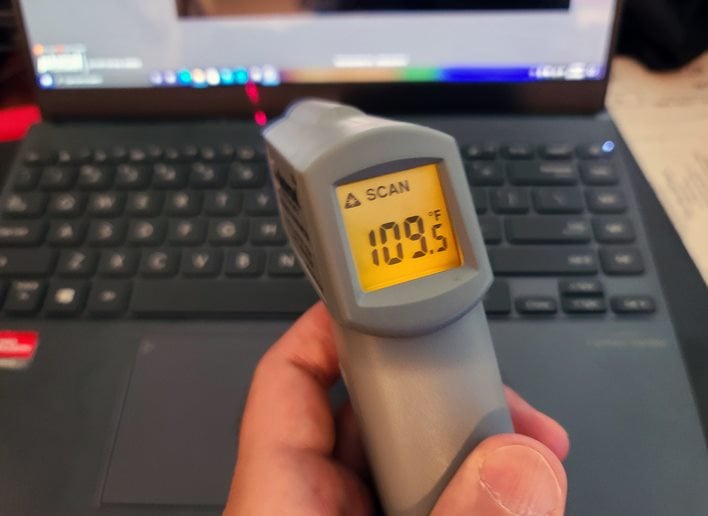 The hottest part of the skin, was at the back edge of the chassis, where the rear ventilation pumps air out under the screen. At the point which is highlighted red in the image above, temperatures peaked at around 110°F, which is quite warm, but not so warm that it hurts to touch. Over the entire keyboard and trackpad area, however, temperatures are not a concern at all. And using the notebook on our laps wasn't uncomfortable either. Though it is relatively small, there are large strips for ventilation on the bottom and along the entire back edge, so a good amount of air moves through the system.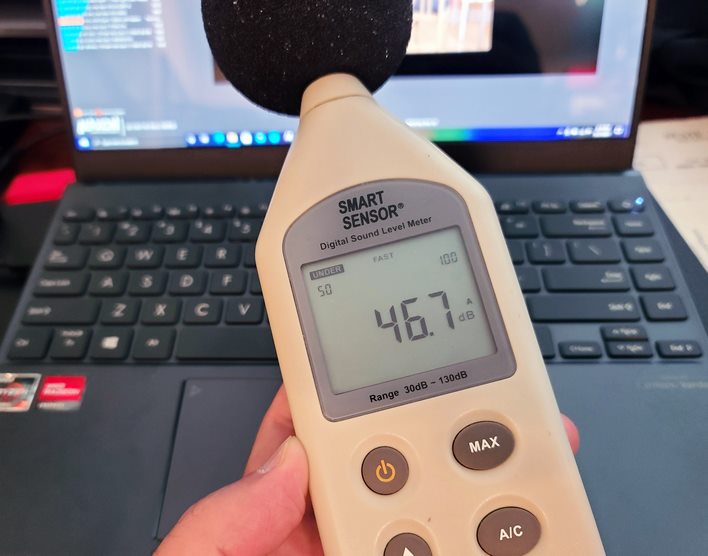 In terms of its noise output, the ASUS ZenBook 13 OLED hit nearly 47dBa on our meter, but about a foot and half away from the keyboard deck -- roughly where someone's head would be when using the machine on a typical desk. That's not loud enough to be obtrusive in most environments, but is loud enough to be clearly audible. When idling or during light-duty workloads, the ASUS ZenBook 13 OLED's fans don't spin up nearly as high, so noise shouldn't be concern for anyone. But be aware, that during heavier, sustained workloads, the system does produce and audible report that's somewhat more pronounced than many other thin-and-light notebooks with similar form factors.
Final Thoughts On The ASUS ZenBook 13 OLED
We really like the
AMD
Ryzen-powered ASUS ZenBook 13 OLED (UM325S). Full disclosure, 13.3" is my preferred notebook form factor, so out of the gate this machine was intriguing. That said, if this machine's display size and profile appeals to you, there are very few downsides. The ASUS ZenBook 13 OLED is thin, light, and attractive. The system performs very well, especially with multi-threaded workloads where the 8-core / 16-thread processor can stretch its legs. The FullHD HDR OLED display is also top-notch, though the glossy panel may not appeal to everyone. It's fairly well appointed in terms of IO as well, with a good mix of ports and card-reader built right in. 802.11ax
Wi-Fi 6
and Bluetooth 5 connectivity are also at the ready, ASUS does a nice job with the bundle, and battery life is phenomenal.
Intel's
latest 11th Gen mobile platform
offers better single-thread performance with some workloads, more advanced IO (PCIe Gen 4, Thunderbolt, etc.), and higher-performing Iris Xe integrated graphics with some configurations. However, in terms of the overall package, we think the vast majority of users will be more than pleased with what the Ryzen-powered ASUS ZenBook 13 OLED has to offer, especially considering Ryzen 7 5700U-based models start at only $899. Availability of the Ryzen 7 5800U-based model we showed you here is thin, but if you can find one in stock, this is a great little machine.





Strong Performance
Clean, Understated Looks
Decent Keyboard
Excellent Battery Life
Very Good Display
Good Port Array For A Thin And Light

Single Thread Still Trails Intel
Power Button Location
Related content
Comments