ASUS ZenBook 13 OLED Review: Ryzen 5000-Powered Excellence
ASUS ZenBook 13 OLED (UM325S): Ryzen 5000U Benchmarks And Performance
We tested the ASUS ZenBook 13 OLED as it shipped from the company, but with the latest Windows updates installed, and any auto-updates that came down via ASUS' MyASUS application, to best ensure what we present to you here is indicative of what you can expect from machines bought at retail.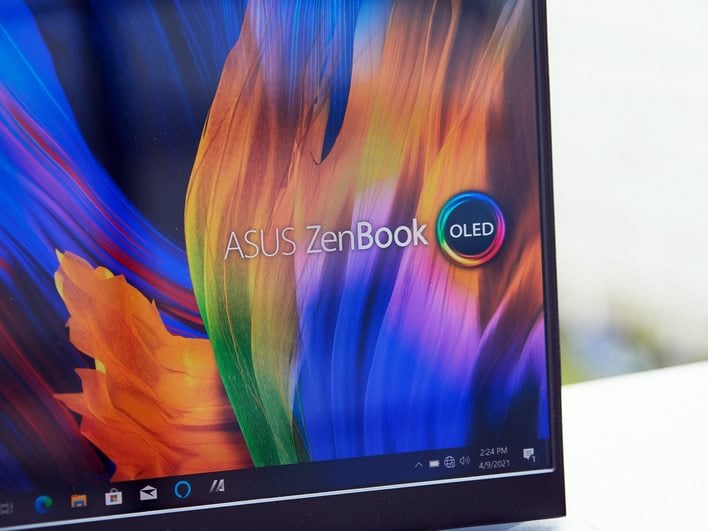 Many variables can affect performance, however, so our comparisons should serve only as a reference. Our benchmarking kicks off with storage, CPU, and browser tests to get an idea as to how the AMD
Ryzen 5000
series-powered machine performs in everyday computing tasks…
ATTO Disk Benchmark




Peak Sequential Storage Throughput



ATTO's disk benchmark gives us an idea of how well the system's SSD performs with sequential read and write operations of differing sizes. This system has a 512GB SK Hynix PCIe Gen 3
NVMe
Solid State Drive (SSD)...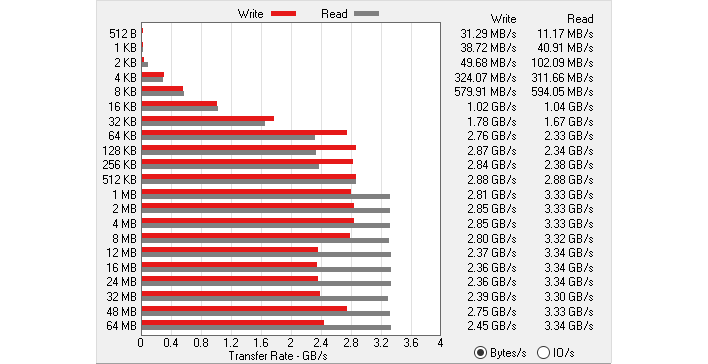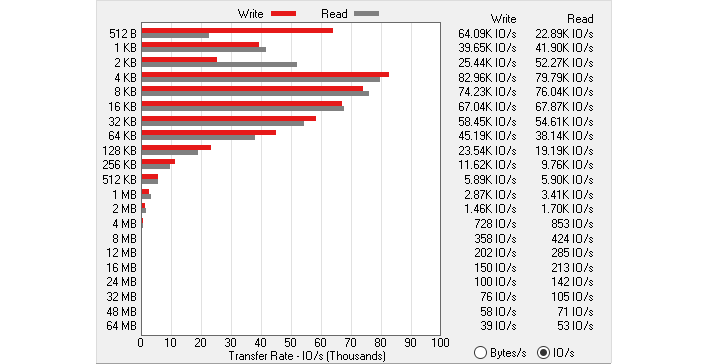 The ASUS ZenBook 13 OLED we tested included and SK Hynix NVMe SSD. As you can see, reads topped out at ~3.34GB/s with writes peaking at about ~2.88GB/s, give or take a few MB/s depending on the transfer size. The drive isn't the fastest we've seen in a notebook, but it is still plenty speedy and worlds better than any SATA-based solution.
Speedometer Web Application Benchmark
Browser Performance
We moved on to BrowserBench.org's
Speedometer
test, which takes a holistic look at web application performance. This test automatically loads and runs several sample webapps from ToDoMVC.com using the most popular web development frameworks around, including React, Angular, Ember.js, and even vanilla JavaScript. This test is a better example of how systems cope with real web applications, as opposed to a pure JavaScript compute test like JetStream. All tests were performed using the latest version of Chrome.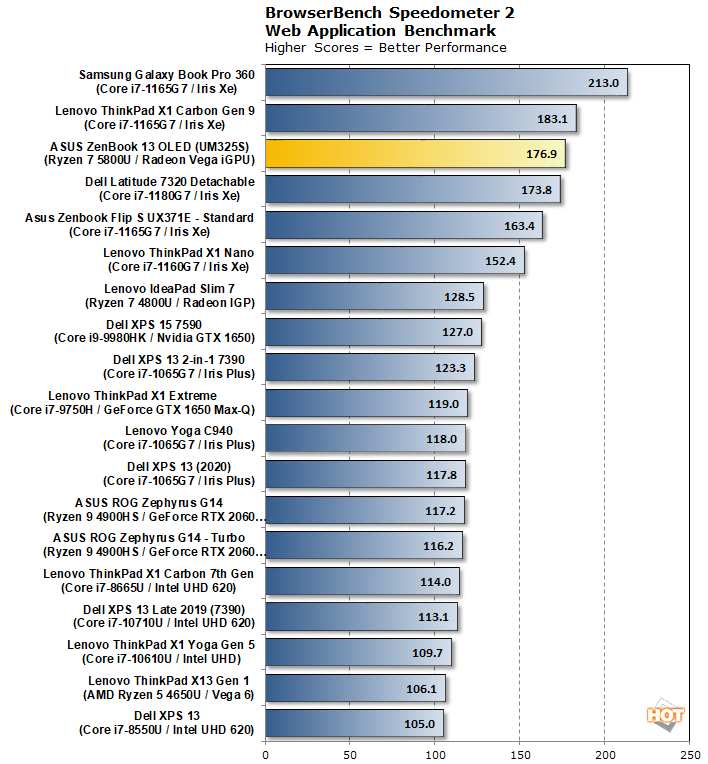 The ASUS ZenBook 13 OLED can't quite catch the fastest of the Intel-powered machines in Speedometer with its
Ryzen 7 5800U
processor, but it is still among the best performers here.
Cinebench R23




3D Rendering On The CPU



Cinebench
rendering performance test based on Cinema 4D from Maxon. Cinema 4D is a 3D rendering and animation tool suite used by animation houses and producers like Sony Animation and many others. It's very demanding of system processor resources and can utilize any number of threads, which make is an excellent gauge of computational throughput. This is a multi-threaded, multi-processor aware benchmark that renders and animates 3D scenes and tracks the length of the entire process. The rate at which each test system was able to render the entire scene is represented in the graphs below.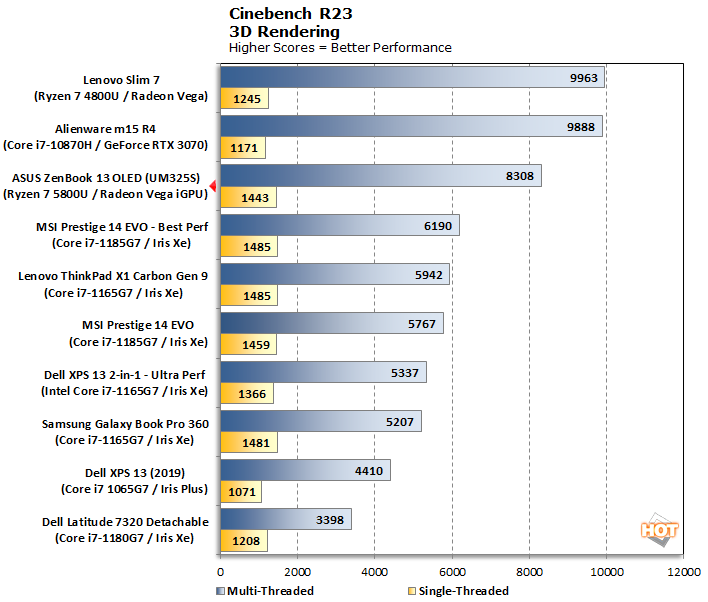 Cinebench R23 has the ASUS ZenBook 13 OLED finishing about in the middle of the pack. Its single-threaded score is in the top three here, and its multi-threaded score lands well ahead of any of the quad-core Intel processors (like the Core i7-1185G7), but behind the other 8-core processors. Note, the Lenovo Ryzen-based system runs its processor at a higher in performance mode, hence its better score here, despite having a similar core configuration.
Geekbench




Single and multi-core



Geekbench 5 is a cross-platform benchmark that simulates real world processing workloads in image processing and particle physics scenarios. We tested the ROG Zephyrus G14 with Geekbench 5's single and multi-core test workloads.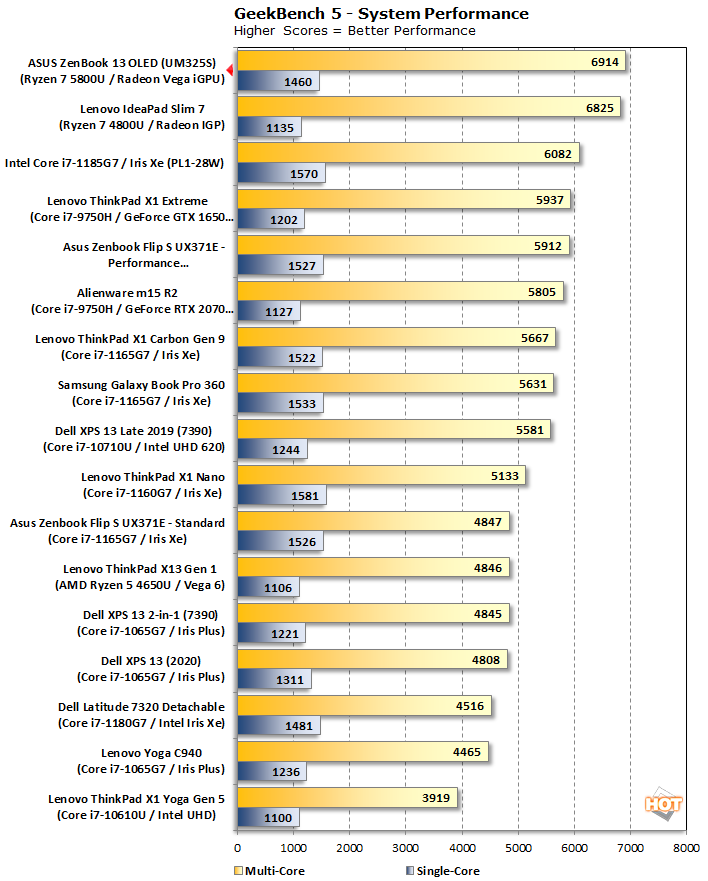 The ASUS ZenBook 13 OLED finishes near the top of the charts in
Geekbench
, with both its single and multi-threaded score. Intel's latest processors hold onto a single-thread advantage in this benchmark, but nothing touches the Ryzen processors in the multi-threaded test.
PCMark 10




Productivity and System-Level Benchmarking



Futuremark benchmarks have been popular go-to system level tests since the late '90s. We ran the
Lenovo
IdeaPad Slim 7 through PCMark 10, which is designed to gauge the system's performance in common, everyday computing tasks with GPU acceleration-enabled, and with 3DMark tests further down the page assess graphics and gaming chops.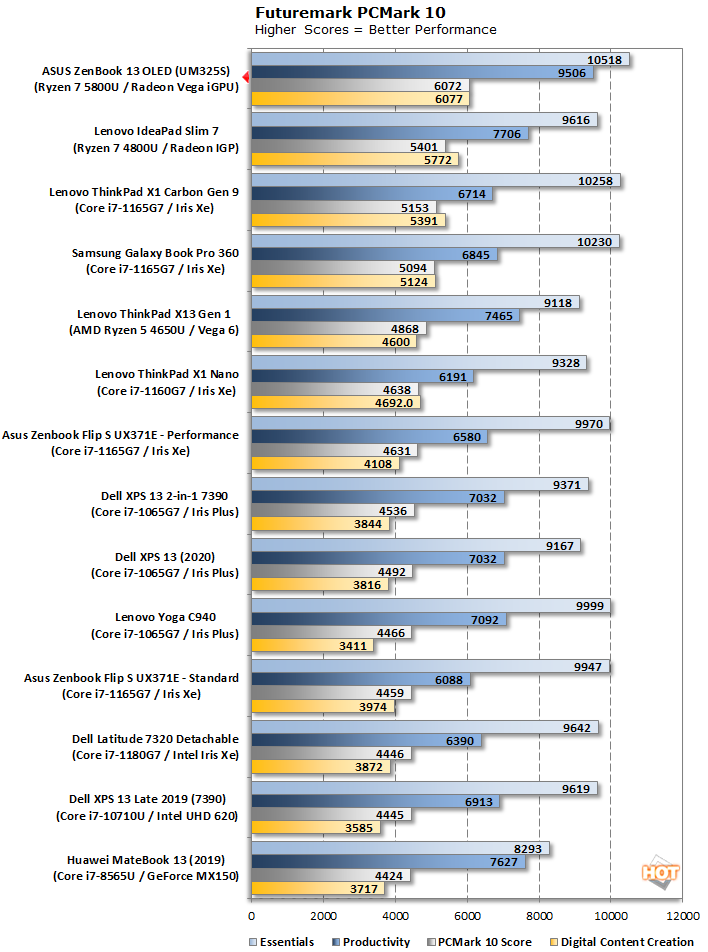 The ASUS ZenBook 13 OLED absolutely rocked in PCMark 10. The system put up the best overall score we have seen from any other similar-sized notebook to date. All of the individual scores are strong as well, especially the Productivity score, where the ASUS machine blew everything else out of the water.



3DMark Benchmarks




3D Benchmarking



We are going to run a few 3DMark tests on the ASUS ZenBook 13 OLED in an effort to compare it to an array of notebooks of similar form factors...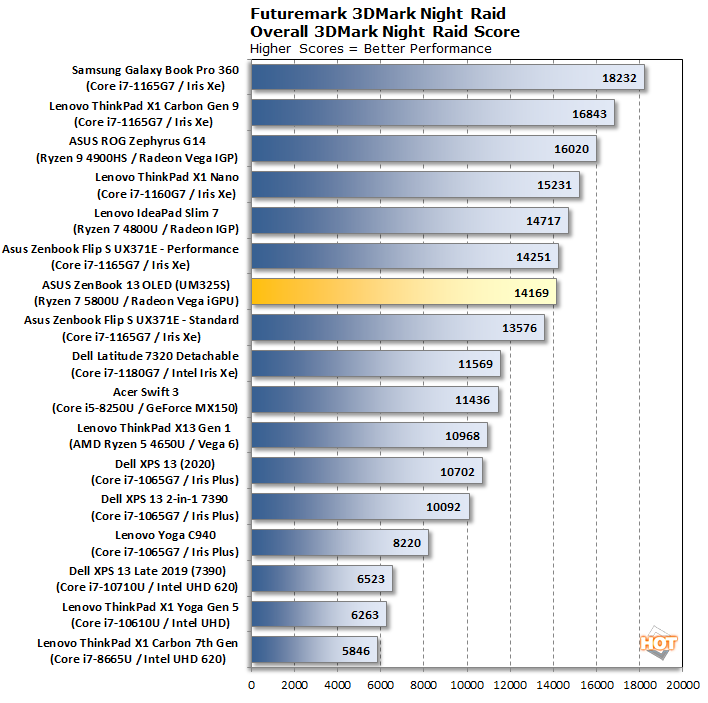 With the 3DMark Night Raid benchmark, the ASUS ZenBook 13 OLED finishes about in the middle of the pack, roughly in-line with the other Ryzen-processors with integrated Vega graphics, but well behind Intel's higher-end 11th Gen Iris Xe graphics-powered counterparts.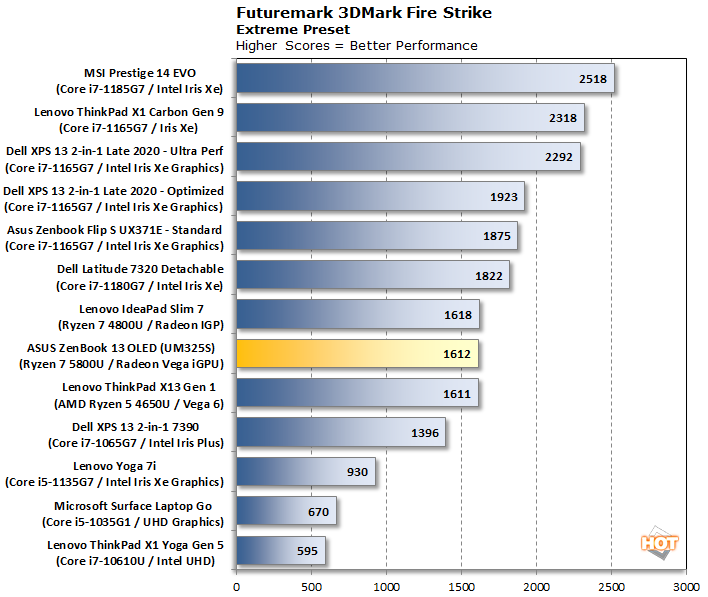 The 3DMark Fire Strike benchmark tells essentially the same story, with the ASUS ZenBook 13 OLED and Lenovo Ryzen notebooks finishing neck-and-neck, but the top-end Intel Iris Xe graphics taking the lead.
Middle Earth: Shadow Of War Performance / Gears




Gaming Performance



With our synthetic testing out of the way, it's time to move on to an actual game. Though it is a thin and light and not a gaming notebook, the powerful processor and Vega-based Radeon graphics in the ASUS ZenBook 13 OLED are perfectly capable of playing many games. Let's take a look at performance in Middle Earth: Shadow of War first...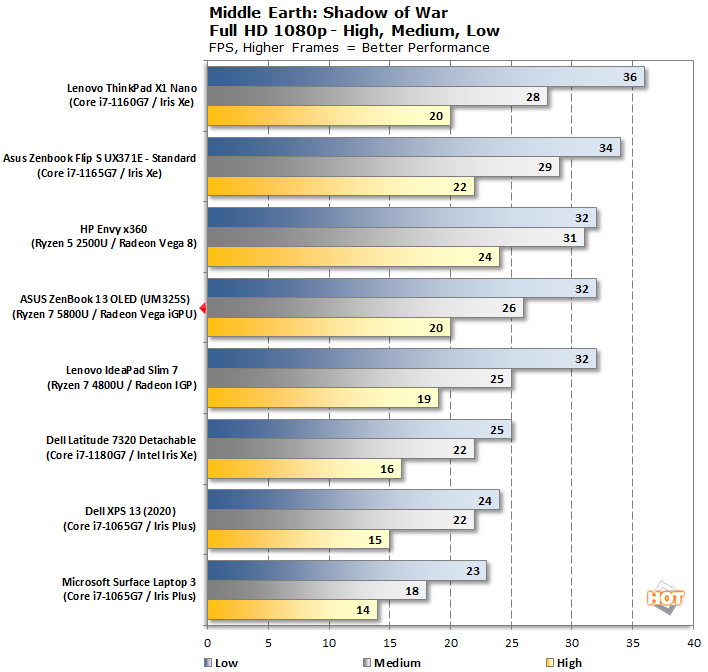 In this first set of tests with Shadow Of War, the ASUS ZenBook 13 OLED finishes right on top of the Lenovo system with its 4000-series Ryzen processor. The top-end
Iris Xe
-equipped systems, however, end up being about 10% faster through all of the various settings we tested.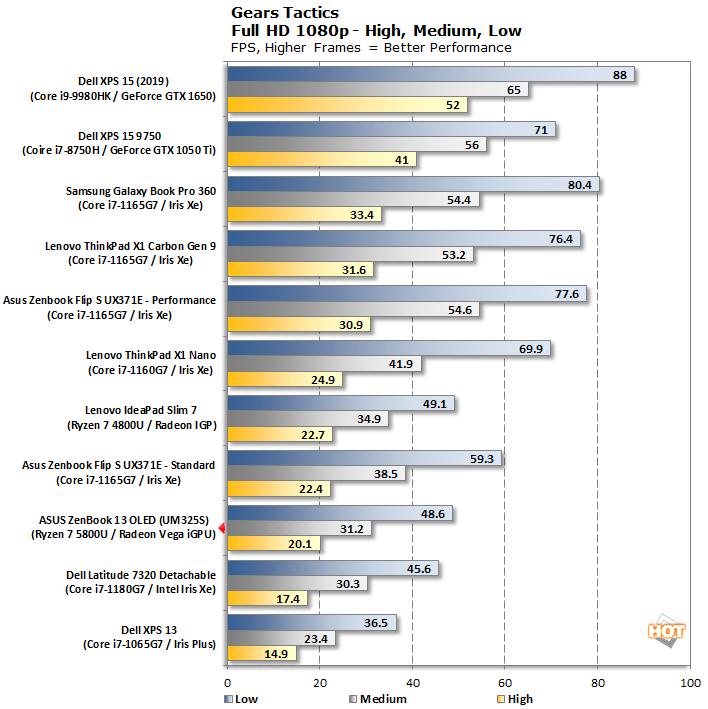 The ASUS ZenBook 13 OLED struggled a bit with Gears Tactics. In this game, the ASUS system was a not behind the previous-gen Lenovo rig and it trailed all of the Iris Xe-equipped systems (and all of the systems with more powerful discrete graphics).

Ryzen 5000 Battery Life With The ASUS ZenBook 13
Our Battery Life testing is performed using a custom 1080p HD video loop test we developed here at HotHardware. We conduct the tests with
Windows 10
Quiet Hours / Focus Assist enabled and the display's brightness calibrated as close to 115 lux on
our meters
as possible. Brightness calibration is vital to ensure a fair comparison with other notebooks in our group, since it greatly affects battery life.
However, every notebook has different brightness ranges, so it's critical to rely on a light meter, instead of a Windows brightness setting percentage, in order to level the playing field on brightness output. The ASUS ZenBook 13 OLED required about 40 percent brightness to achieve 115 lux.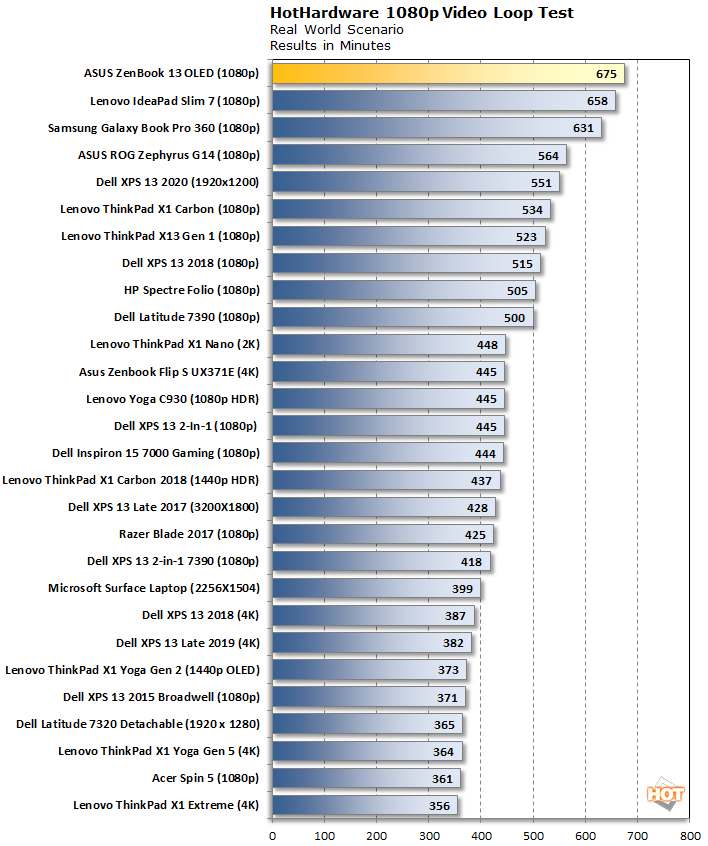 The ASUS ZenBook 13 OLED offers killer battery life -- there's no other way to put it. Its combination of Ryzen 5000U-series processor, with a 1080p OLED display and 67Whr battery puts up awesome untethered up-time, besting every other notebook we've tested in this class. The system kept chugging for nearly 12 hours, which is easily enough for a full day of work and then some.
Related content
Comments