AMD Ryzen 3000XT Processors Reviewed: Zen 2 Turbocharged
AMD Ryzen 3000XT Series Review: The Summary And Verdict
Performance Summary: As you probably expected coming into this article -- assuming you read the news of their announcement -- AMD's Ryzen 5 3600XT, Ryzen 7 3800XT, and Ryzen 9 3900XT offer small performance gains over their "non-XT" namesakes. The 100MHz - 200MHz increases in their boost clocks results in approximate 2% - 5% increases to both their single and multi-threaded performance, in most workloads. Those frequency increases come at the expense of slightly higher peak power consumption, but we're only talking about small differences in this regard. Since these new processors are based on the same slices of silicon as the originals, you would naturally expect increases in power consumption commensurate with their respective uplifts in clock frequency.

With the arrival of the AMD Ryzen 3000XT series, AMD isn't doing away with the original "non-XT" variants. The Ryzen 5 3600X, Ryzen 7 3800X, and the Ryzen 9 3900X will remain in AMD's line-up for the time being, but their prices will be slashed a bit with some nice deals to be had as well. The good news is, the new Ryzen 5 3600XT, Ryzen 7 3800XT, and Ryzen 9 3900XT, arrive with the same $249, $399, and $499 introductory prices
as the originals
.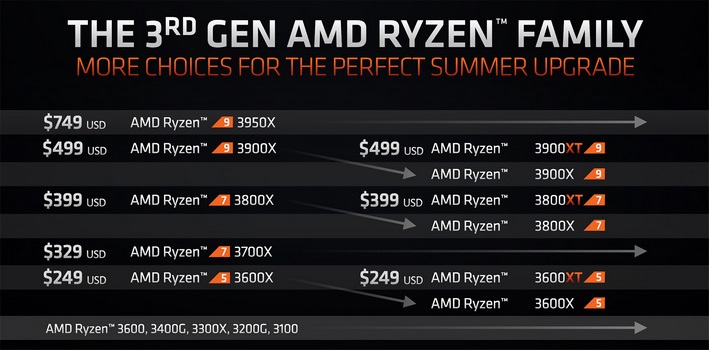 Obviously, if you've already got one of the original Ryzen 3000 series processors that these new XT-branded variants supplant in AMD's line-up, there's little reason to upgrade. For new system builders though, the Ryzen 3000XT series is the way to go, if you want the latest and greatest, and don't plan to do any overclocking. If you do plan to overclock, however, the cost savings on the originals may make them pretty enticing –
a $329 Ryzen 7 3800X
(with cooler included) is a pretty sweet deal.
The Ryzen 9 3950X remains AMD's flagship processor for its mainstream AM4 socket, and we don't expect an XT version of that part, but these new XT chips refresh the rest of the line-up, and give it a little boost across the board. The Ryzen 3000XT series may not represent a massive leap ahead but, considering how popular the
Ryzen 3000
has been with enthusiasts, giving it a shot in the arm and cranking up the performance for the same introductory price points as the originals, certainly works for us.
Faster, For Same Price As Originals
Will Work In Existing Motherboards
Single and Multi-Thread Performance Boosts

Small Performance Gains
Slightly Higher Power

Related content
Comments