Alienware x17 R2 Review: An Alder Lake-H And RTX 3080 Ti Gaming Battleship
Alienware x17 R2: A Benchmark Beast With Battery Life Brutality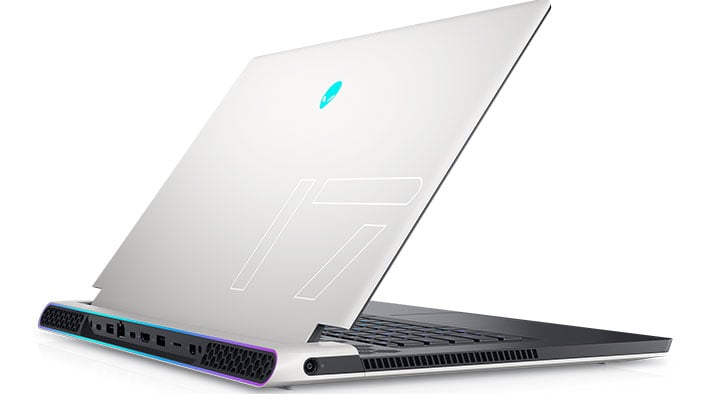 Before running our benchmarks, we applied the latest
Windows 11
and driver updates to the system we are testing (in this case, the Alienware x17 R2). Other than that, we run all of our tests with out-of-the-box settings. In this case Alienware's thermal profile is set to Performance mode. Our goal is to test the system as it ships, but after auto-updating, to accurately reflect what buyers can expect from a retail experience.
ATTO Storage Performance Benchmark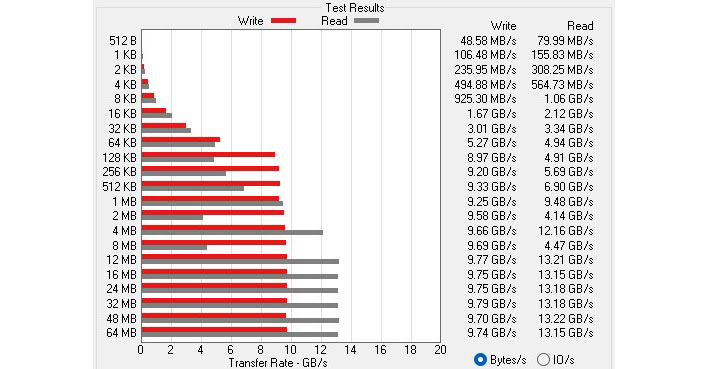 Needless to say, Dell's configuration of a 2 terabyte RAID 0 array with a pair of 1TB PCIe 4 NVMe Solid State Drives, chalks up gobs of bandwidth and this machine is hands-down the fast laptop we've ever tested, in terms of its storage subsystem.
Speedometer 2.0 Browser Benchmark
We use BrowserBench.org's
Speedometer
test to gauge our web experiences, which takes a holistic look at web application performance. This test automatically loads and runs several sample web apps from ToDoMVC.com using the most popular web development frameworks around, including React, Angular, Ember.js, and even vanilla JavaScript. This test is a better example of how systems cope with real web applications, as opposed to a pure JavaScript compute test like JetStream. All tests were performed using the latest version of Chrome.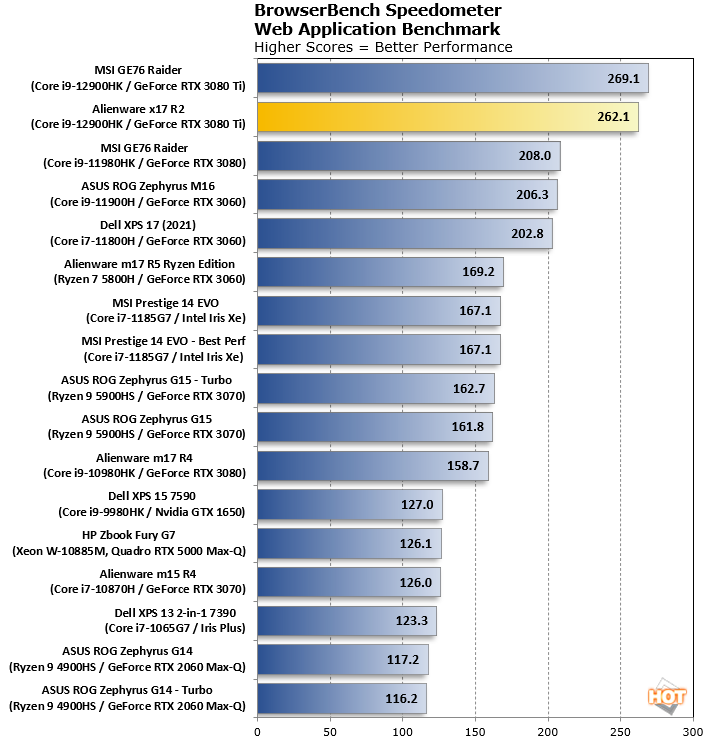 Right out of the gate, the Alienware x17 R2 flexes one of the fastest Speedometer 2.0 scores we have ever recorded, and by a generous margin—it scored 26 percent higher than the previous best obtained by MSI's GE76 Raider. Incidentally, it's an updated and similarly configured GE76 Raider that squeaks past this new Alienware laptop to claim the top spot, though it's nearly a photo-finish between the two.
Cinebench R23 Rendering Benchmark
Now we've got enough results in the current version of
Cinebench
R23 that we feel the previous version, R20, is a bit redundant—so we didn't run it here. This is the latest 3D rendering benchmark from Maxon, based on the Cinema 4D R23 rendering engine. We tested both single-threaded and multi-threaded performance while rendering the sample scene of an office with hardwood floors and a lot of glass in the windows.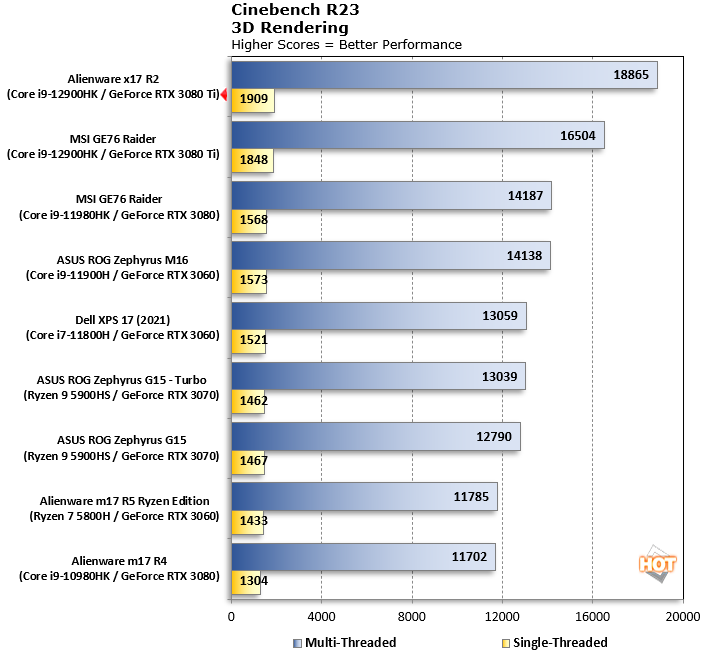 This time the Alienware x17 R2 managed to secure pole position with a 1,909 single-threaded score and an even more impressive 18,865 multi-threaded score. Those scores put it 3.3 percent and 14.3 percent, respectively, ahead of the GE76 Raider. Both feature the same CPU and GPU combination, but the Alienware x17 R2 appears more tuned for CPU thermals and power budget, hence why it's able to race ahead in this benchmark.

Geekbench 5 Benchmarks
Geekbench
is a cross-platform benchmark that simulates real world processing workloads in image processing and particle physics scenarios. We tested the notebooks featured here in Geekbench's single and multi-core workloads. It measures single-threaded performance allowing a single core to stretch its legs, and multi-threaded throughput to put all cores under a heavy load.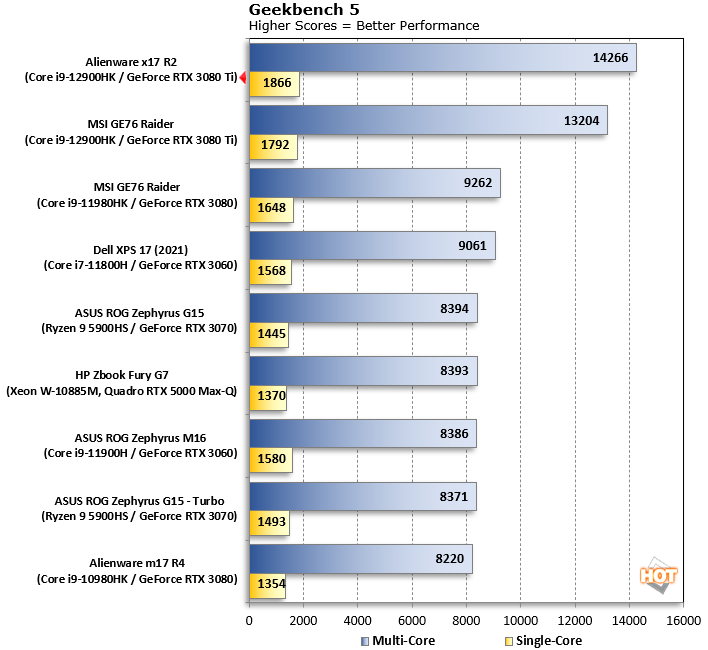 We see this again in Geekbench—the Alienware x17 R2 scores around 4 percent higher than the GE76 Raider in the single-core test, and a tick over 8 percent in the multi-core test. As it applies to the latter, both systems, armed with a flagship Alder Lake-H Core i9 processor, leave previous generation laptops in the dust. Just as we saw in our desktop
Alder Lake performance review
, Intel's hybrid architecture comprising its 12th Gen Core CPUs is pretty fierce.
PCMark 10 Productivity And Content Creation Benchmarks
PCMark 10
uses a mix of real-world applications and simulated workloads to establish how well a given system performs productivity tasks, including image and video editing, web browsing, and OpenOffice document editing. While these scores appear to be all over the place, the systems are sorted by their overall PCMark score, which is the third (gray) bar in each cluster.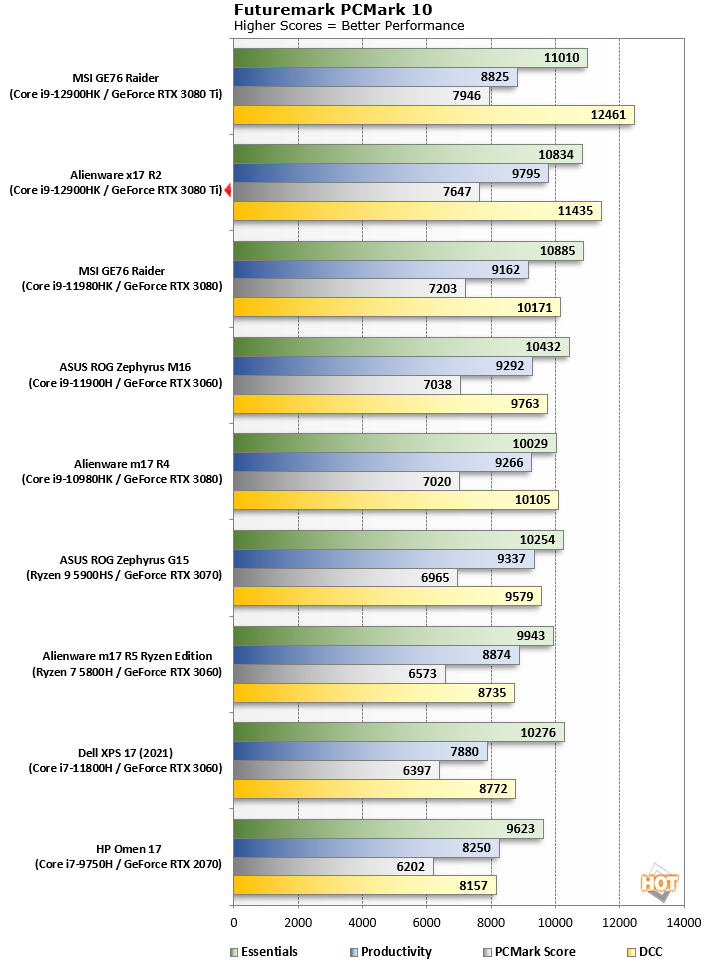 PCMark 10 is an interesting benchmark because in addition to providing an overall score, it gives a high level overview of performance in different types of workloads. Looking at the overall score, the Alienware x17 R2 is once gain near the top, bested only by the GE76 that's rocking a similar configuration. The biggest gap between the two is in the Digital Content Creation (DCC) test, which skews the overall score in MSI's favor. Just as the Alienware laptop seems to be tuned for CPU thermals and power, MSI's laptop leans in the direction of GPU performance.
This is also evidenced in the x17 R2's stronger Productivity score, in lighter, bursty workloads. Also, in our experience, PCMark 10 scores tend to favor storage subsystems. The RAID 0 configuration on the Alienware combined with the laptop's CPU tuning is probably why it excelled in the Productivity tests.

3DMark Graphics And GPU Tests
3DMark has several different graphics tests which focus on different types of systems. We start with Time Spy, which is 3DMark's headline benchmark. This test presents a pretty significant challenge for the system's CPU and GPU using DirectX 12's API...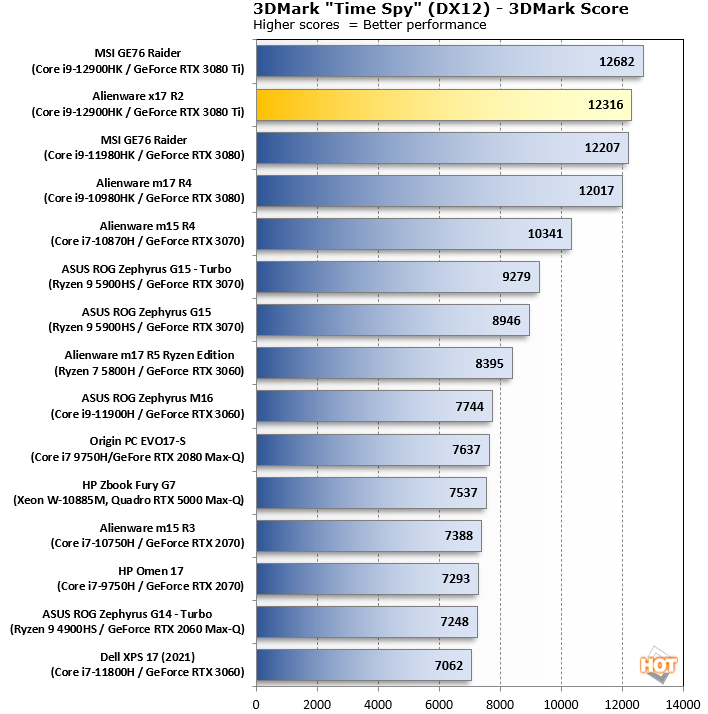 Here we get our first look at dedicated graphics performance on the Alienware x17 R2. Armed with a GeForce RTX 3080 Ti, the fastest mobile GPU in NVIDIA's stable, it's not surprising to see it vault in front of laptops with the non-TI version. And it would have had the best score too, if not for the GE76 Raider, which stole top spot just by a hair.
Next up, let's take a look at the Port Royal test that uses DirectX
Ray Tracing
(DXR) to illuminate a scene...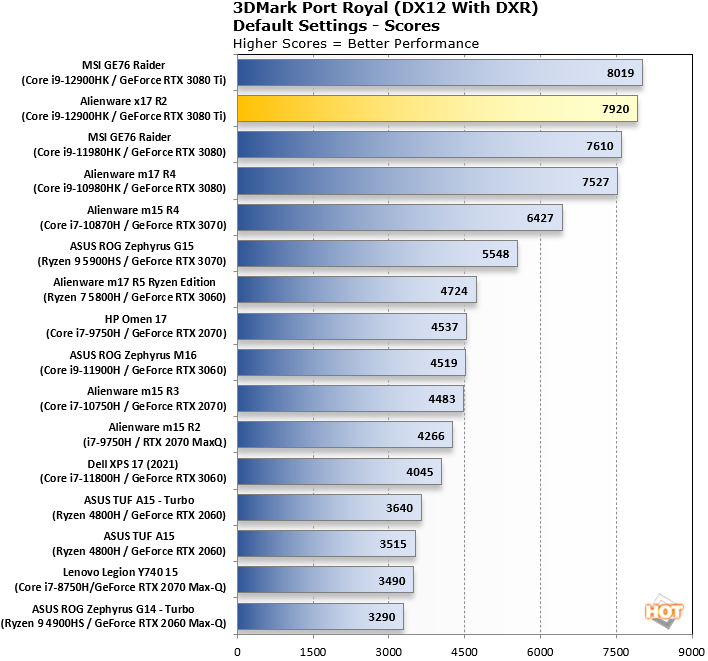 Once again, the Alienware x17 R2 finishes at the top, just a smidge behind the GE76 Raider. It scored around 5.2 percent higher than the previous generation Alienware m17 R4 equipped with a GeForce RTX 3080. When we
reviewed the Alienwware m17 R4
just seven months ago, we commented that it was the fastest gaming laptop yet.
FarCry 5 Game Benchmarks
It's time for actual games, and we start with the latest current instance of a classic Ubisoft franchise.
Far Cry 5
takes the franchise to Montana with lush environments and incredible graphics fidelity. We ran this laptop through the built-in benchmarks with Ultra Quality settings.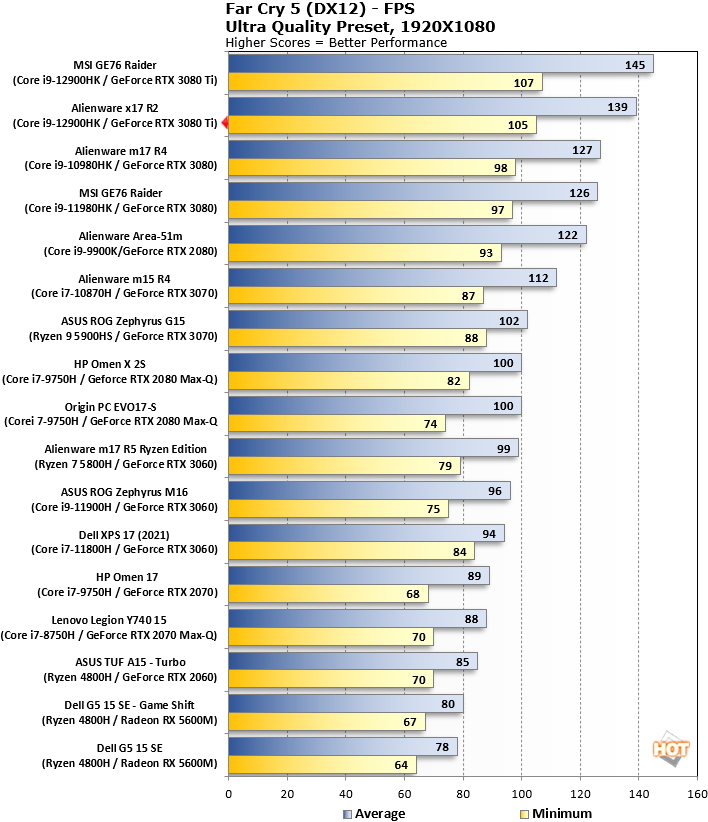 The fastest gaming laptops churn out triple-digit frame rates in Far Cry 5 at 1080p and Ultra quality settings, and so it would have been shocking if the Alienware x17 R2 wasn't able to hang. It was and with ease, averaging 139 fps, which is just 6 fps below the GE76 raider. These two Alder Lake/Ampere bruises are also the only two gaming laptops we've tested to breach the 100 fps mark for the minimum frames recorded in this benchmark. Impressive stuff.

Gears 5 Game Benchmarks
Gears 5
is a tremendously popular title on the Xbox and PC alike, and on top of looking great, it's a blast to play. Due to the relative newness of the game, we don't have a ton of notebooks represented, so we intermingled some desktop GPU results for reference. We used the High preset at 1920x1080, same as before, to test this game.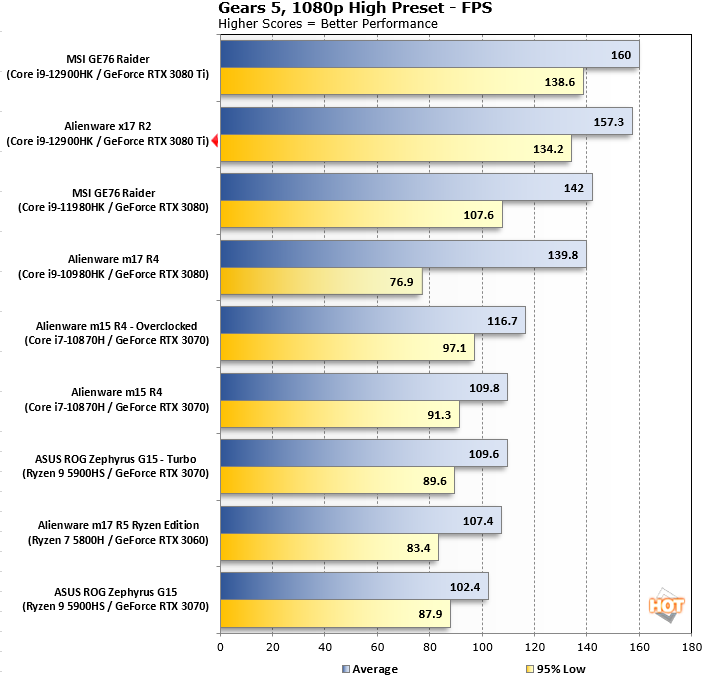 We see more of the same in
Gears of War 5
at 1080p with the eye candy dialed up. This is another game that can make good use of the laptop display's high refresh rate, with the Alienware x17 R2 pushing at tad over 157 fps on average, and generally staying above 134 fps. Once again, the GE76 Raider nudges slightly ahead, though by an imperceptible (to the gamer) amount.
Middle Earth: Shadow Of War Tests
Middle Earth: Shadow of War
is a fun and and beautiful title set in Tolkien's Lord of the Rings universe. To test the game's performance relative to other systems, we set the resolution to 1920x1080 and turned the visuals up to the High preset. The frame rates here are the average reported by the built-in benchmark.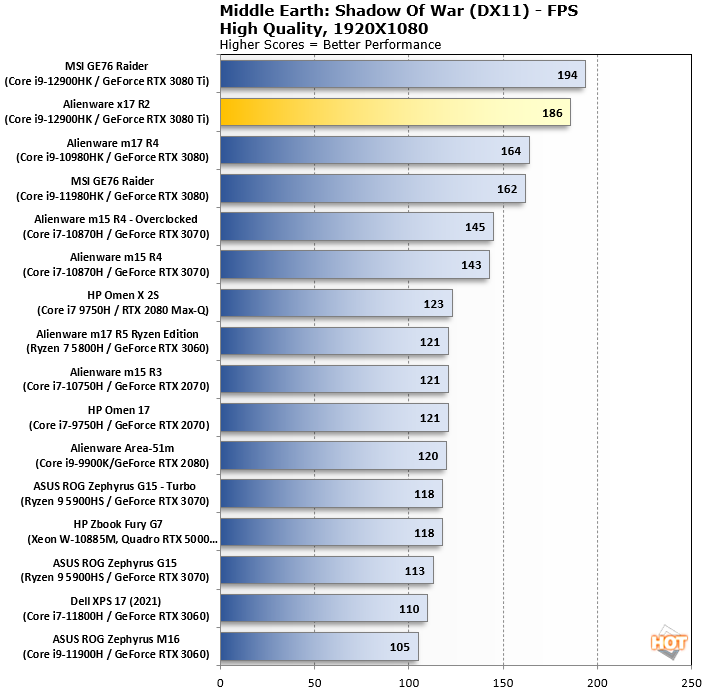 In case it has not become crystal clear yet, the Alienware x17 R2 is a beastly gaming laptop. Granted, hitting triple-digit frame rates in Middle Earth: Shadow of War is not unprecedented. But this new generation of laptops now approach the 200 fps mark—this machine averaged 184 fps, while the GE76 Raider put up 194 fps.

Shadow Of The Tomb Raider Benchmarks
The finale in the rebooted Tomb Raider trilogy, Shadow of the Tomb Raider is easily the best-looking of the bunch. It's also brimming with Tobii eye-tracking hardware support, and leading edge graphics technologies. To test this game out, we again turned the visuals up to High and tested at the Full-HD resolution of 1920x1080.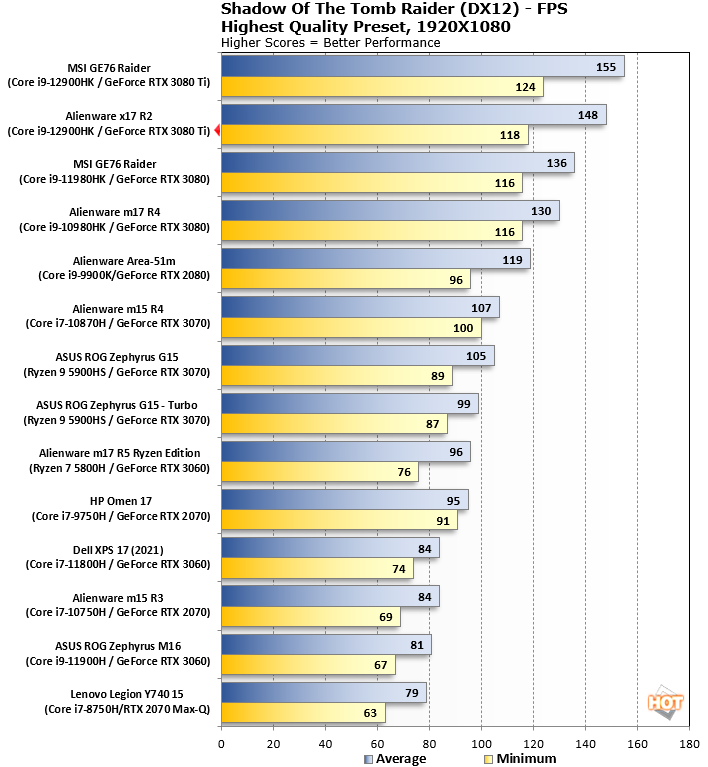 The Alienware x17 R2 finished off the last of our gaming benchmarks with another strong run, averaging 148 fps in Shadow of the Tomb Raider and staying comfortable above 100 fps for the minimum recorded.
Benchmark Performance Analysis And Key Take-Aways
Looking at the gaming and graphics benchmarks as a whole, the Alienware x17 R2 impresses even if it wasn't able to quite grab the top spots from the GE76 Raider. We should mention that in MSI's laptop, the machine lets you disable hybrid graphics all together so the GeForce RTX 3080 Ti is always on and enabled. Also, the Alienware x17 R2 seems to currently be dialed in just under its specified boost clock at 1455MHz, rather than its top end 1590MHz spec clock. Perhaps Alienware can wring even a bit more performance out of the machine, with a future firmware update that allows it's GPU boost clock to scale up just a touch more. Finally, the Alienware x17 R2 does squeeze a bit more out of its CPU, while still hitting wonderfully high performance levels in gaming and graphics. Regardless, these two machines offer two slightly different approaches, but both laptops are seriously fast and are the most powerful laptops we've ever tested.

Battery Life Tests While Video Streaming And Gaming
We run a custom 1080p HD video loop test developed in-house, to prove out battery life with our test group of machines. In all tests, Windows 11 Quiet Hours has been enabled and the displays are calibrated with lux meters on pure white screens to as close to 115 lux as possible. For the average laptop this is somewhere between a 40-60 percent brightness setting.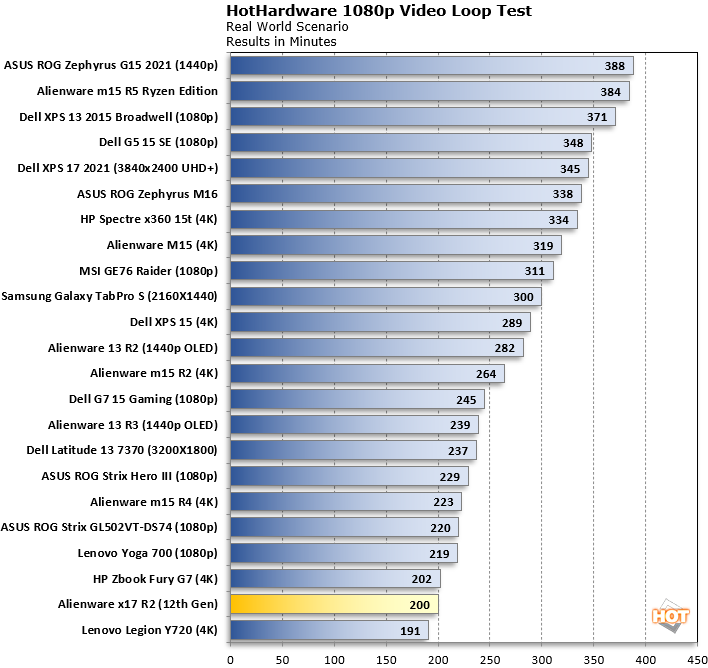 Gaming laptops are not battery life beasts by any stretch, and we're reminded of that here. The x17 R2 manages 3 hours and 20 minutes of run time in our home brewed video test. That's enough to watch most full-length feature flicks, though obviously less powerful productivity laptops can muster much more than that.
Let's see how it handles gaming battery life via PCMark's Gaming test.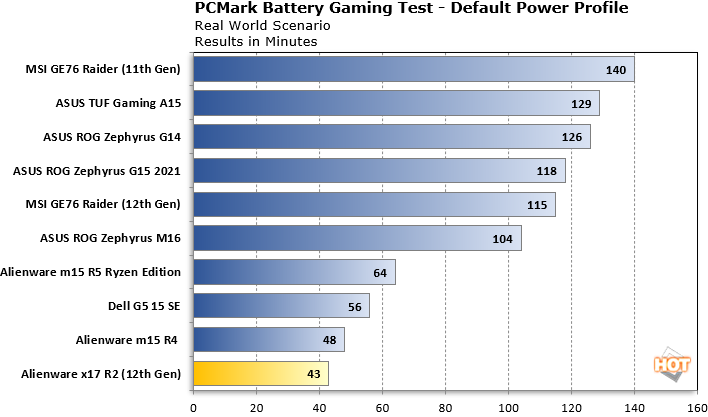 And of course you'll get even less run time while playing games that stress both the GPU and CPU; in this case just 43 minutes. Having all that power on tap, and utilizing it fully, means you'll want stay connected to a power outlet for most gaming sessions.
Next up, let's have a look at thermals and acoustics. Then we'll share our closing thoughts...
Related content