Alienware X15 Gaming Laptop Review: A Svelte Stunner With Caveats
Alienware X15 System, Productivity, Gaming And Battery Life Performance
Before running our selection of benchmarks, we apply the latest Windows and driver updates to the system we are testing (in this case, whatever Alienware's Update utility pulls down for X15). Other than that, we run all our tests with out-of-the-box settings. Our goal is to test the system as it ships, but after auto-updating, to accurately reflect what buyers can expect from a retail experience with a properly maintained system.
Alienware X15 - ATTO Storage Subsystem Performance Testing
The
ATTO disk benchmark
is a fairly quick and simple test which measures read/write bandwidth and IOPS across a range of different data sizes. While we don't typically compare these results across multiple machines, it's useful to gauge whether a particular notebook's storage subsystem can handle being put under pressure.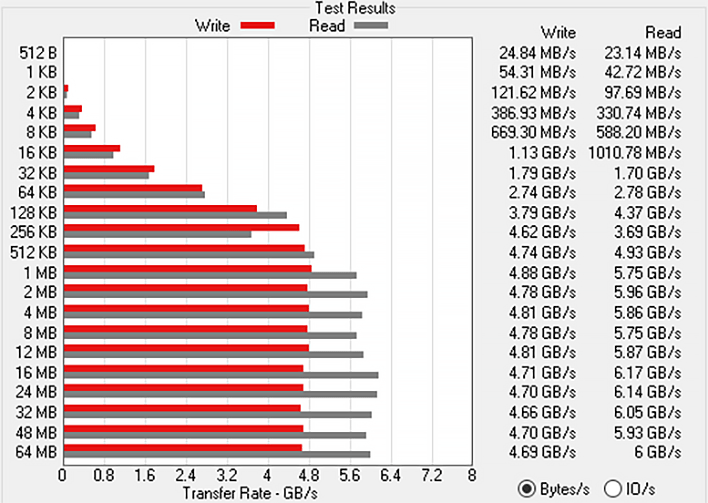 What kind of performance can you get from a pair of PCIe 3 SSDs in RAID 0? You're looking at it. While Intel's 11th Gen Tiger Lake platform does support
PCI Express 4
connectivity for storage, Alienware currently configures this system with PCIe 3 SSDs. It seems they could have elected to go with a pair of PCIe 4 SSDs for up to a blistering 14GB/s of bandwidth, but either for cost or thermal constraints (or both) its PCIe 3 for this
RAID
0 volume. Regardless, 6GB/s for reads and 4.8GB/s roughly for writes is nothing to sneeze at, and this storage setup makes the machine feel super-responsive no matter what you throw at it.
Alienware X15 Speedometer Web Applications Benchmark
We recently moved on to BrowserBench.org's
Speedometer
test, which takes a holistic look at web application performance. This test automatically loads and runs several sample web apps from ToDoMVC.com using the most popular web development frameworks around, including React, Angular, Ember.js, and even vanilla JavaScript. This test is a better example of how systems cope with real web applications, as opposed to a pure JavaScript compute test like JetStream. All tests were performed using the latest version of Chrome.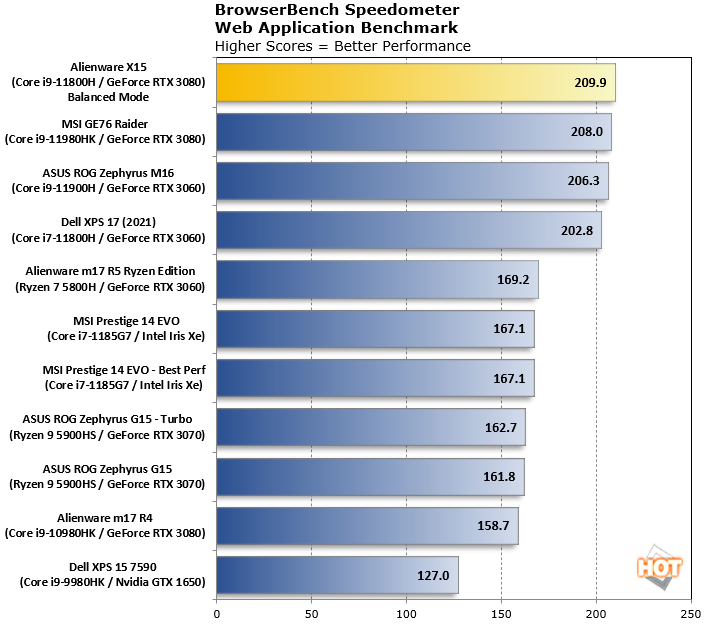 The Core i7-11800H on board the X15, along with its response storage subsystem, chalks up the fastest Speedometer score we've recorded yet by just a hair. It's a good early indicator of system responsiveness.
Alienware X15 Cinebench Rendering Performance
The
Cinebench
rendering performance test is based on Cinema 4D from Maxon. Cinema 4D is a 3D rendering and animation tool suite used by animation houses and producers like Sony Animation and many others. It's very demanding of system processor resources and can utilize any number of threads, which make is an excellent gauge of computational throughput. The newest benchmark from Maxon, Cinebench R23, renders the same scene as R20 but with the company's latest rendering engine with support for all current-gen hardware.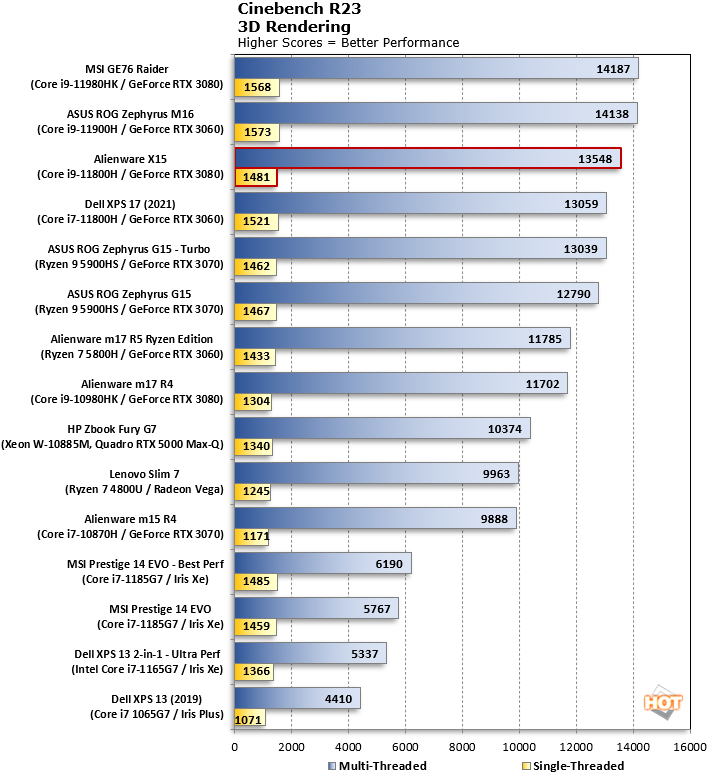 Here we see the Alienware X15 come up a little short in the single-threaded test, but in the multithreaded test it's in the top tier, placing third among all the gaming laptops (and standard ultralights) we've tested to date. It's apparent that Alienware dialed back peak clock speeds (single-thread), perhaps in an effort to control thermals for the Intel Tiger Lake-H CPU, but the variance in performance is negligible.
Geekbench General Purpose Compute Cross-Platform Benchmark
Geekbench
is a cross-platform benchmark that simulates real world processing workloads in image processing and particle physics scenarios. We tested the notebooks featured here in Geekbench's single and multi-core workloads. We've retired Geekbench 4 because version 5 performs many of the same tests, which have been updated with the latest CPU architectures and features in mind.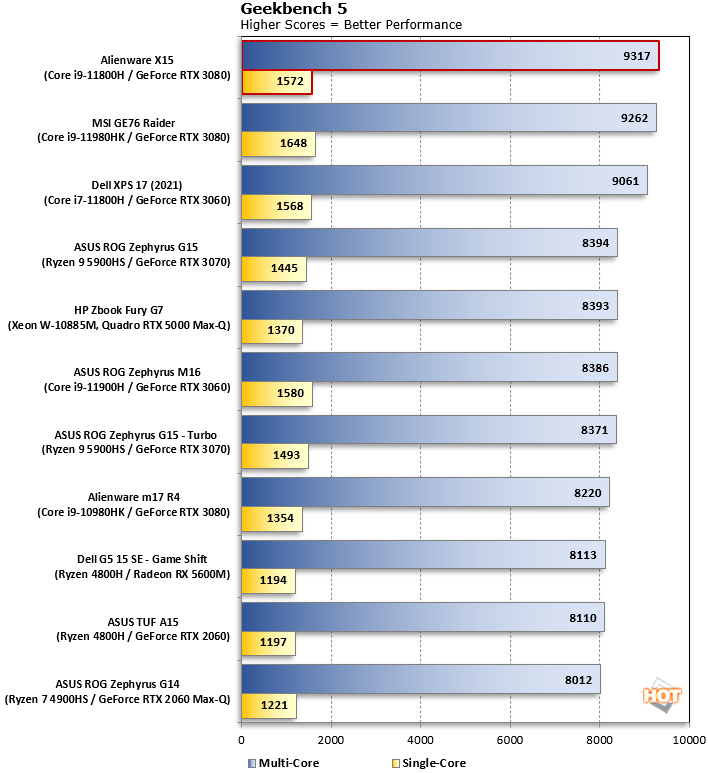 If Cinebench showed the Alienware X15 laying back a touch with a casual demeanor, Geekbench reports almost the antithesis of that, with forceful single-threaded and multithreaded throughput.
Alienware X15 PCMark 10 Productivity And Content Creation Benchmarks
PCMark 10
uses a mix of real-world applications and simulated workloads to establish how well a given system performs productivity tasks, including image and video editing, web browsing, and OpenOffice document editing. While these scores appear to be all over the place, the systems are sorted by their overall PCMark score, which is the third (gray) bar in each cluster.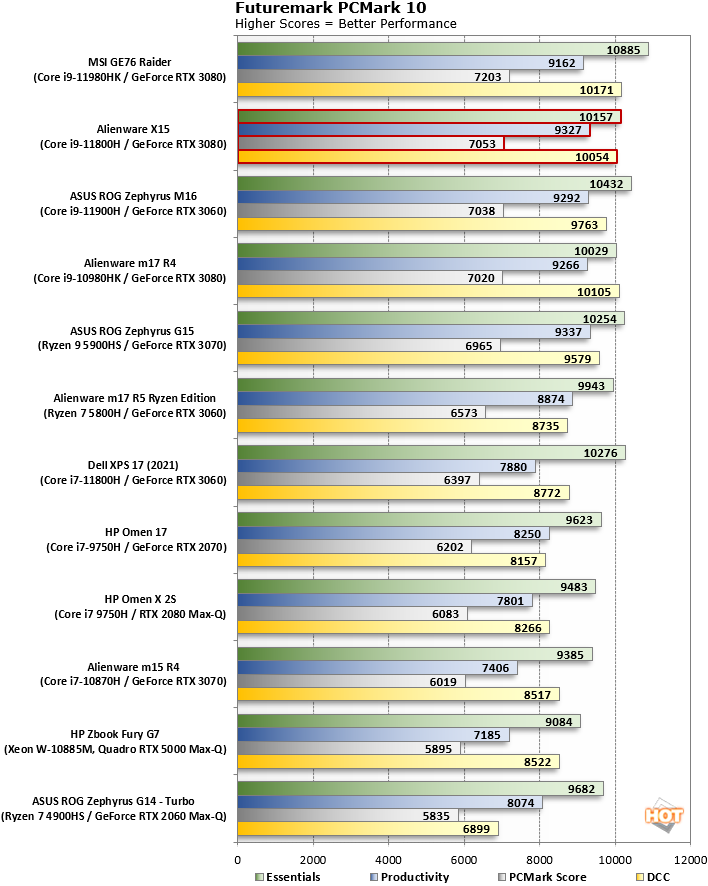 Here we see a second place finish for the Alienware X15. In standard productivity and content creation benchmarks like PCMark 10, the X15 clocks in near the top of our database with especially strong content creation scores, which is to be expected with it's powerful 8-core Intel 11th Gen CPU and a RAID 0
NVMe
SSD array.
3DMark Synthetic DirectX Game Performance Testing
3DMark has several different graphics tests which focus on different types of systems. We start with Time Spy, which is 3DMark's headline benchmark. This test presents a pretty significant challenge for the system's CPU and GPU using DirectX 12's API...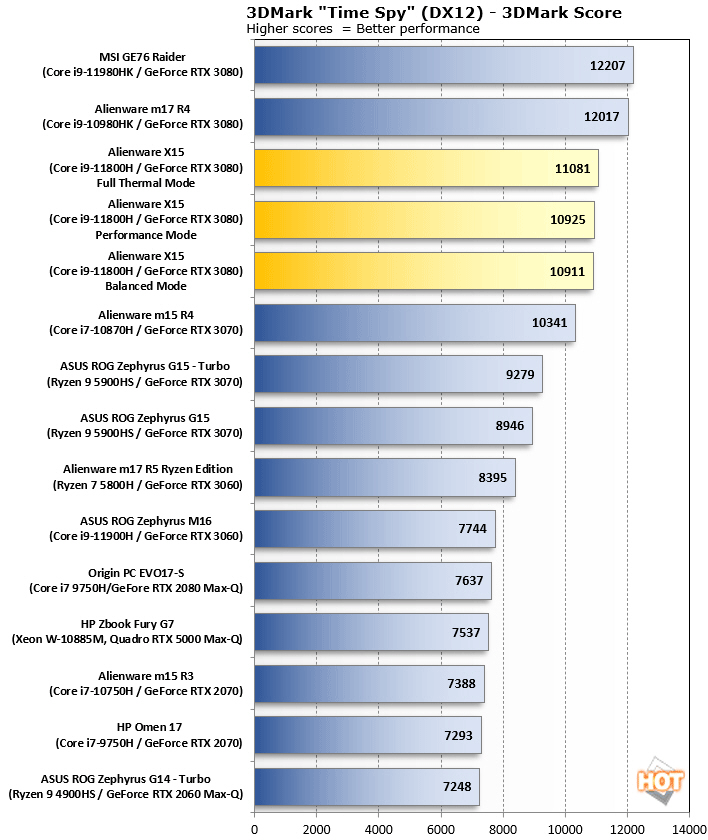 PCMark 10 is one thing, but what happens when we zero in on 3D performance? The GeForce RTX 3080 begins to assert its dominance and propels the Alienware X15 toward the to a top three finish in our database of results. Here we dialed up three performance modes to show you what the machine is capable of when set to run flat out, acoustics and thermals be damned. Full Thermal mode dials up fan speeds and power to the max and we were able to crack 11K with that setting, but the other scores are close behind and with less noise floor we assure you. More on thermals shortly.
Next up, let's take a look at the Extreme preset for the punishing 3DMark Fire Strike test. This DirectX 11 test has been around for a while, but it's still pretty challenging.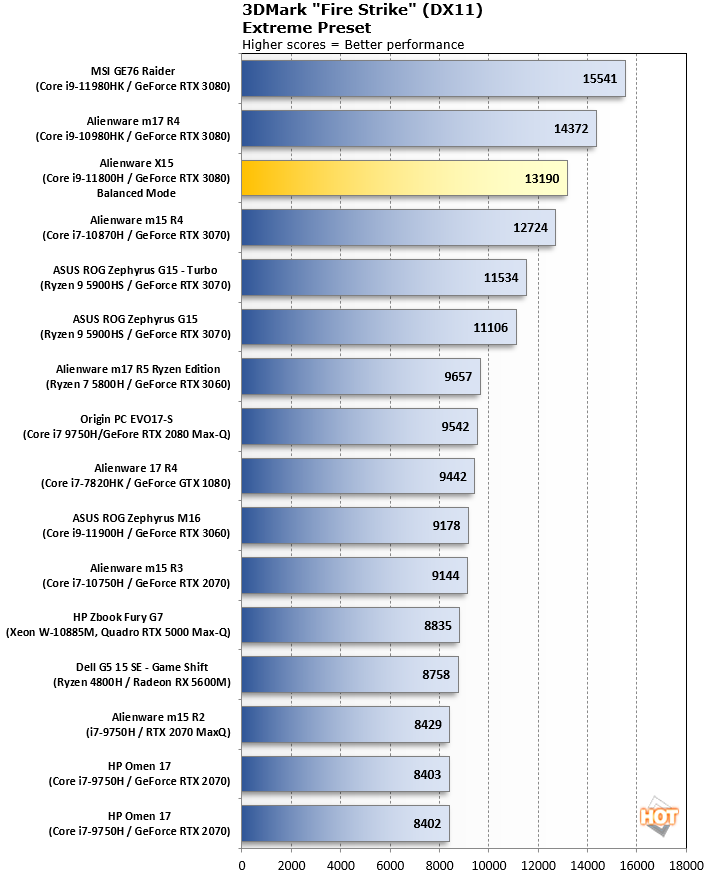 We saw similar results in the Fire Strike Extreme test, with the Alienware X15 sliding in just behind its heavier-duty (and bulkier) counterparts with RTX 3080s under their hoods. Fire Strike is slotting the RTX 3080 power config in the X15 a notch above a GeForce RTX 3070-equipped machine, but also a step behind similarly equipped, larger RTX 3080 powered gaming laptops.
Lastly, the Port Royal test uses DirectX
Ray Tracing
(DXR) to illuminate a scene...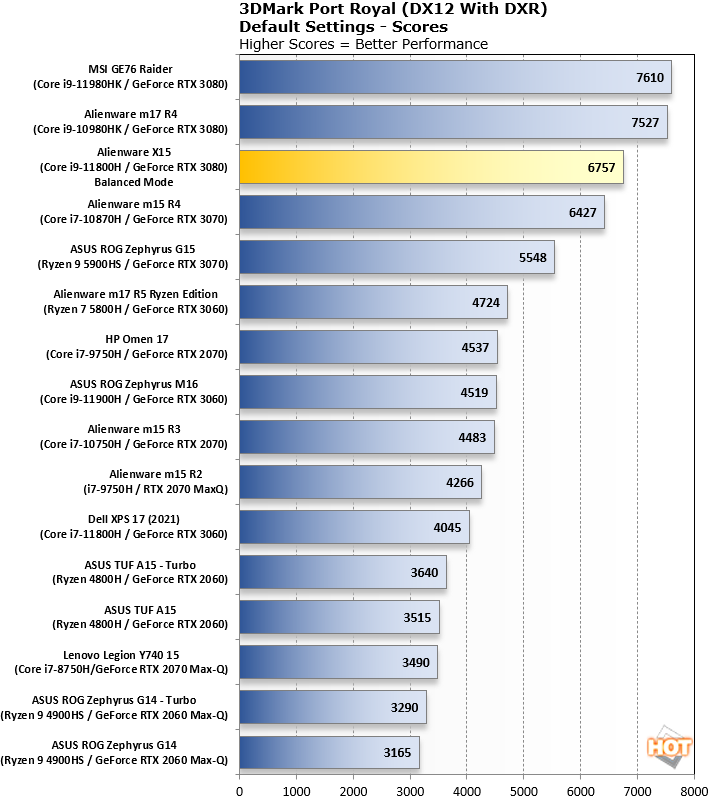 The Alienware X15 dropped right into the slot of our previous 3DMark runs with something less than full GeForce RTX 3080 performance and about 5 percent or so ahead of the larger,
GeForce RTX
3070-equipped Alienware m15 R4. However, it's way ahead of ASUS' ROG Zephryus G15 with
Ryzen 9 5900H
and a GeForce RTX 3070, to the tune of about 22 percent.
Alienware X15 Far Cry 5 Game Benchmarks
Far Cry 5 takes the franchise to Montana with lush environments and incredible graphics fidelity. We ran this laptop through the built-in benchmarks with Ultra Quality settings.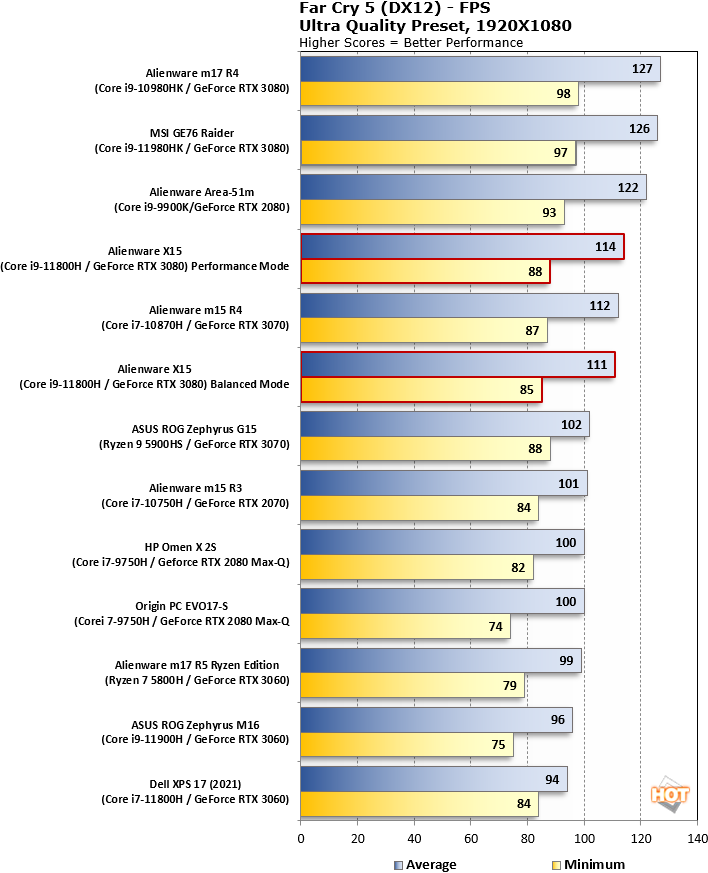 Shifting gears to Far Cry 5 and away from synthetic gaming benchmarks, on the Ultra quality preset we a similar performance spread. And just for giggles, you can see we get a few more frames per second in Performance mode, topping out at 114 FPS with silky smooth visuals and min frame rates way up into the high 80s.
Alienware X15 Gears 5 Game Benchmarks
Gears 5
was one of the fall blockbusters we had a chance to dig deeply into, and on top of looking great, it's a blast to play. We used the High image quality preset at 1920x1080, the same as before, to test this game benchmark.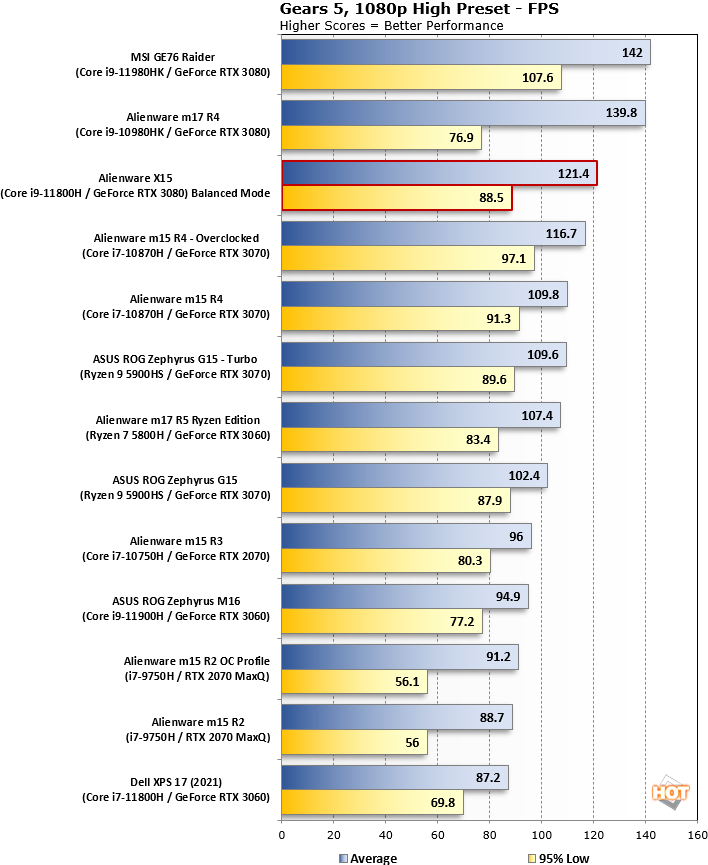 Gears 5 again drops our RTX 3080-equipped Alienware X15 model in below some of the larger, higher-TGP RTX 3080-equipped machines like Alienware's own m17 and the
MSI GE76 Raider
, which comparatively is a tank versus the X15. However, the Alienware X15 is still a notch faster than the RTX 3070-equipped gaming laptops we've tested.
Alienware X15 Shadow Of The Tomb Raider DX12 Game Benchmarks
The finale in the rebooted
Tomb Raider
trilogy, Shadow of the Tomb Raider is easily the best-looking of the bunch. It's also brimming with
Tobii
eye-tracking hardware support, and leading edge graphics technologies. To test this game out, we again turned the visuals up to High and tested at the Full-HD resolution of 1920x1080.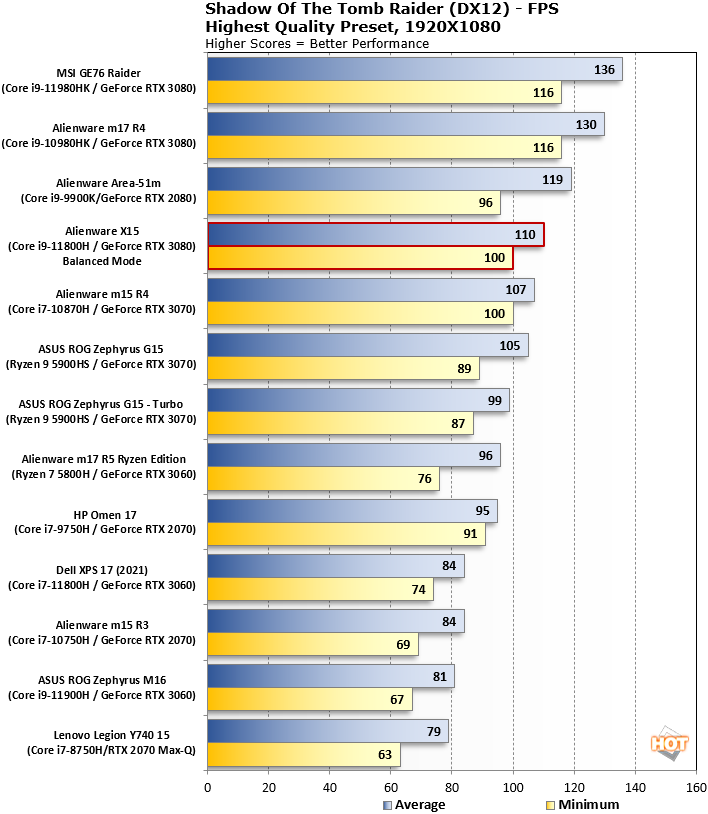 Taking a walk with Lara Croft in Shadow of The Tomb Raider brings equally strong performance at the highest quality preset with min and average frame rates at 100 FPS or more. And really, virtually any triple-A game title you throw at this machine is going to be met with great performance at its display's native 1080p resolution and high image quality settings.
Alienware X15 Battery Life Testing Results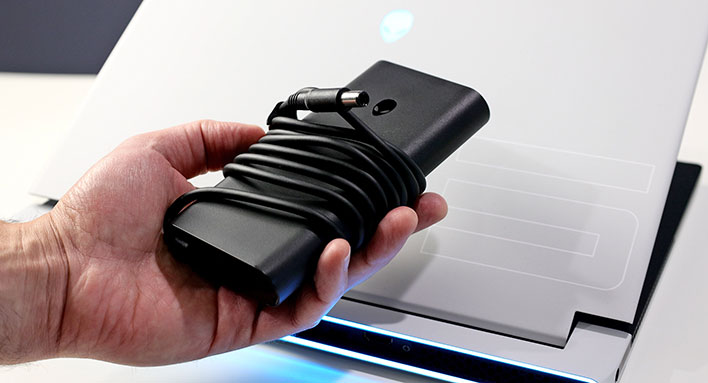 We run a custom 1080p HD video loop test developed in-house, to prove out battery life with our test group of machines. In all tests, Windows 10 Quiet Hours has been enabled and the displays are calibrated with lux meters on pure white screens to as close to 115 lux as possible. For the average laptop this is somewhere between a 40-60 percent brightness setting. In the case of the Alienware X15, this required lowering the brightness to 45 percent on the slider in the Windows 10 sidebar.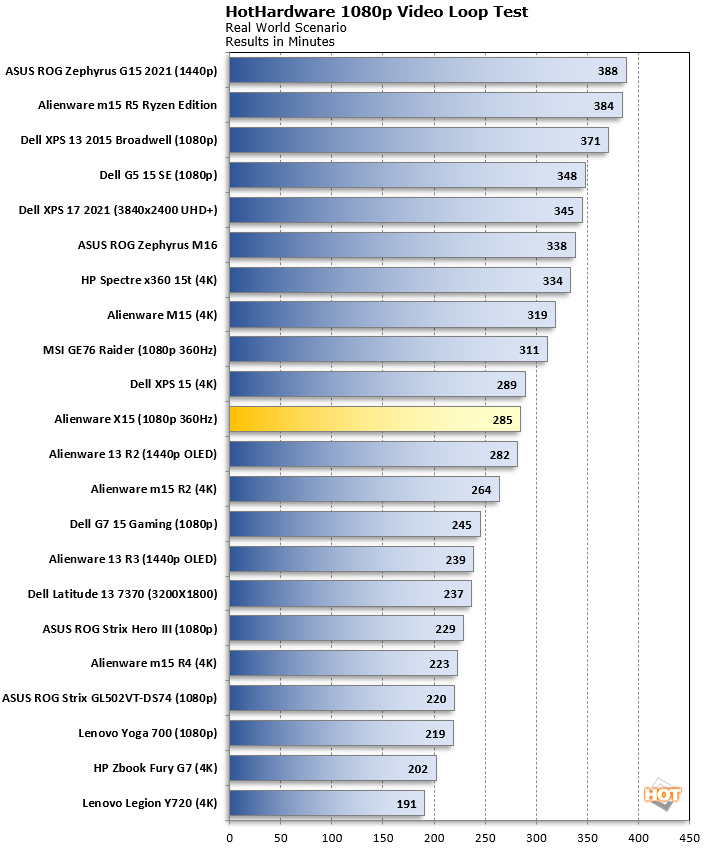 On the battery life front, this config of the Alienware X15 performs pretty darn well in our light duty video playback loop test, putting up nearly 5 hours of playback time with its 87Whr battery coming within striking distance of
the MSI GE76 Raider
and its significantly bulkier frame and 100Whr battery. You can be sure while gaming though, you're going to want to stay tethered to the wall with the machine's 240 watt AC adapter, which is actually surprisingly compact for its output power.
Related content
Comments