Alienware m15 R4 Review: A GeForce RTX 30 Series Invasion
Alienware m15 R4: Teardown, Thermal And Acoustic Performance, Review Conclusions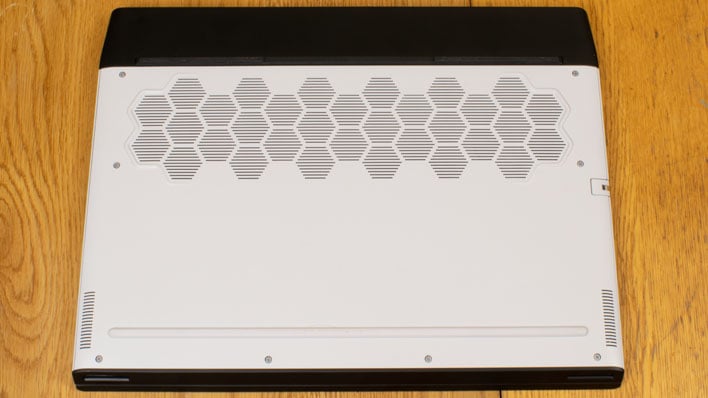 Now that we've had our way with it in the benchmarks, let's tear down the
Alienware
m15 R4. Before we break in, we can see the bottom vents in a honeycomb pattern that can draw cool air in from underneath the system, which is propped up by long bar-shaped rubber feet on the front and rear. Getting into the system is as simple as removing several screws. All except for the two closest to the front of the m15 are captive, so they can't get lost or jammed back into the wrong holes. There's no prying involved; the plastic just pops right off and we're able to get into the system to see all its internal components. Putting the system back together is a snap, too, since the tabs on the rear end of the cover slot in and the screws tighten right back down.
As for the internals, we can see the pair of cooling fans on the right. Both of these blower-style spinners push air out the rear and both back corners of the notebook, which provides for ample ventilation and a lot of air moving through the system. Each fan measures 64 millimeters in diameter and have 66 blades a piece for moving air through the system. Heat from the
GeForce RTX 3070
passes through to the fin arrays over a total of four copper alloy heat pipes and then out the rear of the system. The Core i7-10870H has its own vapor chamber system. The CPU and GPU each have their own dedicated fan to go with their separate cooling systems. The m15 R4 does a pretty remarkable job at cooling the system and keeping noise to a minimum, especially at stock speeds. We'll get to measurements shortly but this could be one of the quietest gaming notebooks we've laid our hands on.
Under that big black plastic sheet is the
GeForce RTX 3070
and Core i7-10870H, which appears to be together on their own separate module. It's interesting to see a couple of different boards, and in particular how compact this one is. Below that are the two 512 GB M.2 2280 NVMe SSDs running in RAID 0. Off to the right is the third port, a smaller M.2 2230 form factor, which explains why that third drive is limited to 512 GB.
At the bottom of the system, we find a big 86 Watt-hour battery. This is held in place by a series of screws, so should the need arise it should be simple to replace. We don't see any DDR4-SODIMM slots, and that's because the memory is soldered in place (which quite frankly is a shame). Alienware offers up to 32 GB of system RAM at the time the order is placed, but after that there will be no additional upgrades. Buyers need to be sure to get as much memory as they think they'll need for the useful life of the system up front, which we wish didn't have to be the case.
Alienware m15 R4 Thermal and Acoustic Performance
To crank up the thermal load on this machine, we relied on hitting the
Gears 5
's benchmark concurrently for several runs. This challenges both the CPU and GPU quite a bit, and even the in-engine game home screen can get the system warming up. If there were any sort of issues we should see it during this torture test. However, that wasn't the case, as the system ran
Gears 5
for quite a while without issue. We tested both the default speed profile and the OC2 setting, which is the more aggressive overclocking stock profile.
Our noise testing involved getting the system good and warm so that the fans plateaued and then measuring acoustic output from where your ears would normally be while using the machine. That's around 2 feet from the top vent above the keyboard. We had to double and triple check our work, though, because the noise output by the system in the default profile was just 45-46 dBA in our gaming position. The Alienware m15 R4 isn't silent by any stretch, but it was relatively tame at just 45dB. Impressive.
Monitoring temperatures with internal probes doesn't mean a whole lot in a modern notebook. These systems have maximum allowed chip temperatures and a multitude of built-in monitors to make sure the most performance can be extracted without overheating. Instead, it's the outside where we measured temperatures, and again the Alienware m15 R4 handled well. The warmest place on the surface is on the rear vents right above F4 and F5, and that measured a toasty but manageable 119 degrees Fahrenheit. The bottom of the machine wasn't really any worse off, measuring right at 120 degrees F in roughly the same place. Since most people are not likely to game with it on their lap, these are acceptable thermal skin temps in our opinion.
These figures did change in with the OC2 profile, however. Still, noise and surface temperatures weren't overly hot as the m15 R4 eclipsed 52 dBA on the sound meter. Surface temperatures were just a little bit warmer, as well, reaching 124 degrees F. It seems that
Alienware
built its system with ample cooling, at least for our unit's GeForce RTX 3070.
Finally, we weren't totally satisfied that we had completely stressed the system. That led us to fire up 3DMark's Fire Strike GT1 on a loop and leave it alone for a couple hours. According to our stopwatch, it ran on loop for 134 minutes before we got back to it, and the noise profile and surface temperatures had hardly moved. The frame rates we observed (and observation is key because they're not logged while looping) hadn't really changed from the first run, either. The cooling system is definitely up to the task with minimal -- if any -- performance drop-off.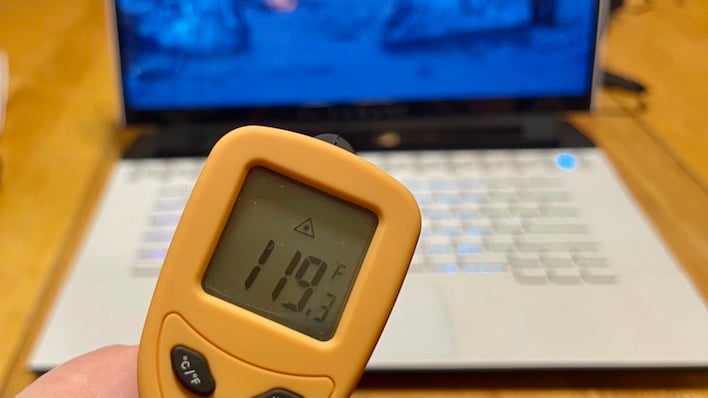 Best of all, performance of Alienware's m15 R4 never rolled off like it does on smaller platform notebooks. We ran the Gears 5 benchmark for a solid 20 minutes in an effort to bring the system to its knees. The test result hit between 118 and 122 fps in every single run in Gears 5 in its overclocked mode, using the same 1080p High settings as before. That kind of variance is nothing new in Gears because each benchmark run changes just a little bit from run to run, since it uses all aspects of the engine, including the AI that could change a little bit each run through.
Not only did the
Alienware m15
R4 run relatively cool and quiet, it never wavered in performance delivered. This will give this system pretty high marks, as games are not the kind of workload you'd run for a couple of minutes like a web benchmark or Geekbench. The system needed to deliver consistent performance, and it did just that.
Alienware m15 R4 Review Conclusions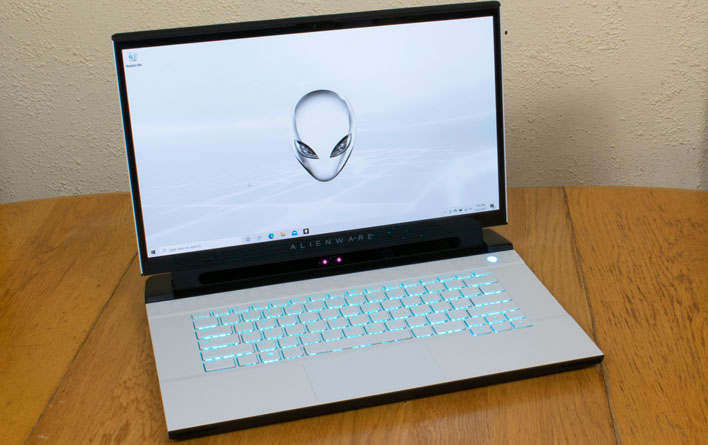 Alienware made a gentle giant of a gaming laptop in the m15 R4. The system performed well in every area, from web-based JavaScript benchmarks that push single-threaded performance, to productivity, content creation and gaming tests like Gears 5 and Middle Earth Shadow of War. As our first stab at a retail notebook with the
GeForce RTX 30 mobile series
of graphics processors from NVIDIA, the Alienware m15 shines as a formidable competitor with a well behaved and capable cooling system. Endurance was no problem for our review sample, as it could run for extended periods while bleeding off little, if any, performance. The only downside here is our battery life test. 42 minutes of untethered gaming should probably be expected with this class of firepower, but just 223 minutes of video playback was a minor disappointment and likely partly the fault of this machines oh-so gorgeous 4K OLED display.
Decked out in either Lunar Light or Dark Side of the Moon, the m15 R4's outward appearance hasn't changed all that much over the last couple of years. That aesthetic is great for some, and the polycarbonate body is sure to wear well, but perhaps not everyone wants something quite so bling-y. Thankfully, those users can still get a fast notebook without drawing quite as much attention, by opting for the darker finish and turning off the RGB lighting. At that point it's just a flat black notebook with a few cool accents.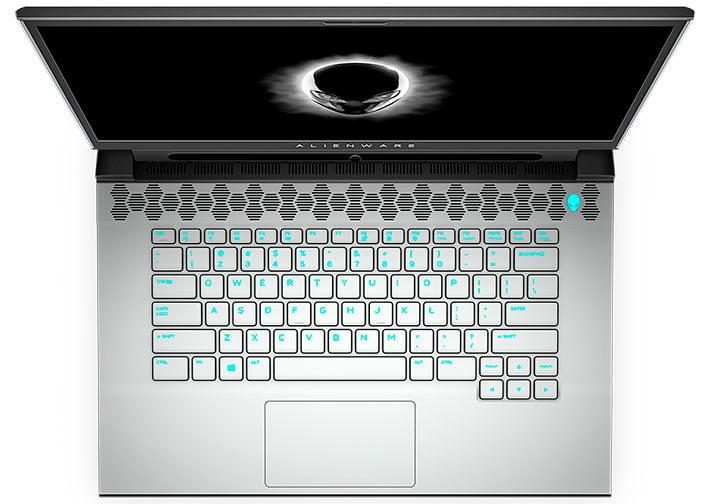 All of this performance and cutting-edge hardware comes at a cost, however, so let's talk pricing. Our review unit was configured quite handsomely. The Core i7-10870H is one of Intel's top notebook CPUs currently. Our system also had 16 GB of DDR4-2933 system RAM and a
pair
of 512GB NVMe SSDs in RAID 0. Add on that sweet 4K OLED display,
Tobii eye tracking
hardware, and of course the GeForce RTX 3070 and there might be a little sticker shock. All things considered, however, we think the
$2,499 asking price for
the review configuration is fairly reasonable. The Alienware m15 R4 typically starts at around $1,600, but we've got a lot of additional upgrades beyond any base model here. Tone down a few specs (like display options) to save a few Benjamins, if you need to.
Overall, the Alienware m15 R4 is an exceptional gaming notebook. Thanks to its top-notch cooling system with a pair of big blower fans and heat pipes galore, frame rate stability was just as blisteringly-fast at the end of our testing as it was at the start. That alone should be worth something to gamers on the go. Add that performance to Alienware's head-turning space age industrial design, Tobii eye tracking and 4K OLED display eye candy, and it's easy to see why we're giving this Alien our coveted Editor's Choice award.





Excellent gaming performance
Beautiful 4K OLED display
Three M.2 slots for expansion
Lots of external expansion
Great thermal and acoustic performance
Tobii Eye Tracking
Customizable RGB lighting
Slick, futuristic design

Soldered RAM
Smallish trackpad
Related content
Comments