Alienware Aurora R16 Gaming Desktop Review: A Civil Redesign
Alienware Aurora R16: Fast And Efficient PC Gaming With A Newly Refined Look



Alienware Aurora R16 Gaming Desktop PC (Starts at $1,299, as tested $1,949)
Alienware's latest Aurora R16 desktop has a new look, the latest PC gaming technology, and cooling that's both quiet and efficient.







Good performance for the price
Very quiet under load
Plenty of external connectivity
High-performance liquid cooling
Legend 3 design language is more subdued

Proprietary motherboard and power supply design
Limited configurability for high-end systems
Modest internal expansion






---
Building a desktop PC can be a lot of fun, but for the uninitiated it can also be a headache. There's also something awesome about opening up a box with a pre-built desktop PC inside, hooking it up, and getting right to gaming. Not to mention that building a system by hand means dealing with different sellers and manufacturers if something goes wrong. For some folks it's just easier and more convenient to work with a single company, to buy a single product, so long as it's reliable and its performance is up to snuff. That's what Dell's Alienware Aurora desktop PCs are all about.
We've generally enjoyed our time with Aurora PCs, including the recent
Aurora R15
. The previous model maintained Alienware's commitment to UFO-looking aesthetics with large-radius circular and oval appearances, but that's all changed. This time around, Alienware has gone with a much more traditional desktop PC look, filled to the brim with the latest CPUs from Intel and graphics processors from NVIDIA. But before we dig in too far, let's meet the Alienware Aurora R16 and check out Alienware's Legend 3 industrial design...
Alienware Aurora R16 Specifications
The Alienware Aurora R16 is an Intel-powered machine with a Core i7-13700F by default, or a Core i9-13900F as a step up. These aren't the most power-hungry CPUs in Intel's lineup; both of these models have just a 65-Watt TDP. That means they might not quite have the same mulit-threaded performance as the 125-Watt Core i7-13700K or
Core i9-13900K
and top-of-the-line
Core i9-13900KS
, but they should still be pretty speedy for the vast majority of workloads. Our test unit's 13700F has eight performance cores and eight efficiency cores, with a total of 30 MB of cache and 24 hardware threads. There's still a maximum boost clock of 5.2 GHz, so single-threaded performance be on-point. We also doubt the MT performance will lag too much behind Intel's higher-end parts, but we'll test that out soon enough.
The CPU is backed by 32 GB of dual-channel DDR5-5600 memory. Unfortunately, upgraders will need to replace all of the RAM if they go for a lower capacity model, since there are just two DIMM slots in our desktop. Then again, DDR5 performs best on current Intel and AMD platforms when using only two DIMMs, so we understand sticking with only a pair of slots. There's also a pair of M.2 2280 slots for NVMe SSDs, and our review unit came with dual PCIe 4.0 drives with capacities of 1 TB a piece. The included 802.11ax (Intel AX210) Wi-Fi is also upgradeable as it sits on its own M.2 card as well.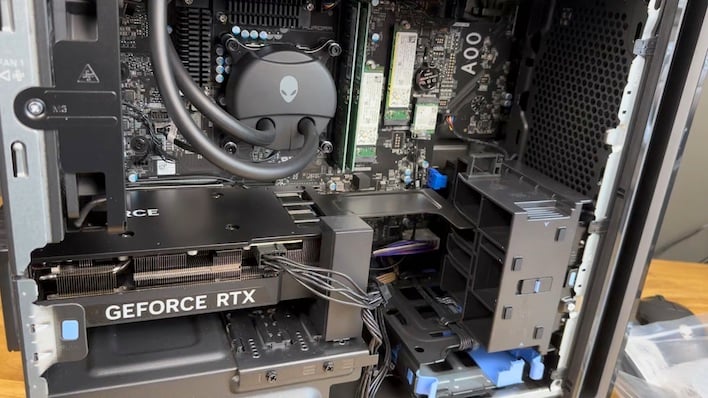 All graphics processing is provided by a
GeForce RTX 4070
in our review unit. To keep costs as low as possible at the entry level, every NVIDIA GPU from the GeForce RTX 4060 to the RTX 4070 Ti is available when configuring a system on Dell's website. Whatever graphics card buyers end up choosing, they're powered by the traditional 6-pin and 8-pin PCIe connectors, which are provided by a 500 or 1,000 Watt Platinum rated power supply. Our review unit has the 500 Watt option.
Inspecting the interior, it seems the Aurora R16 is more akin to a micro-ATX or mini-ITX gaming machine than a full-sized ATX behemoth; it's got a single PCI Express 4.0 x16 slot for the graphics card, which occupies two slots, and while there is physically enough height for a triple-slot graphics card there are no additional PCIe slots to be found. The most common limitation that this might impose is on streamers who currently rely on an internal PCI Express card for a capture device for streaming console games, like the
AverMedia Live Gamer 4K
used in our video. They would need to swap that out for an external device.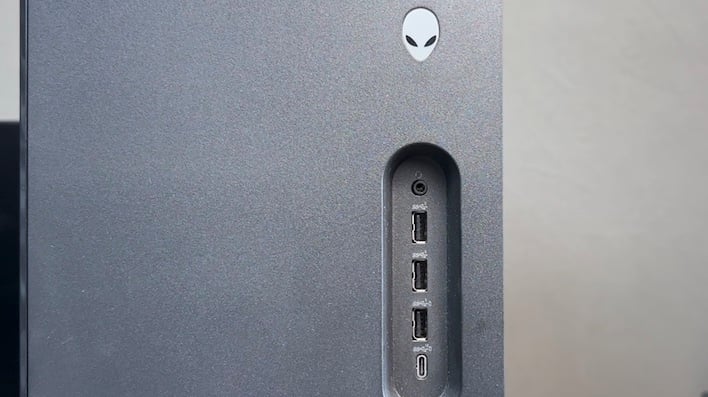 Alienware Aurora R16 Build and External Features
As we mentioned earlier, Alienware has all but eschewed the oblong, rounded, and tilted design of the Aurora lineup before it in favor of something much more traditional. The new Legend 3 design language of the Aurora R16 is far more traditional and boxy in shape (which I personally prefer), although it maintains a dash of RGB lighting in a ring around the front of the acrylic window panel. That ring outlines an air gap between the intake vents on the inside and the solid front panel of the case. That gap is about three-quarters of an inch wide, which should be plenty of volume to not restrict air intake from the front 120-millimeter fan.
On the front panel, the Alienware logo is an RGB-infused power button. There are also a total of three USB 3.2 Gen 1 5 Gbps Type-A ports, one of which supports high-power charging for external devices like phones. The lone 10 Gbps USB 3.2 Gen 2 Type-C port also supports quick charge, as well. There's a combination headset jack on the front too. All of the ports are recessed, which should afford a bit of protection from someone walking by and bumping a connector plugged into the front.
Around the back, Alienware chose to support every audio option under the sun -- and with good reason. We have both optical and coaxial digital outputs, along with 5.1 analog surround sound. For USB connectivity, we have a grand total of four USB 2.0 Type-A ports, another pair of USB 3.2 Gen 1 Type-A ports, one more 10Gbps USB 3.2 Gen 2 Type-C port, and a USB 3.2 Gen 2x2 20 Gbps Type-C connector. There's no USB 4 or Thunderbolt connectivity. However, that's typically reserved for extremely high-end workstations, and the Aurora R16 is decidedly more in the midrange price segment.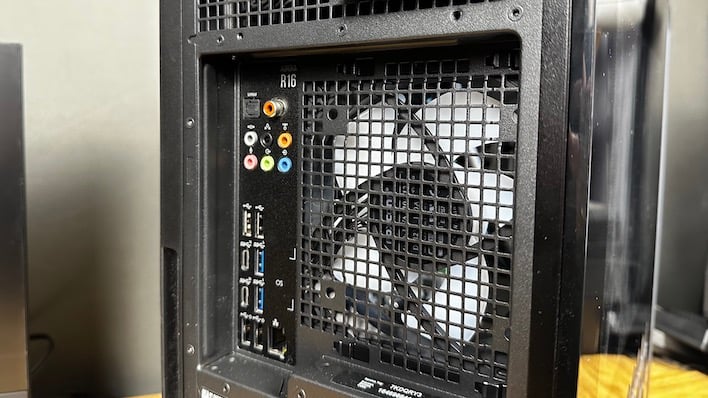 Below the rear ports we can see the GeForce RTX 4070 graphics card, which occupies two of the three available slots. This card has a single HDMI 2.1 port and a trio of DisplayPort 1.4 connectors. This card has 12 GB of GDDR6 memory and the typical 5,688 CUDA cores with all the ray tracing and machine learning Tensor cores that are found on retail cards.
The Aurora R16 is built pretty sturdy overall. We gave Alienware something of a hard time a couple years ago when Intel's 12th generation CPUs launched because the
Aurora R13
somehow felt both pretty large and rather cramped at the same time. When the Aurora R15 launched earlier this year, though, Alienware worked out some big design changes that improved the materials used in the chassis, while also making it feel more spacious inside. There was now room for a 240 mm AIO cooler and the reorganized internals were easier to access. All of that carries forward to the R16's smaller enclosure.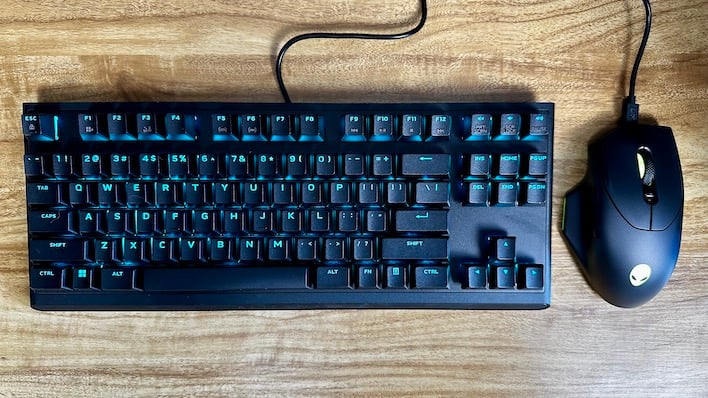 Alienware also sent along the $99.99 AW420K mechanical gaming keyboard and the $79.99 AW620M wireless gaming mouse to go with the Aurora R16. We looked at both of these during the Aurora R15 review, and these haven't changed. Both of these peripherals represent a significant step up over the standard rubber dome and basic wired USB mouse that these systems ship with. Both also feature RGB lighting controllable with the Alienware Command Center application, same as the desktop itself, for synchronized lighting.
The keyboard in particular feels great. It's got Cherry MX Red switches for a linear response, which is great for gaming, in a tenkeyless design. We wrote this entire review on this keyboard and it performed really well. The AW620M mouse is pretty lightweight, which might be great for some and offputting for others. I personally like a bit more heft to a mouse, but gamers playing twitchy titles may prefer how lean it is. The AW620M is definitely comfortable for palm grip users like myself. The sensor can track up to 26,000 DPI with a maximum acceleration of 50G, and there are five built-in sensitivity profiles that can be configured in the Command Center application.
Alienware Aurora R16 Internal Layout
Getting into the Aurora R16 is as simple as pulling a lever on the back and pulling the acrylic clear-window side panel down from the top. Just like the Aurora R15 before it, we can access everything inside the R16's enclosure easily. First up is the cooling system, which starts with a 120-mm fan on the front. That fan is ducted to push air from the entryway through the lower part of the case and across the graphics card. This brings a bit of fresh, cool air to the GPU's cooler in particular. Air is exhausted in part from the rear 120-mm fan, but also the CPU cooler.
Up on top of the system we have an AIO cooler with a 240 millimeter radiator mounted to the top of the enclosure with a pair of 120 mm fans. Considering the Core i7-13700F's 65 Watt TDP that should be more than adequate to keep the CPU cool under load. The fans blow up and out of the system, which does create a bit of negative air pressure inside the case. Long term, we'd be concerned about dust getting into the system, especially since there's no filter that we can see around the intake fan. Finding a way to equalize intake and exhaust and filtering out some dust are probably the biggest needs the Aurora R16 has right now.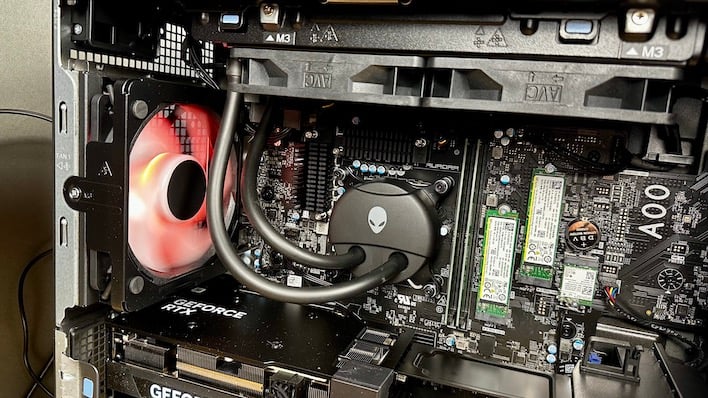 Starting at the bottom of the system, we can see the 3.5" drive bay with pre-routed SATA and power cables already in place right next to the power supply. Above that is the GeForce RTX 4070 with an extension used to hold the card in place. This adds to the stability and sturdiness of the build when toting the system around to LAN parties. The stabilizer is attached to the duct for that 120 millimeter intake fan, funneling air to the graphics card as directly as possible.
The top half of the system's internal chamber is split between the front, which houses the M.2 ports and DDR5 DIMM slots, and the back where the CPU is mounted in its socket. Up front, we can see three M.2 slots in total, two for NVMe SSDs and one for the Wi-Fi and Bluetooth card, which in this case is an Intel AX210 802.11ax and Bluetooth 5.2 controller. Both of the M.2 slots support PCI Express 4.0 drives with four lanes a piece, and in our review unit they're both populated with 1TB SK Hynix PC801 drives. There are only two DIMM slots, so buyers will need to replace the system RAM when upgrading. Our test unit came with 2 x 16GB DIMMs rated for 5600 MT/s, which should be plenty for most users.
Finally we get to the 240 millimeter cooler sitting atop the Core i7-13700F processor. This is the same model of cooler as what came with the Aurora R15, which includes a pair of 120 mm fans that push air through the radiator and out the top of the system. Considering the 65 Watt TDP of the processor, this should be more than enough to keep things cool without making a ton of racket.
Now that we've dug into the system's specs and build quality, let's see how the Aurora R16 performs...
Related content