NVIDIA Job Listing Suggests Next Gen Nintendo Switch Might Be In The Works
Nintendo
sells consoles based on the strength of its game experiences rather than the power of their processors, but technology marches on regardless, and the venerable NVIDIA
Tegra X1
is getting pretty long in the tooth. While its ARM Cortex-A57 CPUs are roughly comparable to the old AMD Jaguar CPUs in the last-generation consoles, it only has four, and only three of them can be used by games.
Meanwhile, its little 256-shader NVIDIA
Maxwell
GPU and 25.6 GB/sec shared memory bandwidth pale in comparison to previous-gen
PlayStation 4
and
Xbox One
consoles, to say nothing of their upgraded models. Developers working on the Switch have pulled some
outright magic
with the little handheld, but Nintendo is assuredly hard at work on its next-gen system, and given the success it has had in partnership with NVIDIA, that next system is almost surely based on Team Green's hardware once again.
Supporting the veracity of this claim is a
job posting
put up two days ago on LinkedIn by NVIDIA. The position is titled "Game Console Developer Tools Engineer," and NVIDIA goes on to explain that it's a job that will involve working closely with "internal and external partners" to develop tools for console game developers.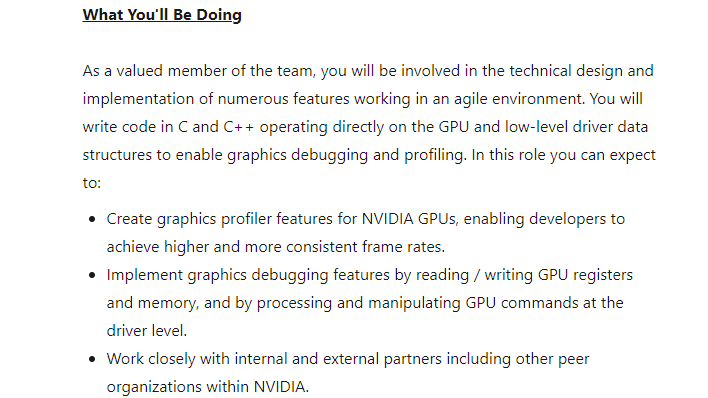 Of course, the listing doesn't mention Nintendo or the Switch at all. Any details of what you would be working on are surely top-secret, and NVIDIA would likely require the new employee to sign an NDA. The fact of the matter is that we are speculating as to what kind of project the listing is actually for—perhaps a new Switch, perhaps another Nintendo console, or possibly something completely unrelated, like a new PC-based console for a specific market.
Still, the Switch is the only console on the market right now that sports NVIDIA hardware. Unless it's for another
Ouya-like
, or perhaps a new
NVIDIA Shield TV
box, we'd put our money on a new Switch. That's despite
the reality
that there have been
consistently-disproved
rumors
of a
new Switch
for
over three years
. The latest talk on the matter was back in April, when some very sharp Zelda Breath of the Wild 2 footage
sparked talk
of the showing being too smooth for the Switch.