Meteor Lake Desktop CPUs Allegedly Based On Laptop Silicon But You May Never See Them
Back in 2021, Intel had two different architectures going for its 11th-Generation mobile and desktop Core processors:
Tiger Lake
was handling laptops, and
Rocket Lake
was rocking desktops. According to rumors, we'll see the same thing again soon, where a refresh of Raptor Lake powers desktops while Intel's first disaggregated CPUs, Meteor Lake, launch in laptops. Apparently, though, Meteor Lake
is still coming
to desktops in some form or another, likely as entry-level BGA processors for NUCs and other mini-PCs.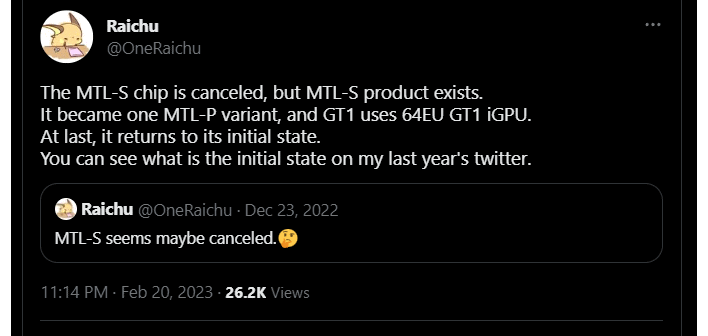 According to regular leaker Raichu (@OneRaichu on Twitter), a processor that was originally intended to serve as a mainstream desktop CPU based on Meteor Lake, known as "MTL-S", was canceled. However, there are
apparently still
"MTL-S" products—that is, 45-65W Meteor Lake CPUs—on the way. Rather than using specialized silicon meant for mainstream desktop CPUs, they're instead supposedly based on the Meteor Lake "P" silicon meant for thin & light laptops.
If you're not familiar with the "P" designation for Intel chips, it refers to processors that sit between the full-power "H" laptop parts and the ultra-low-voltage "U" models. They typically have TDPs of 25 to 35 watts and are intended for laptops that straddle the line between high performance and high mobility.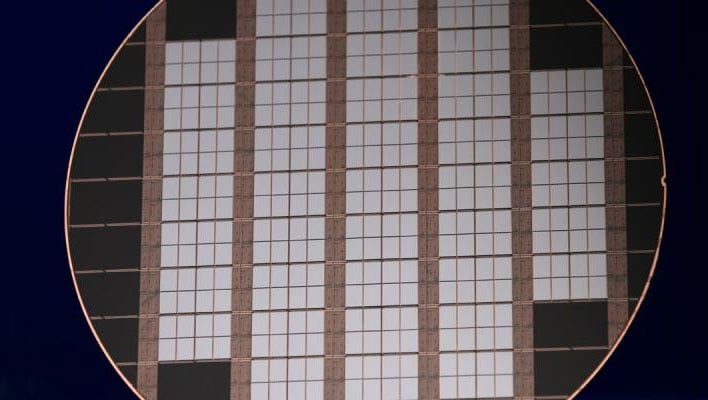 A wafer of Meteor Lake dice intended for test packages.

So, the rumor claims that Intel will ship some Meteor Lake parts as desktop CPUs alongside a refresh of its extant Raptor Lake processors rather than being cancelled on the desktop altogether. These Meteor Lake desktop CPUs likely won't show up as socketed models given their laptop silicon origins and will instead probably be BGA parts aimed at small form factor systems.
Earlier leaks showed
that Meteor Lake's core configuration will top out with six Redwood Cove P-cores and eight Crestmont E-cores. Both are supposedly significant revisions over the Raptor Cove and Gracemont CPUs in Intel's current chips. Likewise, the GPU in these parts will apparently be based on Xe-LPG, derived from Alchemist, and feature 64 EUs, giving them 512 shader cores. That's exactly half of an Arc A380 GPU, but who knows what architectural changes will have been made.
Notably, this exact same scenario played out with Tiger Lake and Rocket Lake. While the high-end segment of Intel's 11th-generation desktop CPUs comprised a pile of Rocket Lake 14nm CPUs, there were also
a small handful
of desktop chips based on Tiger Lake silicon originally meant for laptops. Those processors most notably found their way into the "Beast Canyon" NUC 11 Extreme, which
we reviewed
in late 2021.