Intel Meteor Lake Platform Leak Reveals A Mysterious Extended Gaming Mode And Key Specs
Intel's expected to follow up its extant 12th-generation Core processors (codenamed "
Alder Lake
") with the 13th-generation chips known as "
Raptor Lake
." Those CPUs, which will feature extra cache, P-core revisions, additional E-cores, and other relatively minor enhancements, are probably going to show up toward the end of this year.
After that—apparently in the second half of next year—the company will be launching its 14th-gen Core processors, codenamed
Meteor Lake
. Where Raptor Lake is an incremental upgrade on Alder Lake, Meteor Lake (MTL) will be a huge departure. It'll be a "disaggregated" or "chiplet-based" design, and the CPU cores
will be fabricated
on the Intel 4 process, an improvement from the Intel 7 on which Raptor Lake and Alder Lake are built.
Purportedly, Meteor Lake will take a step beyond the P-core and E-core dichotomy of Alder Lake and designate some number of the E-cores as "LP" cores. We'd expect this is simply a matter of finding the most-efficient cores and marking those for low-power operation at reduced clock rates.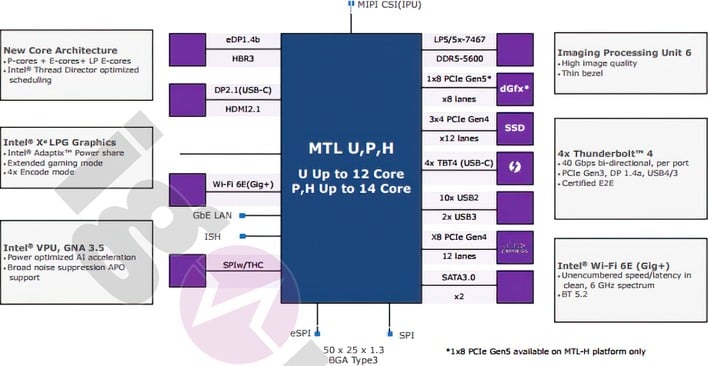 All of this new information comes from
Igor's Lab
, which has posted up a few slides that appear to be Intel confidential materials. The most salient part of the slides is the platform diagram for mobile Meteor Lake processors, just like the one we recently saw for Raptor Lake. There are all kinds of fascinating details on the platform diagram, and we've talked about a few already, but let's go over the rest.
The slides put down Meteor Lake-U processors for up to 12 cores, while the -P and -H SKUs will scale up to 14 cores. Memory support will be exclusively DDR5, with the option of either standard DDR5 at up to 5600 MT/s or LPDDR5X at 7467 MT/s. That's an oddly specific number to us, but either way that's a blistering memory bus.
Such high memory bandwidth should serve to help accelerate integrated graphics performance. Certainly the 128-EU GPU and its 1024 shaders will be thirsty for memory bandwidth. We already knew that said GPU would be fabricated at TSMC on that company's 3nm process, but this slide confirms
earlier speculation
that it will be based on the "Xe-LPG" architecture, which seems to be "Xe 2," perhaps better known now as "Battlemage".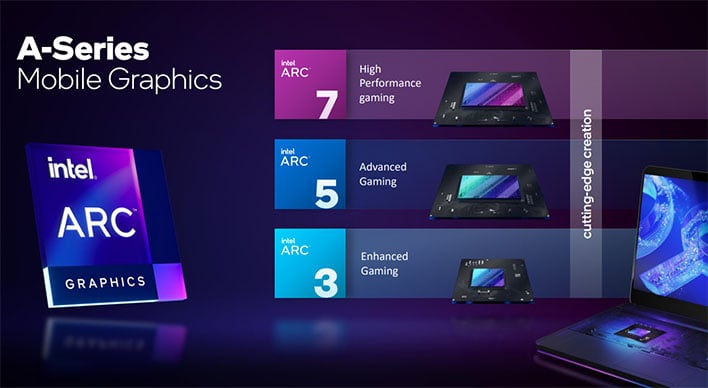 Other fascinating details to come out of the diagram include the revelation that only Meteor Lake-H processors will support PCIe 5.0, with an 8-lane connection getting dedicated for discrete graphics. Twelve other PCIe lanes can be used for PCIe SSDs or other devices, and Meteor Lake itself will apparently support a pair of SATA ports. There's also mention of an "extended gaming mode" in the GPU section, but not even Igor is willing to speculate on what that could be. We'll have to wait and see.
As diverting as all these details may be, ultimately the biggest news from this leak is probably the confirmation that Meteor Lake won't be around until the second half of next year. That ensures that buyers of Alder Lake- and Ryzen 6000-powered laptops won't become obsolete too quickly. Rumors say that the laptop version of Meteor Lake will precede the desktop version, so we wouldn't expect desktop Meteor Lake before Q4 of next year.