Intel Doubles Down On Meteor Lake CPUs Launching This Year, Lunar Lake In 2024
Intel is coming off a
brutal quarter
in which it posted one of its biggest losses ever for a three-month period, but it wasn't all a big slice of ham and pineapple pizza (or put another way, it wasn't all a big slice of awful). During its earnings presentation, Intel confirmed that its next-generation Meteor Lake CPU architecture is on track to launch this year, followed by Lunar Lake in 2024.
Looking at it with a wider lens, the pending launch of Meteor Lake and later Lunar Lake are both part of Intel's plans to launch five nodes in four years. That's not insignificant when you consider the rocky road Intel traveled to 10-nanometer manufacturing (
Cannon Lake
, anyone?).
Speaking of which, Intel 7 (previously known as 10nm Enhanced SuperFin before Intel
renamed its nodes
) is in high-volume manufacturing with
Alder Lake
and
Raptor Lake
. Meanwhile, Meteor Lake will debut on Intel 4 (previously referred to as 7nm) and promises a 20 percent performance per watt gain versus Intel 7. It will also make full use of extreme ultraviolet (EUV) lithography.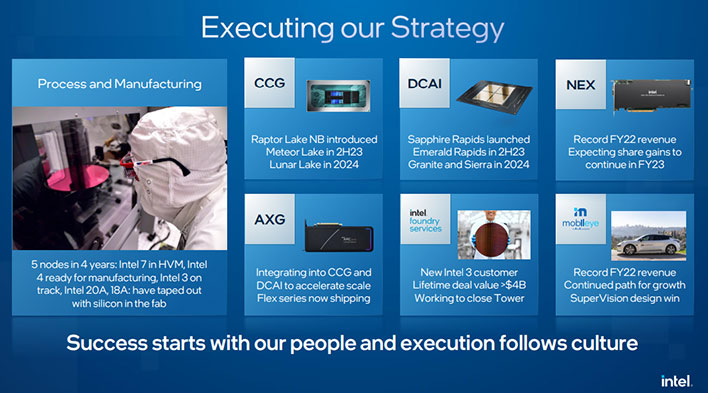 Meteor Lake with Intel 4 and 3D Foveros packaging technology has been up and running within the walls of Intel for at least six months now. Based on what
Intel shared last summer
, Intel 4 (and by extension Meteor Lake) will offer a two-times gain in high-performance logic library area scaling versus Intel 7, while achieving higher clock speeds.
Intel didn't address the rumor that Meteor Lake will
skip the desktop
and release in mobile (laptop) form only in its earnings report. We're skeptical this will happen, but as the rumor goes, Intel might scrap Meteor Lake-S in favor of a Raptor Lake-S refresh (the "S" designation is for desktop). Previously, leaked roadmaps suggested the original plan was to launch Meteor Lake at the end of 2022, but difficulties in the manufacturing process resulted in the creation of Raptor Lake.
It wouldn't be fair to call Raptor Lake an Alder Lake refresh, but at the very least they are very close cousins. So the rumors are feasible, but again, we'd be surprised if Meteor Lake was limited to laptops. We'll have to wait and see.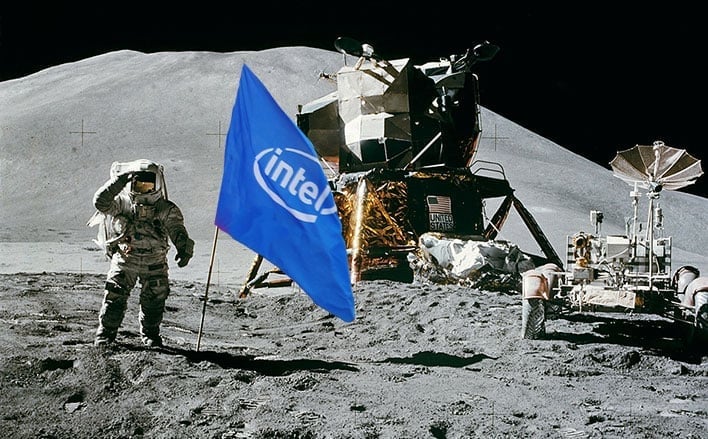 As for
Lunar Lake
, Intel confirmed (via Dr. Ian Cutress) that it is being built from the ground-up with a focus on increasing performance per watt for mobile devices. That's in line with past rumors suggesting it will be targeted at a 15-watt power envelope.
Lunar Lake will also mark a debut on the Intel 18A node. According to Intel, both its Intel 20A and 18A nodes have taped out with silicon in the fab. That means the design is finished and is ready to embark on the manufacturing phase. That is not to be confused with a volume ramp—there are still revisions and lots of testing that needs to take place.

"Meteor Lake, our first disaggregated CPU built on Intel 4, remains on track for the second half of the year. And with MTL progressing well, it's now appropriate to look forward to Lunar Lake, which is on track for production readiness in 2024, having taped-out its first silicon," Intel CEO
Pat Gelsinger said (PDF)
in reference to the company's latest earnings report.
Gelsinger also reiterated that Lunar Lake is "optimized for ultra-low power performance," which in turn will enable its hardware partners to create increasingly thin and light systems.
All of this bodes well for Intel if it can stay on track and avoid any major hiccups.