Intel Panther Lake Gets Ready To Roar With Third-Gen Xe3 Celestial GPU Architecture
Intel's Arc graphics cards
use a variant of the company's "Xe" graphics architecture, as do all of the blue team's recent
integrated GPUs
. The first-generation Xe had many variations for different applications, but the second-generation architecture is apparently
only going to come
in two forms: one meant for high-end discrete graphics and compute workloads, and one meant for low-end graphics applications and video processing.
That next generation will be called Xe2, and it will go into the
Battlemage discrete GPUs
as well as the Lunar Lake integrated graphics. That means that the
upcoming Meteor Lake
and Arrow Lake CPUs will be using integrated graphics based on the first-gen Xe-LPG. The third-generation, or Xe3, will show up in the third-generation Arc GPUs
known as "Celestial,"
and apparently also in the integrated graphics for "Panther Lake", which is expected to come after Lunar Lake.

The LinkedIn post in question. Top image: Intel's Celestial promo art.
This information comes to us from a rather curious source: a LinkedIn profile for an unnamed Intel engineer. The leak
was spotted
by the sharp-eyed 포시포시, better known as @harukaze5719 in the English-speaking world. There's not a lot of new information here, but the double confirmations that Arrow Lake will still be using Xe-LPG, as well as the existence of Panther Lake, are pretty interesting in their own rights.
Obviously, these graphics architectures will find their way into enterprise and datacenter parts as well; it's known that Falcon Shores will have compute tiles based on Xe2 (likely HP or HPG), and it's probable that
the recently-mentioned
Melville Sound will likewise be based on Xe2 in some capacity.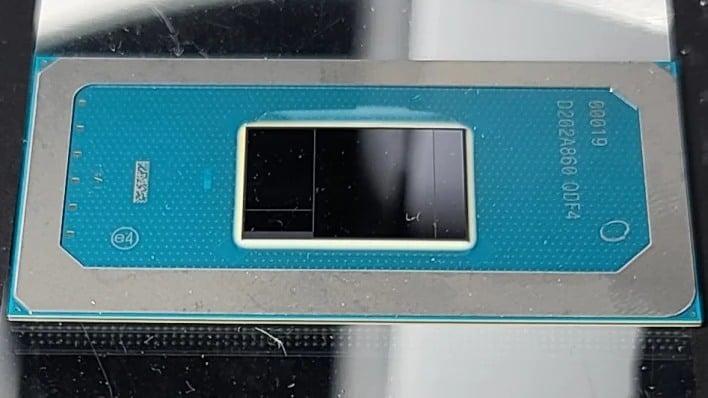 A photo of an apparently-functional Meteor Lake processor

Of course, this is all quite far in the future. Intel is expected to launch a refresh of Raptor Lake this year, alongside some portion of Meteor Lake CPUs, primarily for mobile, and also a possible refresh or new release of mid-range Arc Alchemist GPUs. We won't see Arrow Lake or Battlemage until next year at the earliest, which means Celestial and Panther Lake are probably 2026 products at the absolute earliest.