Intel Arc GPU Roadmap Leak Details Battlemage And A Looming Alchemist Refresh
So Intel's first discrete GPUs based on the Alchemist design, known as Arc A770, Arc A750, and Arc A380, have
been out for a bit
. Since that launch, they've seen significant performance improvements thanks to driver updates as well as the implementation of XeSS in titles like Marvel's Spider-Man, Hitman 3, and Redout 2. So what's next for
Intel's graphics division
? It's GPUs based on Battlemage, right? Well...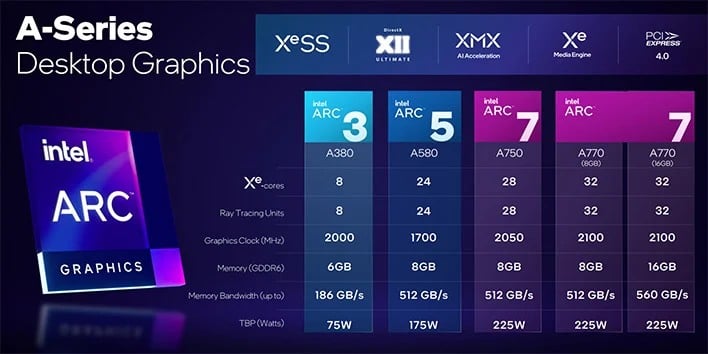 According to the latest leaks, this time originating from YouTuber RedGamingTech, we're actually due for a refreshed Alchemist in the middle part of this year, before we meet second-generation Arc architecture Battlemage early in 2024. This refreshed Alchemist family will supposedly come in the form of a pair of 6GB GPUs with 150W TDPs, an entry-level part in the 75-100W range, and a third part with a TDP in the 175-225W range.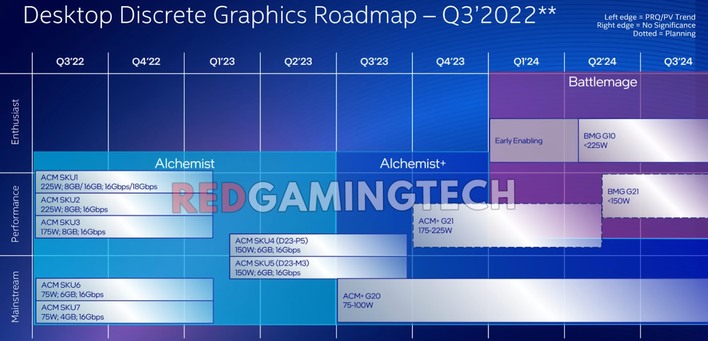 The interesting thing about the latter two parts is that they are listed with the part numbers "ACM-G20" and "G21". For those unaware, the extant Alchemist GPUs were known as "ACM-G10" and "ACM-G11" in earlier roadmaps, before release. The "G20" nomenclature smacks of a new chip stepping or perhaps even a revision to the Alchemist architecture, which could feasibly go a long way toward improving those GPUs—especially their efficiency, which was a weak spot in some situations with the original
Intel Arc GPUs
.
So what about Battlemage? Per the same alleged roadmap, it is supposedly launching in Q1 or Q2 of 2024. It will be based on the "Xe-HPG 2" architecture, and it will reportedly be a major revision of Alchemist with quite a few changes outlined in the cropped slide below. Of those, the most interesting is the statement that it will be "targeting performance/enthusiast gaming," which lately has been a tier above the 225W power range that
Raja Koduri prefers
.
The leaker speculates—and he is quite firm about the fact that this is speculation—that the 2024 Battlemage GPUs could top out in a performance range close to the GeForce RTX 4080 and Radeon RX 7900 XT. That would be a tremendous uplift from the current Arc A770 performance, and it would be an impressive target for a 225W GPU to hit.
The
video also contains a fleck
of information about Intel's Celestial architecture, which will come after Battlemage. According to RedGamingTech, Intel is "pulling every performance lever" for the third-generation Arc GPUs as it intends to challenge "NVIDIA's halo products" with that series. That would be something like the GeForce RTX 4090, although given the likely release date of 2027 or later for Celestial products, it's more likely that it will be up against an NVIDIA Blackwell-based flagship, or possibly even a later product.
That actually aligns with Intel's own released information on Celestial, including
this old roadmap
that clearly shows Celestial reaching into the "Ultra Enthusiast" range of the stack. According to the latest rumors, Celestial and NVIDIA's Blackwell may both go the chiplet route like AMD's recently-released
Radeon RX 7900 XTX
based on its Navi 31 GPU. Time will tell and we shall see. It will certainly be fun to watch unfold.