NVIDIA RTX STEM Laptop For Students Review, Featuring ASUS TUF Dash F15
NVIDIA RTX STEM Laptops for Students: System Performance And Review Conclusion
Laptops in NVIDIA's STEM program are generally fast PCs, as evidenced by how the TUF Dash F15 ran these demanding modeling and simulation applications. The TUF Dash F15 is a relatively powerful laptop, and therefore it should perform quite nicely in general tasks, too. The Core i7-12650H is an Alder Lake-based processor with a maximum Turbo Boost of 4.7 GHz on its six performance cores, and it's carrying a foursome of efficiency cores for background tasks. Meanwhile, the
GeForce RTX 3070
is a known quantity, and the 80 Watt version here should have plenty of get-up-and-go for graphics tasks, even if it doesn't have the maximum thermal budget of bigger, heavier laptops. Let's take a look at a few general system performance tests to set the stage...
RTX Laptop For STEM Students System Performance
The most commonly used application on any PC is the browser, so we're going to kick things off with BrowserBench.org's Speedometer 2.0, which flexes a large number of JavaScript frameworks in a real-wold application setting and reports back the number of runs per minute it was able to complete.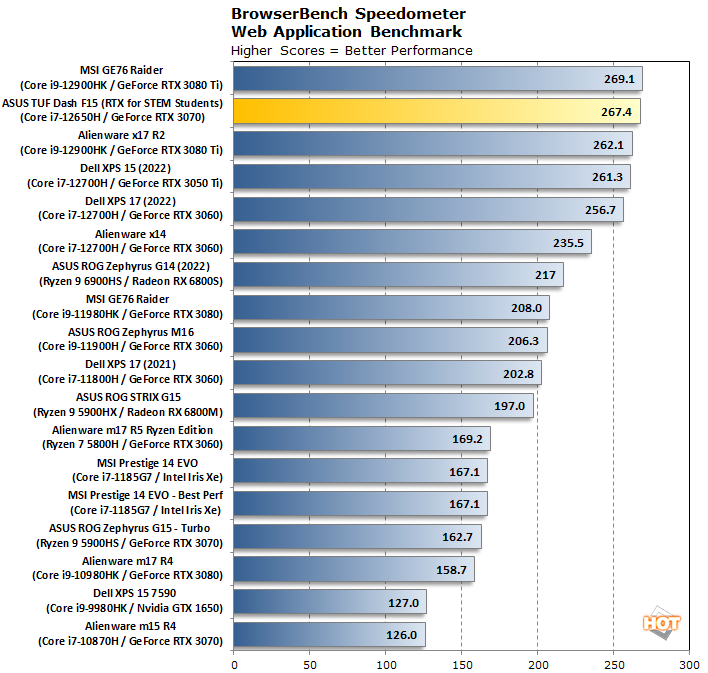 Web browsing is very dependent on single-threaded performance so it's no surprise to see the TUF Dash F15 up towards the top of the heap here. Intel's 12th generation CPU performance is at the top of the charts for now, and the Core i7-12650H has a maximum boost clock of 4.7 GHz, so it speeds through this test alongside the fastest systems we've tested.
Next up we'll take a look at GeekBench's synthetic workloads. This gives the processor a pretty good workout on both the single-threaded and multi-threaded fronts across a wide variety of scenarios.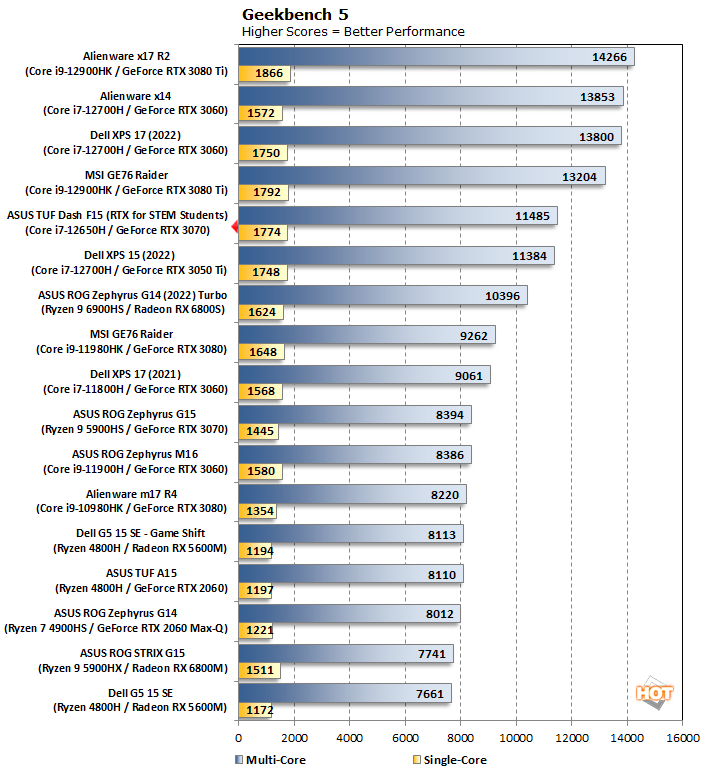 The only thing that really keeps the ASUS TUF Dash F15 from the very top of the heap is its six performance cores. Mobile Core i9 processors in our faster laptops all have eight P cores, and this is just a numbers game on the multi-threaded chart. Single-threaded performance is, again, very strong.
Cinebench R23 might not normally be a workload we'd run on a laptop, but the fact is that this is a STEM student machine, and as it turns out 3D rendering is very relevant to our interests. Cinebench uses Maxon's Cinema4D engine to render a scene and reports a result that reflects the time to completion.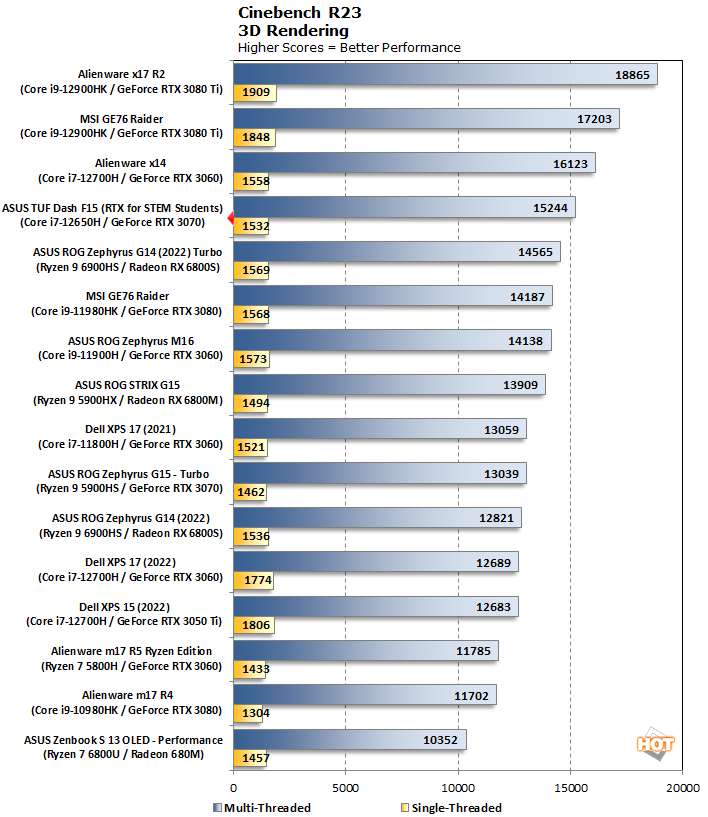 Just like with Geekbench's results, multi-threaded performance is largely a function of how many P cores the processor has. Despite its relative disadvantage versus some of the larger, more expensive machines, the ASUS TUF Dash 15 STEM Laptop still performs very well and speeds through this test with flying colors.
PCMark is a great indicator of overall performance in standard office-type applications, video conferencing, and web productivity performance. Let's take a look at the result here.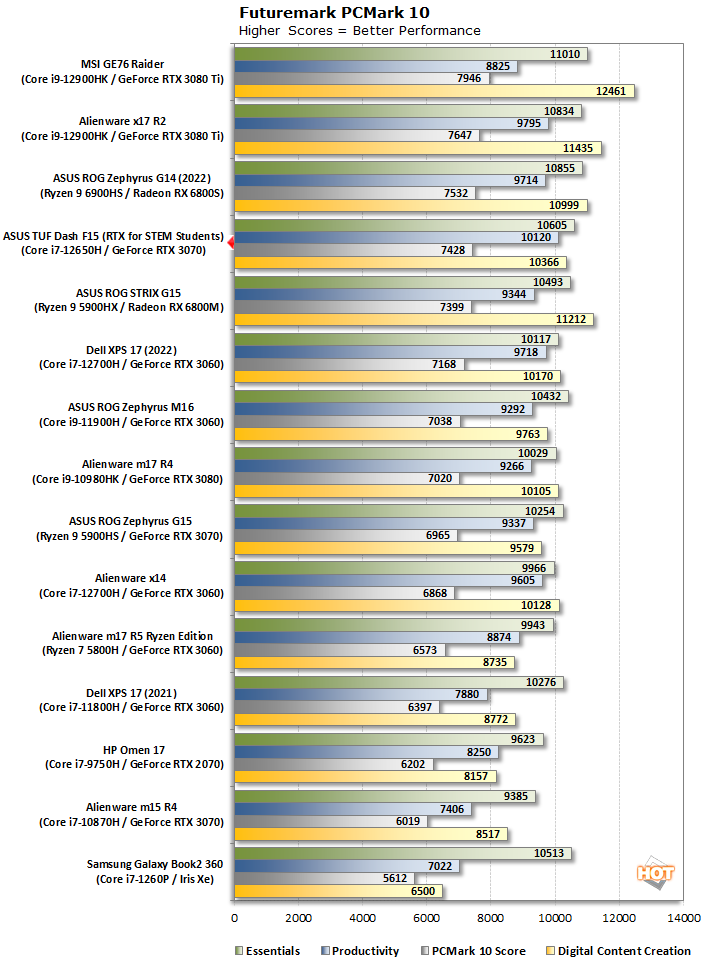 Once again, the TUF Dash F15 finishes towards the top of the heap. With a fast processor, 16GB of memory, an M.2 SSD and a GeForce, the system is well-suited to general productivity tasks and content creation workloads.
Students will inevitably get some downtime, and the GeForce RTX 3070 should perform really well in the latest games. 3DMark is a reasonable approximation for performance, so we checked out the DirectX 11 Fire Strike, DX12-focused Time Spy, and ray tracing-filled Port Royal to see how the system could handle a wide variety of fun 3D tasks.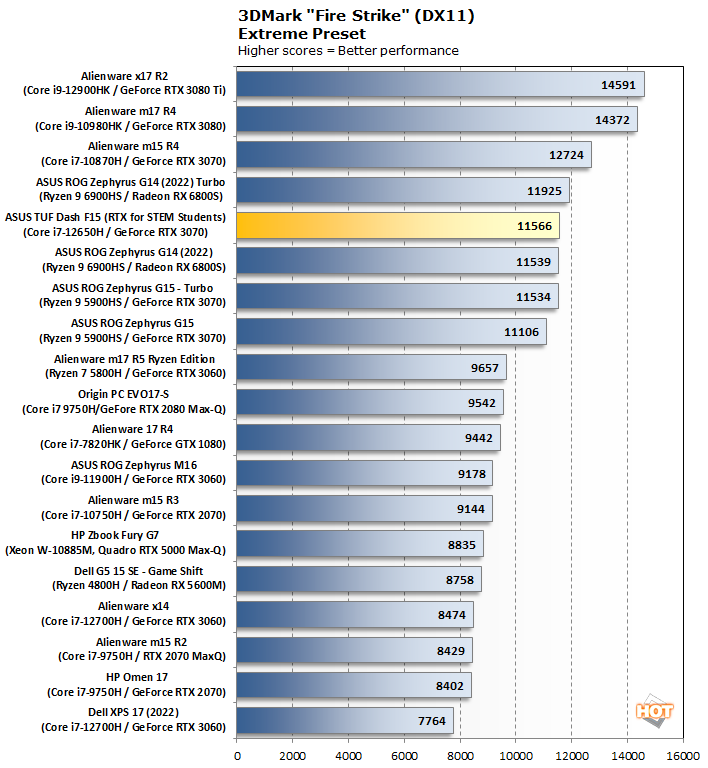 Fire Strike sees the TUF Dash F15 get off to a really great start. Its 80-Watt GeForce RTX 3070 puts it a little bit behind the
Alienware m15 R4
, but that machine has a 125-Watt version of the GPU and weighs a bit more. On the other hand, it's right in line with the
ASUS ROG Zephyrus G15
that has a similar weight and footprint to the Dash. Students with some free time probably won't be hurting too much for performance in DX11 titles.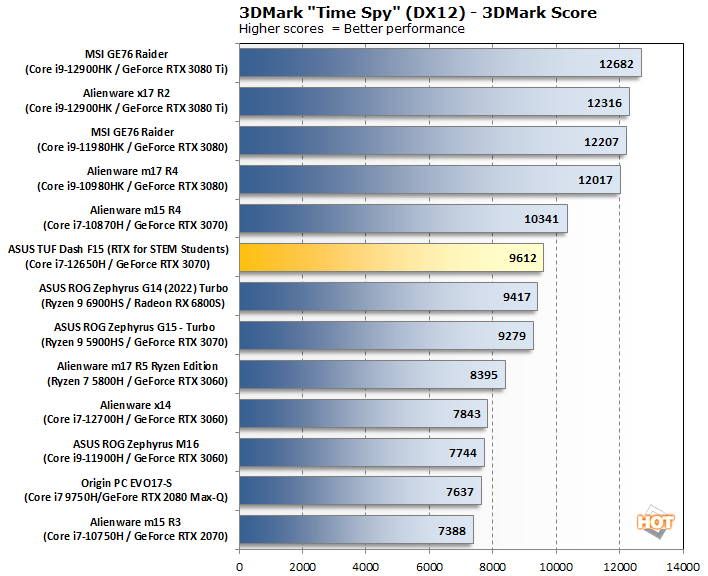 It's more of the same, but this time spoken in DirectX 12. The TUF Dash F15 is neatly nestled between the two GeForce RTX 3070 laptops in our test, far outpacing those with smaller GPUs like the RTX 3060 while trailing behind some of the (very) big boys like the
Alienware m17 R4
and its GeForce RTX 3080.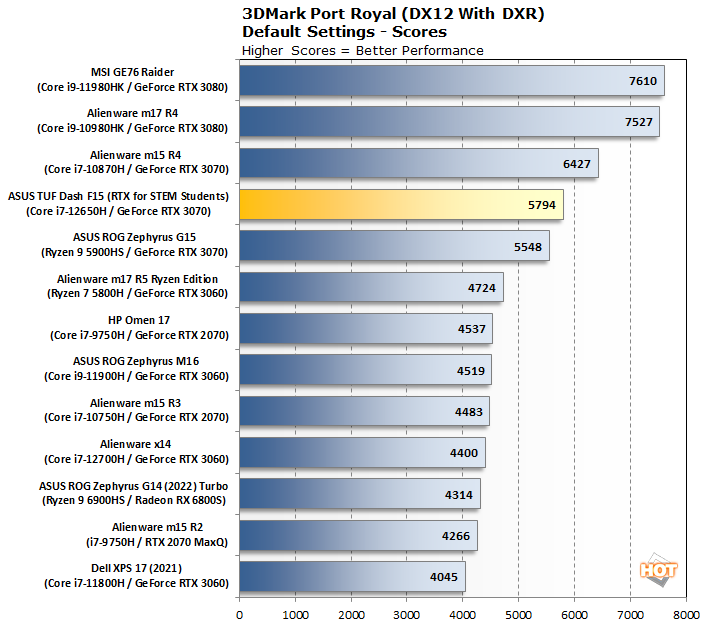 Port Royal is a ray tracing benchmark, so while the TUF Dash F15 was running neck-and-neck with the 2022 version of the
ROG Zephyrus G14
and its Radeon RX 6800S, it pulls far ahead in this benchmark due to Ampere's superior ray tracing performance when compared with RDNA2 GPUs from AMD. However, aside from that shift, the lineup is more of the same, with the TUF Dash F15 right where we'd want it to be.
Finally, let's take a look at performance in an actual game. Shadow of the Tomb Raider has been around for a while, but it still looks great and can make a system work very hard.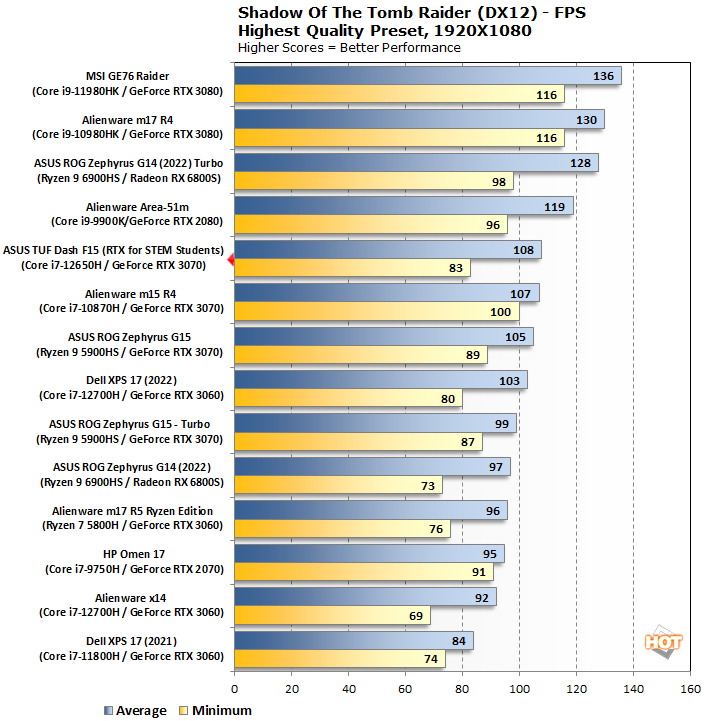 Once we set aside synthetic benchmarks and start looking at actual game performance, the TUF Dash F15 continues to impress. Averaging over 100 fps in this title means the 144Hz display gets put to good use, and it provides a very smooth experience from start to finish. Ah, if only we could go back to the 1990s and have this kind of performance available in such a thin and light package when we were in college.
Overall, we're pretty impressed with the design choices ASUS made here. The TUF Dash F15 is light enough to tote around yet plenty fast; it often found itself sitting right in the middle of some very potent gaming machines. Bigger, heavier desktop replacements are going to win out in terms of absolute performance, but students don't want to lug around a seven-pound beast like the Alienware or MSI machines that took the top spots on our charts.
Last up we need to look at battery life, since the TUF Dash F15 -- like all of the laptops in NVIDIA's RTX Laptops for STEM Students program -- will spend a lot of time in the classroom. A laptop isn't useful if it can't keep up and running while away from the wall plate, so ASUS outfitted this particular model with a 75 Wh battery. Let's see how long it'll last in our video playback test. We calibrated the display to 115 nits, same as our other test units, and sent it a'looping to see how long it could hold out.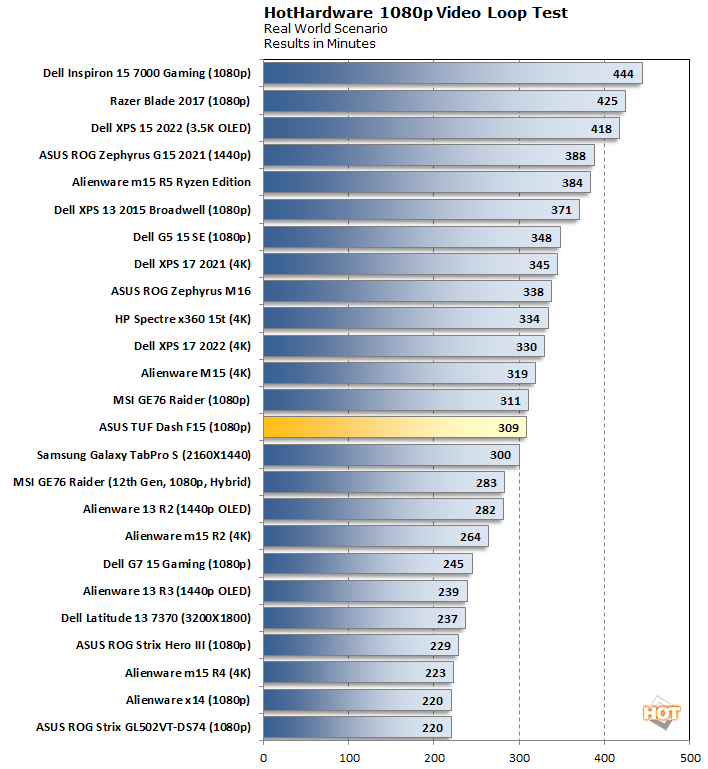 Overall the TUF Dash 15 will probably get students through most of a day, but there is no miracle at work here. The runtime of just over five hours is pretty good for a gaming laptop but there's no getting around the fact that a discrete graphics card and a higher-power CPU will pull more juice than an ultraportable laptop. And that's fine; students would do well to carry their chargers with them on long days, but a couple hours in the classroom shouldn't pose a threat to the TUF Dash 15's longevity.
ASUS TUF Dash F15 Thermal Performance
In a classroom setting, high-speed fans making a lot of racket can be distracting not only to yourself but to those around you. Fortunately, the TUF Dash F15's Armory Crate app has three different settings for fan and power profiles: Performance (default), Silent, and Turbo. We did all of our testing, with the exception of the battery test, with the Turbo setting enabled, because it represents both a best-case scenario for performance and a worst-case scenario for temperatures and noise. Battery testing was performed with the marchine's default Performance profile
In that same vein, we captured noise and temperatures with the Turbo setting. Let's take a look at what kind of temps and noise we're talking about.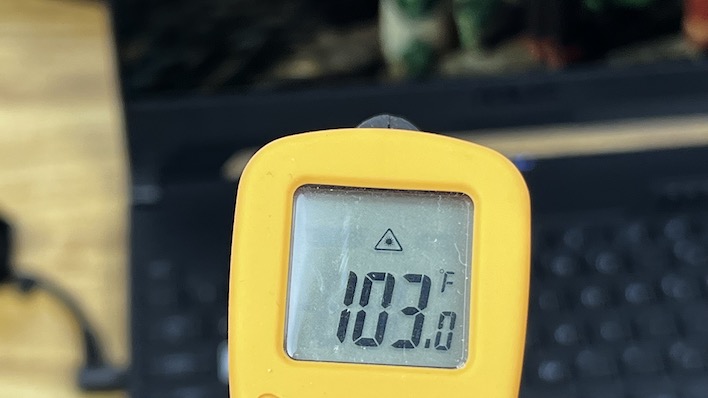 To keep the CPU and GPU occupied, we ran the Tomb Raider benchmark in a loop. On the third round of the test, we measured surface temperatures at the hottest spot on the case that we could find and measured fan noise from around 18 inches from the display. First, the good news: the surface of the TUF Dash F15 is actually pretty temperate. The very hottest spot we could find was 103 degrees Fahrenheit, which is warm to the touch but not uncomfortably so. We couldn't find any spot on the keyboard that measured higher than around 90 degrees F, which is just fine for normal use. As far as temperatures go, the TUF Dash F15 seems like a real winner.
There is a series of vents all around the rear and sides of the laptop that exhaust hot air. Cool air comes in through the bottom vents and runs over the internals and comes out fairly warm. Again air temps were moderate, but the fan noise really wasn't. Remember, this is on the Turbo setting, and the other settings (especially Silent) are much quieter. With that in mind, we measured noise levels at close to 50 dBA -- usually between 48 and 51 -- right where our ears probably would be while gaming. When not under load, this laptop is nearly silent in any setting, but under load you'll likely want to turn down the performance profile in a classroom setting. In a dorm room, the noise characteristic here is not a problem. We heard a "whoosh" of air moving through the system, not a whistle or a whine, so when you don't have to listen to a professor's lecture, high-performance is the right kind of performance.
NVIDIA STEM Laptop By ASUS Review Conclusion
Engineering, technology, and science students need plenty of performance to get through their classwork without having to constantly wait on a computer. NVIDIA's RTX Laptops for STEM Students program seems like a very solid starting point from which to find the right laptop for technical students' various workloads and budgets. As demonstrated in our review unit here, GeForce RTX GPUs bring a lot of added performance when compared to a CPU with integrated graphics by itself. While the GeForce RTX 3070 we tested is towards the upper-middle of the RTX pack, we think that even a cheaper notebook with a GeForce RTX 3050 would be worth the added cost, in terms of time saved and general workstation performance gains.
In absolute terms, the ASUS TUF Dash F15 is a very capable laptop that's still quite portable. At under 4.5 pounds, it's pretty lightweight and wouldn't be a burden to toss into a backpack while traversing campus to class. It weighs as much as some textbooks and its footprint isn't overly large, either. Despite that, this laptop has an 80-Watt GeForce RTX 3070 and a 12th Gen Intel Core i7 processor under the hood and a really nice 144 Hz Full HD display. All of this performance doesn't come cheap, however; $1,800 is a lot of cash, though we suppose in the face of student loan debt, it's a relative bargain with good bang for the buck. In addition, this machine's price point is right in line with other notebooks in its size and performance class. For example, the Dash F15 matches up well with ASUS's own slightly larger yet faster
ROG Zephyrus M16
or the somewhat smaller but slightly pokier
Alienware X14
. So it's not like the STEM student label is going to cost buyers anything extra.
The only downside to the TUF Dash F15 is that battery life is best described as
average
for this class of machine. Its 75 Wh battery is a little smaller than some other gaming notebooks, but its lower power budget helps make up for it. As a result, it should get through the day, but you might want to keep your charger with you, especially when relying on the discrete GeForce graphics processor. Fortunately ASUS' power brick isn't very large, so it's easy to toss into a bag. As long as there are outlets near the desk (which, honestly, they probably are most of the time in a lab setting) then you should be good to go.
It's right about now that some students are discovering that they need a bit more performance to get through their work. Classes at universities across the country are in full swing and it might be starting to become apparent that an older or low-power laptop just isn't going to cut it. For those folks now is a great time to pick up a machine in NVIDIA's RTX Laptops for STEM Students program. And if you're in the market for a sub-$2,000 gaming notebook, the
ASUS TUF Dash F15 is a great example
of high performance in a nicely portable package. For that reason, it's
HotHardware
Recommended.
Related content
Comments