NVIDIA GeForce RTX 3060 Ti Review: Breakout Speed At $399
NVIDIA GeForce RTX 3060 Ti Review: Overclocking, Power, Noise And The Verdict
We also spent a little time overclocking the new MSI GeForce RTX 3060 Ti Gaming X Trio to see what kind of additional performance it had left under the hood. Before we get to our results, though, we should probably provide some additional color as it related to overclocking Ampere-based GeForce cards...
Overclocking Ampere And The RTX 3060 Ti
Ampere-based GeForce RTX 30-series cards like the MSI GeForce RTX 3060 Ti Gaming X Trio feature GPU Boost just like previous-gen GeForces. GPU Boost scales frequencies and voltages up and down based on the GPU's workload and environmental conditions at the time, within predetermined power and thermal limits. Should a temperature or power limit be reached, GPU Boost will drop down to the previous boost frequency/voltage stepping, in an attempt to bring power and temperatures down gradually, not cause any significant performance swings, and remain within that card's particular thermal and power envelopes.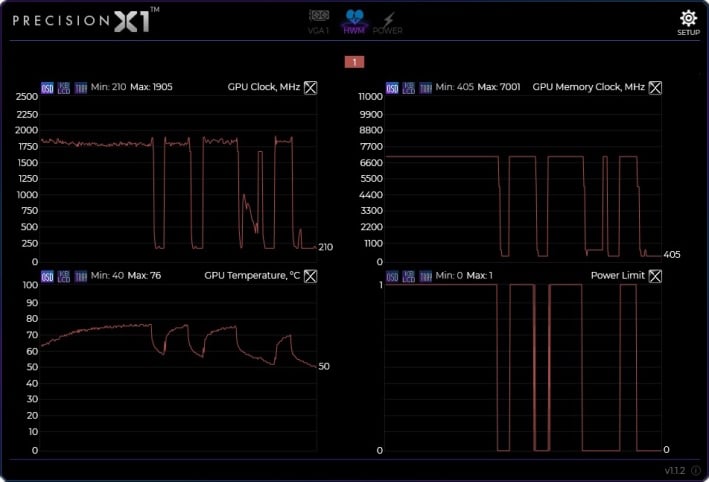 GeForce RTX 3060 Ti FE Default Settings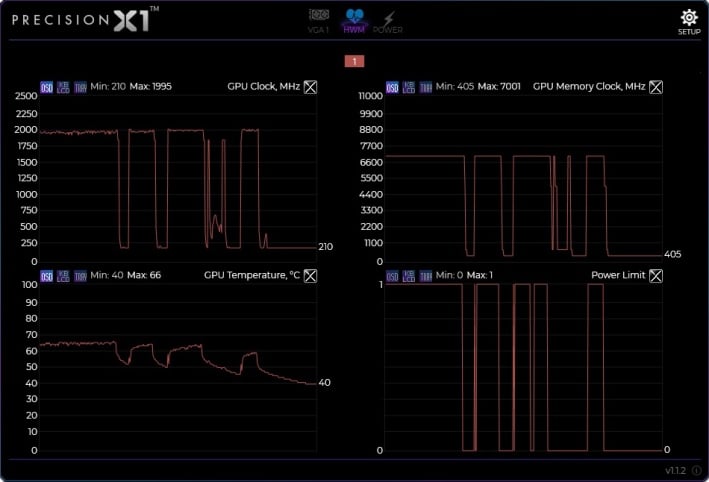 MSI GeForce RTX 3060 Ti Gaming x Trio Default Settings
As we've mentioned in some of our
previous coverage
, NVIDIA has segmented the core and memory power rails with its latest GPUs. It has also significantly tweaked and tuned interfaces on RTX 30-series to optimize signal integrity and power delivery to the GPU and GDDR6 memory, which should help with overclocking when there is power headroom available. With that said, like previous-gen
Turing
-based cards, the GeForce RTX 30-series is still power limited to prevent damage and ensure longevity, and that power limit is typically what'll determine a card's overclocking capabilties.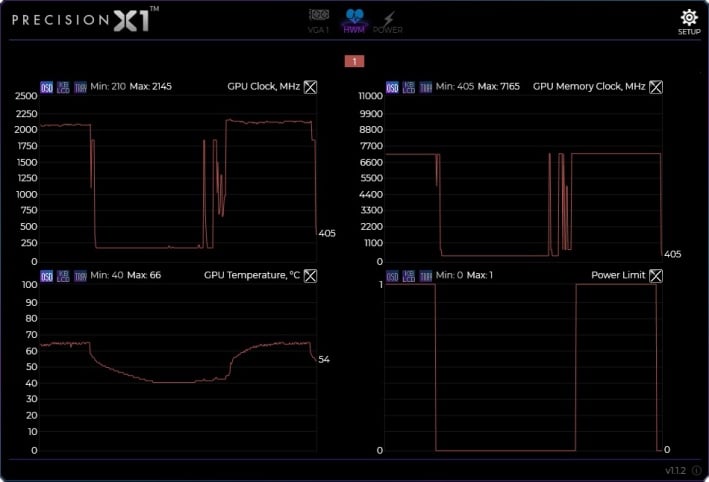 GeForce RTX 3070 Overclocked
NVIDIA offers an automatic overclocking scanner tool, should users want to generate a specifically tailored frequency and voltage curve for their card. But, you can also overclock manually, which is what we did here. In lieu of using the NVIDIA Scanner, we kept things simple and used the frequency and voltage offsets, and the power and temperature target sliders, available in EVGA's Precision X1 utility, to manually push the card beyond its stock specifications.
First, we cranked up the temperature and power targets, and pushed the voltage up, then we increased the GPU and memory clock offsets until the test system was no longer stable, showed on-screen artifacts, or performance peaked due to hitting the power limit. With the MSI GeForce RTX 3060 Ti Gaming X Trio, the power target can be increased by only 4%, the temperature target from 83°C to 90°C, and the GPU voltage can be raised by up to .1v.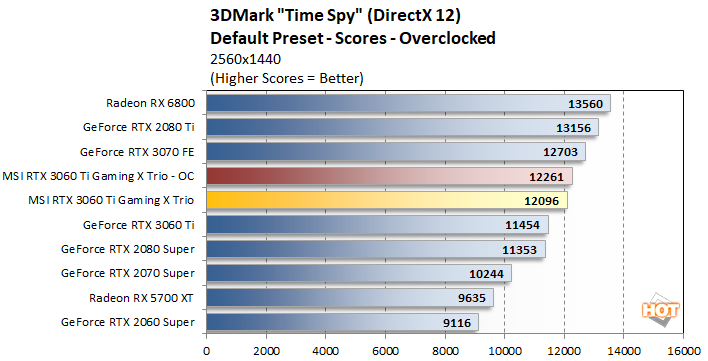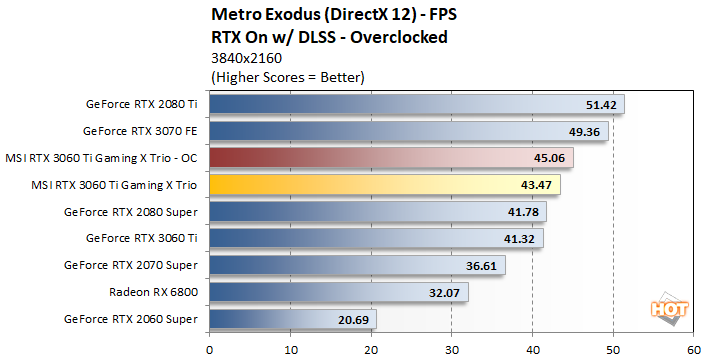 While we had our card overclocked, we saw peak GPU Boost frequencies of nearly 2.15GHz, with an effective 7.16GHz memory clock. At those higher clocks, we saw some nice performance increases, which put the MSI card closer to the higher-performing and more expensive 3070 FE. And throughout all of our testing the MSI card's peak GPU temperature never exceeded a paltry 66°C -- this card runs especially cool. The FE card hit 76°C in its stock config, which obviously isn't as good as the bigger MSI card, but it still of no concern whatsoever.
| | |
| --- | --- |
| | |
We'd also like to cover a couple of final data points regarding power consumption and acoustics. Throughout all of our benchmarking and testing, we monitored noise output and tracked how much power the GPU's were consuming using NVIDIA's PCAT device. Our goal was to give you an idea as to how much power each GPU used while idle and also while under a heavy workload. These power numbers were captured over the duration of an entire 3DMark Fire Strike run, including the full demo, and are indicative of the GPU alone --
not
the entire system...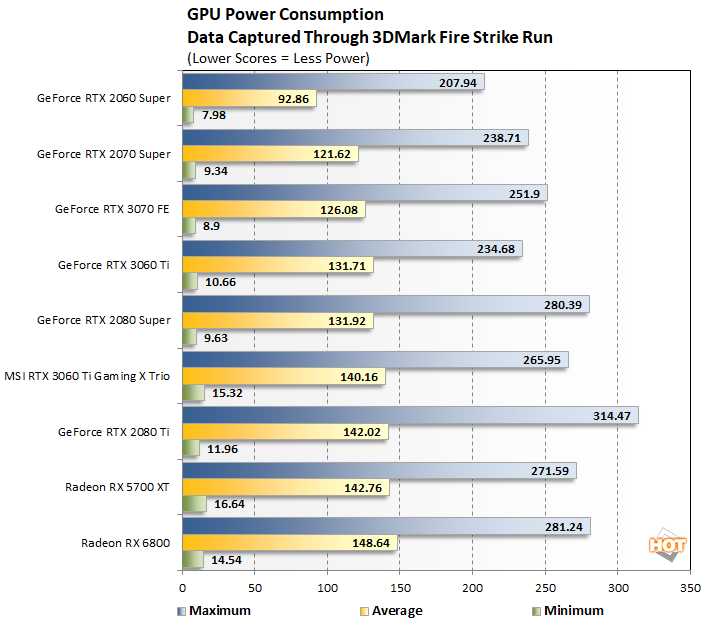 The power data we collected in right in-line with the typical performance trend we've seen throughout this article. The GeForce RTX 3060 Ti Founders Edition used slightly less average and less peak power than a GeForce RTX 2080 Super, whereas the higher-clocked, faster MSI GeForce RTX 3060 Ti Gaming X Trio used somewhat more power than the 2080 Super on average, but much less peak power, which speaks well to Ampere's efficiency improvements.
GPU Acoustics

Measuring Noise Output
We haven't found noise to be an issue with any GeForce RTX 30-series cards yet, and with the GeForce RTX 3060 Ti's reduced power and thermal considerations, we weren't expecting much of a ruckus here...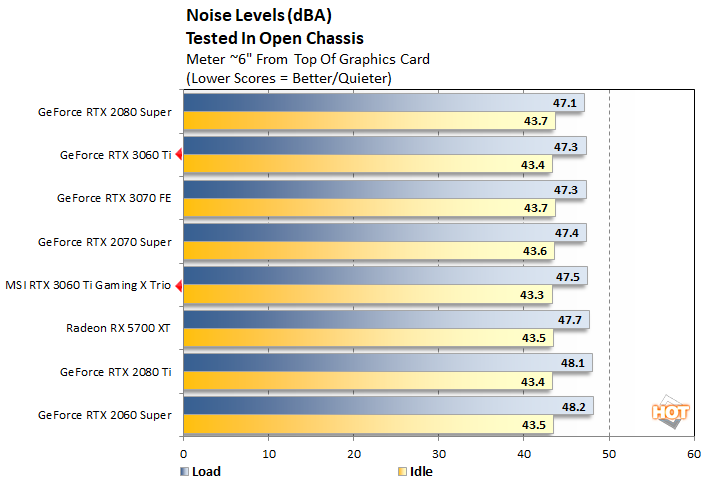 In our real-world setup (we tested the GPU inside a chassis), our test rig with the RTX 3060 Ti cards output sound pressure levels that weren't particularly far apart -- these cards are quiet. We measured the sound pressure about 6" away from the top of the GPU, with the side-panel removed from the chassis. The test system has 3 additional fans -- 1 x 120mm exhaust fan, 1 x 120mm fan on the CPU heatsink, and another 140mm fan in the PSU. Overall, the system is relatively quiet, though its fans do drown out most GPUs, at least until they are placed under a sustained load for an extended period.
GeForce RTX 3060 Ti Summary And Verdict
GeForce RTX 3060 Ti cards are slated to start shipping tomorrow. The NVIDIA Founders Edition card has an MSRP of $399 and overclocked partner boards like the MSI GeForce RTX 3060 Ti Gaming X Trio will obviously be priced higher (usually by about $20 - $60), depending on the level of customization, additional features, and how high the GPU clock is, etc. GeForce RTX 3060 Ti Founders Edition cards will be available directly from Best Buy and Microcenter, and partner boards will be sold by all of the usual suspects, though product is likely to disappear quickly, as has been the case with all of the recent GPU launches.
Assuming customers can get their hands on cards at or near MSRP, the GeForce RTX 3060 Ti is an excellent option. Performance is in the neighborhood of the GeForce RTX 2080 Super, and well ahead of cards like the Radeon RX 5700 XT or RTX 2060 Super, all of which are currently selling for much more than the 3060 Ti's MSRP. This card's 8GB frame buffer may give some of you pause, but for 1080p – 1440p gaming, it shouldn't be a problem for the overwhelming majority of titles, and it's par for the course in this price bracket anyway.
We'll have to wait until the current craziness ends to see where pricing on previous-gen cards ultimately settles, but if you're looking for a GPU in the $400-ish price range, the GeForce RTX 3060 Ti is the obvious choice. It offers performance in-line with more expensive cards, arrives at the same MSRP as the GeForce RTX 2060 Super, and its feature set it second to none.











Good Performer

Excellent Value

Cool and Quiet Operation

Bleeding Edge Feature Set

Power Friendly

Decent Overclocker

Power Limited At Stock Specs

Power Connector Placement On FE Cards



Related content
Comments