Nubia RedMagic 5G Review: An Unruly Android Gaming Beast
Nubia RedMagic 5G Camera Performance And Image Samples
The RedMagic 5G is Nubia's first gaming phone with a trio of cameras in the back. It features a 64MP f/1.8 0.8-micron main shooter (without OIS), an 8MP f/2.2 1.12-micron 120-degree ultrawide, and a 2MP f/2.4 1.75-micron macro (without AF). Yes, it's the same cheap macro that manufacturers are throwing into every mid-range handset and affordable flagship instead of a telephoto lately, just to retain triple camera bragging rights -- we're definitely looking at you, OnePlus 8. We'd take OIS on that main shooter over this macro any day.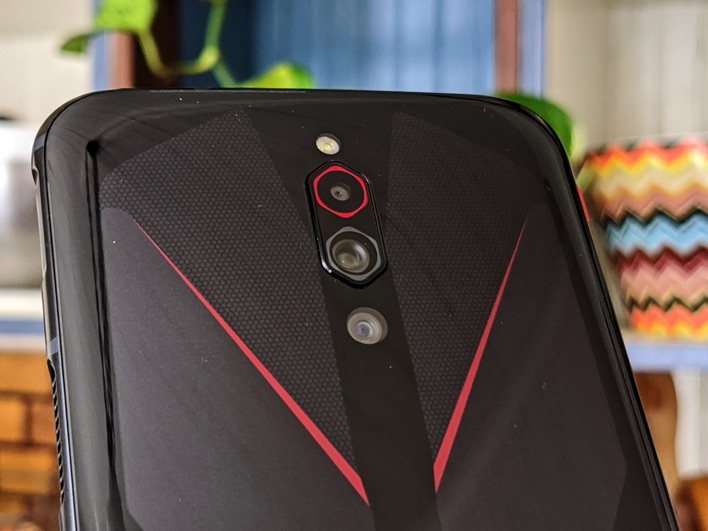 Still, there's a shining star among those middling camera specs, and that's Sony's IMX 686 64MP Quad-Bayer sensor, which "bins" (combines) 4 pixels into one, outputting 16MP with 1.6-micron effective pixels for better low-light performance. Plus, having an ultrawide is always nice. Sadly, the RedMagic 5G's native camera app and image processing leave a lot to be desired, with results to match. Of course, the workaround (at least partially) is to install one of the many Google Camera APKs available for non-Pixel phones.
As you can see from our samples, photos taken with the RedMagic 5G -- while not terrible -- are far from spectacular. Most of this comes down to poor image processing. Despite Sony's very capable IMX 686, the main shooter exhibits exposure and HDR issues, color and white balance problems, excessive sharpening, and a general lack of detail. Ditto the ultrawide and selfie cameras. Zoomed-in shots look like simple 16MP crops, instead of 64MP images processed using sub-pixel interpolation and other "smart" zoom techniques.
Next up: audio, performance, and battery life...

Related content
Comments