MSI GeForce RTX 4060 Ti Gaming X Trio Review: Burly And Brisk
MSI GeForce RTX 4060 Ti Gaming X Trio: Game Benchmarks And Resolution Scaling Tests
Company of Heroes 3
is a recently released real-time strategy game developed by Relic Entertainment. A follow up to the popular
Company of Heroes 2
, this latest addition to the franchise features new mechanics and modes and is set in the Italian and North African theaters of World War II. We tested the game at 1080p and 1440p resolution, with maximum image quality settings.
Company Of Heroes 3 Benchmarks
At 1920×1080, the MSI Gaming Trio card puts up a very impressive performance, with vastly-improved 1% lows over its NVIDIA-built sibling. However, the two cards perform almost identically at 2560×1440, which leads us to believe that this may be a fluke result rather than indicative of any particular quality. Both cards perform very well here;
Company of Heroes
clearly favors Ada's newer architecture.
Far Cry 6 Benchmarks Benchmarks
Next up, we've got some benchmark scores from
Far Cry 6
, the latest installment in the storied franchise. Like its predecessors,
Far Cry 6
is a fast-action shooter set in an open world environment with lush visuals and high graphics fidelity. The game is set on the fictional Caribbean island of Yara, ruled by dictator "El Presidente" Antón Castillo, famously played by actor Giancarlo Esposito. We tested all of the graphics cards here at multiple resolutions using Ultra Quality settings to see how they handled this AAA title.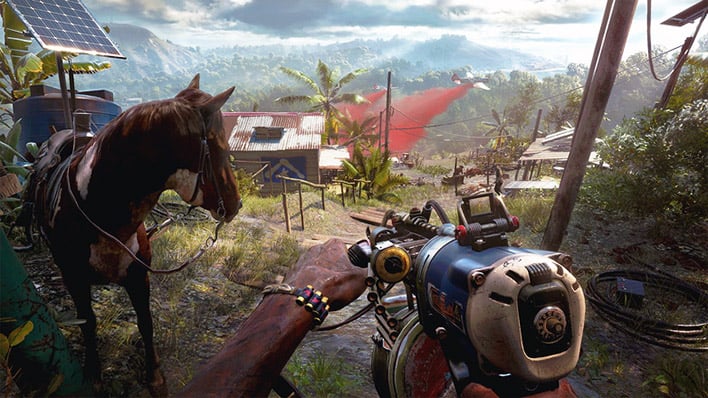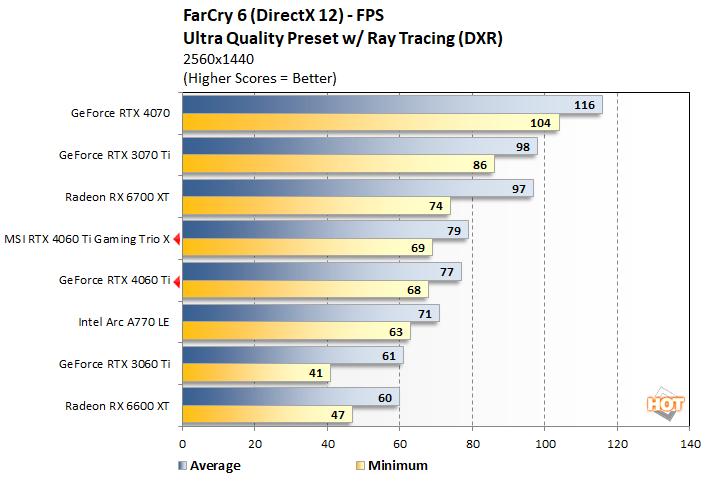 At 1920×1080, the GeForce RTX 4060 Ti cards are able to keep up with what is in theory a much more powerful graphics card, the Radeon RX 6700 XT—admittedly with worse framerate consistency than its Intel and AMD competitors. However, that falls apart a bit at 2560×1440, where the AMD GPU barely loses any steam, yet the new GeForce cards stumble a little.
Marvel's Guardians Of The Galaxy
Marvel's Guardians of the Galaxy
is an action-adventure game where you play as Star-Lord and lead the rest of the Guardians from mission to mission. The game's minimum requirements call for a Radeon RX 570 or GeForce GTX 1060-class GPU, but it also supports some of the latest graphics technologies, including
DXR and DLSS
.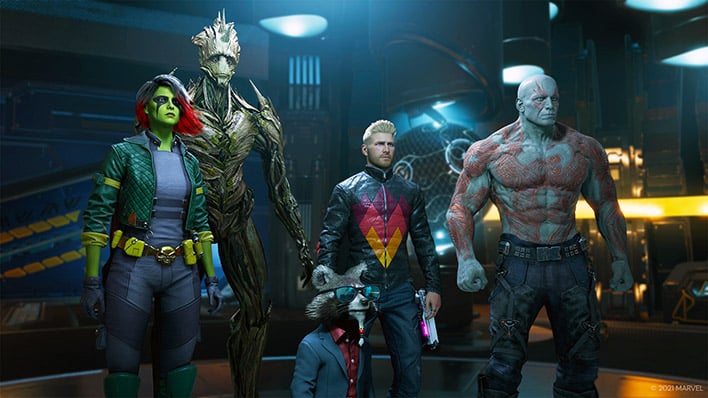 Marvel's Guardians Of The Galaxy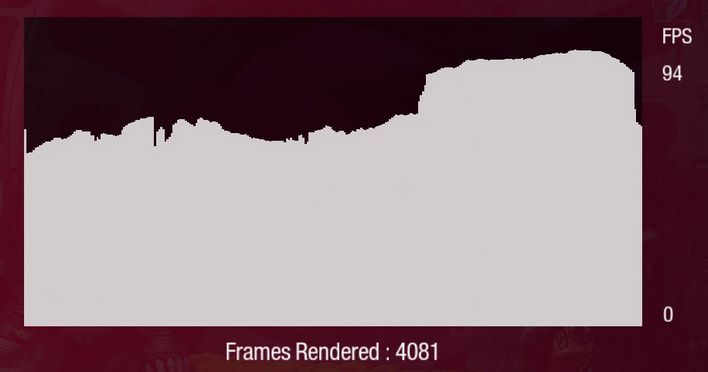 Guardians Of The Galaxy Details @ 1440p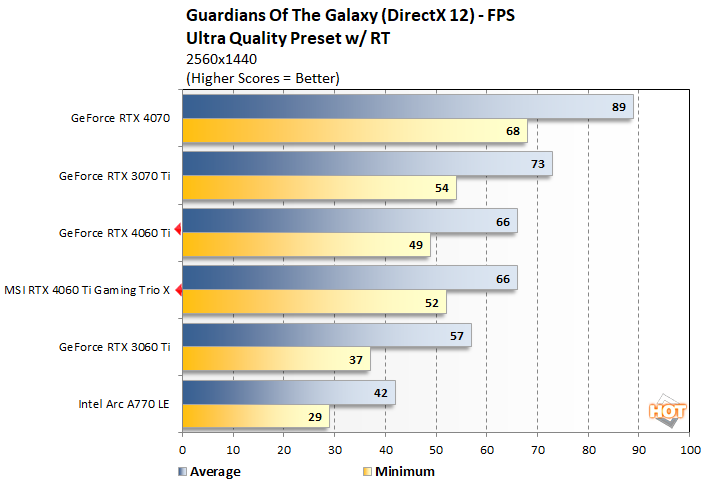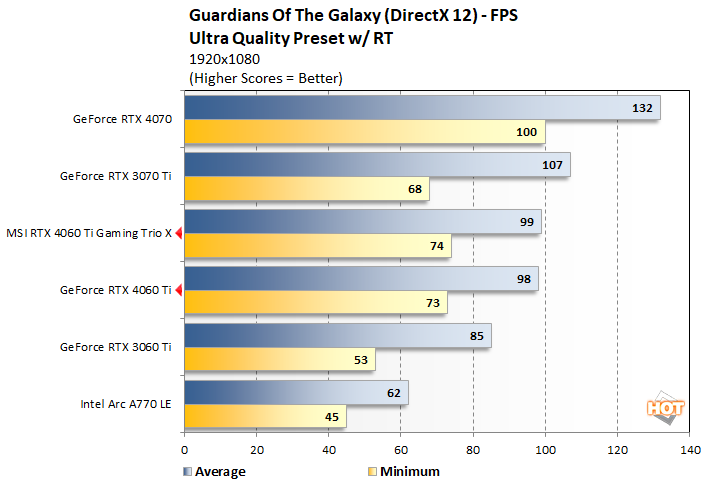 Unfortunately, Guardians is broken on Radeon cards when ray-tracing is enabled while using the company's latest driver. As a result, we've excluded AMD's GPUs from these tests. While the GeForce RTX 4060 Ti cards don't match the average performance of the higher-tier RTX 3070 Ti, they have a higher minimum framerate, indicating more consistent performance, at least in 1920×1080. Bumping things up to QHD resolution makes the graph look a little bit more like we'd expect, although interestingly, the MSI card holds up a little better than the FE model.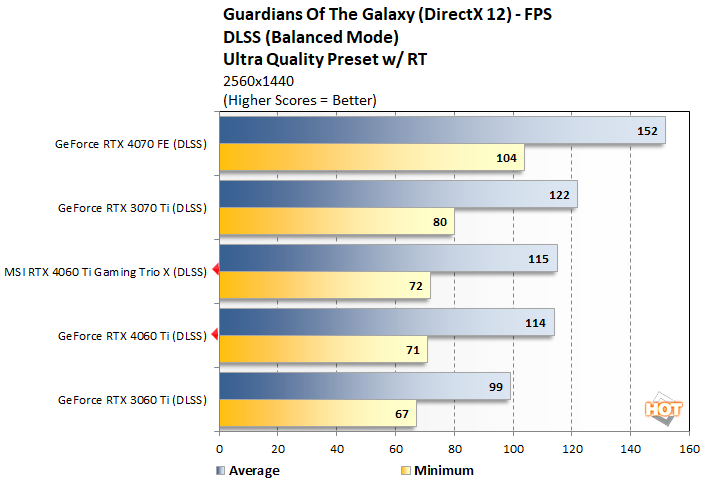 Marvel's Guardians of the Galaxy
supports DLSS upscaling as well as AMD's FSR 1.0, but doesn't support Intel's XeSS. As DLSS and FSR1 give fairly different image quality, we didn't include anything but the NVIDIA GPUs here. When using DLSS, the performance standings don't change, but all of the NVIDIA cards get a nice boost in performance that will pair well with high refresh rate monitors.
Returnal Benchmarks
Returnal is a port of the popular PS5 game. It follows the astronaut Selene as she searches for a way out of the barren landscape of an ancient civilization. Returnal is a fast-paced third-person shooter that makes used of many advanced graphics techniques and employs technologies like DLSS, XeSS, and FSR 2. It also happens to have a handy-dandy benchmark utility with a lot of detailed performance metrics.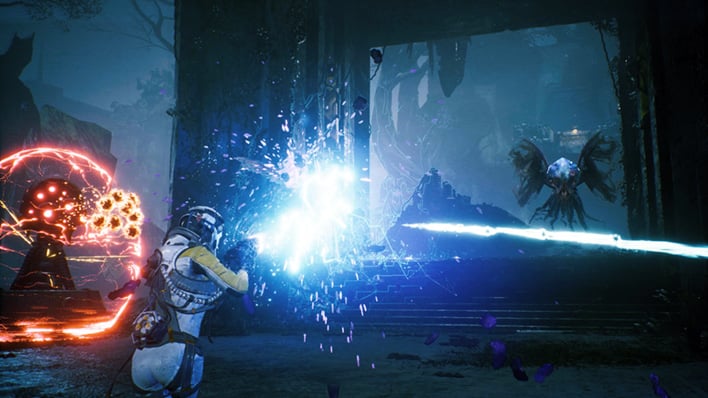 Returnal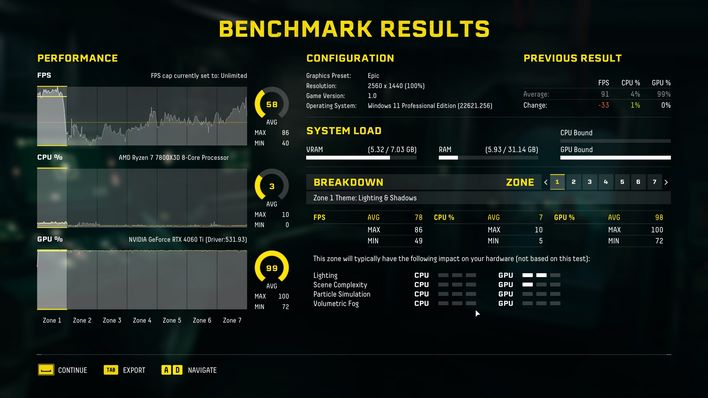 Returnal Details @ 1440p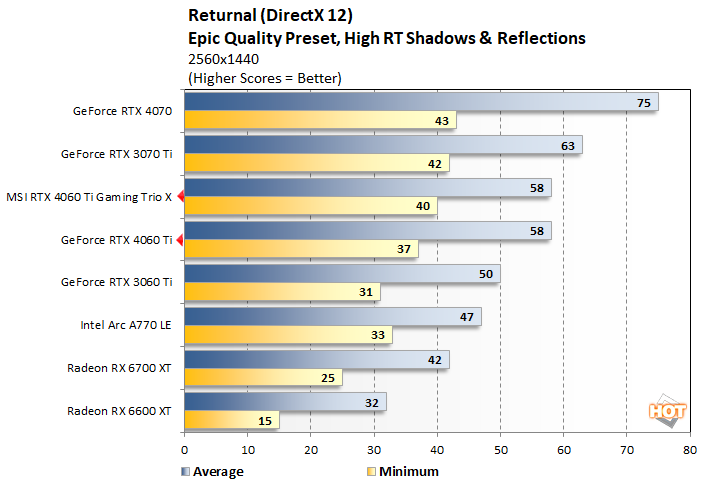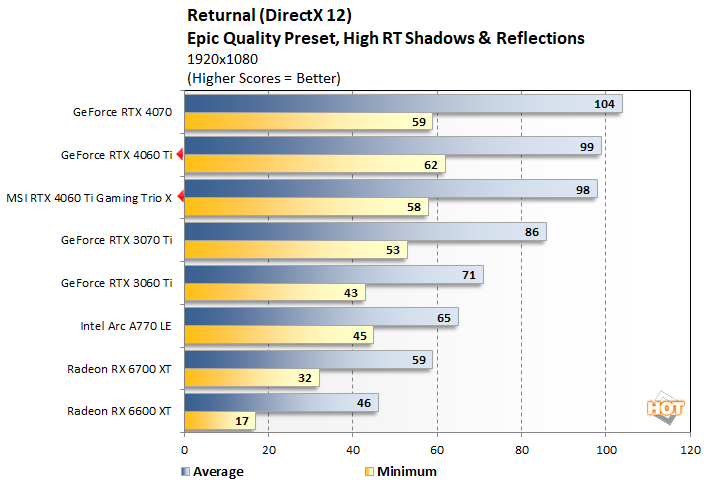 As a game developed directly for the PlayStation 5, Returnal is incredibly demanding on PC. Our GeForce RTX 4060 Ti cards barely manage to turn in what we would call a playable performance at this resolution, while everything below this performance level really struggles. Fortunately, as we mentioned above, it supports basically every kind of upscaler. Let's see how it goes if we enable those.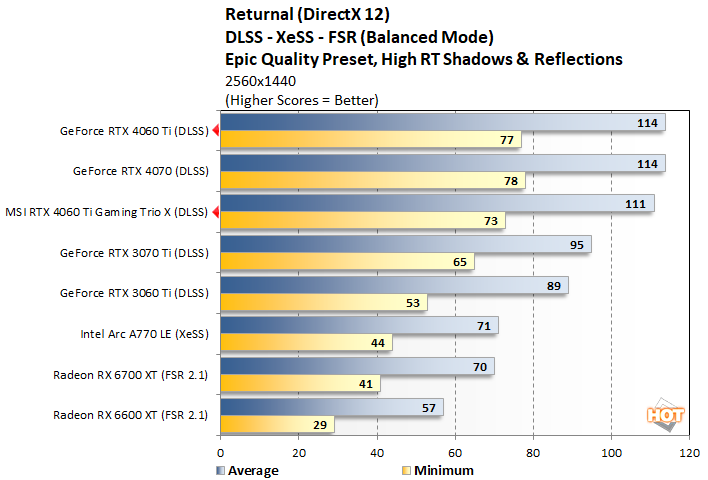 Turning on upscalers, using each vendor's respective technology, drastically changes the picture of performance for every card. Even the lower-end Radeon RX 6600 XT is able to turn in something approaching playable performance, while the Ada Lovelace GeForce cards become CPU-limited even by our Ryzen 7 7800X3D CPU -- an outstanding performance in an extremely demanding game for two new cards.
F1 2022 Benchmarks
F1 2022 is Codemaster's latest Formula One racing simulation, and like previous version of the game, it sports impressive visuals. This latest addition to the franchise supports DirectX 12 with ray tracing, and it incorporates support for a number of AMD's FidelityFX Super Resolution (FSR) and NVIDIA technologies (like DLSS). We tested the game with its Ultra High graphics preset, with ray-tracing and TAA enabled at a couple of resolutions to see what the graphics cards could do.

F1 2022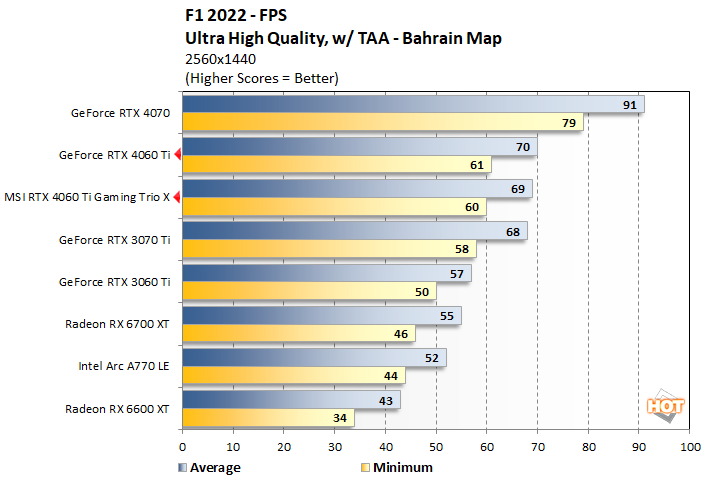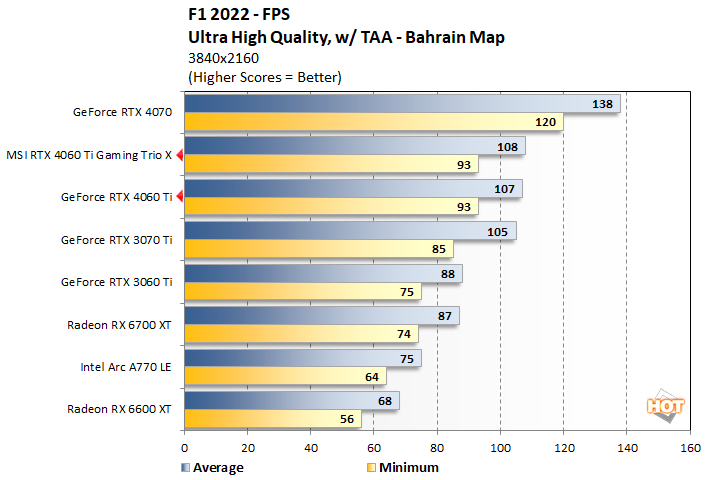 The benchmark for this game relies on AI drivers rather than having a bunch of tightly-scripted actions for each car. As a result, there's a tiny bit of variance in the outcome, so don't worry too much about a frame more or less here or there. Our RTX 4060 Ti cards turn in chart-topping performance besides their stronger sibling, besting even the Geforce RTX 3070 Ti, even at 3840×2160. Impressive stuff to be sure.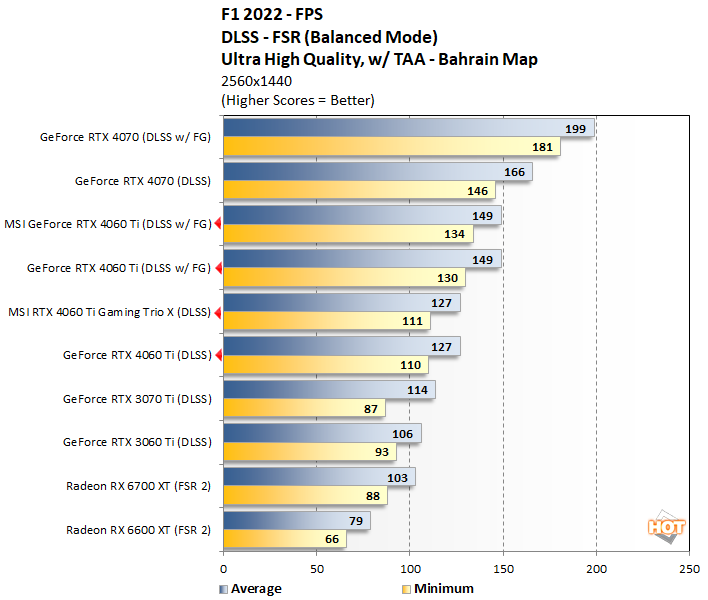 Toggling on upscalers doesn't change the ordering of our results in a meaningful way, but it sure does change the absolute results. Enabling DLSS upscaling and Frame Generation on our RTX 4060 Ti cards boosts their average FPS in F1 22 by some 40 FPS—and the difference would be even larger at 4K.
Cyberpunk 2077 Benchmarks
Unbeknownst to many players, Cyberpunk 2077 is based on the Cyberpunk tabletop role-playing game franchise. The tabletop game was published for the first time in 1988, and the intervening 30-some years have not changed the game world all that much. As a result, Cyberpunk 2077 looks somewhat retro-futuristic, as this is how people in the 1980s imagined what the future would look like. The game can make use of virtually every advanced DirectX graphics technology as well as upscalers like DLSS, FSR, and XeSS, and after a somewhat rocky release, a steady stream of patches have largely beaten it into shape.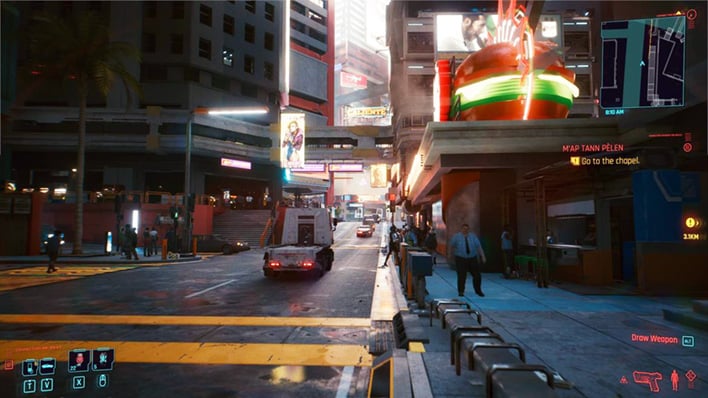 Cyberpunk 2077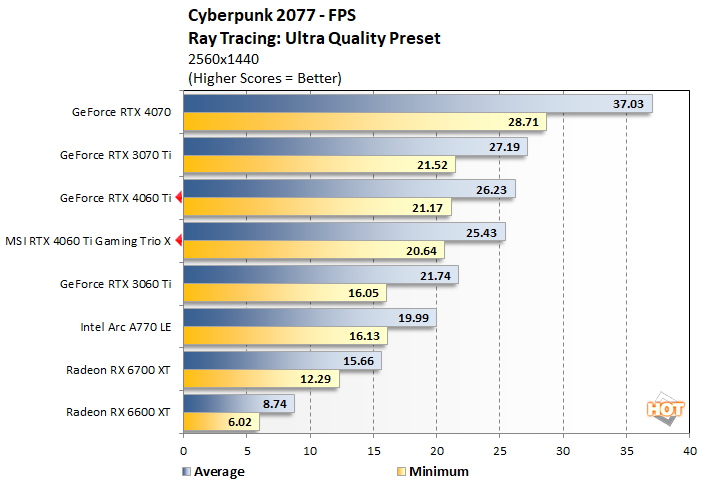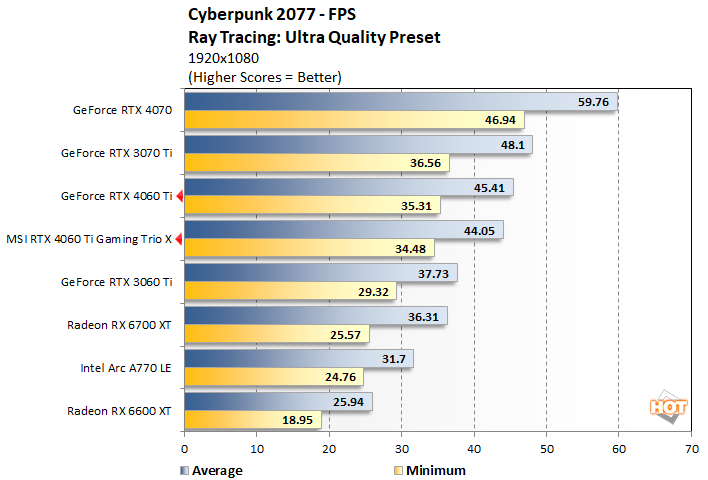 Cyberpunk 2077 is an unbelievably taxing game, owing to its incredibly-detailed yet expansive open world. So much so, in fact, that none of our cards save perhaps the Geforce RTX 4070 really give a playable performance level in 2560×1440 with the ray-tracing features turned up. The RTX 4060 Ti cards give a good showing, but the GeForce RTX 3070 Ti's superior memory bandwidth gives it an edge in this demanding title. In 1920×1080, the picture is rosier, but the standings don't change. Let's see how it looks when using upscaling.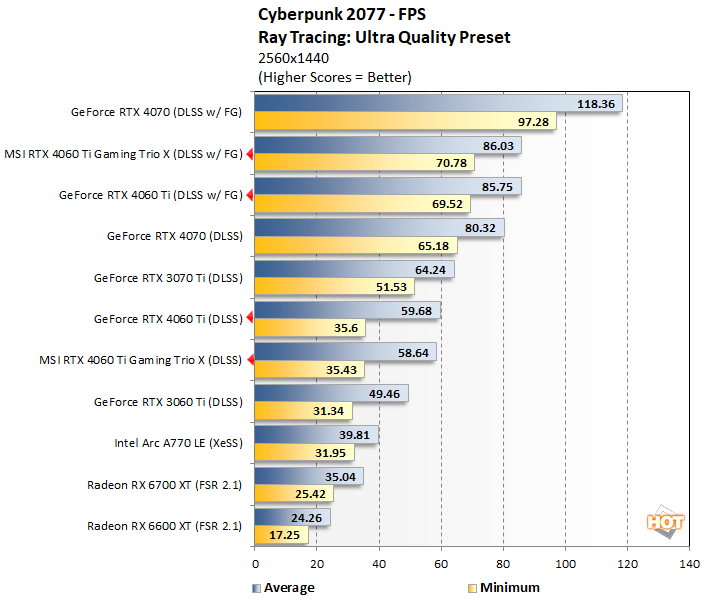 As expected, upscaling drastically changes our results, but it's actually DLSS 3 Frame Generation that has the biggest impact. Using DLSS "Balanced", we achieve playable framerates on our MSI Gaming X Trio RTX 4060 Ti, but ticking on Frame Generation takes the experience from "playable" to "smooth." DLSS 3 isn't available in every game (yet), but it's a real benefit if the title you want to play includes such support.
Related content