MSI GeForce RTX 4060 Ti Gaming X Trio Review: Burly And Brisk
MSI GeForce RTX 4060 Ti Gaming X Trio: GPU Compute, Rendering And Encoding Tests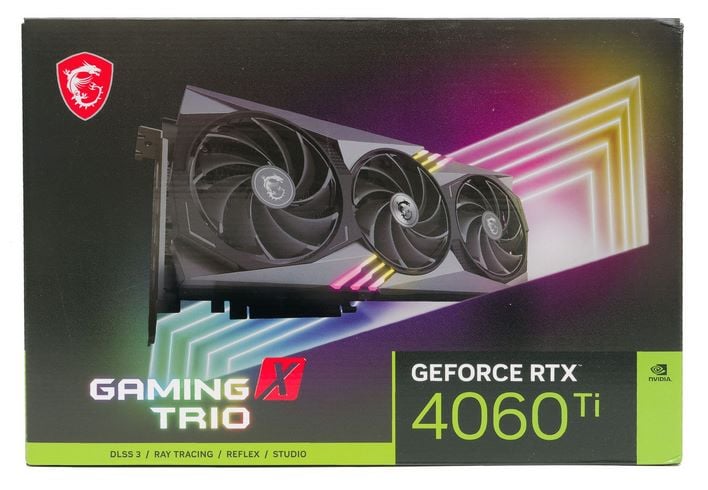 We tested all of the graphics cards represented in this article on an
ASUS ROG CROSSHAIR X670E HERO
motherboard equipped with a
Ryzen 7 7800X3D
CPU and 32GB of
G.SKILL DDR5 RAM
clocked at 6,000MHz. The first thing we did when configuring the test system was enter the UEFI and set all values to their "high performance" defaults, and then we disabled any integrated peripherals that wouldn't be put to use before enabling Resizable BAR support. We dialed in the memory to its optimal performance settings using its EXPO profile, then formatted the solid state drive and installed Windows 11 Professional before performing all updates. When the Windows installation was complete, we installed all of the drivers, applications and benchmark tools necessary to complete our tests.
Our Test System Configuration:
---
Hardware Used:


AMD Ryzen 7 7800X3D


(4.2GHz - 5GHz, 8-Core)

ASUS X670E Hero
32GB G.SKILL DDR5-6000


Samsung SSD 990




Integrated Audio / Network



Intel Arc A770 LE
Radeon RX 6600 XT
Radeon RX 6700 XT
MSI RTX 4060 Ti Gaming Trio X
GeForce RTX 4060 Ti
GeForce RTX 3060 Ti
GeForce RTX 3070 Ti
GeForce RTX 4070


Relevant Software:


Windows 11 Pro 22H2


AMD Radeon v23.10.01
NVIDIA Drivers v531.93
Intel Arc driver v101.4369

Benchmarks Used:


LuxMark v4
Blender v3.5.0
Blackmagic RAW Speed Test v3
IndigoBench v4.4.15

UL 3DMark


UL VRMark


Unigine Superposition
Company Of Heroes 3
Returnal
Cyberpunk 2077
Far Cry 6 GOTY Edition
F1 2022
Guardians Of The Galaxy


---
LuxMark v4.0 Benchmarks
LuxMark is a cross-platform, OpenCL-accelerated 3D rendering benchmark. It's a tool based on the open source LuxRender physically-based spectral rendering engine, which accurately models the transportation of light and supports high dynamic range. LuxRender features a number of material types to allow rendering of photo-realistic and artistic scenes. LuxRender is free software, licensed under the GPL, that offers plugins for packages like Blender, Maya, Cinema 4D and 3DS Max.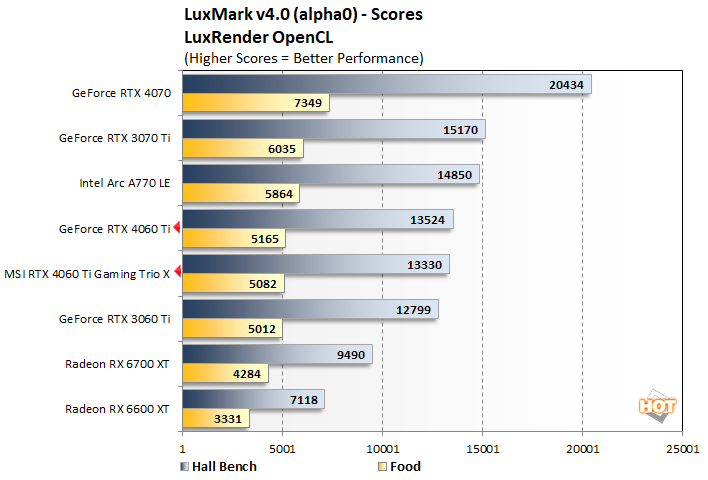 The MSI card turns in a performance functionally equivalent to the Founders Edition card here. Ordinarily we'd tell you not to pay too much mind to the placement here, as these cards are within the margin of error and performing essentially identically, but it does become a bit of a trend, as you'll see. It's not a bad showing—if you ignore that Arc A770 LE card up there. Spicy.
IndigoBench Rendering Benchmarks
IndigoBench is based on Indigo 4's advanced rendering engine and offers both CPU and GPU rendering modes for its two built-in models. The standalone benchmark is available for Windows, MacOS, and Linux and outputs results in M/Samples per second.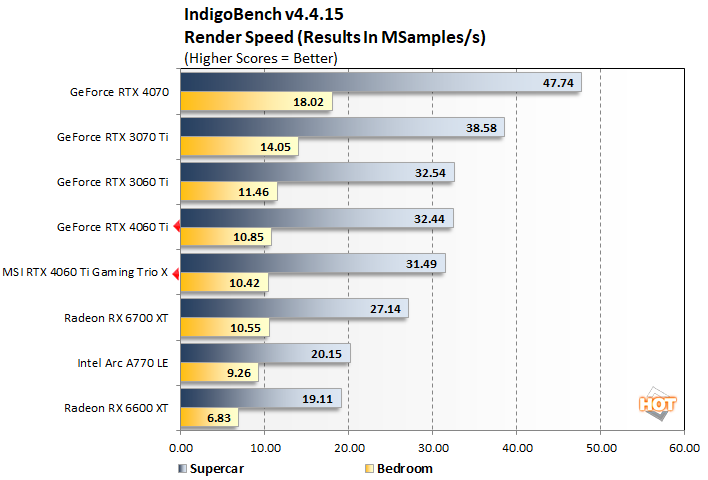 IndigoBench obviously favors GeForce cards, but it's also clearly a little sensitive to memory bandwidth. The GeForce RTX 4060 Ti ends up falling behind the other cards—even the last-gen RTX 3060 Ti—but the MSI Gaming X Trio also falls behind the Founders Edition card in a bit of a curious turn.
Blender v3.5.0 GPU Rendering Benchmarks
Blender is a free and open source 3D creation suite that can handle everything from modeling, rigging, animation, simulation, rendering, compositing and motion tracking, even video editing and game creation. The developers offer a standalone benchmark tool that will track performance while rendering a handful of models. We used all three of the default models for these tests.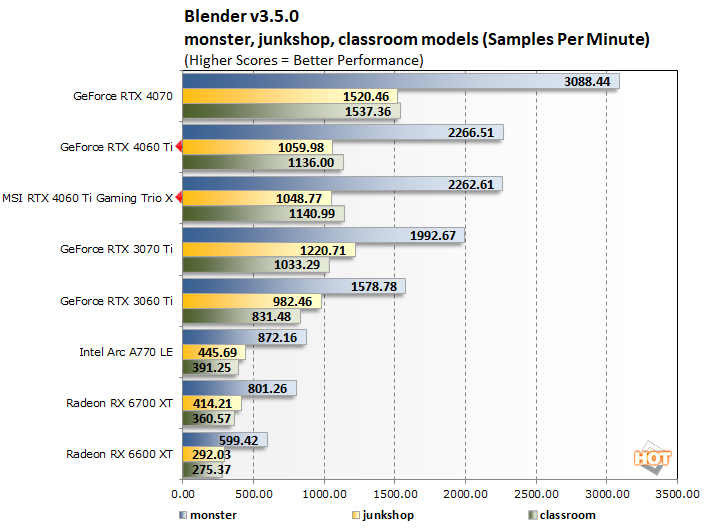 Meanwhile, in the compute-focused Blender tests, the Ada Lovelace architecture destroys all comers with ease. Our new cards outpace even the GeForce RTX 3070 Ti, and the MSI card scores its first win (however small) against the Founders Edition in the Classroom model.
Blackmagic RAW Speed Test Results
The Blackmagic RAW Speed Test is a CPU and GPU benchmarking tool that tests the speed of decoding full-resolution
Blackmagic RAW
frames. The tool can be used to evaluate the performance at various resolutions and bitrates on the CPU or using OpenCL or CUDA on a GPU. We're reporting two results here, both at an 8K resolution, but at differing bitrates and compression levels.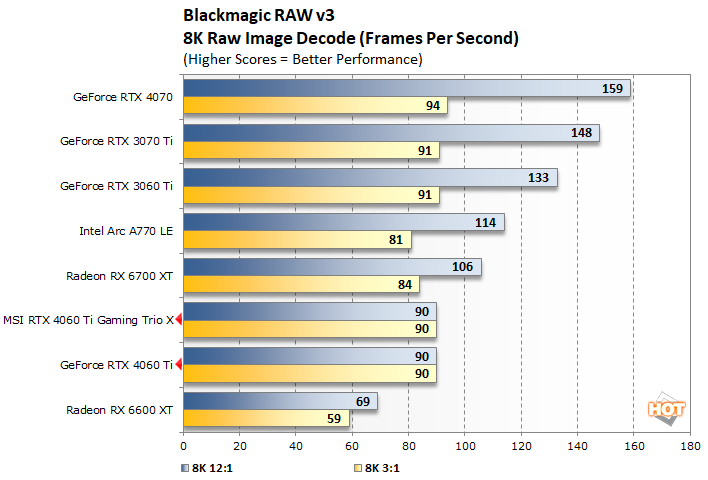 Just like the Founders Edition card, the MSI RTX 4060 Ti competed favorably with all of the other cards in the more taxing (less compressed) 8K 3:1 test here, but unlike the other cards, its performance didn't increase with the more compressed video workload. We're not sure if this is a limitation of the card or a bug, but we have a question in to NVIDIA and will clarify as soon as we can.
Related content