Surface Laptop Go Review: Microsoft's Value Play Delivers
Microsoft Surface Laptop Go System Performance Benchmarks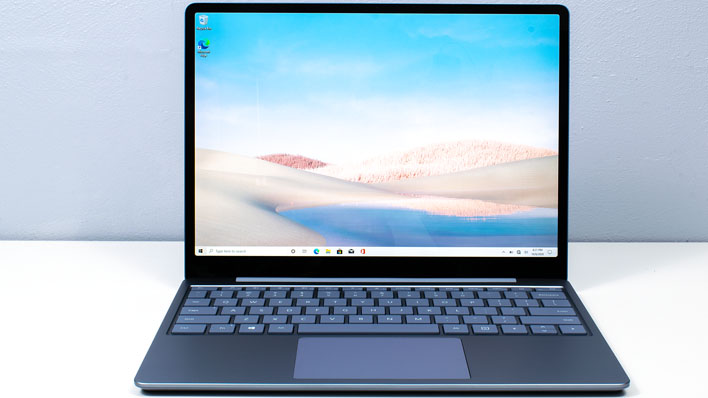 Microsoft built the
Surface Laptop Go
to fit a budget shopper's build quality aspirations while still giving enough performance to deliver a quality experience. The top-end Ice Lake CPU, the Core i7-1065G7, performs quite admirably, but the step-down Core i5-1035G1 can't run its clock speeds as close to the peak of Intel's Ice Lake family. Still, a 3.6 GHz maximum Turbo clock should get the job done in lightly-threaded loads, and 8 GB of speedy LPDDR4x memory should give the system a nice bit of bandwidth. Unfortunately, the CPU's the low-end GT1 version of Intel's
Gen11
integrated graphics architecture only has 32 execution units (EUs) to power 3D apps. This is probably where the system will stumble against its higher-powered cohorts, while still being able to beat out the aging UHD 620 of Intel's 14-nanometer CPUs. Without further ado, let's find out more about performance in general with the new Surface Laptop Go.
ATTO Disk Benchmark
Peak Sequential Storage Throughput
The
ATTO disk benchmark
is a fairly quick and simple test which measures read/write bandwidth and IOPS across a range of different data sizes. We get a pair of results at each data point: bandwidth measured on MB per second (or GB per second if the result is that high), and input/output operations per second (IOPS).

The Surface Laptop Go has a 256 GB NVMe SSD made by SK Hynix. While the performance isn't otherworldly, it's still quite a bit faster reading data than any SATA SSD, and considering the price point of this system, it's not bad at all. Users who don't run heavier content creations tasks that demand the very best out of an SSD will still benefit from fast load times, quick boot times, and all round solid performance.
Speedometer Web Application Benchmark
Browser Performance
BrowserBench.org's
Speedometer
2.0 test takes a holistic look at browser performance using real-world code samples. This test automatically loads and runs several sample webapps from ToDoMVC.com (a great resource for web developers who want to check out a new framework) using the most popular web development frameworks around, including React, Angular, Ember.js, and even vanilla JavaScript. This test is a better example of how systems cope with real web applications, as opposed to a pure JavaScript compute test like JetStream. All tests were performed using the latest version of Chrome.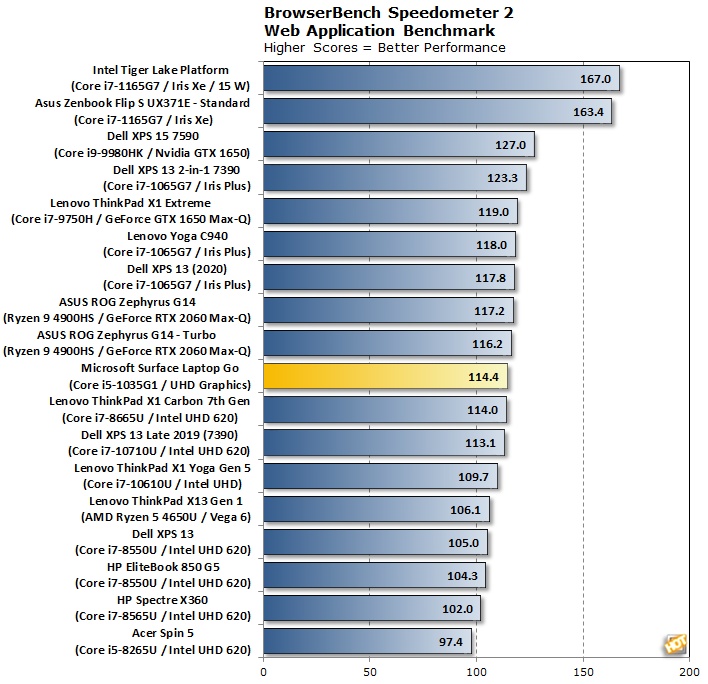 Things are off to a good start for the Surface Laptop Go in our web application benchmark. Since this test relies more on single-threaded performance than extra-wide loads, Microsoft's budget laptop makes a good home for itself in the middle of the pack. It's around 7% faster than the Ryzen 5 Pro 4650U in the
ThinkPad X13 Gen 1
, which we think proves Microsoft's point when the company said the Core i5-1035G1 had the "right performance" for this machine. While systems based on Intel's Tiger Lake platform are more than 40% faster, they also come at a notable price premium.
Cinebench R20

3D Rendering Performance
The latest version of Maxon's rendering benchmark,
Cinebench R20
, takes longer to complete, so this is a better test of the machine's cooling system. This release also drops the OpenGL test, making Cinebench a pure CPU benchmark this time. We tested both single-threaded and multi-threaded performance here.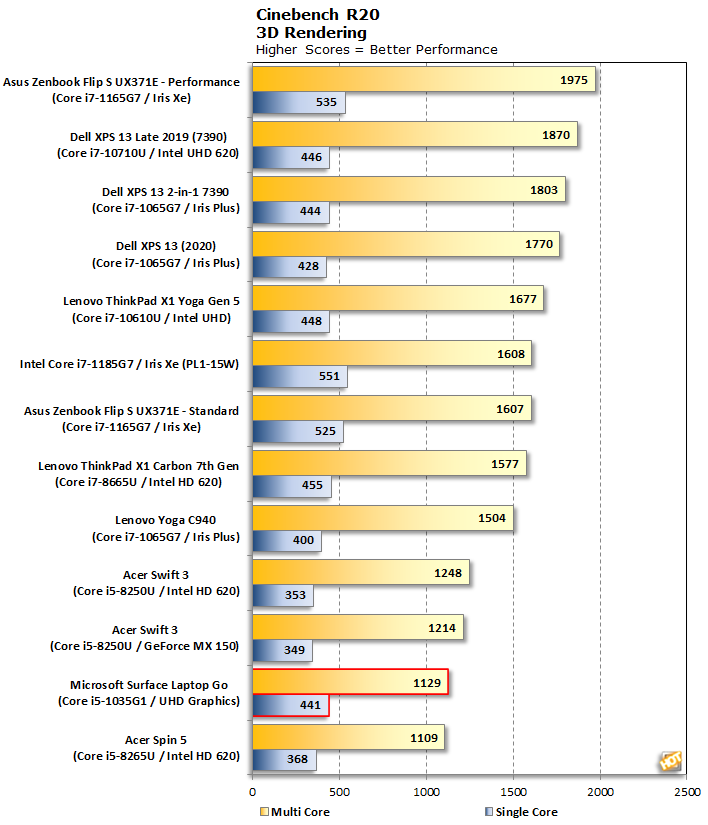 Once again, single-threaded performance is a strong suit for the Surface Laptop Go. While the system's multi-threaded score putts it at the bottom of the pack, that 1T performance rivals Core i7-based systems including the Core i7-1065G7 in the
2020 Dell XPS 13
. For the bursty types of loads we expect the Surface Laptop Go to tackle, we think the performance is befitting both the form factor and the price.
Geekbench 5

Single and Multi-Core Performance
Geekbench
is a cross-platform benchmark that simulates real world processing workloads in image processing and particle physics scenarios. We tested the notebooks featured here in Geekbench's single and multi-core workloads.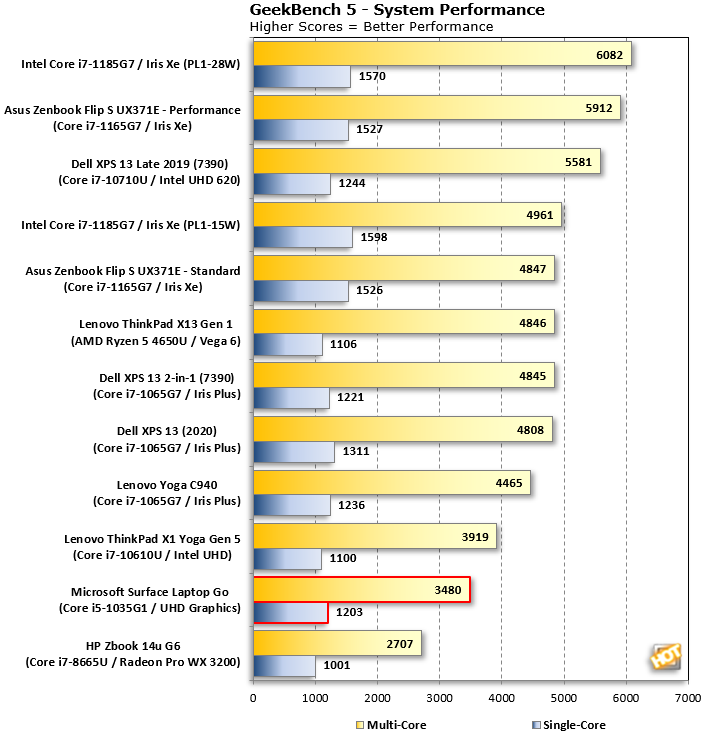 Once again, single-threaded performance is the order of the day and the Surface Laptop Go does also take the multi-threaded performance crown over the older 8th gen Core i7 in the
HP Zbook 14u G6
. Microsoft's diminutive laptop also only trails the ThinkPad X1 Yoga Gen 5 (a ~$2000 config) by around 15%.
PCMark 10

Productivity and System-level Benchmarking
PCMark 10
uses a mix of real-world applications and simulated workloads to establish how well a given system performs productivity tasks, including image and video editing, web browsing, and OpenOffice document editing. While these scores appear to be all over the place, the systems are sorted by their overall PCMark score, which is the third (gray) bar in each cluster.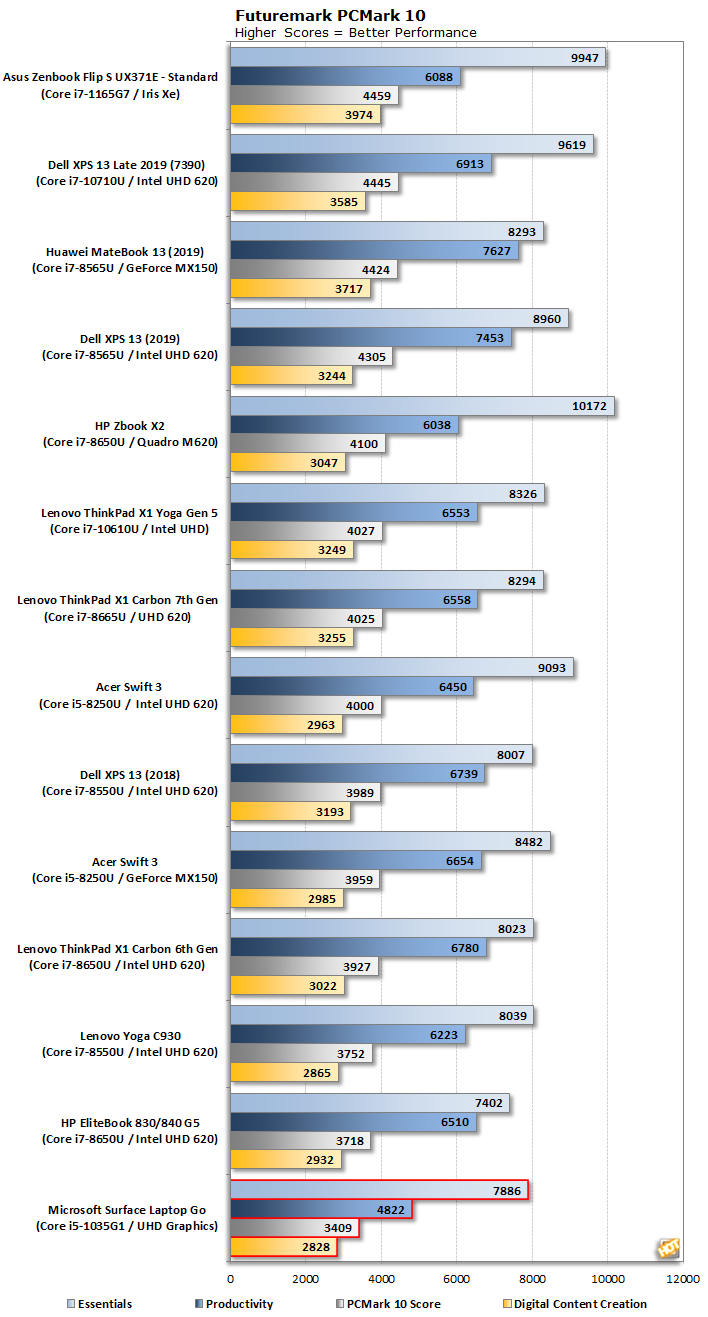 One workload we expect the Surface Laptop Go to be tasked is Office-style productivity tasks like word processing and spreadsheets. Unfortunately, at least compared to the much more expensive systems on this list, that's the one test where the Surface Laptop Go stumbled. Microsoft's laptop turned in very solid scores for the Essentials test, which includes web browsing, and even competed well in the Digital Content Creation test. It just couldn't pull out enough performance to catch any of the other systems in Productivity, losing by nearly 40% to the next-slowest system on that test.
To be sure, the system feels responsive in Word, Excel, and PowerPoint, but the automated tests didn't complete nearly as quickly as any of the other systems. It's wise to keep the pricing in mind, but we are also using the most expensive version of the Surface Laptop Go, which is only $100 south of a grand. We had higher hopes here.
3DMark Benchmarks
3D Performance
3DMark
has several different graphics tests which focus on different types of systems. UL seems to have discontinued support for Cloud Gate, but fortunately there are a couple of tests remaining that run well on integrated graphics. First up is Sky Diver, which uses the DirectX 11 graphics API.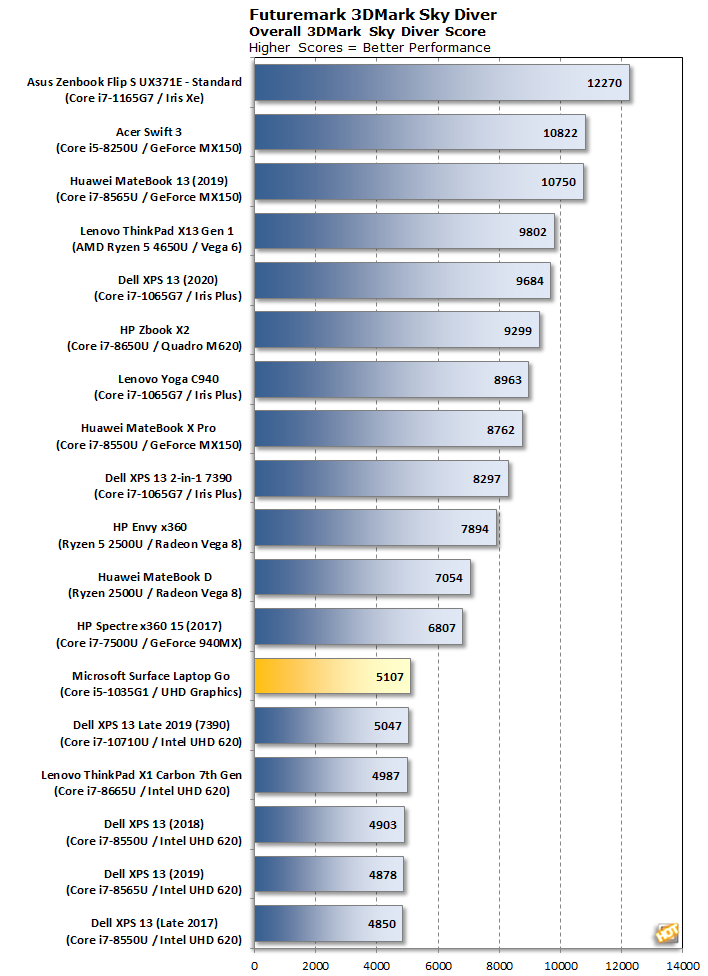 The GPU in the Core i5-1035G1 is the smallest config of Intel's Gen11 graphics solutions, dubbed UHD Graphics. True to its name, that integrated graphics processor performed roughly on par with the older UHD 620. There is a middle ground option available in the
Core i5-1035G4
, which keeps the CPU speeds similar while giving more guts to the graphics, and it would have been nice to see here. It's bound to come up again in the gaming tests, too.
After Sky Diver, we ran Night Raid. This is a DirectX 12 test intended for low-end PCs and those with integrated graphics. The Surface Laptop Go is a very prime candidate for such a test.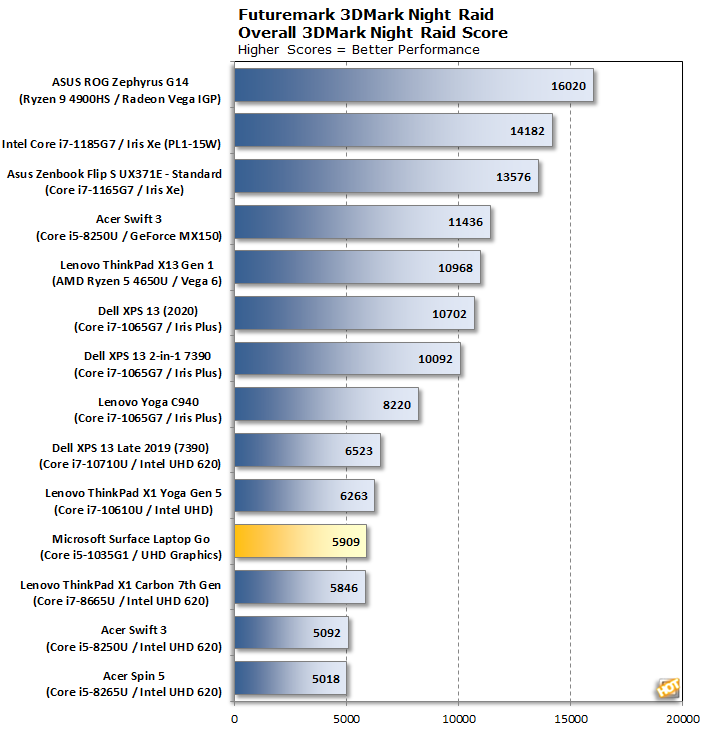 Once again, the Surface Laptop Go is unable to separate itself from the other systems with Intel's UHD Graphics solutions. Unfortunately it trails systems with the
Core i7-1065G7
by quite a bit, which is expected since that CPU has twice the graphical grunt of this machine. The Surface Laptop Go isn't a gaming laptop, for sure, but it would have been nice had it shown some utility for gaming.
To flex some muscle and make the GPU sweat, we also ran the intensive DirectX 11 test Fire Strike on its Extreme preset, which uses an internal render target of 2560x1440. This test is enough to make even recent gaming desktops struggle.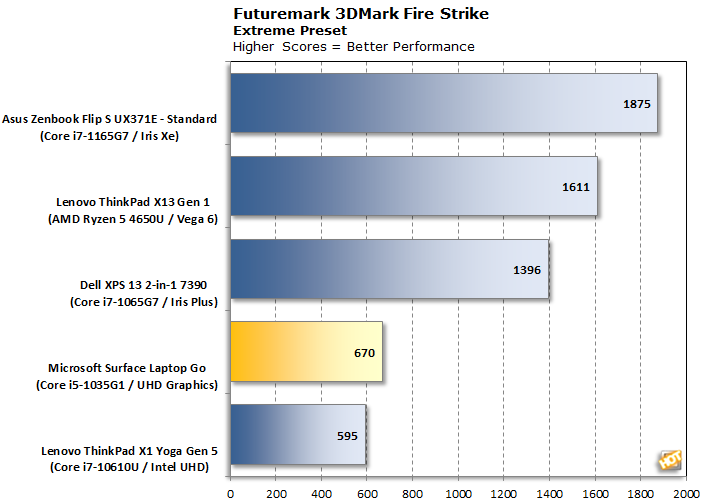 Yes, that looks about right. The Surface Laptop Go is a bit faster than the Core i7-10610U's version of the UHD Graphics integrated GPU, but it's only half as fast as the much faster Core i7-1065G7 Dell XPS 13. That's to be expected when the system has half the graphics resources. Again, the Surface Laptop Go is not a gaming laptop, but regardless, there are better graphics options in both within the same Intel Core i5 family and in
AMD
's camp.
GRID Autosport
Gaming Performance
GRID Autosport
is a cross-platform racing simulation developed by Codemasters. The developer wanted to make up for GRID 2, which released to mediocre reviews from critics and gamerse alike. Codemasters set out to improve
GRID Autosport
's handling and environment rendering to make it a true racing simulator. The third GRID game is built on Codemasters' EGO engine that boasts more realistic physics and damage systems to add a bit of danger and some extra realism to the racing. Codemasters also tuned its graphics engine to perform well over a wide variety of mainstream systems, which makes it a great test for systems with integrated graphics. Codemasters also promotes that
GRID Autosport
is "optimized for integrated Intel HD Graphics", which is certainly something. We tested at 1080p with the High image quality preset.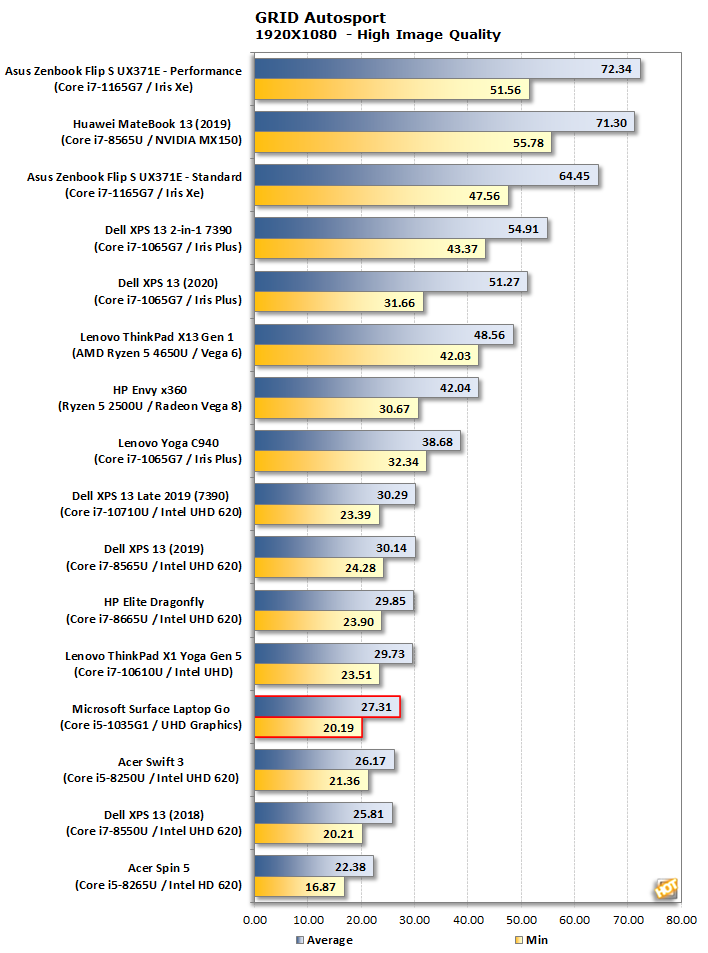 The Surface Laptop Go couldn't run the game at the desired 1920x1080 resolution, so these frame rates are not exactly an apples-to-apples comparison. In fact, the game was limited to the system's 1536x1024 native resolution, so Microsoft's laptop had a distinct advantage, unfortunately it completely failed to gain any ground. The average frame rate was south of 30 fps, and the low fps touched 20. That's not enough to play the game comfortably, but we're playing on High settings so IQ can always be dialed back for a more fluid experience.
Middle Earth Shadow of War

Intensive AAA Gaming Performance
Middle Earth: Shadow of War
is a fun and and beautiful game title set in Tolkien's Lord of the Rings universe. To test the game's performance relative to other systems, we set the resolution to 1920x1080 and turned the visuals up to the High, Medium and Low presets. The frame rates here are the average reported by the game's built-in benchmark utility.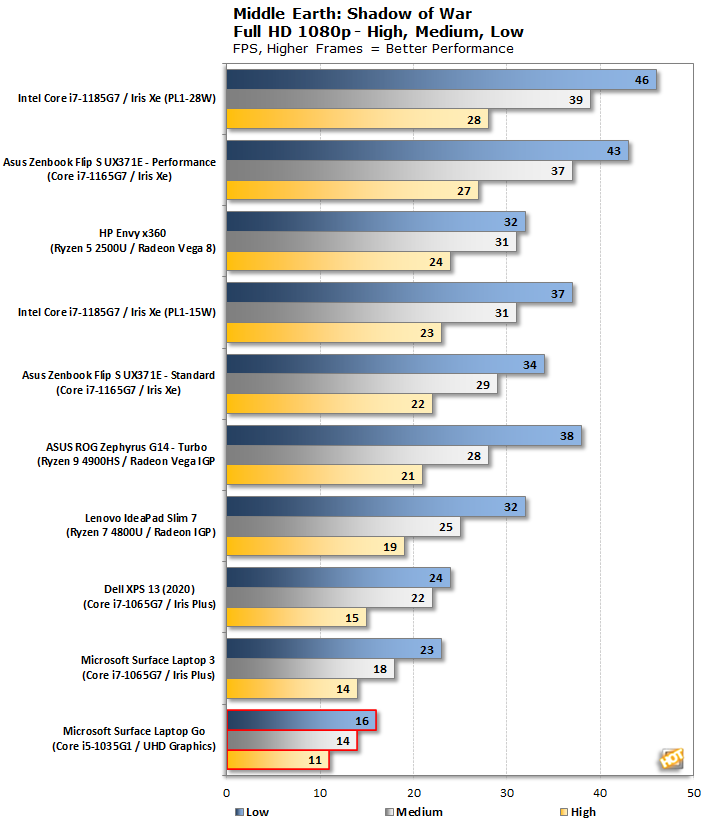 Middle Earth: Shadow of War
was not playable at all, at any setting on the Surface Laptop Go. This game does render the game at our target 1080p resolution internally and then scales it to fit the 3:2 aspect of the display. Unfortunately it was a slide show. 720p and Low settings did finally render something playable.
We also wanted to test Gears Tactics on the Surface Laptop Go, but we didn't get very far. Each time we started the benchmark, the game crashed. The error message wasn't very helpful, either.
Microsoft's support site
suggested updating the graphics drivers (which we had already done, and re-checked, to no avail), and also hinted that the system might be running out of memory to hold the game's assets. Whatever the cause, the Surface Laptop Go is not really meant for gaming, it seems. Then again, at this price point and ultra-light class of machine, it isn't really expected either.
Next up let's take a look at battery life and thermal performance.
Related content