Surface Laptop Go Review: Microsoft's Value Play Delivers
Microsoft Surface Laptop Go: Battery Life, Thermals And Review Conclusions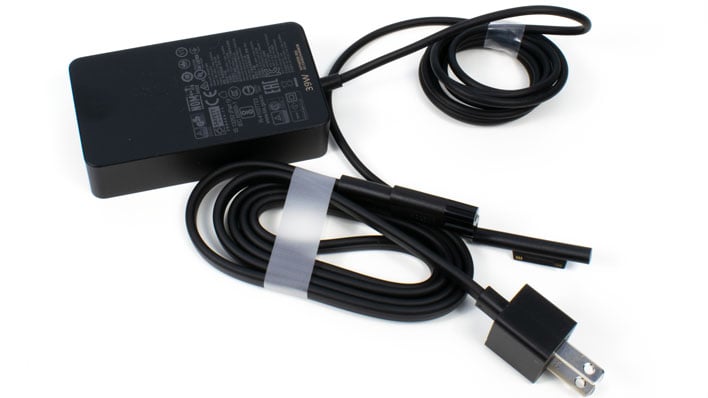 For battery life testing of the new
Microsoft
Surface Laptop Go, we ran a custom 1080p HD video loop test developed in-house, to prove out endurance versus our test group of laptops in our database. In all tests, Windows 10 Quiet Hours has been enabled and the displays are calibrated with lux meters on pure white screens to as close to 115 lux as possible. For the average laptop this is somewhere between a 40-60 percent brightness setting.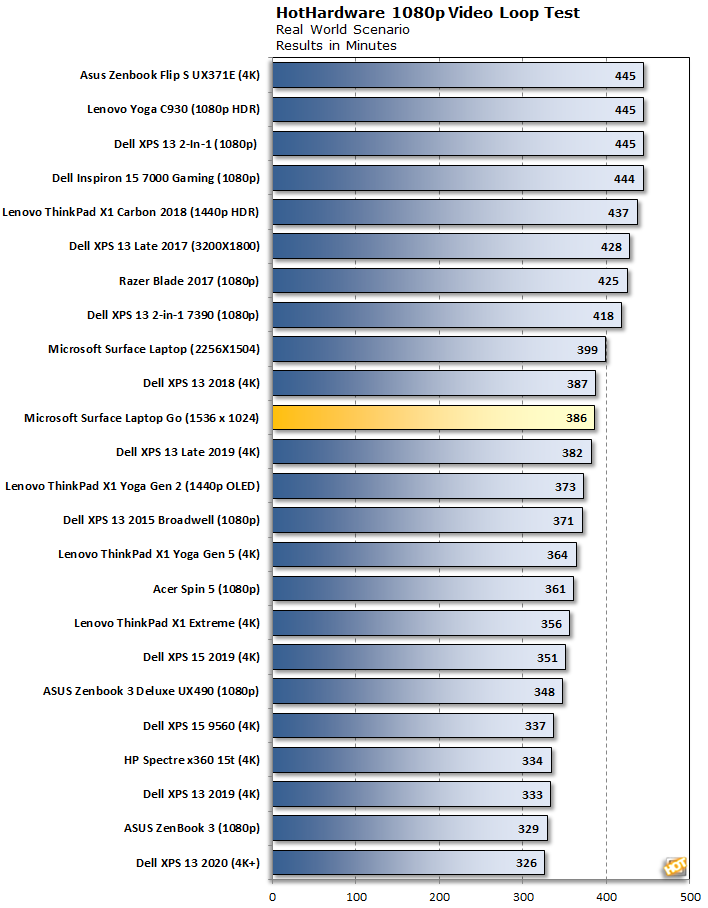 While we couldn't get inside easily to look at the battery's markings, the ever-trusty HWMonitor was able to derive that the battery is rated for 39.7 Watt-hours, around 20% lower than many 13" notebooks we test, including several members of the XPS 13 and ThinkPad X1 lineup. With that in mind, the system performed respectably on battery, surviving well over six hours of video playback. That's right in the middle of the pack despite the Surface Laptop Go's relatively diminutive power pack size, which works out to being generally efficient on the whole. That small battery is obviously part of the reason why the system is so lightweight, too.
The
Surface Laptop Go
comes with a 39W AC adapter which uses Microsoft's proprietary Surface Connect port on the right side of the laptop. Rather than rely on friction to hold the connector in place, the system uses magnets. This can be very useful if someone trips on the cord, since the magnet should pull out of the laptop before the PC comes tumbling down to the floor. After we had totally drained the Surface Laptop Go, the charger was able to get it back to full power in about 90 minutes.
Surface Laptop Go Thermal And Cooling Performance
The Surface Laptop Go is actively cooled, but when the system is idle, the fan can spin down entirely. That's a good thing, because when the fan spins up, it can get loud enough to grab attention and high-pitched enough to be slightly annoying. While many systems push plenty of air with just a whirring sound from air rushing between their heat sink fins, the Surface Laptop Go whistled while it worked.
In fact, browsing the internet with a small handful of tabs open, the fans hardly spun up. After around 30 minutes of YouTube videos, we could hear the fan working, but it wasn't anywhere near full volume and didn't really get annoying at that low speed. It was only when we pushed the system harder did fan noise start to become a factor.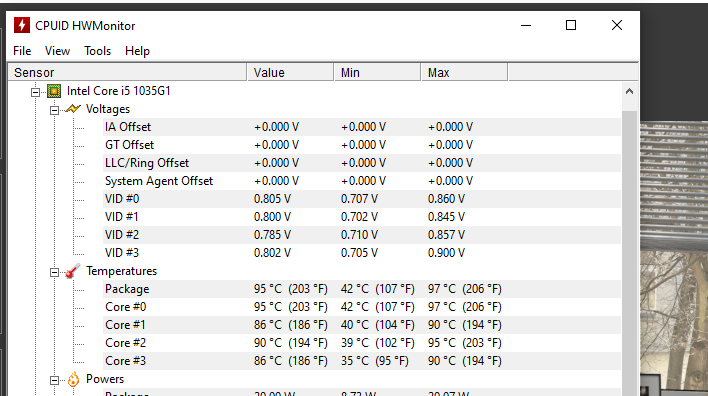 To push the system to its limit, we fired up Cinebench R20 and monitored internal temperatures with HWMonitor. In addition, we also checked out fan noise with our trusty sound meter and measured Surface (heh) temperatures with our handy laser thermometer. To really make the system work, we had to run multiple Cinebench runs until thermals and performance leveled out. After two runs, we'd done just that, but we ran Cinebench two more times just to be certain.
Surface Laptop Go Thermal And Acoustic Testing Under Duress
For a performance profile, the first run was around 1,130, as our benchmark result recorded. A second run immediately following saw performance drop off around 12%, down to an even 1,000. A third and fourth run of Cinebench R20 didn't vary much, with each subsequent run resulting in a score of around 990. At that point we figured the system had bottomed out from a performance perspective. After around 10 minutes of cool-down, performance returned and the score popped up over 1,100 once again. The Surface Laptop Go's cooling system does its job both over the long haul and with respect to returning thermals to nominal levels after being taxed.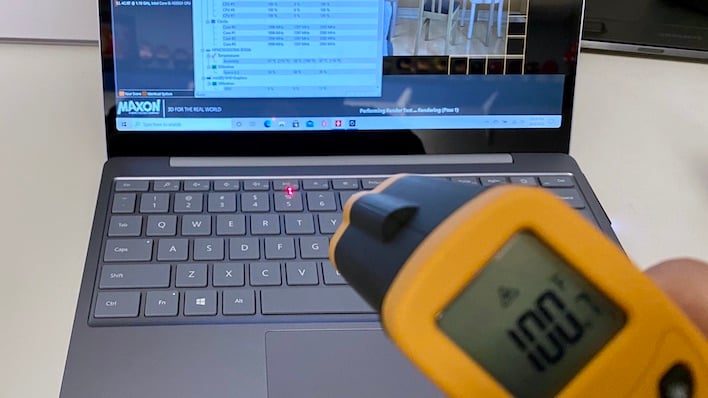 Early on in the first run, the Surface Laptop Go's Core i5-1035G1 temperatures would peak in the mid-90 degrees Celsius range while peaking at 3.4 GHz. Soon after that high, the frequency dropped down to 2.6 GHz. However, that burst of energy quickly faded as the system favored longevity over peak performance. It seems Microsoft tuned the cooling system and processor performance to favor quiet and cool over absolute performance, a decision we agree with. Interestingly, it doesn't matter where on the power profile slider the system was set; this behavior was quiet consistent throughout testing.
Over the remainder of the first run, temperatures actually dropped down into the mid-70s Celsius and held there throughout two more Cinebench runs. To keep temperatures lower, the CPU dropped down all the way to 1.8 GHz for two more subsequent runs while temperatures held steady. The surface temperature never really got out of control, though, and we measured 101 degrees F (38.3 degrees Celsius) on the outside, and it never really increased higher than that.
To keep the temperatures lower, the fan ran at full blast. Despite the whiny characteristic, it wasn't really all that loud. Our sound meter only registered 43 to 44 dBA around 20" from the display. That's loud enough to be heard, but not so loud that we couldn't hear our own thoughts. It's certainly not the volume of the Surface Laptop Go's fan that bothers us, it was the pitch of its fan noise. Beyond that, we really can't complain too much because overall acoustic output here is still relatively modest.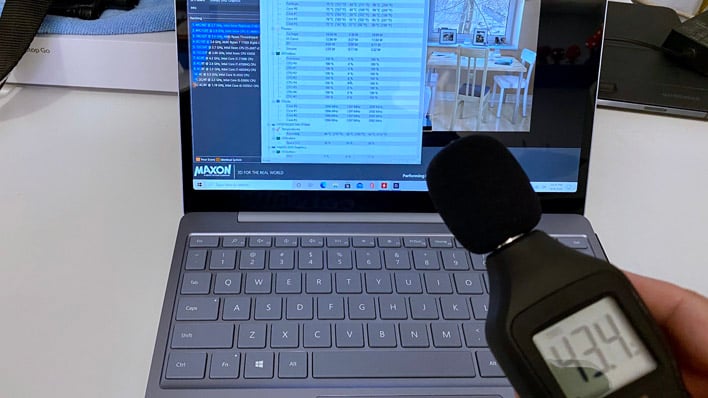 While, we'd like a bit less whine with our Cinebench, that's not a load we'd run on a laptop very often and as a result we don't think people will run into it all that often. Gaming is amore likely scenario where the fans can really spin up and get annoying. To be certain, the fan can be heard over game sounds, but headphones go a long way towards fixing that.
Surface Laptop Go Performance Overview
Despite its low to mid-budget price, the performance of the Surface Laptop Go was impressive. The Intel Core i5-1035G1-powered system never beat out a Core i7-equipped machine of course, but in this price range it doesn't have to. What the system needed to do was provide plenty of productivity pop, and that it did. This isn't the fastest web browsing machine on the planet or the most adept PCMark-busting productivity laptop, but the price to performance ratio hits a sweet spot on the curve. The Surface Laptop Go's price is aggressive enough that it's hard to object too much with respect to its lower-end performance.
While Microsoft's justification for skipping Ryzen seemed to throw a bit of shade at Renoir, we can't help but note the poor 3D performance. The integrated Radeon GPU in a Ryzen 5 4600U would, for example, have been enough to make the system a nice casual games machine. Unfortunately, whether it's a product of Intel integrated graphics, or just adequate system memory, the Surface Laptop Go was incapable of playing some lighter duty Gears Tactics, and didn't turn in playable frame rates in either of the games we were able to test. We didn't expect to be able to game much on the Surface Laptop Go, however, and best to set your expectations on light-duty, casual gaming best.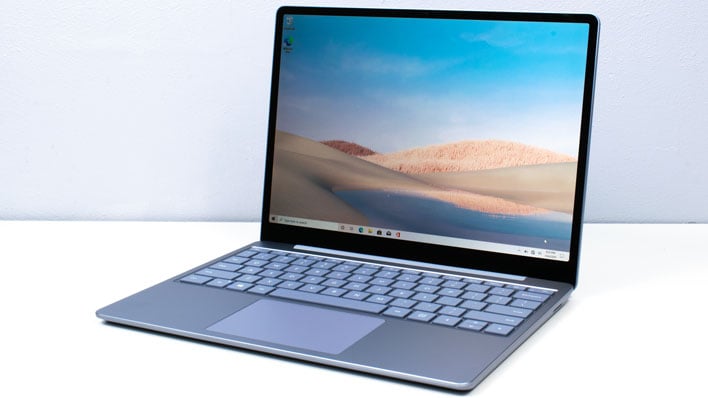 Surface Laptop Go Review Summary And Conclusions
The Surface Laptop Go is a very interesting notebook not for its performance, but for its industrial design, form factor and price. Microsoft put together a very handsome-looking laptop with a premium anodized aluminum lid and keyboard deck. Between the more squared-off display aspect ratio of its 12.3" display and the laptop's diminutive footprint, it kind of reminded us of an updated, colorful version of Apple's 13" PowerBook G4 in a classy aluminum-clad sort of way. The Surface Laptop Go is built from a classic formula that never went out of style.
That classy chassis could fool us into thinking it was a much more expensive ultra-portable notebook, too. While the $549 base model with its 4 GB of memory and 64 GB of eMMC storage won't knock anybody's socks off, it's enough performance to justify the price. Better still,
the $699 step-up model's 8 GB of memory
will ensure that the system is viable for years to come while its 128 GB of
NVMe
storage will speed up anything that relies on the disk. In this case, the price increase is quite justified.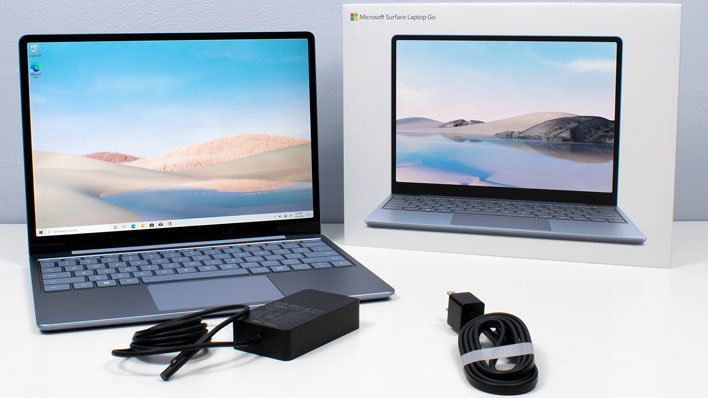 We just have a much harder time swallowing another $200 for 128 GB of extra storage without any other benefits. Surely Microsoft could have endowed the system with 16 GB of memory (or otherwise a bigger SSD) for a laptop that costs $899. For instance, a 256 GB NVMe SSD only costs 1/3 of that at retail, and we know manufacturers aren't paying retail prices for components in laptops. At $900 we would be tempted to look at a Lenovo
ThinkPad X13
with the same memory and storage, but sporting a nicer 1080p display and more graphics horsepower in the Ryzen 5 4650U instead.
For $100 less, the 256 GB version of the Surface Laptop Go could have been a huge win for Microsoft, but in the end we think most users would be better off saving some cash and getting the 128 GB model at $699. There's enough performance on tap and storage for the apps most people need without breaking the bank on a high-end portable. For that reason, we'll tip the Microsoft Surface Laptop Go with our Recommended Award. Just keep in mind that we think its midrange configuration is the best value in the Surface Laptop Go line-up, for most people other than power users.





Attractive, premium build quality

Extra-tall 3:2 aspect ratio display

Solid Battery Life

Good performance for the price
Nice keyboard
Extremely Lightweight
Fingerprint Reader

Fan pitch is a little whiny
Top-end config is expensive
Display is weak at wider viewing angles
Related content
Comments