Intel SSD 670p Review: Snappy, Budget-Friendly NVMe Storage
Intel SSD 670p: More Performance Benchmarks And Our Verdict
EFD Software's HD Tune is described on the company's website as such:
"HD Tune is a hard disk utility with many functions. It can be used to measure the drive's performance, scan for errors, check the health status (S.M.A.R.T.), securely erase all data and much more."
The latest version of the benchmark added temperature statistics and improved support for SSDs, among a few other updates and fixes.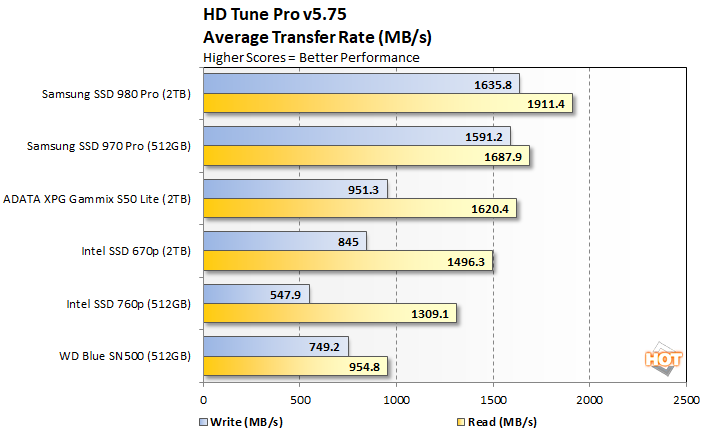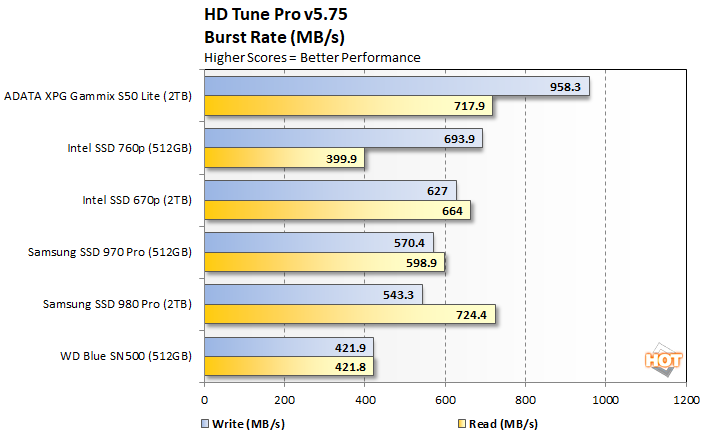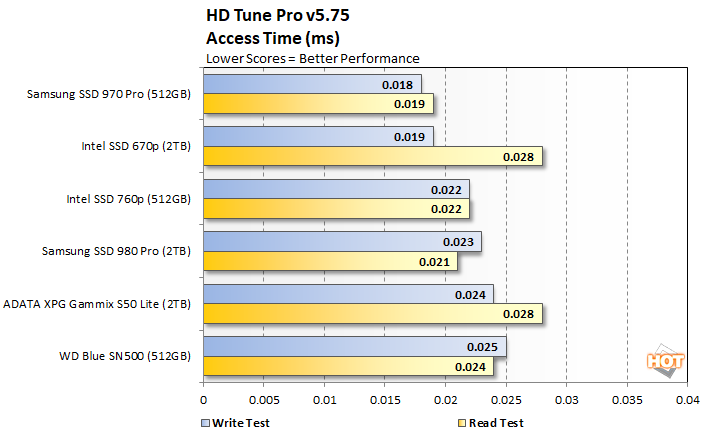 The Intel SSD 670p lands just behind the ADATA XPG drive according to HDTune's transfer tests, with some of the best write latency. Read latency, however, was somewhat higher than most of the other drives.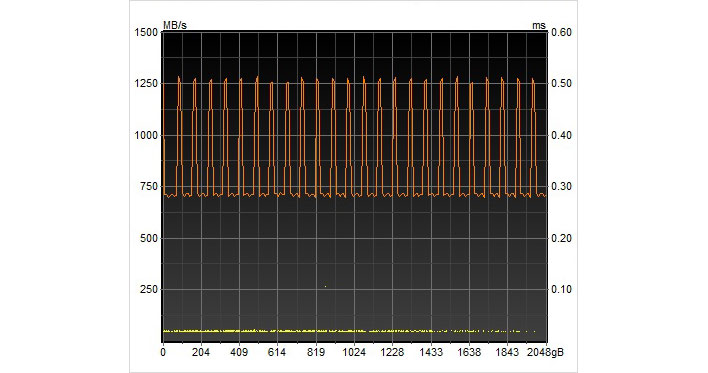 It is worth noting that the Intel SSD 670p's write performance with this benchmark shows a consistent saw-tooth pattern as the dynamic SLC cache is constantly filled and flushed and data is written across the entire drive. The charts above represent the average write speed, but peak writes -- which are more important for smaller transfers -- are much higher.
CrystalDiskMark x64 Benchmarks

Synthetic File Transfer Tests
CrystalDiskMark is a synthetic benchmark that tests both sequential and random small and mid-sized file transfers using incompressible data. It provides a quick look at best and worst case scenarios with regard to
SSD
performance, best case being larger sequential transfers and worse case being small, random transfers.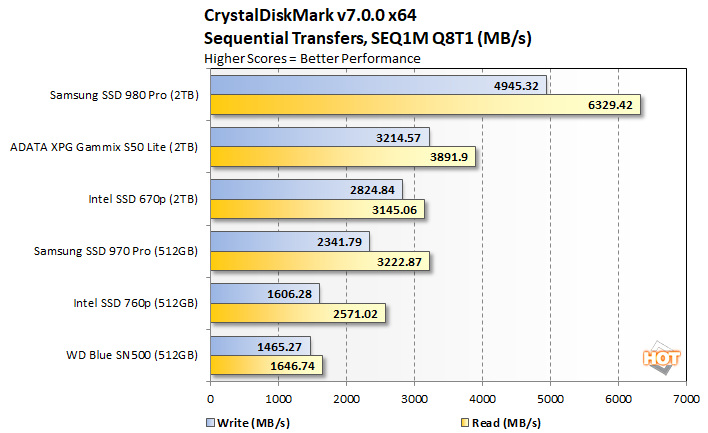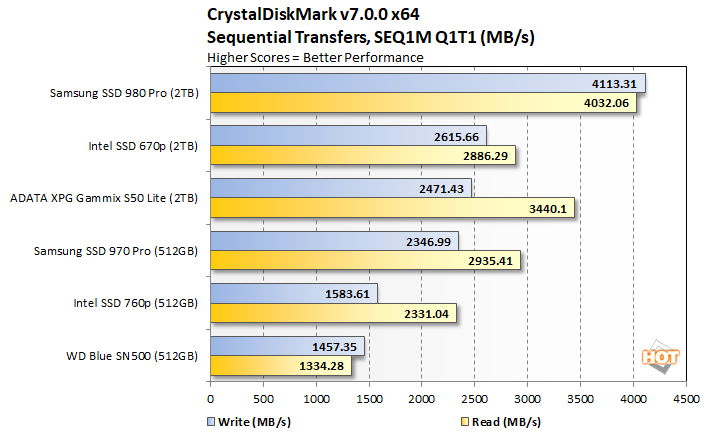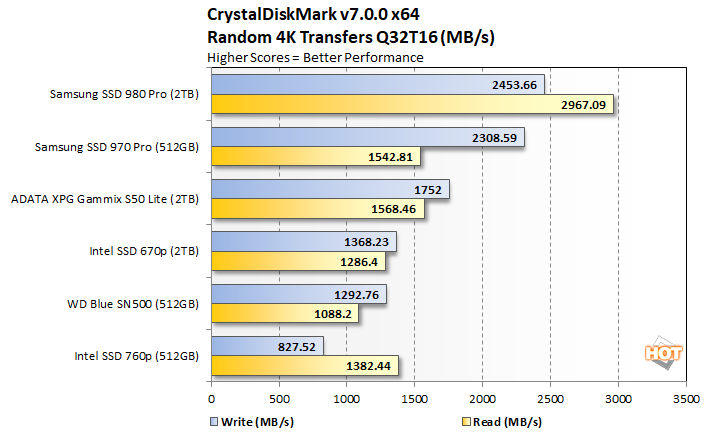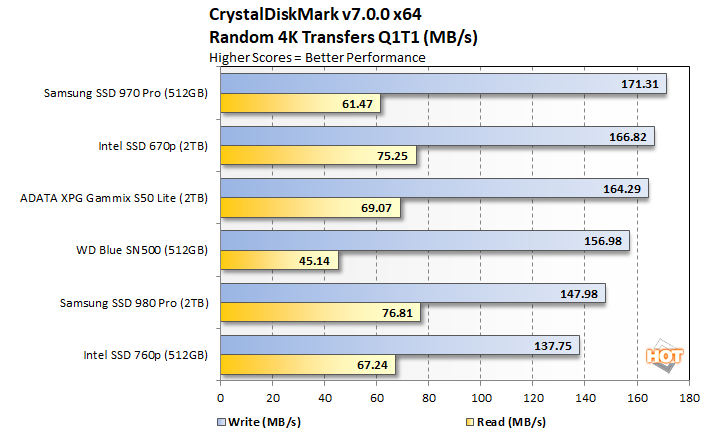 The Intel SSD 670p trades blows with the Samsung SSD 970 Pro in the sequential transfer tests, which is great for a mainstream, budget-friendly SSD. In the high-queue depth random 4K test, the Intel SSD 670 ends up outpacing the 760p and WD drive, but can't keep pace with the 970 Pro any longer. Moving on to the important QD1 4K transfer test, however, shows the Intel SSD 670p's strength. In the 4K Q1T1 test, the SSD 670p lands in second place, with significantly better reads than the 970 Pro and writes only a few MB/s behind.
We like PCMark 10's new quick storage benchmark module for its real-world application measurement approach to testing.
PCMark
offers a trace-based measurement of system response times and bandwidth under various scripted workloads of traditional client / desktop system use cases.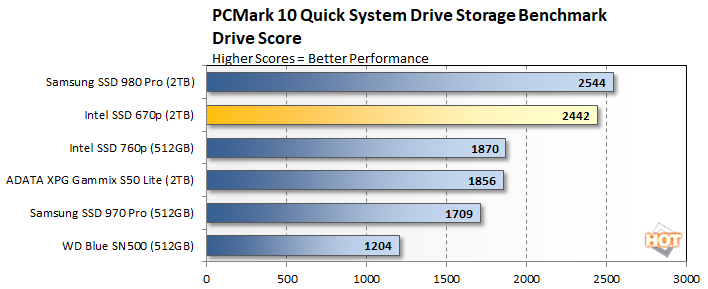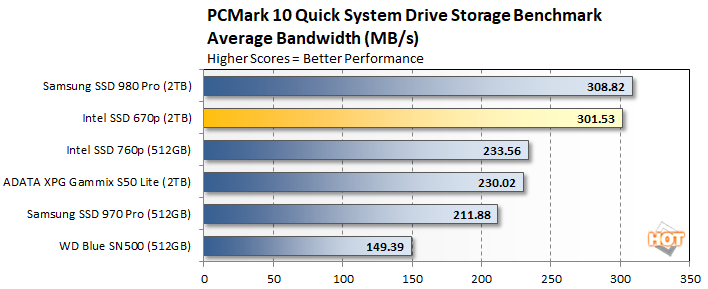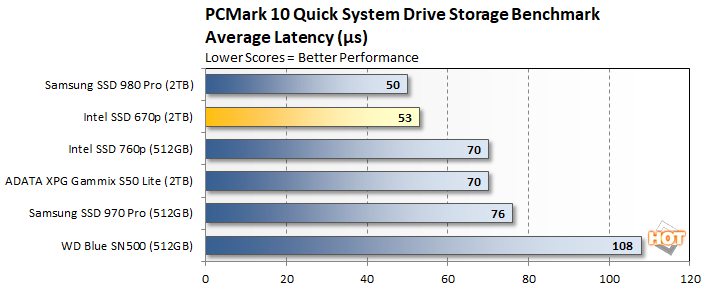 The Intel SSD 670p put up some relatively strong numbers in the trace-based PCMark 10 storage benchmark. Here, Intel's newest mainstream SSD clearly out runs the Samsung SSD 970 Pro and the PCIe Gen 4 ADATA XPG GAMMIX S50 Lite, and trails only the higher-end, much pricier Samsung SSD 980 Pro.
Intel SSD 670p Summary And Verdict
Intel SSD 670p drives should be available today from your favorite on-line retailer and they'll be coming to OEM systems starting in Q2. Manufacturer suggested pricing for the drives is as follows:

512GB - $89

1TB - $154

2TB - $329
At those prices, the Intel SSD 670p lands somewhere in the middle of the M.2 NVMe price spectrum, with costs of about $0.16 - $0.17 per gig, depending on the total capacity. Drives like the
Samsung
SSD 970 EVO or WD Blues are more affordable, but higher-end drives like the Samsung SSD 980 Pro are currently priced about 25% higher.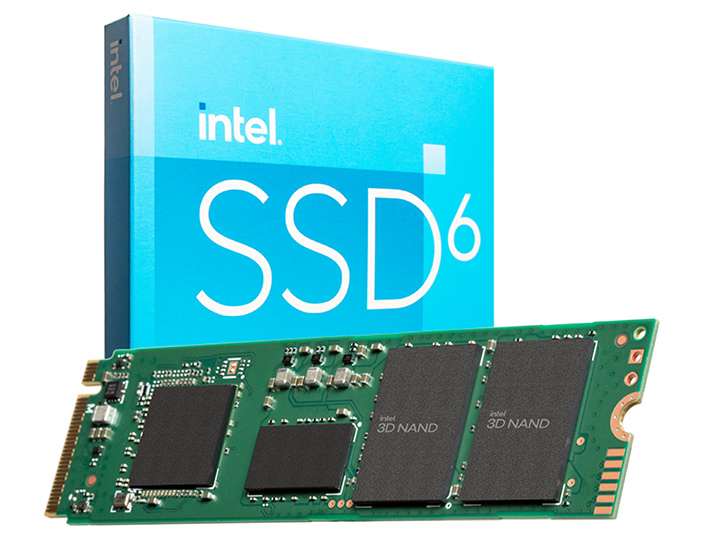 Find Intel SSD 670p Series SSDs @ Amazon
Looking back through the numbers, Intel seems to have a solid offering with the SSD 670p. Sequential transfers aren't as impressive as some higher-end drivers, but access times, random transfers at low queue depths, and the trace-based tests look good, especially considering the drives' MSRPs, improved endurance, and 5-year warranty. If you're shopping for a relatively affordable, NVMe SSD, and don't mind the middling sequential throughput, the Intel SSD 670p would be good choice.
Good Performance

Competitive Pricing

Strong 4K Random Transfers

Middling Sequential Transfers

No PCIe Gen 4
Related content
Comments