Intel Core i9-13900KS 6GHz CPU Benchmarks: Breaking Records
Back in September, Intel CEO Pat Gelsinger announced Raptor Lake, the company's 13th generation of Core processors, and teased a chip coming to stores in early 2023 that would be able to hit 6GHz right out of the box. Well, it's now 2023, and Intel
launched
the world's first 6GHz CPU this morning. Bearing the name Core i9-13900KS, this speed demon takes the eight Performance cores (P-cores) of the
i9-13900K
and boosts their max frequency by 200MHz, to achieve that 6GHz frequency.
This increase in performance comes at a $110 price premium over the existing Core i9-13900K, putting the MSRP of the 13900KS at $699. However, finding one of these 6GHz processors at MSRP may be challenging at first, as the CPU is currently listed at $70 over MSRP on
Amazon
. Fortunately, we were able to get our hands on one of these puppies thanks to our friends at
Falcon Northwest
, and we have some initial performance numbers to share.
Falcon Northwest sent over one of its compact FragBox PCs for review (full review coming soon). Our review unit features the hot new i9-13900KS paired with a NVIDIA GeForce RTX 4090 GPU. The fact that Falcon Northwest managed to fit these two beasts into a relatively small package with adequate cooling is impressive. Nonetheless, physics dictates that the thermal capacity of the compact, small form factor system will be limited in comparison to larger rigs, and in some circumstances may hold back the 6GHz processor somewhat when under heavy load.

When launching programs, we saw a few of the P-cores in the i9-13900KS jump up to that magic 6GHz number, but sustaining that number likely won't be possible without top-shelf cooling. Under sustained load, the CPU temperatures quickly climbed to 100°C and the P-cores mostly hovered around 5.6GHz, often dipping down to 5.5GHz. The water cooler, radiator, and fans in this little rig do their best to keep up, but the i9-13900KS may be able to sustain higher frequencies in a setup with higher cooling capacity.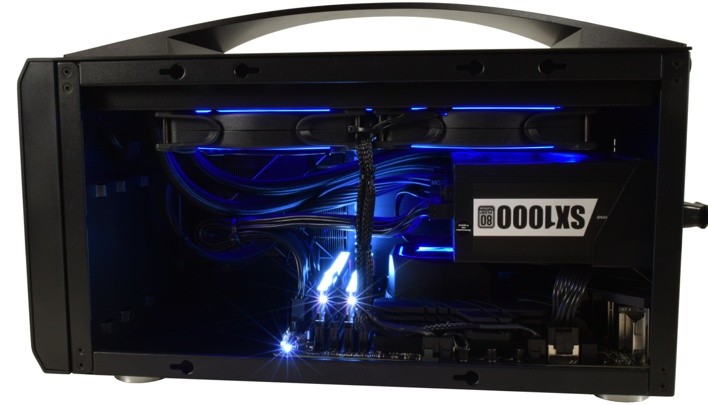 Keep this potential thermal limitation in mind while looking at our test results below, as the other processors were benchmarked in a larger chassis, with additional air volume, more fans, and more distance separating the CPU and GPU. In a couple of the charts, the i9-13900KS lands below the i9-13900K. Nonetheless, these two Intel CPUs still lead the entire pack, and the i9-13900KS jumps ahead elsewhere, putting up higher numbers than we've ever seen before from a stock CPU and indicating outstanding performance. Take a look for yourself below.

Geekbench v5.4.1 CPU Benchmark

In the GeekBench tests, we're stressing only the CPU cores in a system (not the graphics card/GPU), with both single and multi-threaded workloads. The tests are comprised of encryption processing, image compression, HTML5 parsing, physics calculations and other general purpose compute processing workloads.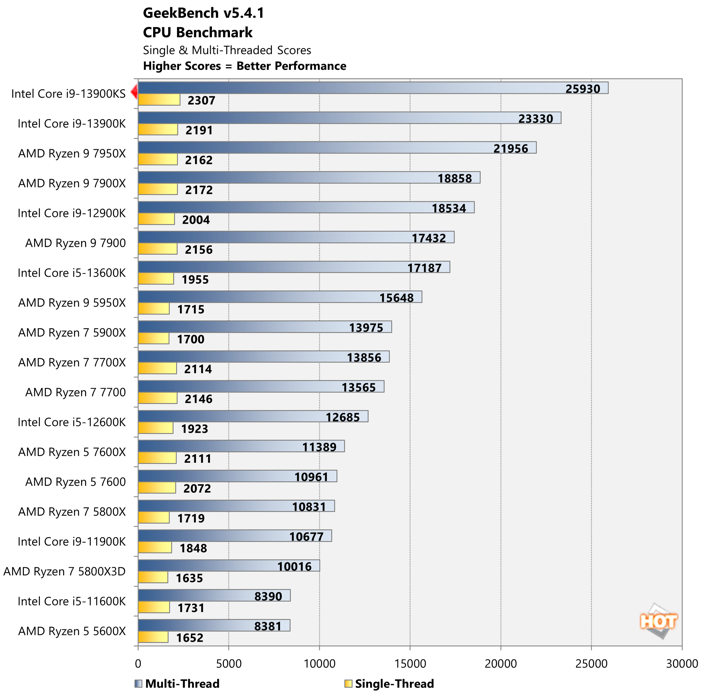 Speedometer 2.0 Benchmark

Here we have numbers from the Speedometer 2.0 tests available at browserbench.org. The Speedometer Benchmark Suite uses a wide array of latency and throughput benchmarks to evaluate web application performance, then tabulates all the individual results into a final score. This benchmarks measures performance of an array of browser-based technologies used on modern, rich web applications. Scores in this benchmark are an indicator of the performance users would see when browsing the web and running advanced web apps. All of the systems were tested using the latest version of Microsoft's Edge browser, with default browser settings, on a clean, fully-updated install of Windows 11.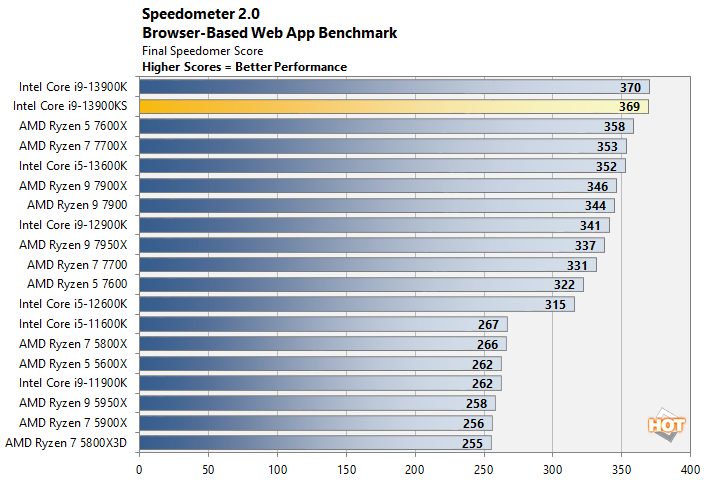 Cinebench R23 Rendering Benchmark

Cinebench is a rendering performance test based on Maxon's Cinema 4D, which is a 3D rendering and animation tool suite used by animation houses and producers like Sony Animation and many others. It's very demanding on system processor resources, and it can utilize any number of threads, which make it an excellent gauge of computational throughput. This is a multi-threaded, multi-processor aware benchmark that renders and animates 3D scenes and tracks the length of the entire process. The rate at which each test system was able to render the entire scene is represented in the graph below.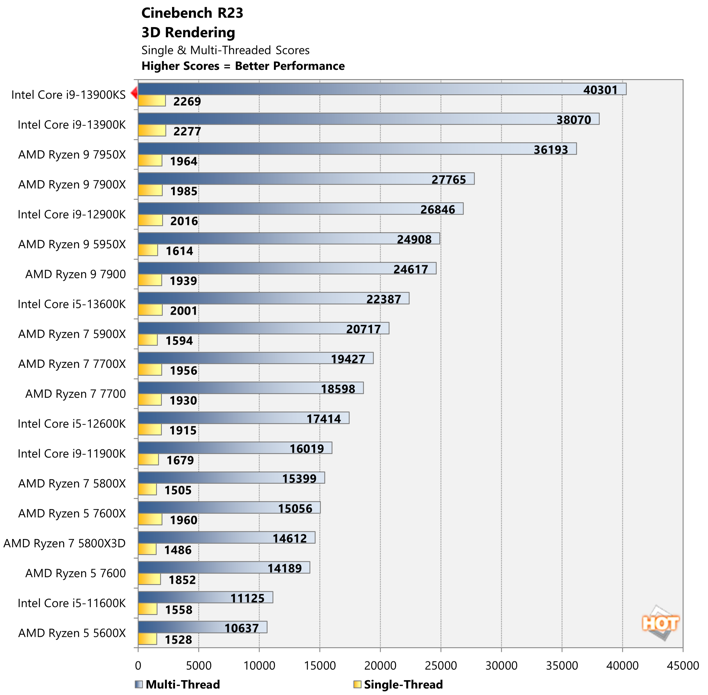 UL PCMark 10 Benchmarks

Next up, we have some full-system testing with PCMark. We're reporting all test results from the PCMark 10 benchmark suite, including the Essentials, Productivity, Digital Content Creation and and total PCMark score. The Essentials test covers workloads like web browsing, video conferencing and app start-up times, while Productivity tests everyday office apps from spreadsheets to word processing. Finally, the Digital Content Creation test evaluates performance of a machine with respect to photo and video editing, as well as rendering and visualization.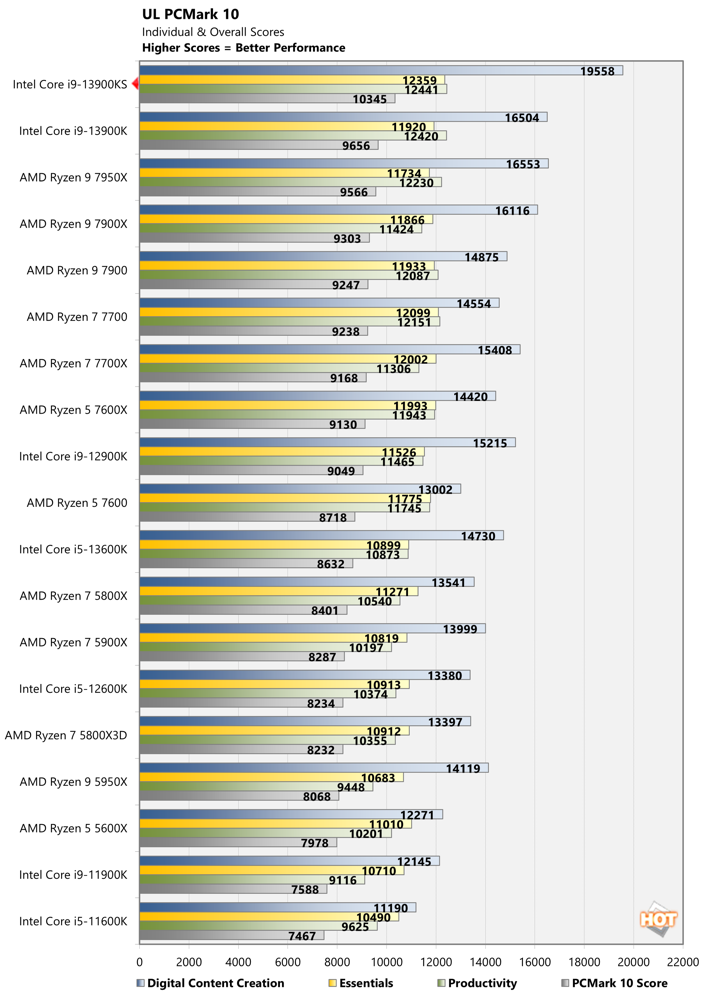 UL 3DMark CPU Physics Benchmark

This final test is a little bit academic, because there are very few (if any) games that use multi-threaded physics in the way that this test simulates. As such, this test will scale to high numbers of cores, and it favors Intel's architectures somewhat. AMD's CPUs underperform in this benchmark compared to their real-world game performance.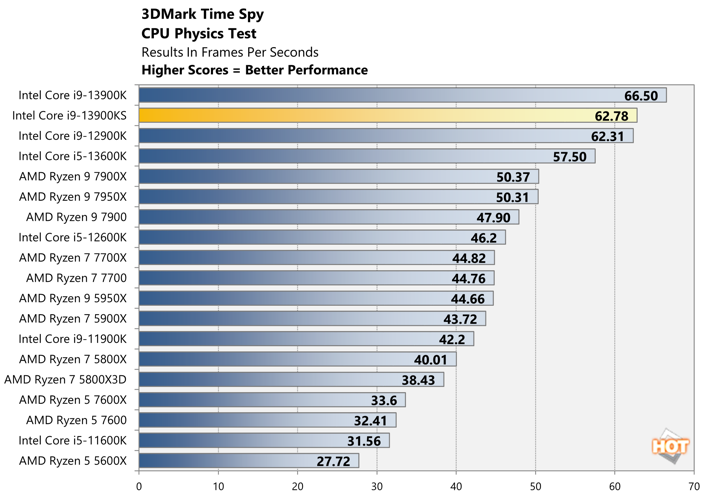 This is just a quick taste of what the Intel Core i9-13900KS and the powerful, small form factor Falcon Northwest FragBox can do. We just got our hands on the system and are diligently poking, prodding, photographing, and testing it, and will have our full review -- complete with many more benchmarks and images -- published soon. We're also hoping to take the Core i9-13900KS for a spin in our Raptor Lake test rig, to evaluate the CPU under the same conditions as the rest of the reference data here. So stay tuned for more -- we'll get everything published as fast as we can.