Geekom Mini IT13 Review: A Palm-Sized Intel 13th Gen Core i9 Mini PC
Geekom's NUC-Like 4x4 Mini PC Packs Intel's Core i9-13900H Processor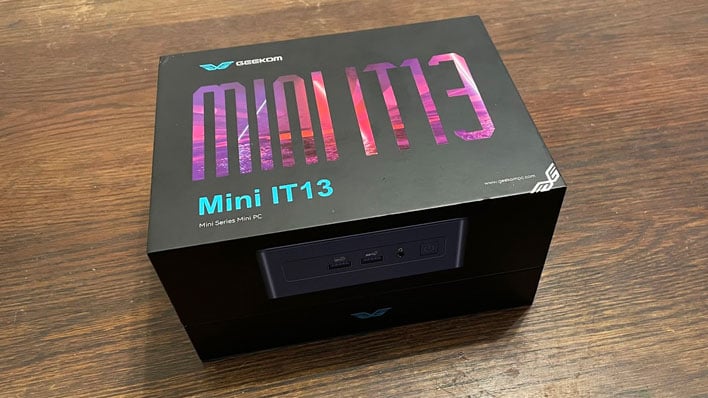 Geekom Mini IT13 - Starting at $499 (Use Coupon Code hothardwareit13 For $40 Off).
Sample we tested with Core i9-13900H, 32GB RAM and 2TB SSD currently $899 $789.
A very compact system, which seems nicely built and excels in some workloads, but held back somewhat by slower DDR4 RAM and an occasionally distracting fan.







Compact 4x4 desktop with VESA mount options
Choice of Raptor Lake mobile CPU up to 14C / 20T
Excellent build quality
Easy RAM and storage access with expansion
Array of I/O plus 2.5 Gb Ethernet & Wi-Fi 6E
3-year warranty

Intel Meteor Lake laptop processors due soon
Fan noise could be distracting

Middling performance in some workloads

Unexciting design






---

Geekom Strikes While The NUC Market Is Hot
Geekom announced its Mini IT13 with great fanfare just a few weeks back. At launch, it boasted that it was the "World's first Mini PC powered by an Intel 13th Gen Core i9 CPU." The announcement was a bit of a surprise, so soon after the firm's Mini IT12 hit the market, but it's good to strike while the iron's hot – and the
Mini PC market
seems to have really heated up recently.
Giving this release some context and particular importance to Geekom, Intel effectively withdrew from the NUC market this summer. On its way through the exit, Intel tossed its crown
to ASUS
, as its heir apparent. More specifically, ASUS would manufacturer, sell, and support Intel's 10th to 13th Gen NUC devices, as well as carry the torch with future generations.
Geekom might be sensing some opportunity here, between the echoes of 'the king is dead, long live the king.' A solid run at the NUC mini PC throne might be a worthwhile endeavor, and the company seems to have timed its Mini IT13 launch just right to inject itself into a sizable market opportunity.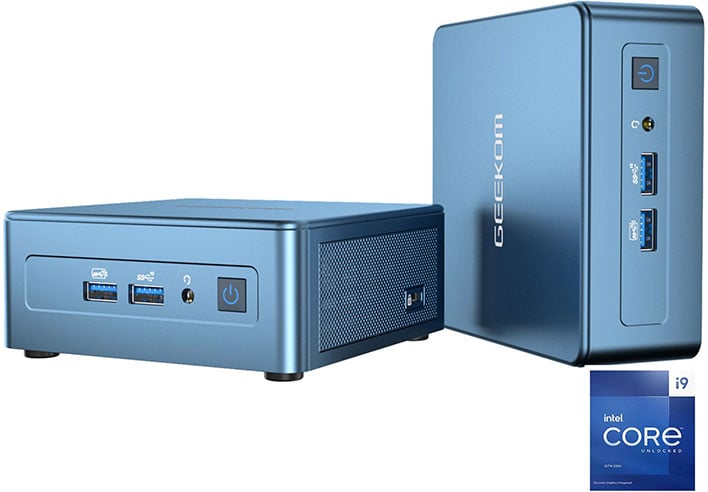 Geekom Mini IT13 Unboxing And First Impressions
Geekom has packaged its Mini IT13 like it means business. The premium looking box is compact and weighty. Its matte black box has been through an extra pass on the printing press, with gloss varnished sections. The premium feel continues inside, where there are carefully prepared compartments, foam cut-outs, and printed materials.

In the box, in addition to the Mini PC, you get a power adaptor with barrel jack, a region appropriate power lead, an HDMI cable, and a VESA mounting plate with necessary screws. Straight away, we thought we would have liked Geekom to ship the mini PC with a USB-C adaptor instead, or a
GAN technology charger
, as its chosen power brick is quite substantial.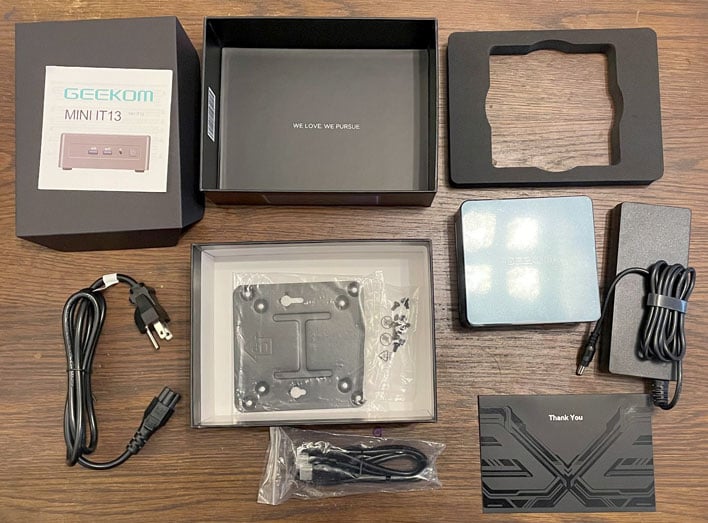 Mini IT13 Construction, Build Quality And Finish
Focusing closely on the main event, the ultra-compact Mini PC, it feels quite weighty and of a certain quality in the hand. Geekom advertises this product as having a metal frame. That is true, as we opened the unit to check the motherboard, however the metal frame is beneath a hard plastic exterior.

Opening up the Geekom Mini IT13 was pretty easy. Just four underside corner screws needed to be loosened (they are captive) before levering off the bottom plate. Once off, you get easy access to the twin DIMM slots, the two M.2 slots (one M.2 2280 PCIe Gen 4 x4 slot is fitted with an SSD, the M.2 2242 SATA slot is vacant). That's not all for built-in storage, though, as the system is also ready to internally fit a 2.5-inch SATA device, as well as offering an easy access full-sized SD card slot as part of the I/O on offer.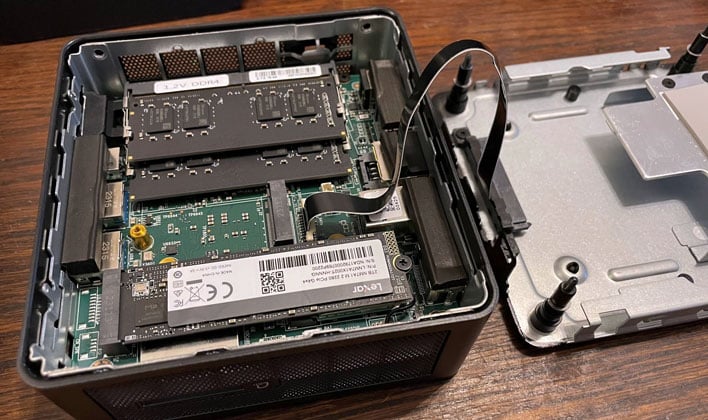 Geekom seems to have put the Mini IT13 through a reassuring range of durability tests as part of its development work. The device has apparently been built to withstand a wide range of working temperatures and humidity levels, as well as being tested for things like vibration, drop testing, and even a salt spray test. This information indicates it is partly being pitched at industrial / kiosk / signage markets, but durability is good for consumers too. Last but not least on this topic, an impressive three-year warranty signals Geekom's belief in its apparently well-made product as well.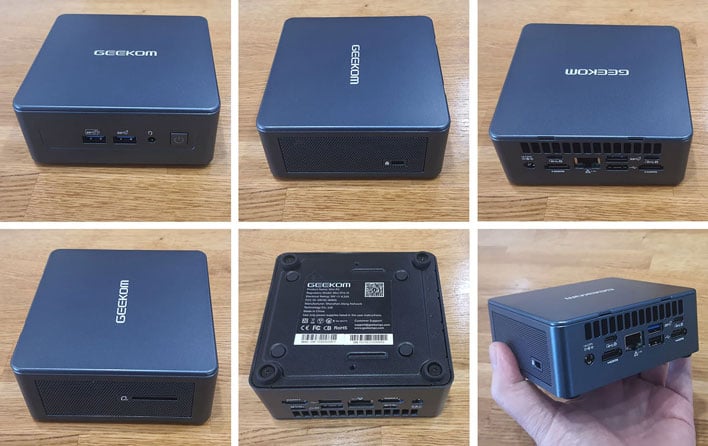 Intel 13th Raptor Lake Core i9 In A 4 Inch x 4 Inch Package? Yes
As per the headline, this compact PC that can almost fit on the palm of your hand comes packing up an Intel Core i9 'Raptor Lake' processor. Our sample was the top-end model, with that Core i9 inside. It is a mobile chip, which seems sensible in these confines, the Core i9-13900H. Thus, the CPU boasts 14 Cores, 20 Threads, at up to 5.40GHz, and 24MB Cache. According to official Intel specs sheets, it has a 45W TDP with quick turbo bursts allowing up to 115W. Intel's Iris Xe graphics are on board, and they are quite beefy for an iGPU, with 96 EUs running at up to 1.50GHz. The Geekom Mini IT13 we got to test came with a generous 32GB of DDR4-3200 RAM and a 2TB PCIe 4 x4 M.2 2280 SSD.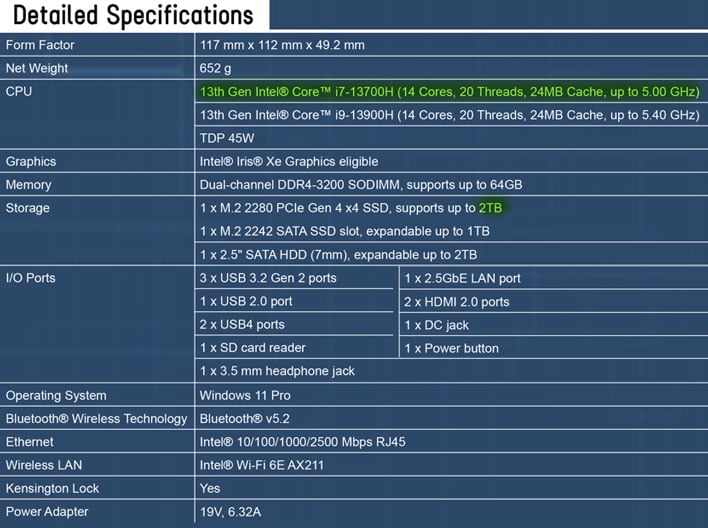 Geekom Mini IT13 Mini PC Benchmarks
We bet you are itching to see some benchmarks for this tiny powerhouse, so without further ado, let's start working through the Hot Hardware benchmark staples. Before we start, we had to decide whether to broadly compare this system against laptops or desktops. Since the Mini IT13 includes an H-series laptop chip, we decided on a competitive field including a majority of laptop performance comparisons. In theory, the Geekom Mini IT13 should have a thermal advantage, thanks to being in a small desktop form factor, but it is so tiny (including the cooling system), we doubted it would trounce our top laptop competitors. Let's take a look...
Atto Disk Benchmark Results
Testing the primary disk supplied by Geekom, we will use the ATTO disk benchmark. The chart below will speak for itself, but what we are looking for is PCIe Gen 4 x4 level performance. In other words, in these size constrained systems, we really hope that the components can live up to the expected specs – just like in a roomy well-cooled desktop.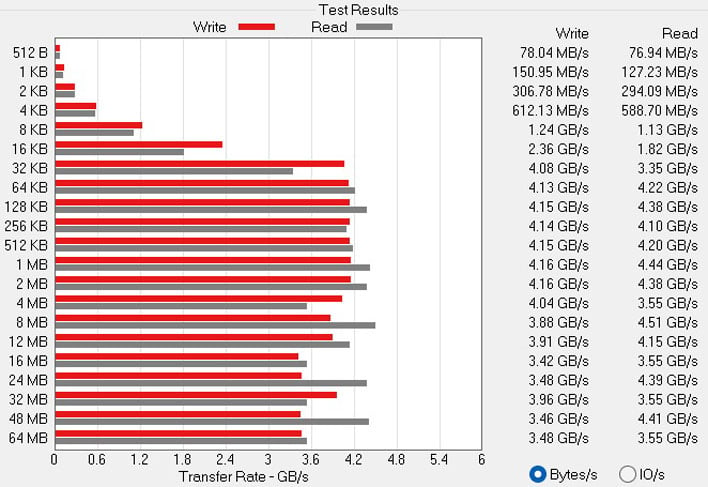 The results look nice and snappy, approaching 4.5GB/s reads in the best case scenarios. Writing is also not much slower, approaching 4.2GB/s. These are definitely better than PCIe Gen3 results, but we have seen other systems do considerably better with Gen4 SSDs. Good PCie Gen4 SSD read/write performance would be in the 6 - 7GB/s zone.
Speedometer 2.0 Browser Benchmark
Speedometer runs a wide range of tests within your browser, simulating typical browser workloads. Performance across the range of tests is weighted to give a score.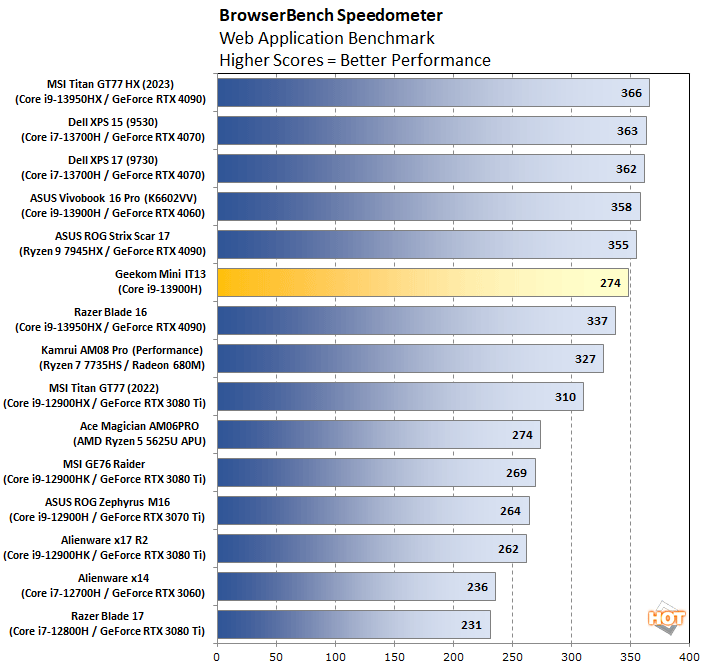 The Geekom Mini IT13 does pretty well in this test, with scores as good as some of the most powerful laptops we have tested. This should be expected, though.
Cinebench R23 Rendering Benchmarks
Cinebench is based upon a version of the professional Cinema 4D rendering engine from Maxon.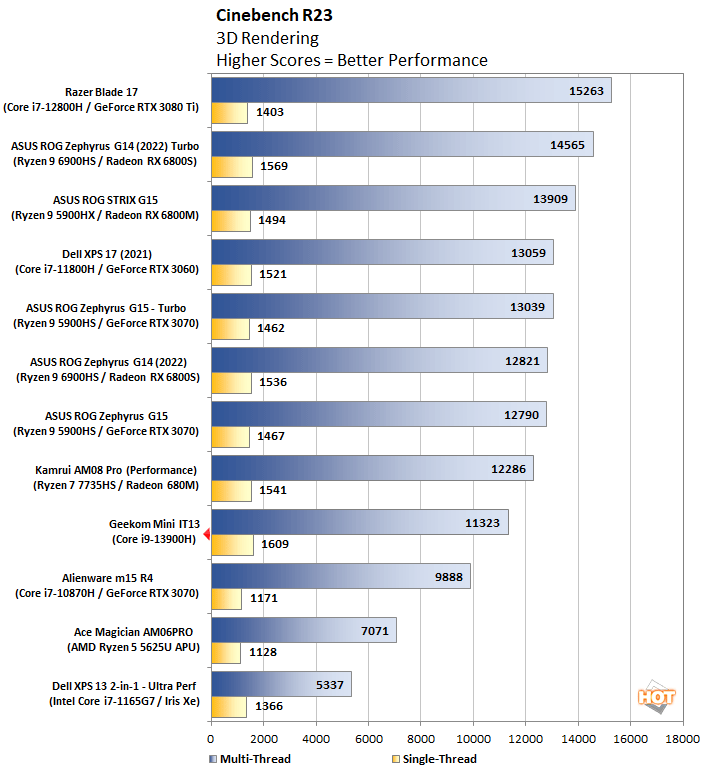 Geekom's little 4x4 computer excels in the single thread test, attaining a score that is better than any other Intel or AMD mobile processor we have tested. Its multicore score of 11323 is low to middling, though. Several re-runs repeated similarly low multi-threaded scores for this chip.
PCMark 10 Productivity and Content Creation Benchmarks
PCMark gives a system a good old workout in a range of applications that are grouped as being representative of Essentials (web browsing, video conferencing etc), Productivity (spreadsheets, word processing) and digital content creation (photo and video editing, plus rendering). As well as assessing processing, this well-rounded test will help you spot weaknesses in things like storage and memory subsystems.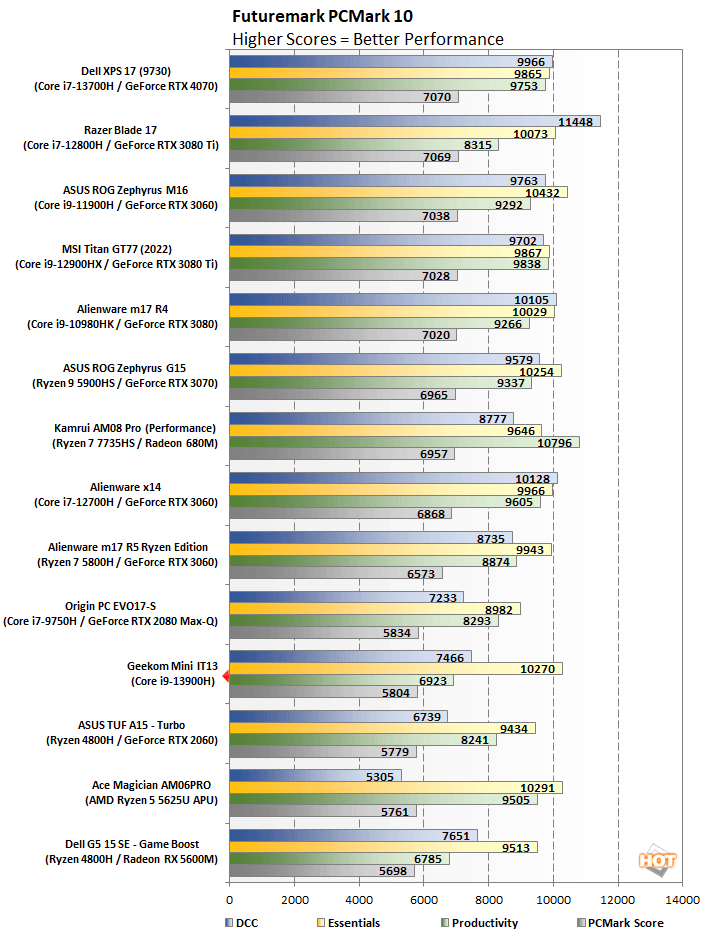 Geekom's results stand strong in 'Essentials', but then it doesn't look very convincing in Productivity and DCC. The biggest differences we see, which may contribute to the weaker scoring, are Geekom's use of DDR4 (instead of DDR5), and the iGPU in the Mini IT13 doesn't seem to compete very well against some of the discrete GPUs in higher scoring rivals.
3DMark Graphics And GPU Tests
On the topic of GPUs, we tried 3DMark Night Raid, as an appropriate benchmark for the Iris Xe iGPU.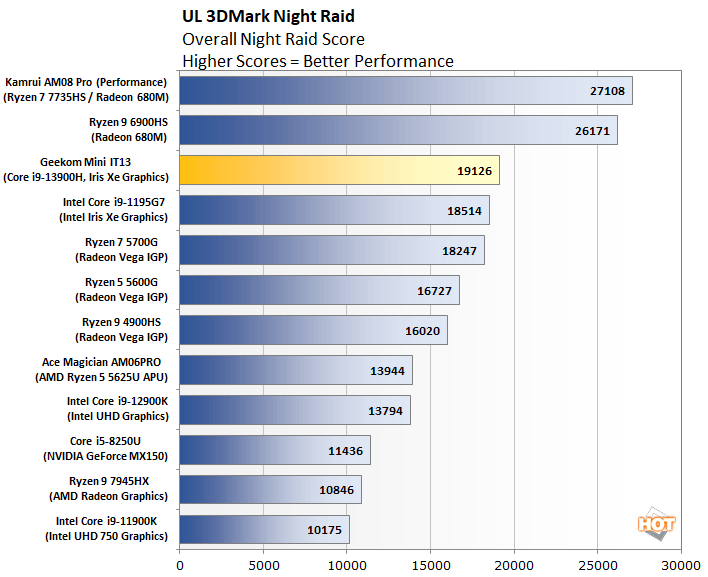 You can see that Intel is getting a lot better at integrated graphics performance with its modern laptop processors. This CPU is said to include 96 Xe execution units (EUs) in its graphics engine. It still trails the integrated AMD Radeon 680M (and newer 780M) by a noticeable margin though.

Geekom Mini IT13 Power, Thermals And Noise
In terms of power consumption, we didn't see any surprises during testing. Our observations were that when the system was idling or handling light loads, about 20W was pulled from the wall. Running gaming-style benchmarks from 3DMark seemed to stress the system the most, and in these gaming simulation tests we saw the whole system's power consumption mostly hover between 55 and 60W. This might indicate that the bulky 120W power brick is excessive - and we've seen 100W GAN chargers at about half the size.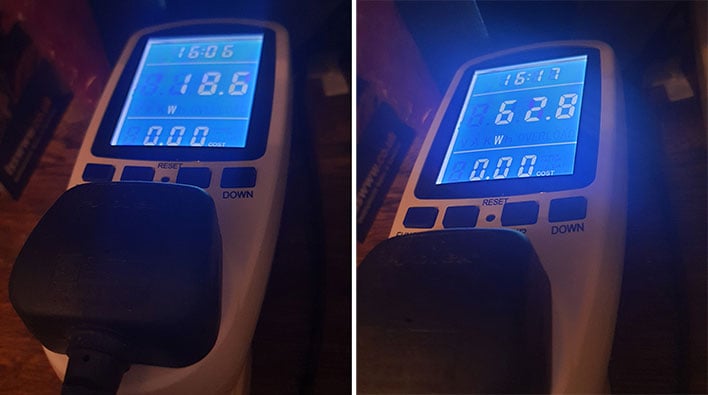 According to system monitor tools which read a computer's internal sensors, the CPU and GPU cores in the Raptor Lake mobile chip could hit up to 85 and 90°C, respectively under loads like 3DMark Night Raid. CPU-only tests like Cinebench R23 didn't create as much heat, or draw as much power. Such temperatures are within the design specs of modern Intel processors.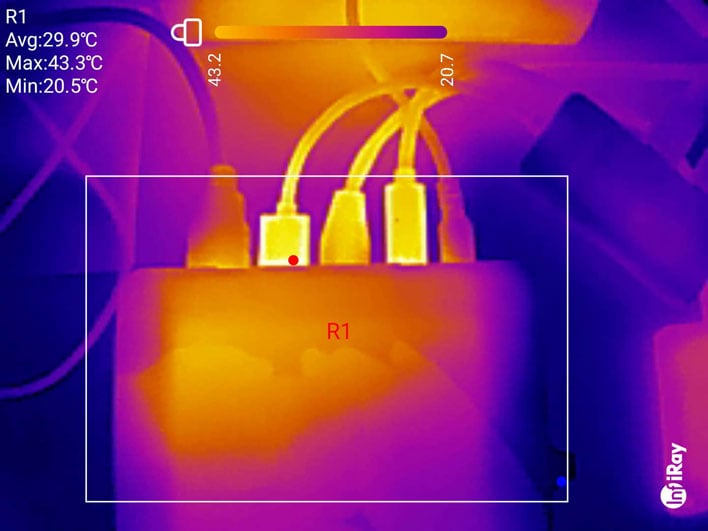 Above you can see a photo taken with a thermal camera, showing the distribution of heat in and around the system's chassis. You can clearly see the single fan cooler vents out of the back, with its vents above the rear I/O section. In a room at about 19°C, the heat coming out the back was measured at a warming 43.3°C.
Fan noise was probably one of the most off-putting aspects of this Mini PC. We measured fan noise at between 38 and 40dB (when the system wasn't under load), from an ear-to-system distance of approx 18-inches (45cm). When the fans ramped up during testing the noise could vary between 42 and 44dB. It might not be a particularly loud fan, but its pitch travels easily to the ear. On the desktop, within arm's reach that might be an issue for some, but it would be easy to squirrel this system away behind something, or VESA mount it out of direct earshot.

We decided not to try a CPU re-paste on this system, but dived into the BIOS and nudged the fan mode from Normal to Quiet. Truth be told, we didn't really notice any audible improvement, but a couple of quick confirmatory tests, with CB23 for example, saw a noticeable performance drop, nearing 10%.
Geekom Mini IT13 Review Conclusions And Take-Aways
Geekom gets a lot right with the Mini IT13. The presentation and build quality impresses, with its correspondingly confident 3-year warranty. Having one of the latest Intel mobile processors on board makes the system feel peppy, and this system has lots of RAM and storage in support of those 20 threads. The system has plenty of ports and fast modern networking options, too.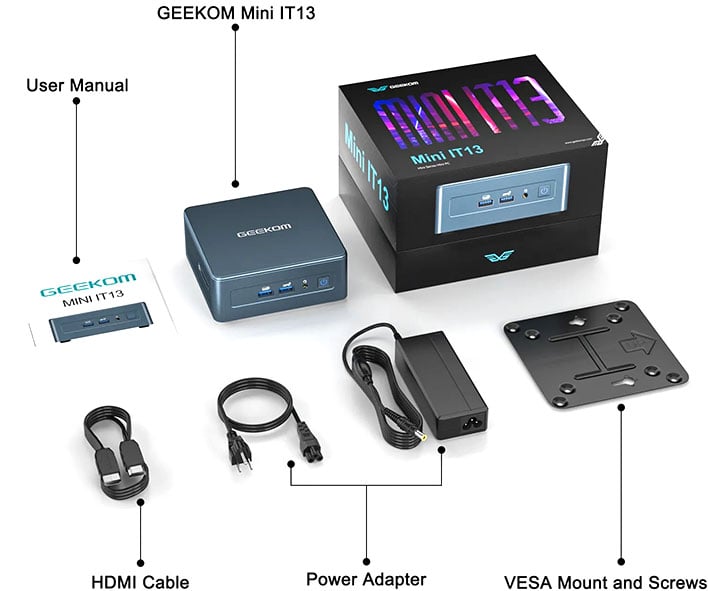 However, this garden of roses has a few thorns of course. Specifically, a Core i9 buyer may be underwhelmed by the performance of this PC outside of 'essentials' like browsing and office productivity tasks. The Mini IT13's lack of DDR5 and weaker GPU puts it in a shadow compared to its nearest neighbor laptops when it comes to content creation and gaming. Another thing we would say is that this device's PSU seems to be too big and heavy, but is that important in a desktop? Lastly, in terms of caveats, fan noise was a little bit too easy to hear, even when the system wasn't being pushed hard. Some of these drawbacks might give the impression that we didn't like the Geekom Mini IT13, but we did enjoy using it and testing it. Calling out these downsides is our job to help you weigh things as accurately as possible from a review, and you will naturally apply your own weightings to both the benefits and drawbacks of this machine.
The Geekom Mini IT13 is a mini powerhouse that it is easy to find appealing. Turning to the system pricing, it seems very reasonable in the context of its obvious inspiration.
Intel's NUC 13 Pro Arena Canyon NUC PC
, with 35W Core i7-1360P processor (
4P+8E)
, Iris Xe Graphics, 32GB DDR4-3200 RAM and 2TB NVMe Gen4 SSD is listed at $1,300 on Amazon.com, for example. Geekom's more powerful processor rival is currently just $789, and you can take another
$40 off
as a Hot Hardware reader (code: hothardwareit13). There are
also other processor / RAM / storage options
available, starting at $499.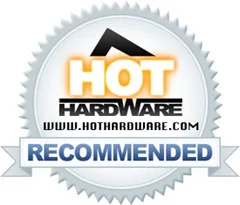 Related content