AMD Spring CPU Refresh: Ryzen 7 5700X And An Affordable Ryzen 5 Trio Tested
AMD Spring Ryzen Refresh: Gaming Performance, Power And The Verdict
For our next series of tests, we moved on to some graphics and game-related metrics with 3DMark, specifically the physics benchmark that's part of the Time Spy test, along with a handful of actual games. For the 3DMark Physics test, we simply create a custom 3DMark run consisting solely of the physics test, which is multi-threaded and CPU dependent, and report the results...


UL 3DMark CPU Physics Benchmark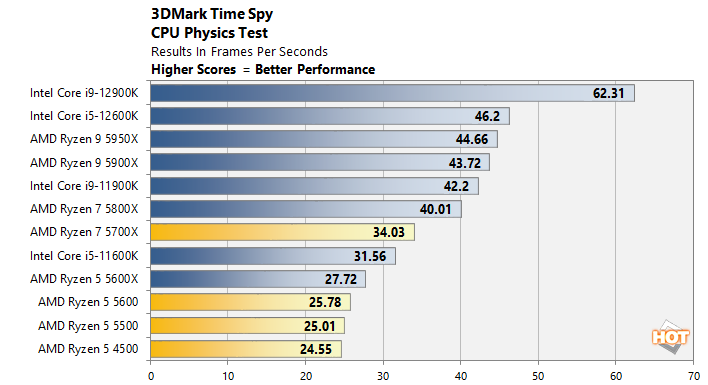 The processors fall in-line with expectations in the multi-threaded 3DMark Physics test as well. The 6-core / 12-thread Ryzen 5 4500, 5500, and 5600 drop in just behind the 5600X, while the 8-core / 16-thread Ryzen 7 5700X slots in above the Core i5-11600K but below the Ryzen 7 5800X.
High-Resolution Gaming & Graphics Benchmarks
We also ran some mid and high-resolution game and graphics tests on our test rigs with 3DMark, F1 2021, and Metro Exodus. We used 3DMark's default Time Spy preset, and both of the games were run in two different configurations -- either 1080p with Medium/High details, or 4K with High/Extreme details. The lower resolution tests are more CPU bound, while the higher resolution tests are more GPU bound.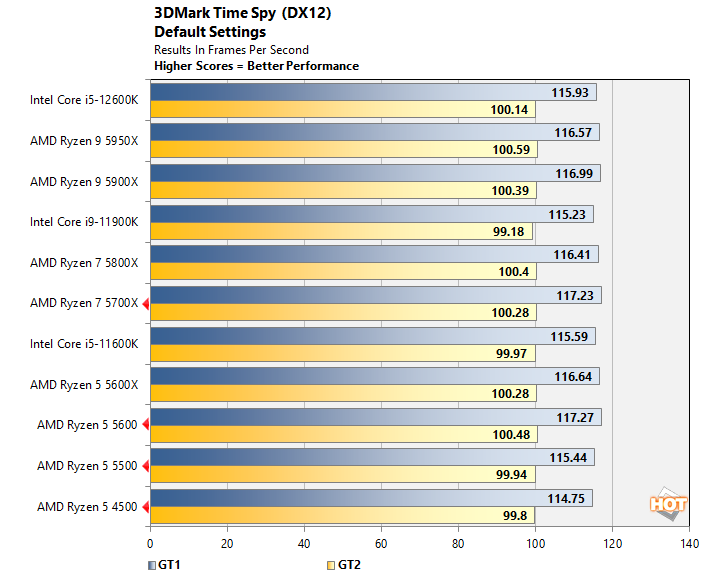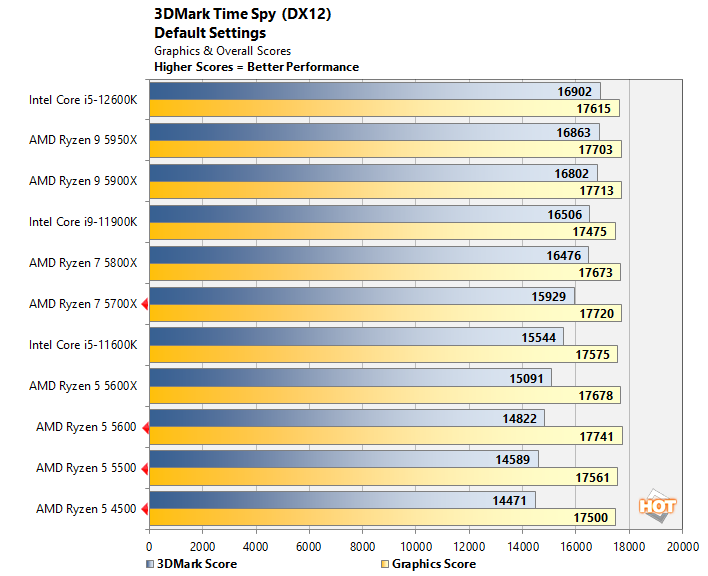 In the overall 3DMark Time Spy scores, you can see how the Physics scores affect the overall ranking. Though the GPU (in this case a GeForce RTX 3080) puts up a similar Graphics score with all of these processors, the multi-threaded Physics score affects the overall score and we see a similar performance trend to many of the other benchmarks.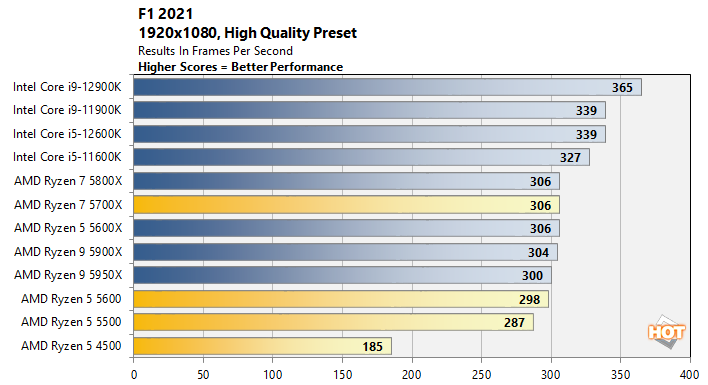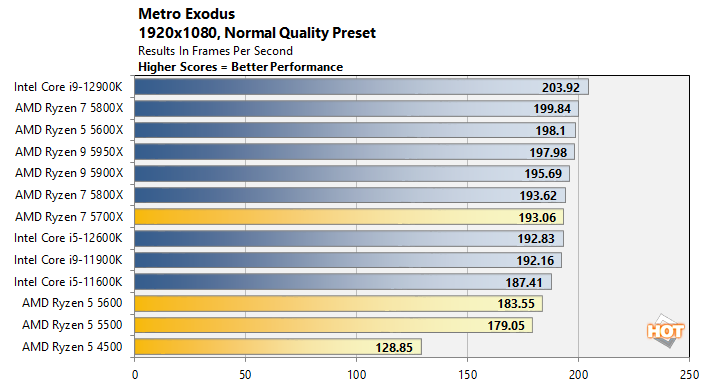 The low resolution game tests don't reveal any big surprises. Performance scales as you would expect, with the Zen 2-based Ryzen 5 4500 clearly trailing the newer Zen 3-based processors.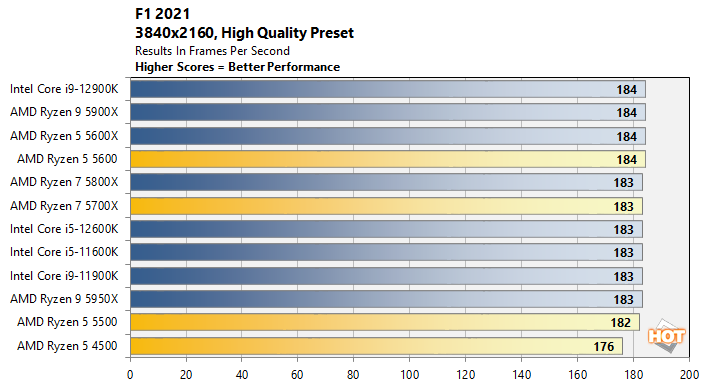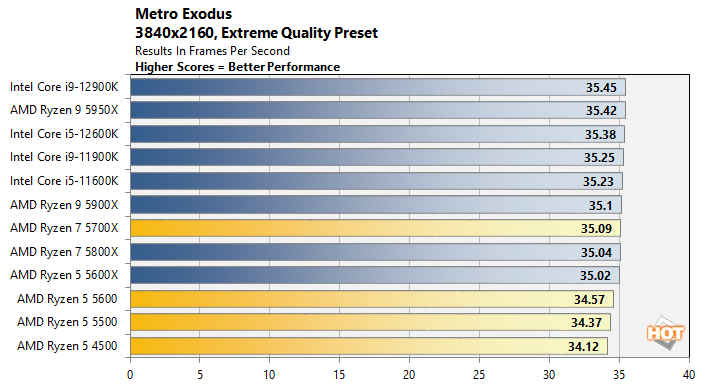 When the in-game details and resolution are cranked up, bottlenecking the GPU rather than the CPU, the playing field levels off considerably and all of the processors, save for the Ryzen 5 4500 in F1, effectively offer similar performance.
Total System Power Consumption
Throughout all of our benchmarking and testing, we also monitored how much power our AMD Ryzen test rig was consuming with a power meter, versus the other systems we used for comparison.

Our goal was to give you an idea as to how much power each configuration used while idling at the Windows desktop and while under a heavy CPU workloads across one and all cores. Keep in mind, this is total system power consumption being measured at the outlet and not the the individual power being drawn by the CPUs alone.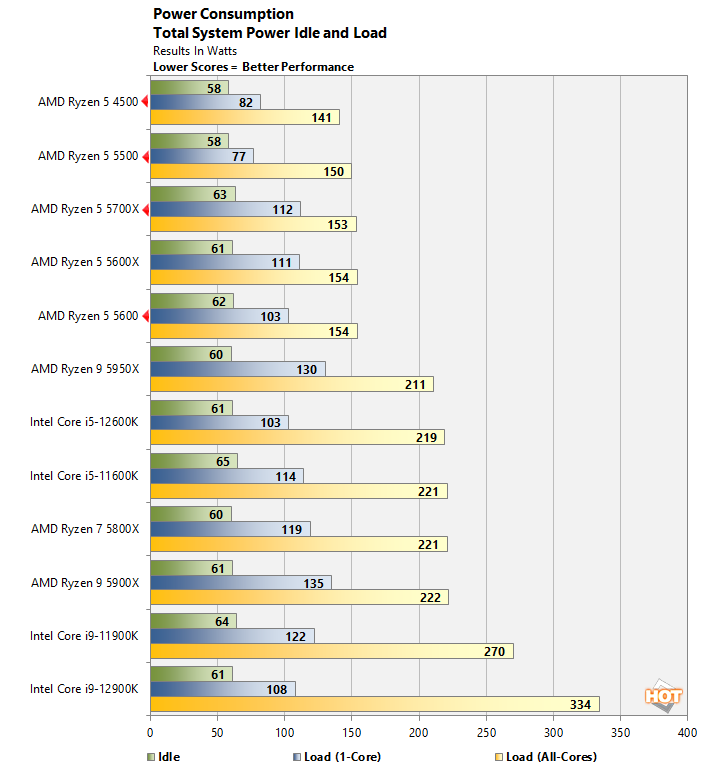 All of the new Ryzen processors we tested proved to be quite power-friendly. The lower-clocked AMD Ryzen 5 parts consumed considerably less power in the single-thread test, but under load, less than 15 Watts separated the Ryzen 7 5700X from the Ryzen 5 4500.
AMD's Ryzen Spring Refresh: The Verdict
AMD's latest Ryzen refresh does exactly what the company intended – it brings the high-performance Zen 3 architecture down to more affordable price points and adds additional options for system builders in need of even lower-priced, low-power Zen 2 processors.
On their own, the Ryzen 5 4500, 5500 and 5600 and the Ryzen 7 5700X fit into AMD's product stack right where their branding suggests. In light of the
existing Ryzen 5000 series
line-up, the Ryzen 5 5500 and 5600 in particular seem like attractive, affordable options for folks looking for solid-performing, 6-core processors under $200. The 8-core / 16-thread Ryzen 7 5700X is also a good option for users seeking some additional multi-threaded oomph in a sub-$300 CPU for socket
AM4
.
Relative to Intel's current 12th Gen offerings, things get a little murkier. Unfortunately, we didn't have a
Core i5-12400
on hand for testing. At about $200, the Core i5-12400, with its 6 P-core configuration, should offer relatively strong performance versus all of these new Ryzens. And as we've shown throughout out tests, the $280 Core i5-12600K offers better single and multi-threaded performance nearly across the board versus the higher-priced Ryzen 7 5700X. We're not accounting for potential additional costs for a quality motherboard for a
12th Gen Core processor
, DDR5 memory, or power. However, focusing strictly on processor performance, Alder Lake is compelling at these mainstream price points.
That said, having additional options at more affordable price points is never a bad thing for consumers. If you're already rocking a socket AM4 rig and are looking for some wallet-friendly, 6 or 8-core processors to upgrade from a previous-gen Ryzen CPU, AMD's got you covered.
More Affordable Zen 3 Parts
For Existing Socket / Platforms
Compete Well With Higher-End Ryzens
Power Friendly

Zen 4 Is A Few Months Away
Midrange Alder Lake Line-Up Is Strong
Related content
Comments