AMD Radeon Pro W7700 Review: Hitting The Sub-$1000, Pro-Vis Sweet Spot
AMD Radeon Pro W7700 Review: Image Processing, Cryptography, Compute and Rendering
How We Configured Our Test Systems: We tested the professional graphics cards represented in this article on a MSI Z790 Carbon motherboard, equipped with a Core i9-13900KS processor and 32GB of G.SKILL DDR5 RAM clocked at 5,800MT/s. The first thing we did when configuring the test system was enter the UEFI and set all values to their "high performance" defaults, then we disabled any integrated peripherals that wouldn't be put to use, and enabled Resizable BAR support. The memory's clock was dialed in to its optimal performance settings using its XMP profile and the solid state drive was then formatted and Windows 11 Professional was installed and fully updated. When the Windows installation was complete, we installed all of the drivers, applications and benchmark tools necessary to complete our tests.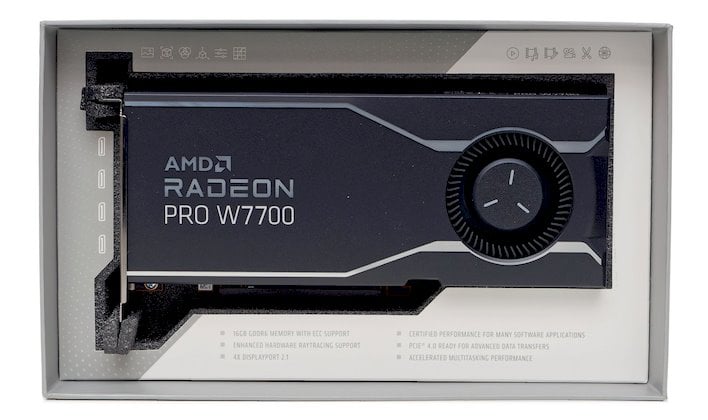 Out Test System Configuration:
Hardware Used:


Intel Core i9-13900KS


(5.4GHz - 6GHz, 24-Core)



MSI Z790 Carbond

(Intel Z790 Chipset)


32GB G.SKILL DDR5-5800



Samsung SSD 990




Integrated Audio




Integrated Network



NVIDIARTX A6000 (Ampere Generation)


AMD Radeon Pro

W6800


AMD Radeon Pro

W6600




AMD Radeon Pro W7900


AMD Radeon Pro W7800
AMD Radeon Pro W7700


AMD Radeon Pro W7600



Relevant Software:
Windows 11 Pro
AMD Radeon Pro v23.Q3.1
NVIDIA Quadro Drivers v536.67



Benchmarks Used:


SPECviewperf 2020 v3.1
LuxMark v4
Blender v3.6
Cinebench 2024
SiSoft SANDRA 2021
VRMark
Blackmagic RAW Speed Test
IndigoBench
3DMark DXR Feature Test
SiSoft SANDRA 20201 GPU Benchmarks
SANDRA's GPGPU Image Processing benchmark runs through an array of filters on its reference data and offers up an aggregate score, derived from a multitude of individual results. Its GPGPU Cryptography benchmark churns through an assortment of workloads, and presents individual results for overall bandwidth, AES256
encryption
and decryption, and SHA2-256 hashing bandwidth. CUDA and OpenCL code paths are available in these tests, but we used OpenCL on all cards. Previously, using the
CUDA
path with NVIDIA GPUs resulted in better performance, but OpenCL actually outperforms CUDA in the latest versions of this test.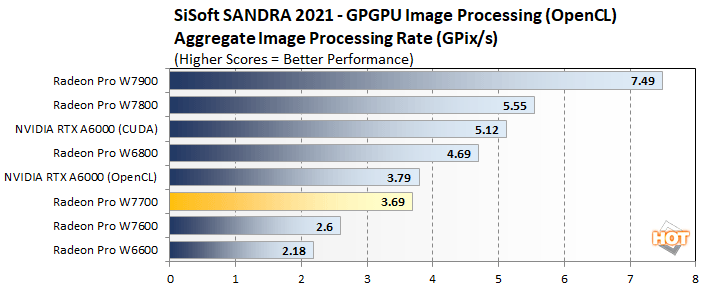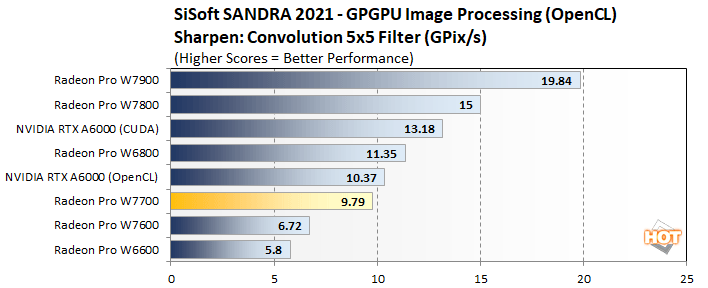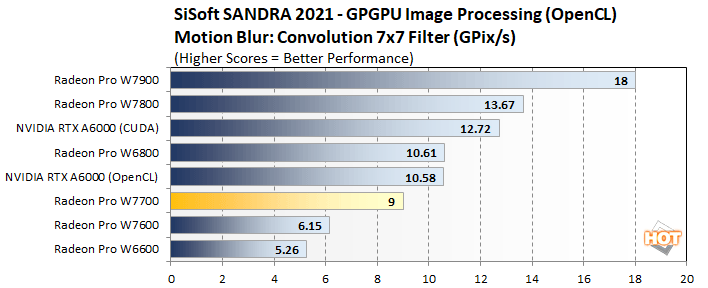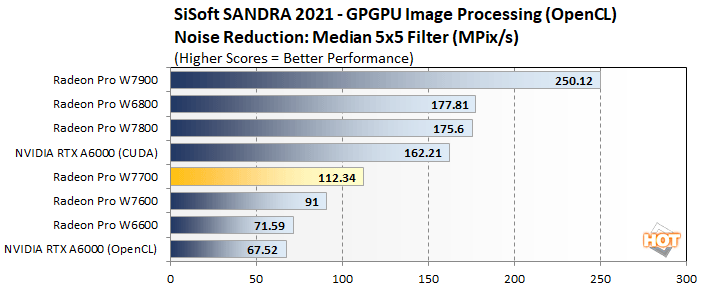 Obviously the more mainstream, lower-priced cards are not going to be able top catch the high-end powerhouses, but we're including data from cards above and below the Radeon Pro W7700 in AMD's line-up to paint a more complete picture of performance. In these image processing tests, the Radeon Pro W7700 clearly outruns the previous-gen Radeon Pro W6600 and the more mainstream Radeon Pro W7600, but the higher-end Wx800 class cards finish well ahead.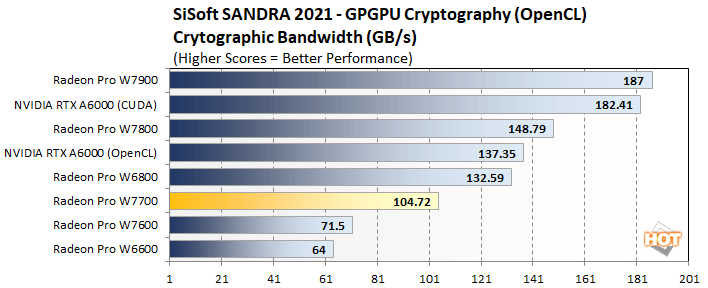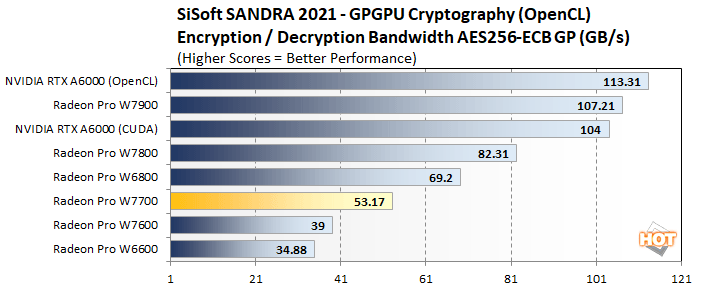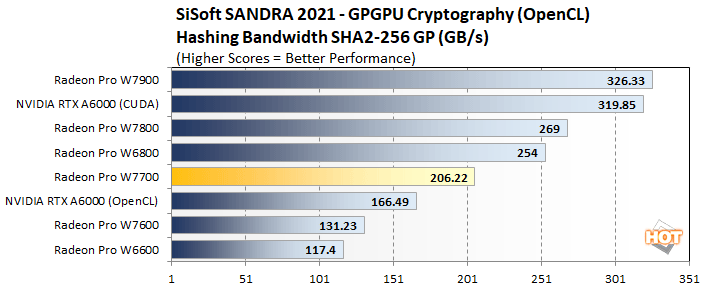 SANDRA's various
Cryptography
-related benchmarks have the Radeon Pro W7700 finishing right where you'd expect -- directly between the Radeon Pro W7600 and higher-end Radeon Pro W7800.
LuxMark v4.0 Benchmarks
LuxMark is a cross-platform,
OpenCL
-accelerated 3D rendering benchmark. It's a tool based on the open source LuxRender physically-based spectral rendering engine, which accurately models the transportation of light and supports high dynamic range. LuxRender features a number of material types to allow rendering of photo-realistic and artistic scenes. LuxRender is free software, licensed under the GPL, that offers plugins for packages like Blender, Maya, Cinema 4D and 3DS Max.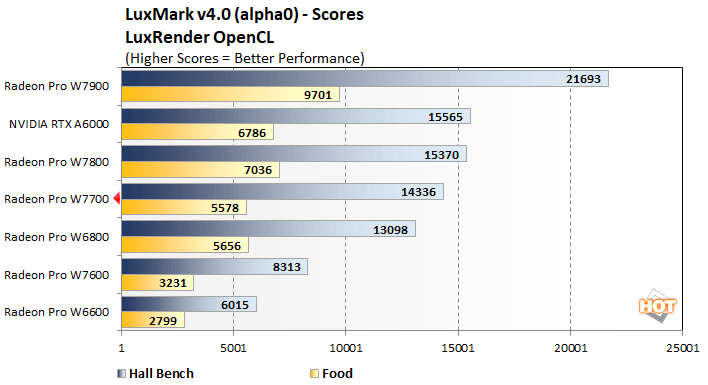 Despite having somewhat similar specifications, the Radeon Pro W7700's newer, more efficient architecture allows it to pull ahead of the Radeon Pro W6800 in Luxmark's path tracing workloads, at least in the Hall Bench scene. In the more taxing Food scene, the W6800 comes out on top slightly, but the delta separating the cards is quite small.
IndigoBench Rendering Benchmarks
IndigoBench is based on Indigo 4's advanced rendering engine and offers both CPU and GPU rendering modes for its two built-in models. The standalone benchmark is available for Windows, MacOS, and Linux and outputs results in M/Samples per second.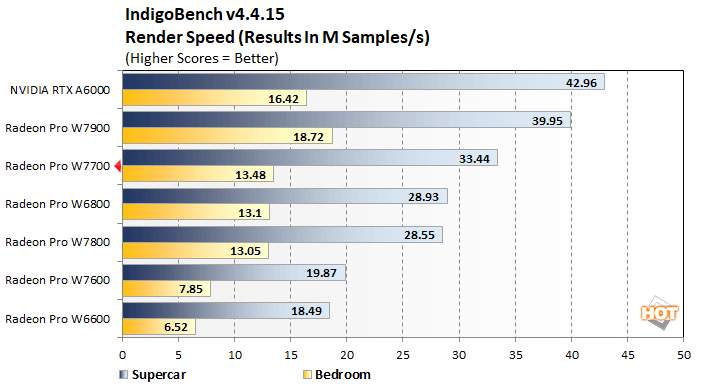 Yes, we know this result doesn't make much sense, but it is nonetheless repeatable with multiple drivers versions, so we're reporting it anyway. The Radeon Pro W7700 does relatively well here, landing in the third position behind the high-end cards. For some reason, the Radeon Pro W7800 falters here, but we haven't figured out the root cause just yet.
Blender v3.6 Rendering Benchmarks
Blender is a free and open source 3D creation suite that can handle everything from modeling, rigging, animation, simulation, rendering, compositing and motion tracking, even video editing and game creation. It has a built-in
benchmarking
tool that will track the time it takes to complete rendering a particular model. We used the GPU-focused monster, junkshop, and classroom models for these tests...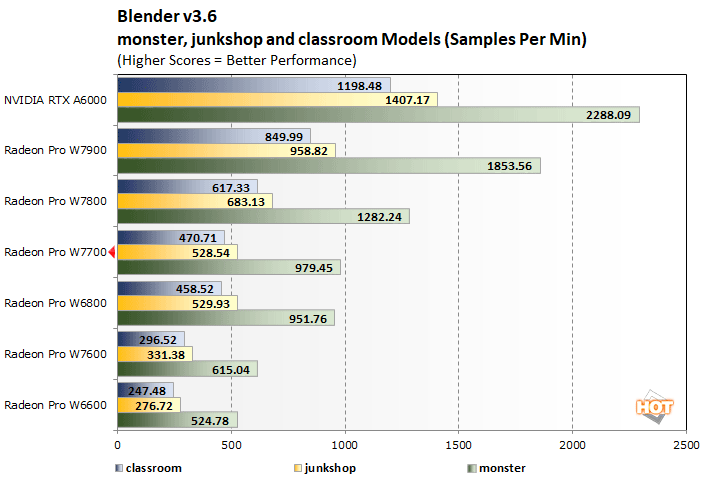 The latest editions of Blender and the Blender benchmark can make use of NVIDIA's OptiX backend to leverage the GPU's RT cores and AMD's HIP to use the Navi's GPU ray accelerators. As such, the AMD cards show big gains versus older versions of the software. The Radeon Pro W7700 finishes right on top of the previous-gen Radeon Pro W6800 here, and just behind its higher-end counterpart, the Radeon Pro W7800, as you would expect.
Cinebench 2024 3D Rendering Benchmark
The recently-released Cinebench 2024 benchmark tests GPU and CPU performance using Maxon's Redshift render engine. The tool supports AMD and Intel x86/64 CPUs, Apple M1 and M2 SoCs, as well as Qualcomm's Snapdragon compute platform. Cinebench is based on the latest Cinema 4D 2024 and Redshift code using updated compilers (Clang) and has a minimum runtime activated by default. We focused solely on the GPU test here.

We don't have quite as much data here, but you'll still get the gist. As we've seen in a handful of previous tests, the Radeon Pro W7700 is in a dogfight with the Radeon Pro W6800, and trails the higher-end Radeon Pro W7800 (as it should), but about 14.5 percentage points.
Related content