Alienware Aurora Ryzen Edition R10 Review: All-AMD Gaming Value
Alienware Aurora Ryzen Edition R10: System Level And Gaming Benchmarks
We typically benchmark systems as they ship from a company, to ensure we get the same out-of-box experience as your average buyer, but with the latest Windows and driver updates installed. However, in the case of the Aurora R10, there is an additional wrinkle to consider. The 3400MHz memory profile technically supported by the included RAM is disabled by default, so the out-of-box
RAM
speed is only 2667MHz. Ryzen's
Infinity Fabric
is tied to the memory frequency, making the lower memory speed a greater concern than it would be for an Intel chip. To correct this, we could use the Alienware Command Center utility to create an otherwise default profile, but with the faster memory speed, or we could do what we expect most users would do, which is to enable one of the two pre-baked overclocking profiles.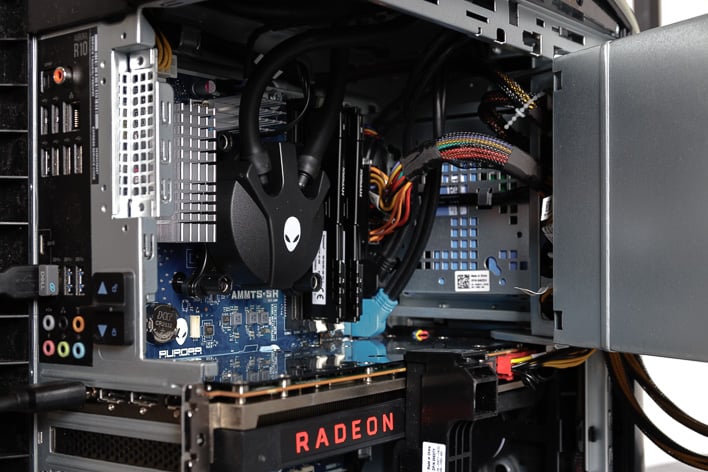 The OC1 profile, which engages "Auto Boost Level 1", also uses a 2667MHz memory frequency, though. We instead selected the OC2 profile which both pushes the CPU a little further to "Auto Boost Level 2" and correctly configures the memory frequency to 3400MHz. If desired, users can create a custom profile to further refine and push CPU performance. However, we will note that GPU performance cannot be tweaked via Alienware Command Center on the Aurora R10.
Many variables can affect performance, so our comparisons should serve as reference points, but may not be exactly like yours, even with similar configurations. Our benchmarking kicks off with some SSD, system-level and CPU tests to get an idea as to how the system performs with a variety of workloads…
ATTO Disk Benchmark




Peak Sequential Storage Throughput



Running the ATTO Disk Benchmark allows us to gauge the speed of the boot drive in the system. In this case, the boot drive is a fast 1TB Micron 2300 NVMe (Gen 3) SSD. Unlike SATA-based SSDs, NVMe drives shuttle data through the PCIe bus for potentially much faster throughput. This particular drive is rated to deliver up to 3.3GB/s of sequential reads and 2.7GB/s of sequential writes.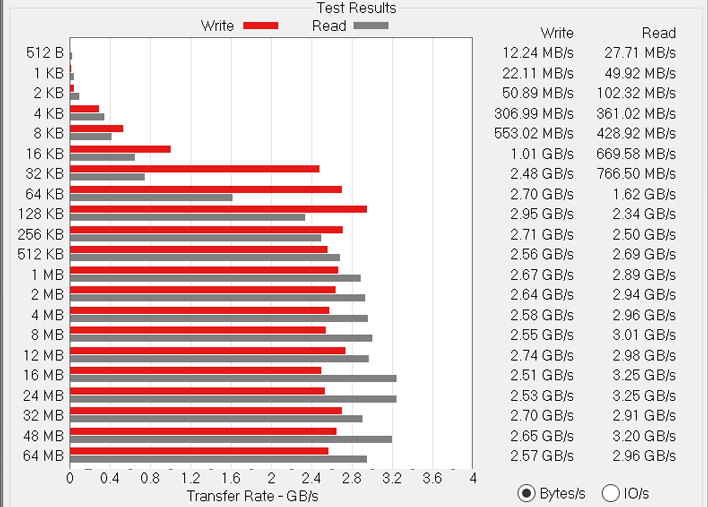 In this case, the drive's specifications hold true to actual performance. Some volatility across transfer sizes is typical, but all the larger transfer sizes are within reasonable variability of their targets. Faster Gen 4 drives are available on the market, but the Micron drives included with this system is still plenty fast.
Cinebench R20




3D Rendering Performance



With our disk speed sanity check out of the way, we can move on to assessing general system performance. The first stop is Cinebench R20. This test is based on Maxon's Cinema 4D modeling software that is used in movie production studios.
The Aurora R10's Ryzen 7 5800X outpaces most other 8-core/16-thread systems in the multithreaded workload. It falls only to the
Intel
Rocket Lake Core i9-11900K but the delta separating the two processors is very small. Keep in mind the 2019 Aurora R10 variant at the top of the chart was equipped with a 16-core/32-thread Ryzen 9 3950X and we can see how much per-core scaling has improved since.
In single-threaded tasks, the new Aurora R10 is again only bested by Intel's
Rocket Lake
which is itself overclocked to 5.4GHz in the Talon system. With each chip at stock clocks, there wouldn't be much difference.
BrowserBench Speedometer 2.0

Web Application Performance
BrowserBench.org's Speedometer test takes a holistic look at web application performance. This test automatically loads and runs several sample webapps from ToDoMVC.com using the most popular web development frameworks around, including React, Angular, Ember.js, and even vanilla JavaScript. This test is a better example of how systems cope with real web applications, as opposed to a pure JavaScript compute test like JetStream. All tests were performed using the latest version of Chrome.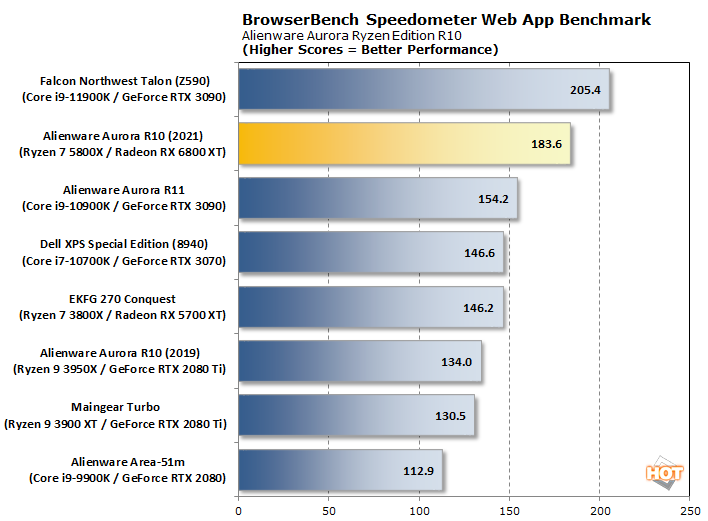 While not able to claim the top spot in Speedometer 2.0, the new Aurora R10 significantly outpaces the rest of the pack. As you might expect and hope for in a high end gaming PC, users will not need to worry about their browser experience ever bogging down.
PCMark 10

Full System Productivity Performance
UL Benchmarks' suite of tests have been the go-to system benchmarks since the late '90s. We ran the Alienware Aurora R10 through PCMark 10, which is designed to gauge the system performance in everyday use case scenarios with GPU acceleration-enabled.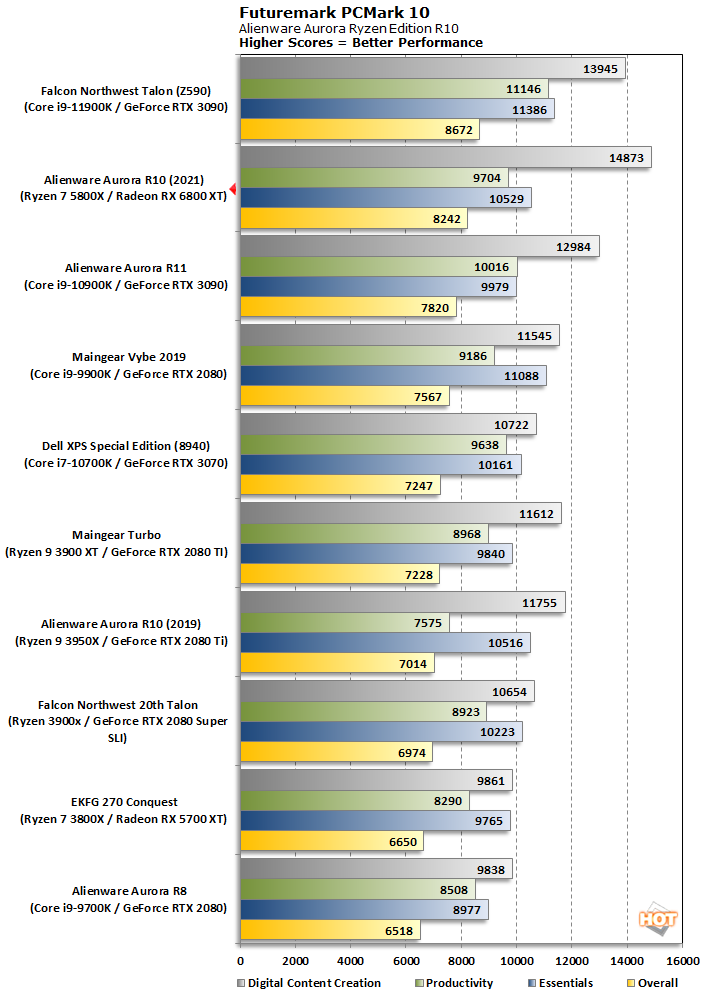 The results here reflect just how well balanced this system's configuration is. PCMark 10 tends to be a bit storage constrained, but as we can see the system still keeps pace with
the NVMe Gen 4 equipped Falcon Northwest Talon
. In fact, the Aurora R10 delivers the strongest Digital Content Creation sub-score we have seen yet. This indicates the Aurora R10 is especially attractive for users seeking a system for both work and play.
Let's move on to graphics and gaming...
3DMark is a synthetic GPU benchmark for assessing graphics (GPU) and physics (CPU) performance. 3DMark supports both DX11 and DX12, depending on the particular test being run, which makes it handy for testing GPUs of various performance levels. We used the Time Spy benchmark, 3DMark's DirectX 12 test, to push the Alienware Aurora Ryzen Edition R10. This test has multiple presets, but the standard Time Spy test is fairly taxing and we have a plethora of reference data, so that's what we stuck with.
3DMark TimeSpy

DX12 Graphics Performance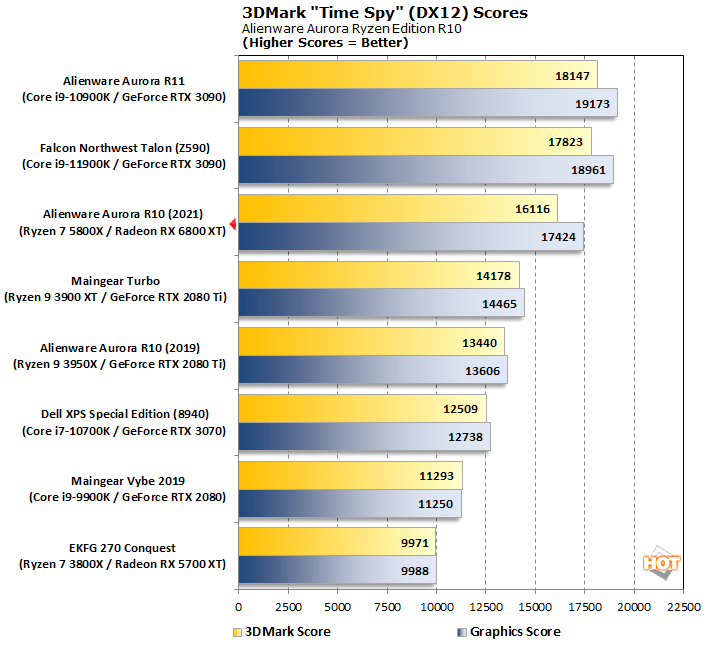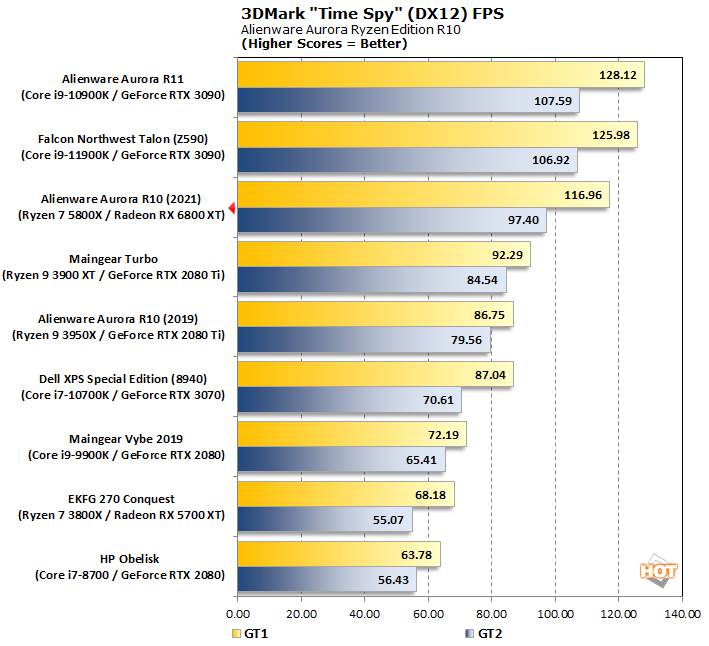 The Aurora R10 delivers phenomenal results in Time Spy. While not topping the charts, it does nip at the heels of both the Falcon Northwest Talon and its Alienware Aurora R11 sibling. It becomes much more interesting when we consider the relative costs of these three systems. The Aurora R10 is about $1500 cheaper than the R11 we tested and almost exactly half the MSRP of the Talon. We will gladly accept a 10% or so performance dip while pocketing thousands of dollars in relative savings.
Nevertheless, Time Spy is a synthetic test so we need to see if this value proposition holds true across real gaming titles. Playing the latest AAA games at high resolutions and detail settings is one of the reasons you might want to consider this desktop (as configured) in the first place…
Middle Earth: Shadow of War

Orc-smashing Gaming Performance
Middle Earth: Shadow of War is a fun and beautiful title set in Tolkien's Lord of the Rings universe. To test the game's performance relative to other systems, we set the resolution to 2560x1440 and turned the visuals up to the Ultra preset.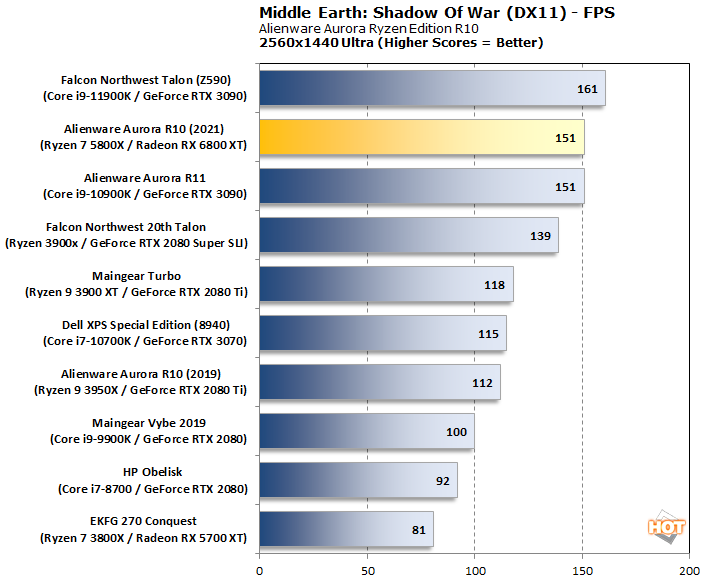 Not only is the performance we saw with Time Spy holding true, but the Aurora R10 is now tied with its R11 variant. In our Aurora R11 review, we did find that the RTX 3090 was being CPU limited, so let's shift the balance further to the GPU side with some 4K runs.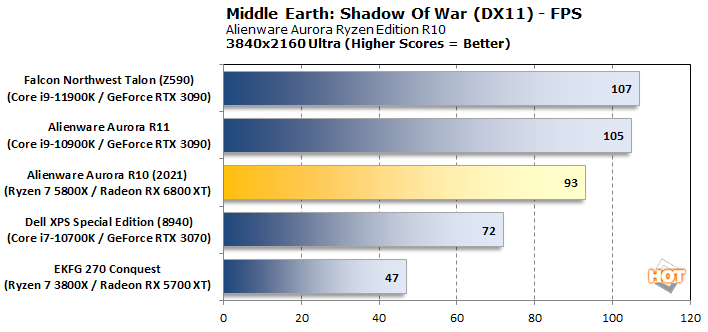 With a heavier load placed on the GPU, both RTX 3090 systems put a little bit of distance between themselves and the Aurora R10's RX 6800 XT, but not much. The 93 FPS tallied is perfectly playable, while churning out some top-notch eye candy here.
Shadow of the Tomb Raider

Mayan Apocalypse Gaming Performance
The finale in the rebooted Tomb Raider trilogy, Shadow of the Tomb Raider is easily the best-looking of the bunch. It's the latest installment in the series for heroin Lara Croft, driven with a revamped DX12 game engine. SotTR also supports visual effects like Ambient Occlusion, Depth of Field, Dynamic Foliage, Bloom shaders, Tessellation and more.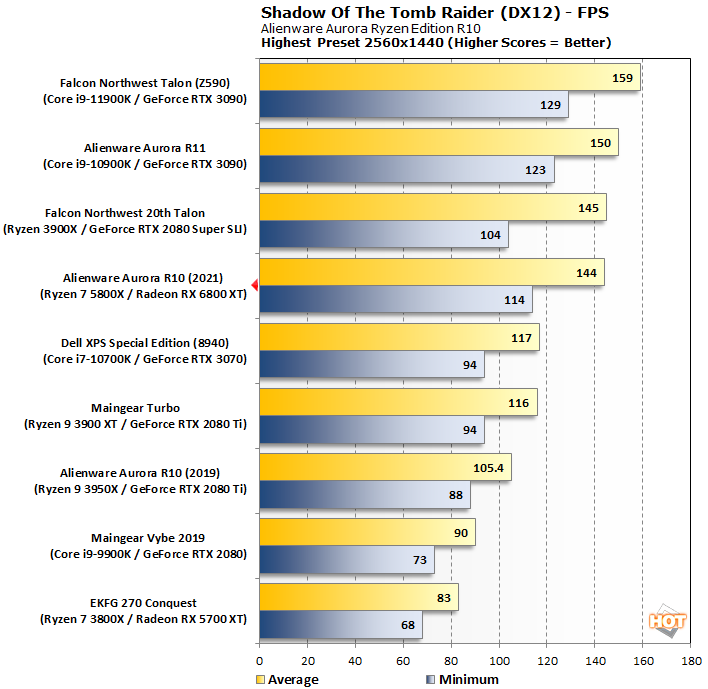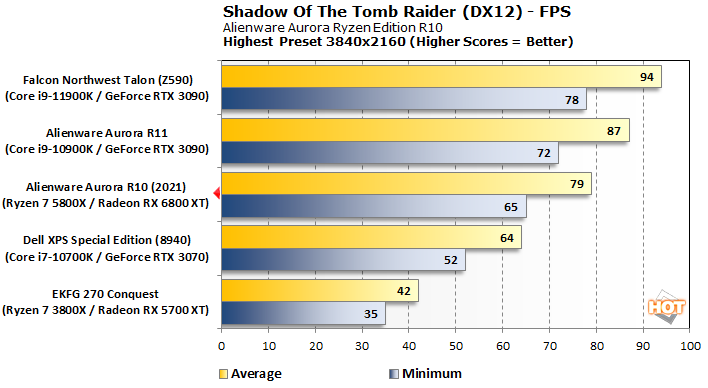 Shadow of the Tomb Raider delivers the same performance patterning as Shadow of War. While the Falcon Northwest 20th Anniversary Edition Talon does technically sneak ahead in 1440p, the Alienware Aurora R10 maintains much healthier minimum framerates which will make for a smoother gaming experience. At 4K, the differences are a little more pronounced, although minimum framerates still keep well above 60 FPS.
Gears 5

Swarm-fighting Gaming Performance
Gears 5 is the other blockbuster we had a chance to dig deeply into, and this game proves you don't need ray tracing effects to produce gorgeous visulas. We went all out here testing at 1440p and 2160p with the Ultra and High presets.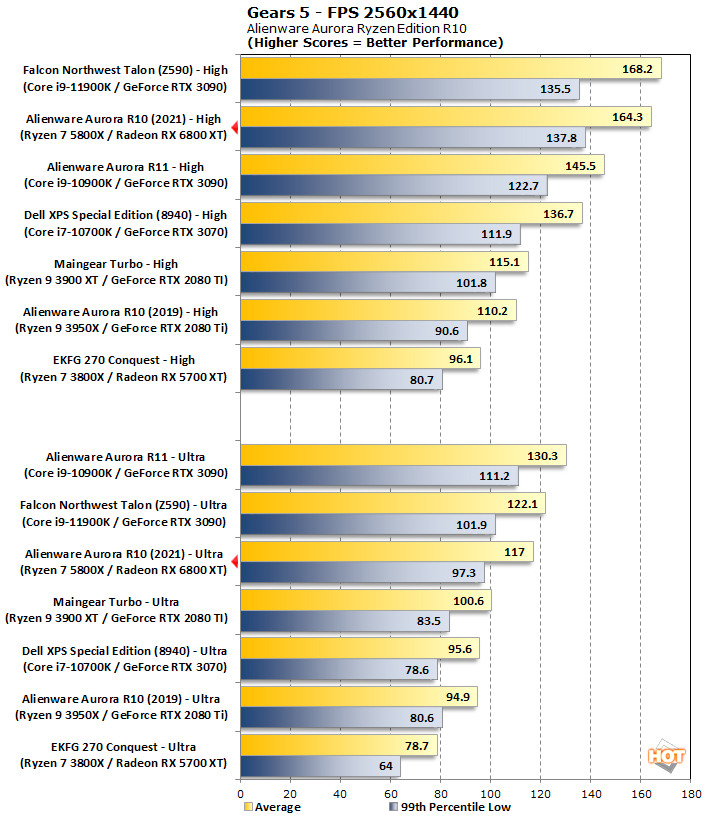 The High preset is more CPU limited than Ultra, so here we find the performance inversion between the Aurora R10 and R11 variants even more pronounced than in the other titles we have looked at. When all the eye-candy is enabled with Ultra, however, our Aurora R10 can't quite keep pace with NVIDIA's big-iron RTX 3090.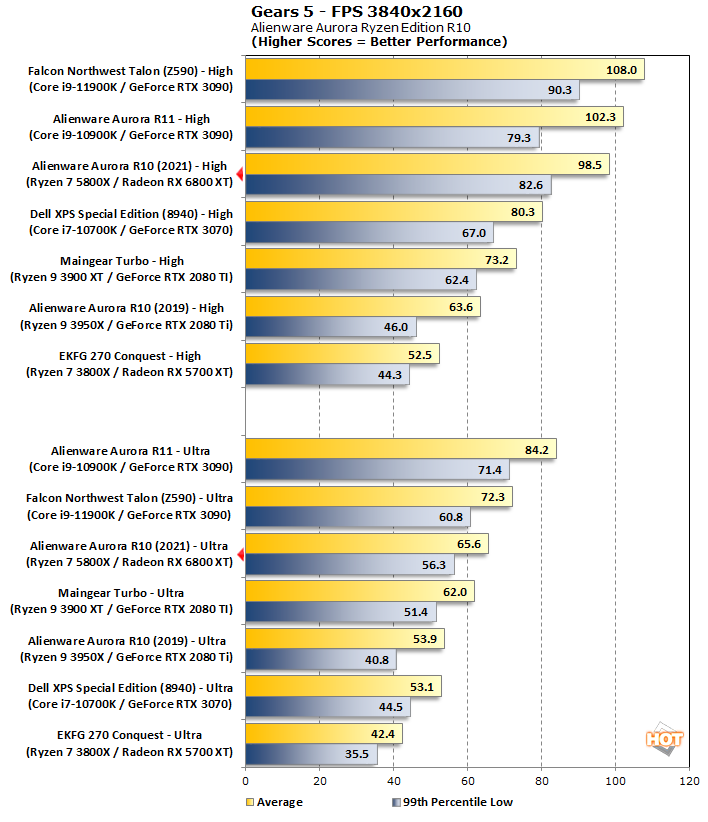 Moving up to 4K, the Aurora R10's third-place running is cemented. We still cannot interpret this performance as anything other than a huge win for it, however, when we again look at the price disparities between these three systems. The differences are even more stark punching down. For instance, the 2019 Aurora R10 was a full thousand dollars more expensive and delivers just two-thirds of the framerate in some cases.
Metro Exodus

RTX On with DLSS Gaming Performance Comparison
Metro Exodus is based on author Dmitry Glukhovsky's series of Metro novels that started with Metro 2033 back in 2005. That first installment in the series was followed by Metro Last Light and later, Last Light Redux. Like other games in the series, Metro Exodus follows a post-apocalyptic story line that takes place in the former Russian Federation. The game features advanced graphics and visuals and also supports
NVIDIA
's RTX and DLSS technologies.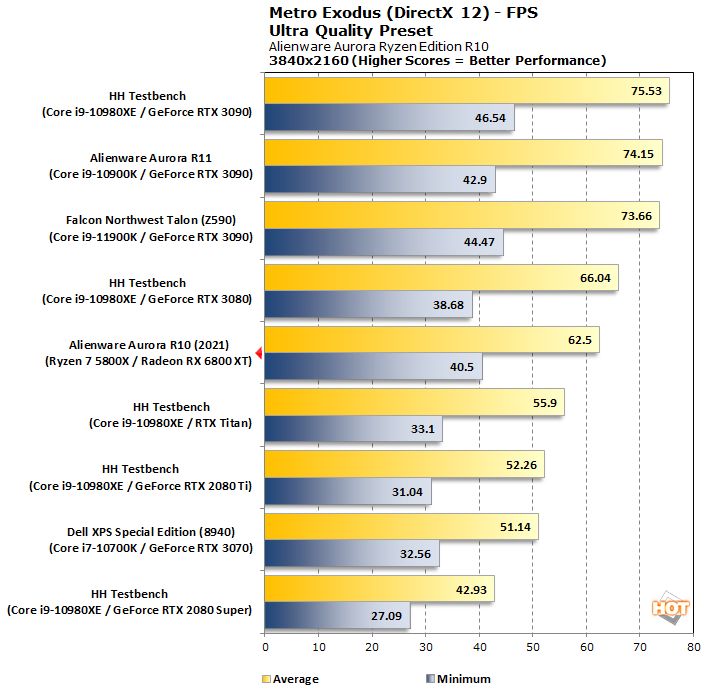 We first ran the benchmark through with pure rasterization on the Ultra preset. To no one's surprise, the Aurora R10 performs very well relative to the pack. We do have some extra test bench numbers in here to provide additional context.
The story gets more complicated when we tried to run the benchmark with ray-tracing enabled, but first the numbers…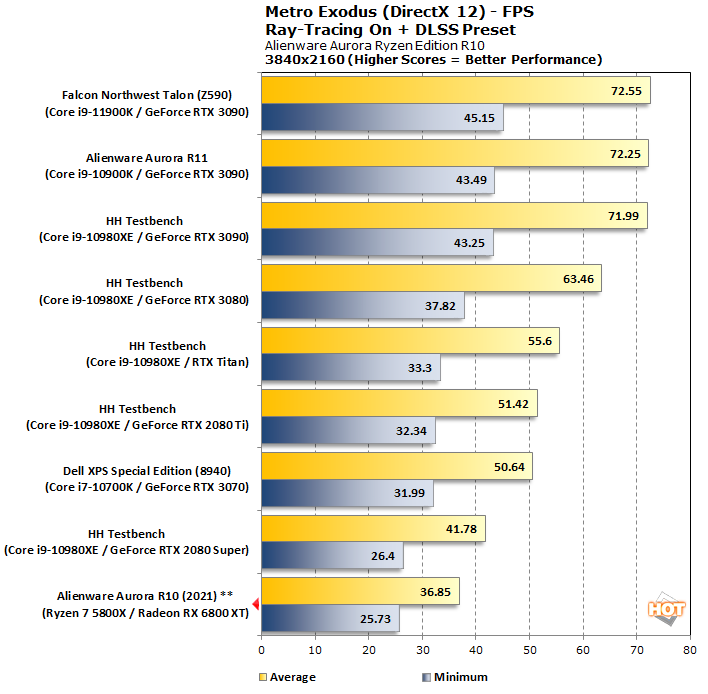 The Aurora R10 drops to the bottom of our contenders here, but there's a significant asterisk or two. The benchmark preset we have been using includes support for NVIDIA's DLSS which largely offsets the performance penalty of enabling ray-tracing. As of the time of this review, AMD has not yet released their equivalent technology,
FidelityFX Super Resolution
. As such, these figures should be assessed within that context. We know better news for AMD is coming, but if ray-tracing is a feature that matters to you today, then Team Green is still your best bet.
Related content
Comments