Alienware m17 R4 Review: The Fastest Gaming Laptop Yet
Alienware m17 R4: Thermals, Acoustics And Our Verdict
You can select several different cooling profiles on the Alienware m17 R4, including Full Speed, Performance, Balanced, Cool, and Quiet. By default, the system comes configured to run the Balanced thermal profile, and we found that one to be the most appropriate. Here's what each one entails, according to Dell's description...
Full Speed: Fans spin at full speed to support CPU operating at turbo frequency for a longer time. The fan noise is noticeable.
Performance: Fans spin aggressively to support CPU operating at turbo frequency for a longer time. The fan noise is noticeable.
Balanced: Fan spins in a moderate manner. Fan sound is less noticeable, but the period for CPU to operate at turbo frequency is shorter.
Cool: The fan spins in a moderate manner. Fan sound is less noticeable, but the GPU and GPU performance will be limit for better skin comfort and battery life.
Quiet: The fan runs in a quieter level than Balanced Mode. Fan sound is less noticeable, but the period for CPU to operate at turbo frequency would be lower and shorter.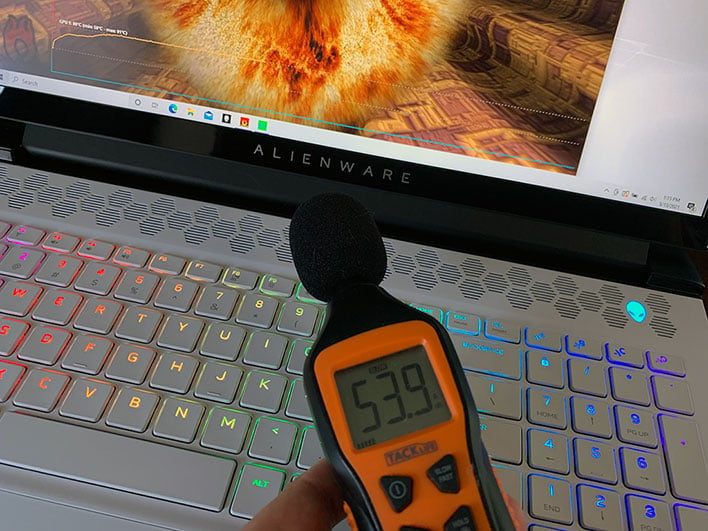 We ran all our tests on the previous pages in Balanced mode, because that's how the system ships, and frankly, the Performance and Full Speed modes can get a bit loud. In addition, most people are likely to stick with the default settings, because it truly does offer a solid balance between performance, thermals and acoustics.
When we fired up Furmark and Prime95 to hammer the GPU and CPU simultaneously for a period of time, the noise level emitted from the system reached around 51 decibels in Balanced mode, sometimes spiking a little higher (as shown above). That's a bit on the loud side, but similar to other high-end gaming notebooks, and it is what you can expect when stressing this type of laptop's core components. We heard similar noise levels during our gaming benchmarks, but it was not always sustained. Then again, you likely wouldn't continually stress the CPU and GPU simultaneously like we did in this test.
At full blast (Full Speed setting), we recorded around 67 decibels. That's unpleasantly loud, though the setting can come in handy if you need to cool the laptop in a hurry. Depending on what you're doing, you may want to cool the machine as quickly as possible. At full load, we found the upper section of the keyboard deck, near the display gets really hot, as does the section of the keyboard to the upper right. That earlier bit about "skin comfort" is on point, as we could only stand to press our fingertips on the hotter sections for a few seconds without it getting uncomfortable.
Therein lies the trade off for such high-end hardware. When fully stressed, the GPU ramped up to 84°C, and the CPU to 100°C. Fortunately, we did not find the bottom of the laptop to be particularly hot like the top, which is good news for anyone who plans on actually plopping this system on their lap. We suspect, however, that most people will situate this machine on a desk or table.

Alienware m17 R4 Review Wrap-Up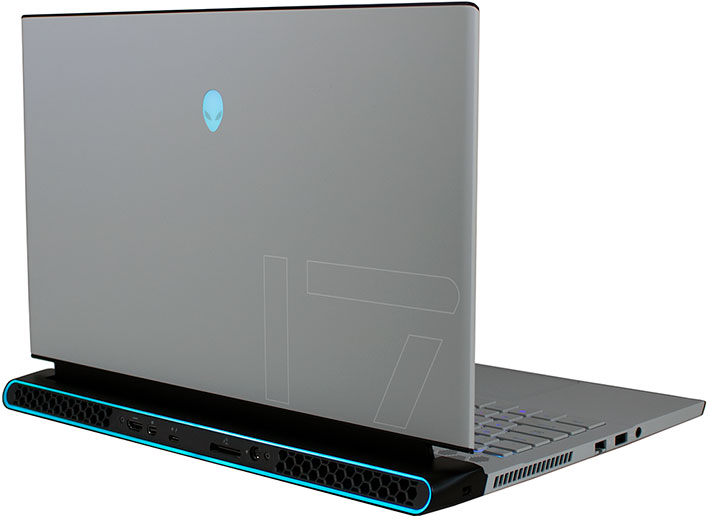 There is no doubt about it, the Alienware m17 R4 is a beast when it comes to gaming (and content creation), which is its primary reason for existence. It led the way throughout our 3D graphics and gaming benchmarks, with the fully unfettered
NVIDIA GeForce RTX 3080 mobile
GPU burning rubber and leaving the competition in the rear view mirror. That is the fastest GPU in NVIDIA's mobile stable currently, and the Alienware m17 R4 proved a worthy vehicle to drive that kind of motor.
The same can be said about the Intel Core i9-10980HK. It is a fast chip, and it wore Intel's flagship mobile CPU crown until just recently, with the
introduction of Tiger Lake-H
. Even though it is now technically a generation old, the 8-core/16-thread part is a powerhouse, as was demonstrated in our benchmarks. The CPU and GPU makes for a worthy combination to drive this laptop's buttery smooth 360Hz display.
Of course, there are caveats to packing this much power into a laptop. The battery life with this configuration is abysmal compared to what you would get with a productivity laptop, and even many other gaming laptops. And along the same lines, this machine can get hot and a bit loud with certain power profiles enabled. That said, we're not as concerned about battery life with a gaming laptop, because the expectation is that it will remain plugged into an outlet anyway to maintain peak performance. You'll have to decide for yourself how much that matters.
We really like the look of Alienware's design language with this model as well. The Lunar Light color scheme is gorgeous, and Alienware did a splendid job giving its laptop a distinct look without being tacky. Purists who prefer a completely conservative design might not dig it, but we do—it offers the right amount of gamer bling without falling into gaudy territory.
The m17 R4's mechanical keyboard is a high point, too. It's still a low profile keyboard, which seems inescapable in the realm of laptops. But the key action of the Cherry MX switches is far superior to most standard laptop keyboards. Dell and Cherry MX did a good job on the design.
As configured, our model runs $3,609.99. That's steep, and it reflects both the Alienware branding and premium components as it arrived to us. We suspect there's probably not a ton of gamers who are willing to fork over that kind of money for a laptop. And they don't have to, as within the Alienware m17 R4 family,
pricing starts at $1,695.39
. The sweet spot of performance and cost is likely somewhere in between, depending on what you need and how much you are willing to spend.
All that said, as configured the Alienware m17 R4 is the fastest gaming laptop we've ever tested, and packs several amenities that make this mobile gaming battle station worth serious consideration.





Attractive design

Killer performance, especially in games

Fast display refresh rate
Mechanical keyboard
Latest connectivity (Multi-Gig LAN, Wi-Fi 6)
Decent audio (for a laptop)


Can run hot and loud at full throttle
Subpar battery life
Pricey (as configured)

Related content
Comments