Alienware m15 R3 Review: A Quieter, Powerful Gaming Laptop
Alienware m15 R3: 3D Graphics And Gaming Performance
UL's well-known 3DMark benchmark suite features tests that target different types of computing devices. We selected the Time Spy, Fire Strike Extreme, and Port Royal tests for a synthetic look at the Alienware m15 R3's potential gaming performance in DirectX 12 and DirectX 11 scenarios. We also have a fair amount of comparison data these tests..
3DMark Benchmarks
3D Performance
3DMark has several different graphics tests which focus on different types of systems. We start with Time Spy, which is 3DMark's headline benchmark. This test presents a pretty significant challenge for the system's CPU and GPU using DirectX 12's APIs...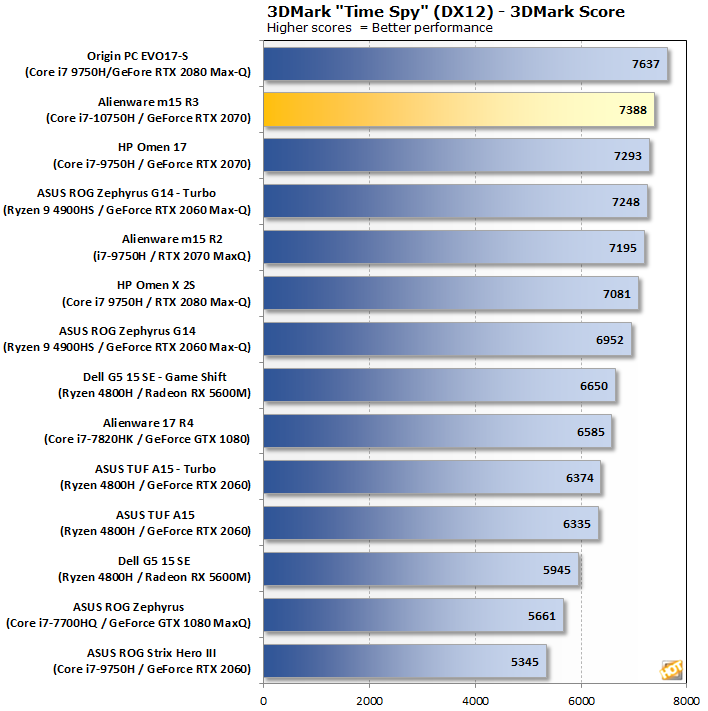 The Alienware m15 R3 storms out of the gate in our graphics testing with the second best score in Time Spy, indicating strong DirectX 12 performance. It is only beaten by the
Origin PC EVO17-S
with its GeForce RTX 2080 Max-Q GPU. Against the
HP Omen 17
with the same GeForce RTX 2070 as found in our test system, Alienware comes out ahead by almost 100 points. And it scored about 200 points higher than last year's m15 R2, underscoring the switch from a Max-Q variant of the GeForce RTX 2070 to the full powered model.
Next up is Fire Strike, which is a showcase of DirectX 11 effects that can, under the right conditions, bring a lot of gaming PCs to their knees. We ran the test on its Extreme setting, which upscales the rendering resolution before outputting to the screen.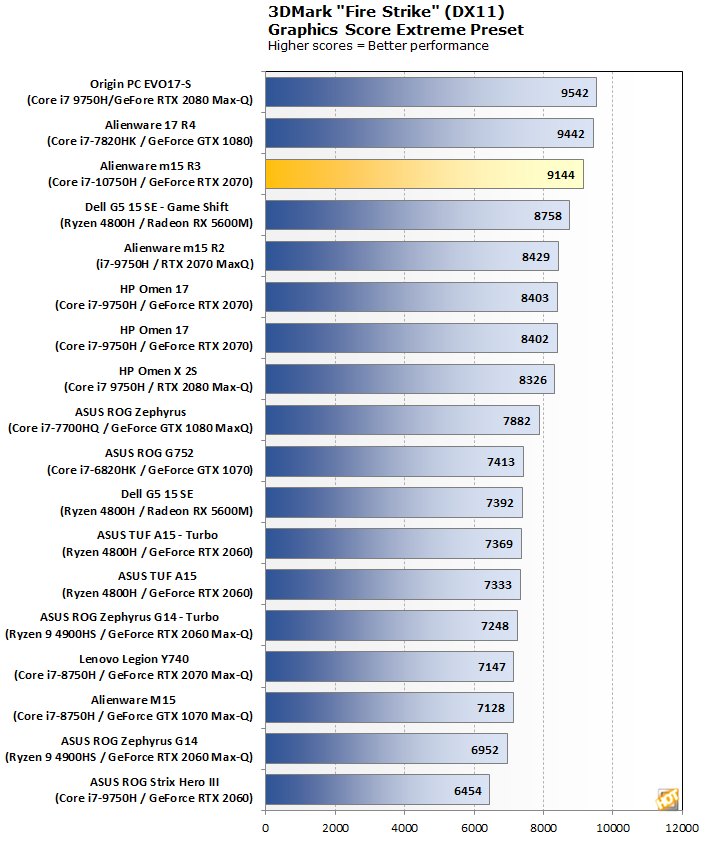 In the Fire Strike test at the Extreme preset, the Alienware m15 R3 put even more distance between itself and last year's model, scoring 9,144 compared to 8,429. That is an impressive leap. It also increased the gap separating it from HP's similarly configured Omen 17. That laptop is sporting a previous generation GPU, but a 740-741 point difference speaks to more than that, perhaps indicative of a better cooling setup. This is another solid showing for Alienware in the 3D graphics department.
Last up is Port Royale, which is a DirectX Ray tracing (
DXR
) benchmark. Because this test requires hardware ray tracing acceleration, the Radeons are out, and this list is NVIDIA-only, until AMD comes up with an answer for RTX, that is.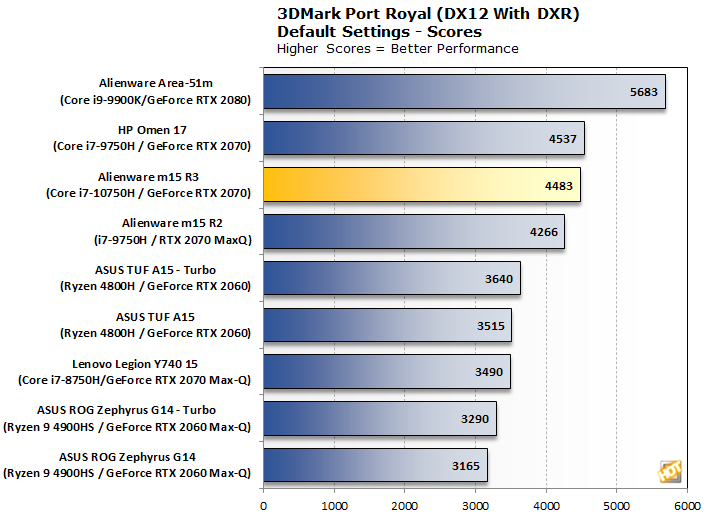 Things tightened up a bit in Port Royal, where the HP Omen 17 leapfrogged in front of the Alienware m15 R3 by 54 points. Our sample size is smaller with this one, but we again see this year's model zoom past last year's build with the Max-Q GPU inside. In short, these 3DMark results collectively demonstrate the advantage of using a full power GPU in place of a Max-Q model, when possible. That is not meant to disparage
NVIDIA's Max-Q technology
—it enables high-end gaming on smaller, tighter builds, but in laptops where cooling is not quite as challenging, there is more performance to be had from the full power SKU, as we've seen here.
Far Cry 5
Gaming Performance
Far Cry 5 takes the franchise to Montana with lush environments and incredible graphics fidelity. We ran this laptop through the built-in benchmarks with Ultra Quality settings.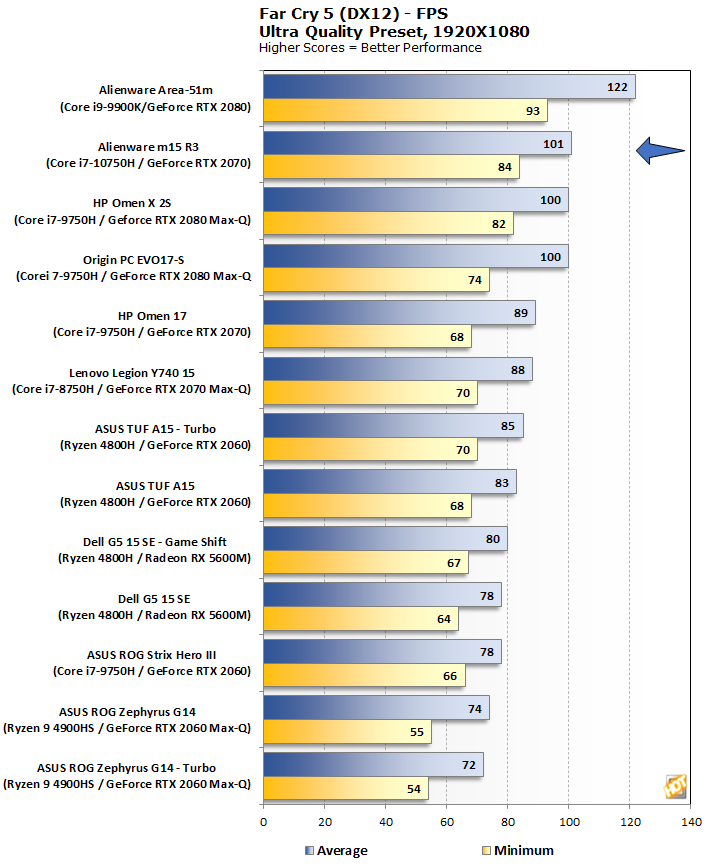 Switching gears from synthetic 3D testing to actual game benchmarks, the Alienware m15 R3 does not skip a beat, taking a second place finish in Far Cry 5. It only loses out to the higher powered Alienware Area-51m, which boasts a GeForce RTX 2080.
Interestingly, the Alienware m15 R3 was able to hang with laptops built around a GeForce RTX 2080 Max-Q GPU, like the HP Omen X 2S, and even came out 1 frame per second faster just for good measure. Such a small gap falls into the margin of error category, but hey, it is still a bragging right. And bigger gaps in performance can be seen between this laptop and other gaming models with the same or a lesser GPU inside, as you would expect.

Gears 5
Gaming Performance
Gears 5
was one of the fall blockbusters we had a chance to dig deeply into, and on top of looking great, it's a blast to play. Due to the relative newness of the game, we don't have a ton of notebooks represented, so we intermingled some desktop GPU results for reference. We used the High preset at 1920x1080, same as before, to test this game.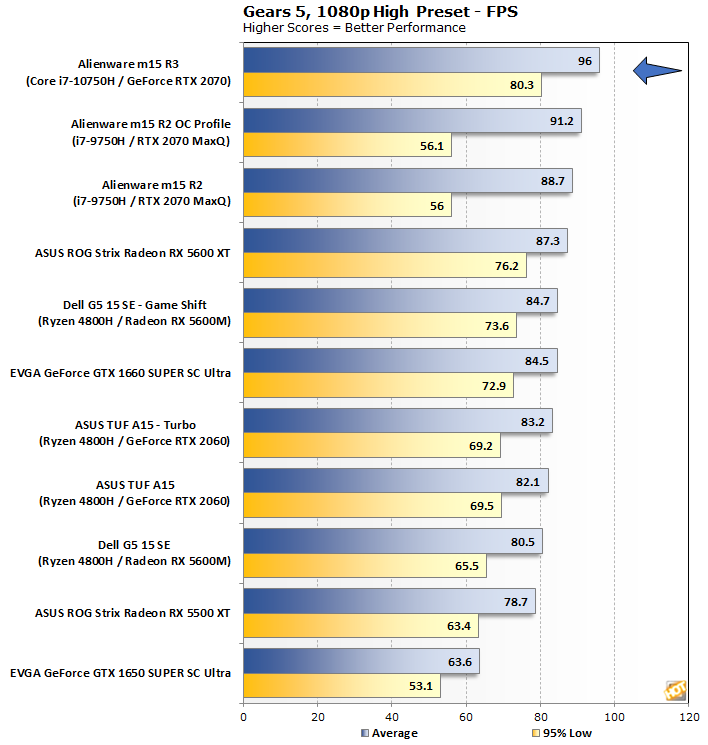 Not content with a second place finish, Alienware nabs a first place standing in Gears 5, though that's because (A) we have a smaller sample size, and (B) it sports the fastest GPU out of the models we have run this benchmark on. Still, these are strong results—it averaged 96 FPS. That is not a gigantic gain from last year's model, though a much bigger gap can be seen in the low framerate results.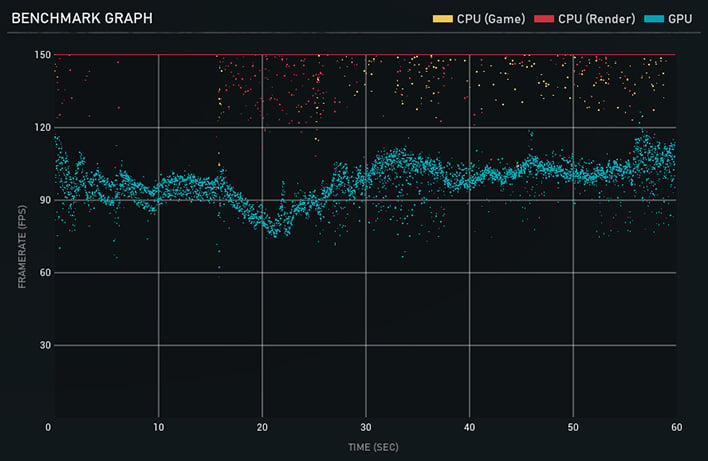 As we like to do with this benchmark, here is a look at the frame time plot. The red dots indicate framerates as if the
CPU
was the bottleneck (and that is not the case here), while the blue dots are for the graphics card. We see a fairly steady 90 FPS for the most part. Just as important, there are no noticeable dips below 60 FPS, meaning the action is consistently smooth in Gears 5 on this laptop.
Middle Earth: Shadow of War
Gaming Performance
Middle Earth: Shadow of War
is a fun and and beautiful title set in Tolkien's Lord of the Rings universe. To test the game's performance relative to other systems, we set the resolution to 1920x1080 and turned the visuals up to the High preset. The frame rates here are the average reported by the built-in benchmark.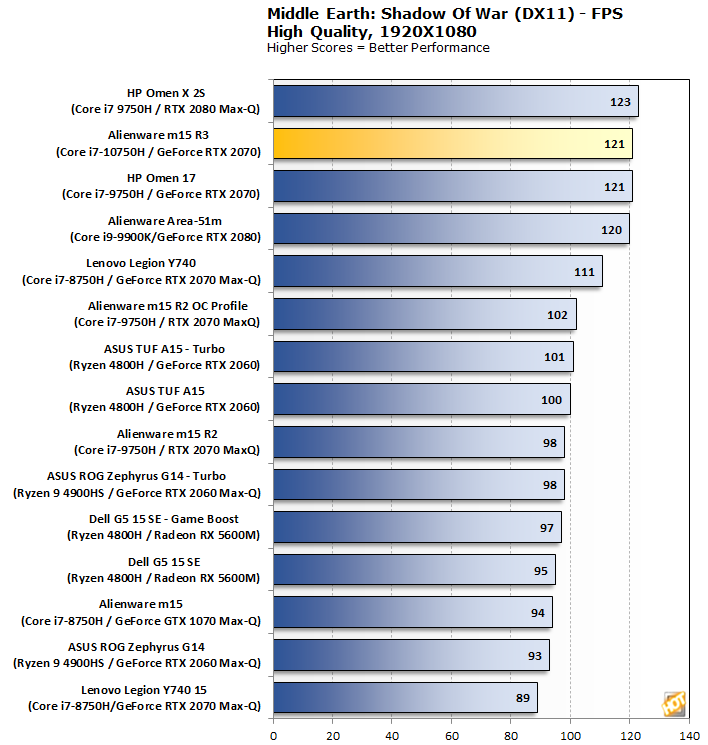 In case the picture needs further painting, the Alienware m15 R3 is a fast gaming laptop, this time evidenced by throwing Middle Earth: Shadow of War benchmark results onto the pile. It is a dead heat between this laptop and HP's Omen 17 with the same GPU, both of which are nipping at the heels of the HP Omen X 2S with its GeForce RTX 2080 Max-Q GPU. Compared to last year's model, the Alienware m15 R3 is about 19 percent faster in this benchmark. Good stuff for sure.
Shadow of the Tomb Raider
Gaming Performance
The finale in the rebooted
Tomb Raider
trilogy, Shadow of the Tomb Raider is easily the best-looking of the bunch. It's also brimming with Tobii eye-tracking hardware support, and leading edge graphics technologies. To test this game out, we again turned the visuals up to High and tested at the Full-HD resolution of 1920x1080.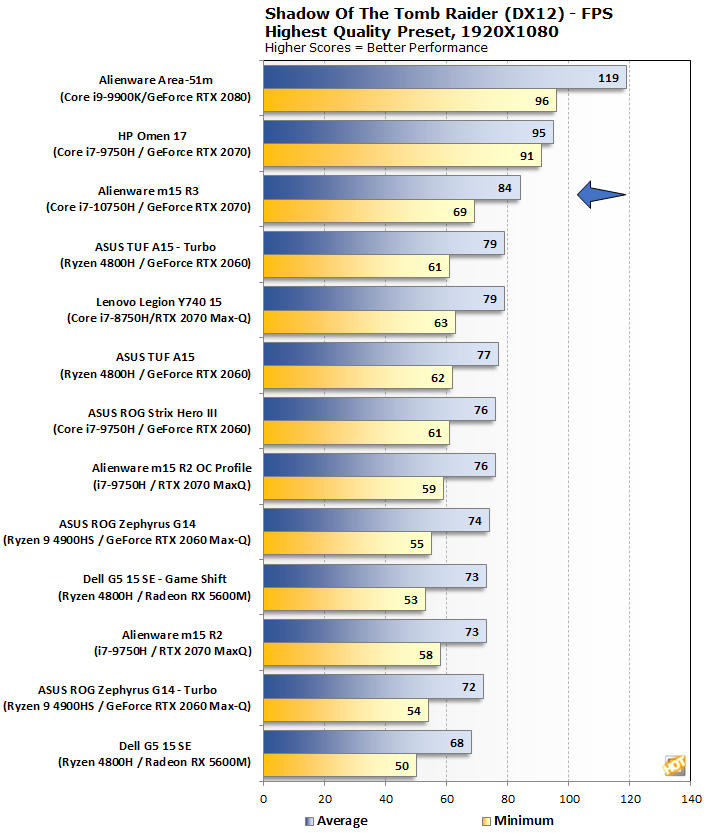 There is a tiny bit of a stumble at the finish line of our actual game benchmarking, with the Alienware m15 R3 giving up some ground to the HP Omen 17. Otherwise, it is another strong showing overall, with an average of 84 FPS and a low of 69 FPS. Though updates to the game and drivers likely account for the delta, so we're not concerned in the least.
Related content
Comments