ADATA XPG GAMMIX S70 And S50 Lite Review: PCIe 4 Speed Or Value
ADATA XPG Gammix S70 And S50 Lite: More Benchmarks And Our Verdict
EFD Software's HD Tune is described on the company's website as such:
"HD Tune is a hard disk utility with many functions. It can be used to measure the drive's performance, scan for errors, check the health status (S.M.A.R.T.), securely erase all data and much more."
The latest version of the benchmark added temperature statistics and improved support for SSDs, among a few other updates and fixes.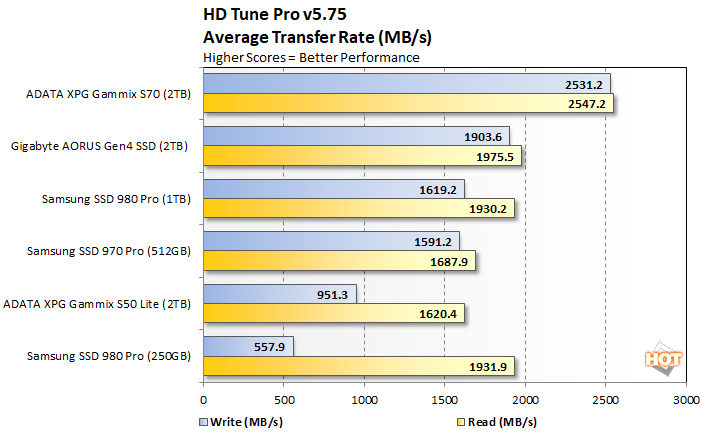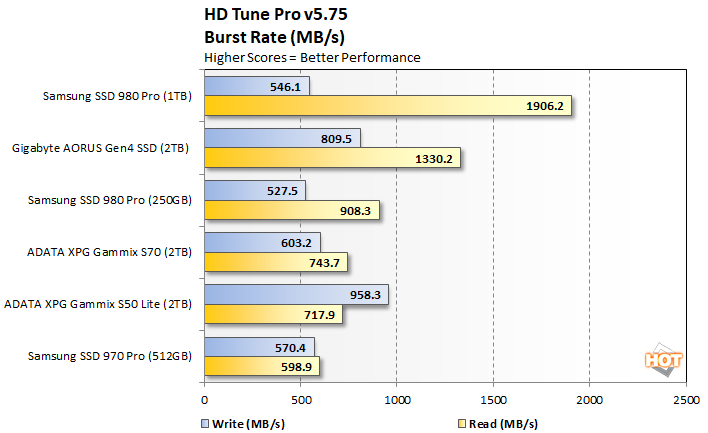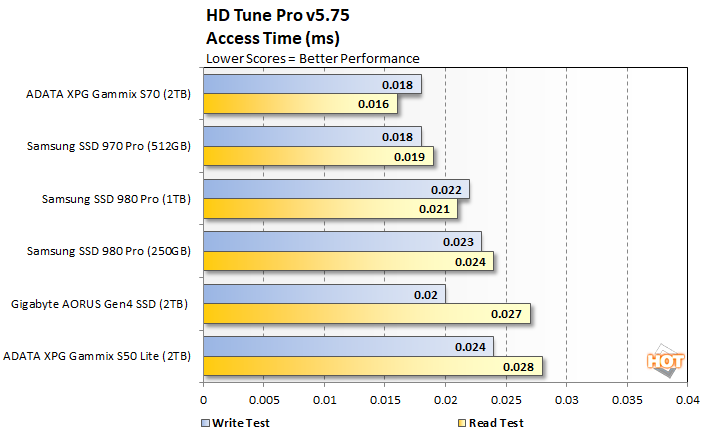 HDTune had the ADATA XPG GAMMIX S70 leading the pack in terms of access times and average transfer rate, though burst rates landed in the lower third. The S50 Lite didn't completely fall down, but it consistently trailed here -- for a reason...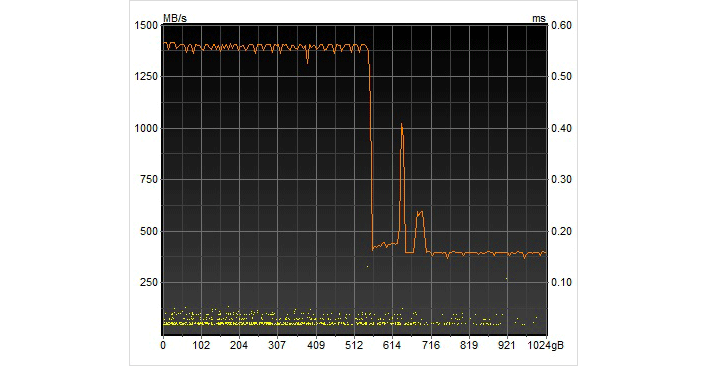 The ADATA XPG GAMMIX S50 Lite uses a portion of its TLC NAND as an SLC cache, to accelerate writes. When that cache is exhausted, however, performance drops off sharply and falls within the same range as many SATA-based drives. The dip in performance didn't happen until 512GB had been written to the 1TB drive though, so for most real-world use cases, this should be a non-issue.
CrystalDiskMark x64 Benchmarks

Synthetic File Transfer Tests
CrystalDiskMark is a synthetic benchmark that tests both sequential and random small and mid-sized file transfers using incompressible data. It provides a quick look at best and worst case scenarios with regard to
SSD
performance, best case being larger sequential transfers and worse case being small, random transfers.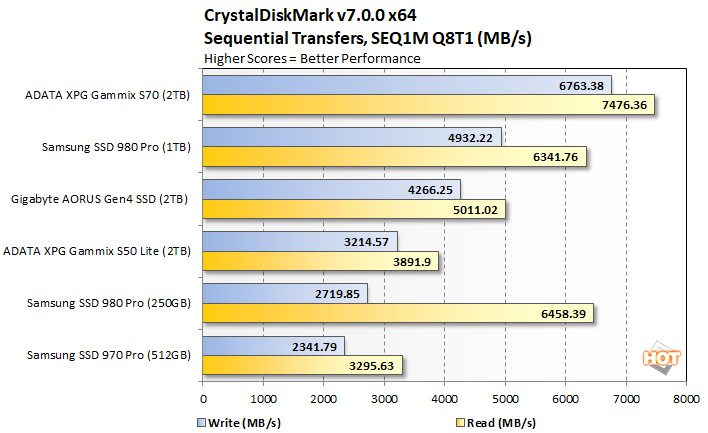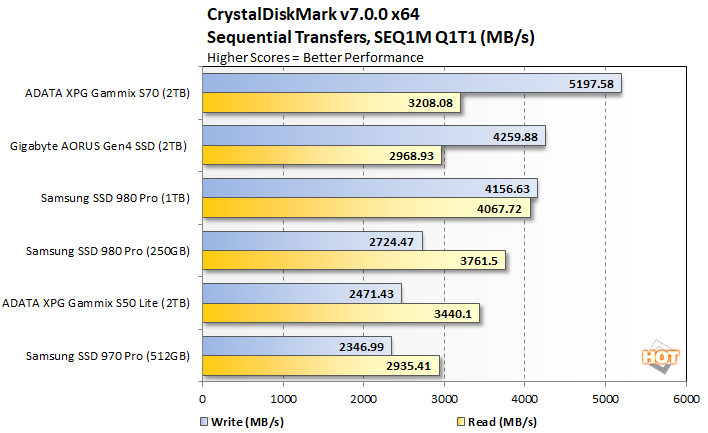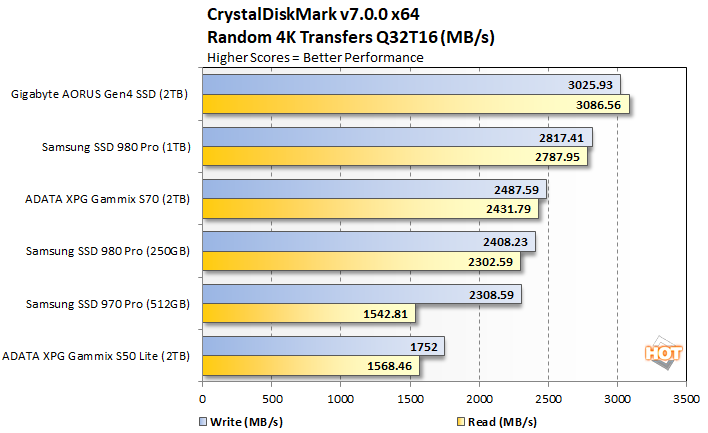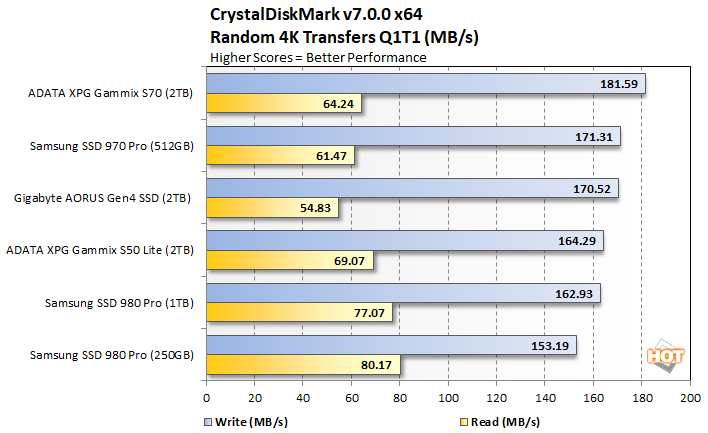 The ADATA XPG GAMMIX S70 continued to kick some butt across most of the CrystalDiskMark tests, taking the top spot in three out of four of them. The XPG GAMMIX S50 Lite performed relatively well in the important 4KQD1 test, and typically landed just ahead of the Samsung SSD 970 Pro, as we've seen in most of the previous tests.
We like PCMark 10's new quick storage benchmark module for its real-world application measurement approach to testing.
PCMark
offers a trace-based measurement of system response times and bandwidth under various scripted workloads of traditional client / desktop system use cases.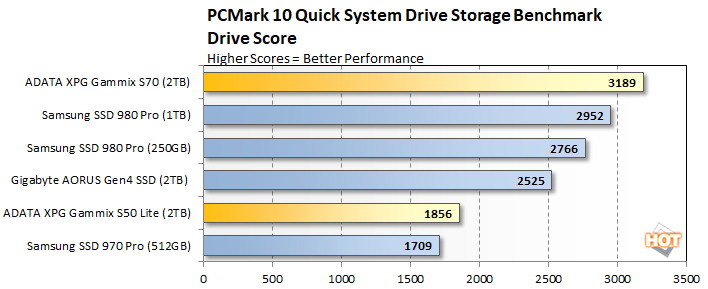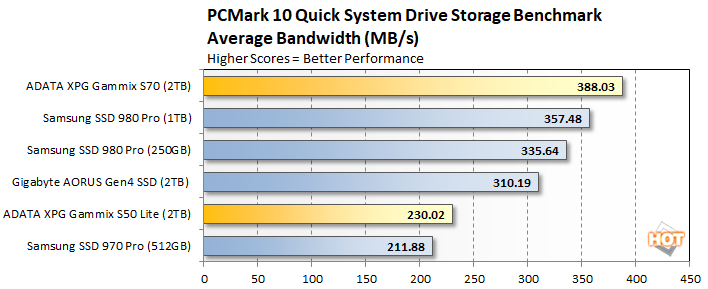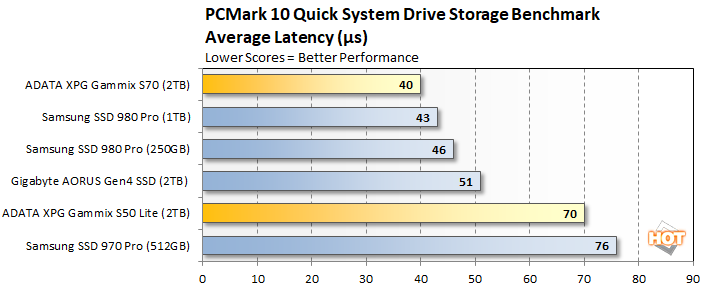 The ADATA XPG GAMMIXS70 took the lead in PCMark's trace-bases storage benchmark as well, besting all of the other drives we tested in terms of its overall score, bandwidth, and latency. The more affordable XPG GAMMIX S50 Lite, however, remained consistent and finished right in between the Samsung SSD 970 Pro and Aorus drive.
ADATA XPG Gammix S70 And S50 Lite Summary And Verdict
We've got quite a bit of data to digest here; so let's start with the ADATA XPG GAMMIX S50 Lite. This particular drive targets a different market segment than its higher-performing big brother. The 1TB ADATA XPG GAMMIX S50 Lite featured here can be had for about $135, or approximately $0.13 per gigabyte, which makes it one of the most affordable PCIe Gen 4 NVMe SSDs out there. At its current pricing, the S50 Lite costs about half as much as the Samsung SSD 970 Pro -- which it outperformed -- and just a few bucks below the SSD 970 EVO.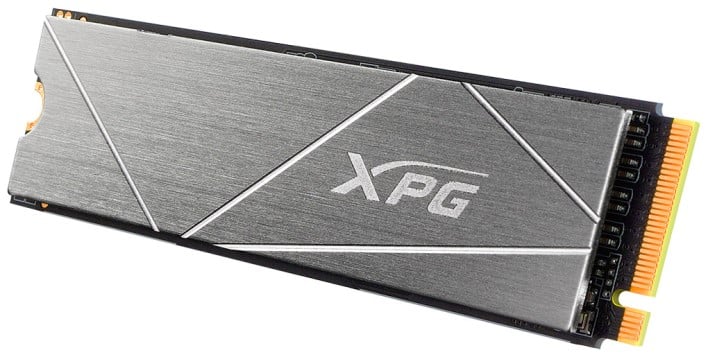 Find The ADATA XPG GAMMIX S50 Lite @ Amazon
Considering the
XPG GAMMIX S50 Lite's overall performance, affordable pricing and 5-year warranty, it is a solid value for anyone in the market for a mainstream NVMe SSD for their next build. The ADATA XPG GAMMIX S70 is a different proposition altogether. The ADATA XPG GAMMIX S70 is arguably the fastest consumer NVMe SSD we've tested yet. This drive consistently led the pack in the sequential transfer tests, it had some of the best latency characteristics, and it took the top spot in the trace-based PCMark tests as well.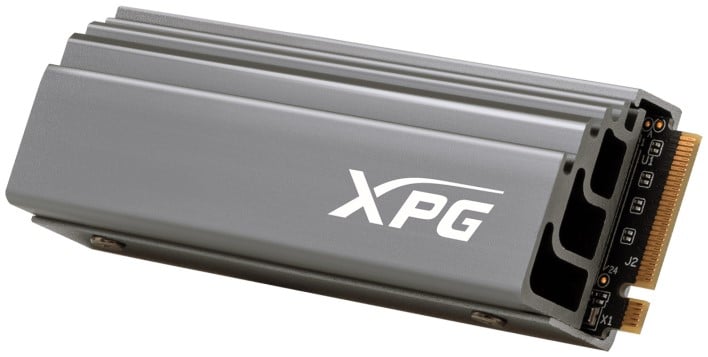 The ADATA XPG GAMMIX S70 -- Find Them @ Amazon
Random 4K transfers were also strong on the XPG GAMMIX S70. As such, the drive does command a premium. The 2TB XPG GAMMIX S70 we tested here is currently selling for about $509, or $0.25 per gigabyte, which makes it significantly pricier than the Samsung SSD 980 Pro or Phison-based Gigabyte Aorus Gen4 SSD, at the same capacity. Taking its performance into account, we understand why the drive is more expensive than most -- enthusiasts that want the best of the best, always have to pony up. About the only thing that gives us pause is the new InnoGrit controller used on the drive. InnoGrit is a young company (founded in 2016) that doesn't have much of a track record. The drive has a 5-year warranty though, and performance is clearly strong. Simply put, the ADATA XPG GAMMIX S70 is among the fastest SSDs around currently and we recommend it.

ADATA XPG GAMMIX S50 Lite
Good Performance

Affordable Price
5-Year Warranty

Doesn't Hang With Other PCIe 4 NVMe SSDs
ADATA XPG GAMMIX S70 Lite
Killer Performance
5-Year Warranty
Includes Heatsink

Runs Hot
May Not Fit In Your Mobo
Price Premium
Related content
Comments