AMD Threadripper Pro 7985WX Monster 64-Core CPU Breaks Cover In Benchmarks
AMD's Zen 4 processors are powerful; the Ryzen 9 7950X set new records in all of our productivity benchmarks when it came out. It "only" has 16 CPU cores, two memory channels, and 24 available PCIe lanes, though. What if you
need some real horsepower
to crunch through demanding workstation tasks?
Well, there's no replacement for displacement. After all, that's
what Threadripper is for
. You can't buy a Zen 4-based Threadripper yet, but they're
supposedly on track
to arrive in September, and as you'd expect from a CPU launching so soon, we've got some fresh leaks for you.
The leaks in question appeared on the Puget Systems PugetBench result database, and while there are a few interesting
details in the system specifications
, the actual benchmark results themselves aren't informative. That's because the results are for the
Agisoft Metashape benchmark
that is primarily GPU-accelerated. As a result, they don't really tell us anything about the performance of the upcoming 64-core CPU.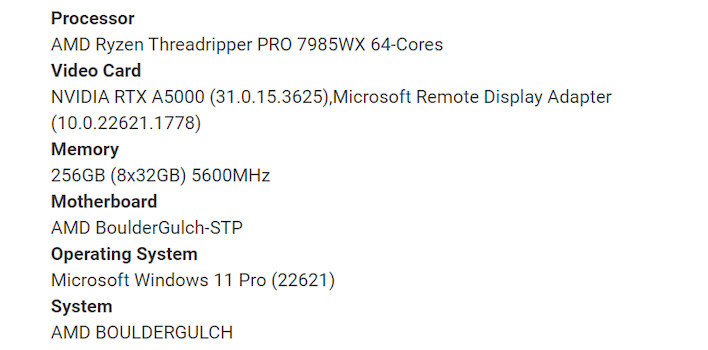 More notable is that the "AMD Ryzen Threadripper PRO 7985WX" has 64 cores and is hooked up to eight 32-gigabyte DDR5-5600 MT/s DIMMs for a total of 256GB of memory across at least four
but probably eight memory channels
. The original Threadripper systems were cut down from EPYC processors and had just four memory channels and less PCI Express connectivity, but ever since AMD killed the non-PRO Threadrippers, those specifications have matched EPYC CPUs of the same generation.
The key difference between a Ryzen Threadripper PRO CPU and an AMD EPYC server CPU is that Threadrippers are designed primarily for single-socket client system operation. That means that their platform, known as WRX80, includes a chipset that expands system I/O (where EPYC typically doesn't use a chipset.) The specific platform on which
these Threadripper PRO chips were tested
is apparently known as Boulder Gulch. That's the first we've ever heard that name, so we don't have any information on it whatsoever.
If you're keen to collect a 24-, 32-, 48-, or 64-core Zen 4 system, you'd better start buttering up your contacts at pro system vendors (like, indeed, Puget Systems.) The Zen 3-based Ryzen Threadripper Pro 5000 series originally launched in March of 2022, and didn't
become available in DIY
until late in August. We expect a similar trajectory for these chips, with a launch in September and possible DIY availability sometime in the middle of next year.