AMD Ryzen Threadripper 7000 Storm Peak Monster CPU Breaks Cover In CPU-Z
The latest update to CPU-Z, a free and popular system profiling and monitoring utility, adds support for several different CPU and GPU platforms, such as the recently introduced
GeForce RTX 4060 Ti
and AMD's mobile processors codenamed Dragon Range. What really stands out, however, is preliminary support for a new round of Ryzen Threadripper chips.
We're still waiting for AMD to port its Zen 4 architecture over to its Ryzen Threadripper range. AMD hasn't been super forthcoming about the future of Threadripper, though it has gone on record saying Threadripper remains on its roadmap, and specifically a Ryzen Theadripper 7000 series based on Zen 4.
More recently (as in two months ago), ASUS put it out there that AMD would launch its Ryzen Threadripper 7000 series and accompanying TR5 platform in the
second half of this year
. That could be anytime from July to December.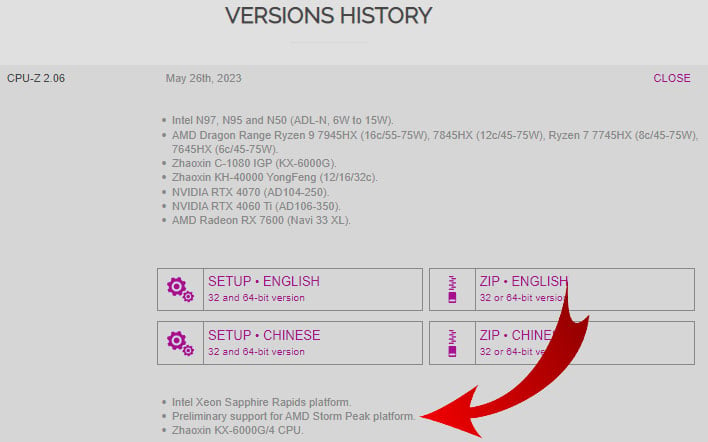 As a possible sign that a release looms around the corner,
CPU-Z version 2.06
calls out "preliminary support for AMD Storm Peak platform" (as shown above), which is the codename for Threadripper chips based on Zen 4.
There's no mention of specs or other details, though this is the first time CPU-Z has referenced Storm Peak at all. The developer probably doesn't have a list of SKUs yet, though they may have gotten their hands on an engineering sample and/or received some early information from AMD.
Previous leaks and rumors suggest AMD will
go back to releasing
both high-end desktop (HEDT) and workstation variants, rather than just the latter (with the Pro moniker) as it did for the current round.
While nothing is confirmed, it's said that the full-fat version of the Threadripper 7000 series will feature 8-channel DDR5 memory support, 128 PCie Gen 5 lanes, 8 PCIe Gen 3 lanes, and no overclocking support. Meanwhile, the HEDT models will feature 4-channel DDR5 memory support, 64 PCIe Gen 5 lanes, 8 PCIe Gen 3 lanes, and allow for overclocking.
The potential return of non-Pro HEDT chips could help with pricing, especially with increased competition from the mainstream lineup, which already scales to 16 cores and 32 threads, as well as versions of Zen 4 with stacked 3D V-cache.
For reference, the current Threadripper stack scales to 64 cores and 128 threads. It's possible that the Zen 4 lineup will up the ante with 96 cores and 192 threads (which could be confined to the Pro lineup), but we won't know for sure until they're official. That said, we fully expect Storm Peak to be offered in at least
up to 64 cores
, as has been leaked in the past.