MSI Is Already Discontinuing These Z790 Motherboards For Intel's Raptor Lake CPUs
A new report confirms that MSI will be discontinuing the production of several DDR4-based Z790 and B760 motherboards in the future. Affected SKUs include the MPG Z790 Edge WiFi DDR4, Pro Z790-A WiFi DDR4, Pro Z790-P DDR4, and the DDR4 series of B760 Mortar motherboards. The reasoning for the discontinuations is unknown, but there is a rumor suggesting these discontinuations are based on a plan to prioritize
DDR5
motherboard production.
Instead of a date set for discontinuation, each MSI SKU will be discontinued once stock runs out. Applying that, MSI has already ceased production of these DDR4 motherboards and is waiting on supply to run out before going public with the discontinuation.

MSI is not discontinuing all DDR4 motherboards, only a select number of Z790 and B760 boards. We don't know why MSI is starting with 700 series DDR4 motherboards first, but this could be the start of a wider roll-out to cancel many more 700 and 600 series SKUs.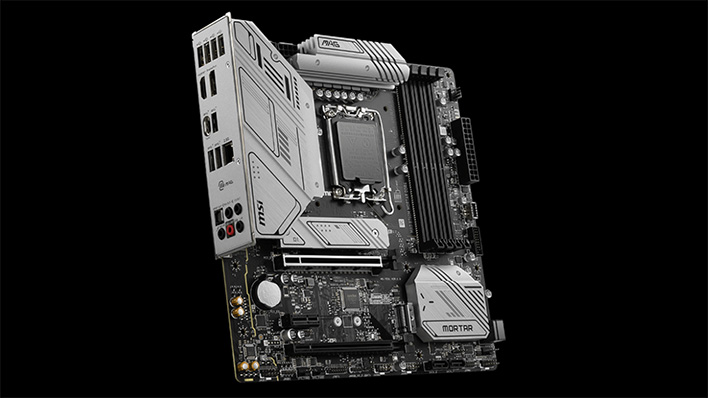 This move isn't surprising at all in light of the growing DDR5 market. Previous 2022 estimations predicted that DDR5 price decreases would cause adoption rates to take off in 2023, and this is exactly what we are seeing right now. DDR5 pricing has never been this cheap before with most 32GB dual channel kits now selling in the same sub-$150 price bracket most 32GB DDR4 kits were at not too long ago. For instance, a kit of
G.Skill 6000MHz CL30 DDR5
memory now costs just $128 on Newegg.com (at the time of this writing) and features the same 10ns true latency as DDR4 3600MHz CL18 or DDR4 3200MHz CL16.
Platform adoption has also helped grow DDR5 immensely. Intel and AMD's latest consumer-based platforms all support DDR5 memory, with AMD's AM5 platform being DDR5 exclusive. The mobile and the server markets have all successfully moved to DDR5 as well in the form of SO-DIMM memory for mobile platforms, and RDIMM DDR5 modules for the server space. The only platform falling behind the DDR5 trend is the workstation segment, where AMD's Zen 3 based Ryzen Threadripper Pro 5000WX dominates and only supports DDR4 memory. Even the workstation market will see the transition to DDR5 memory very soon once Intel's
W3400 and W2400
workstation CPUs go mainstream, and AMD launches its Ryzen Threadripper 7000 CPUs code-named
Storm Peak
later this year or next year.