Intel Unveils Wall Street Canyon NUC 12 Pro Powered By Alder Lake
The NUC faithful have been waiting patiently for Alder Lake based mini-PCs. Sure, there was the NUC 12 Extreme, but
Dragon Canyon
(and even
Serpent Canyon
) is overkill for most of the things people actually want to do with a NUC. Well, wait no longer, because the 12th-gen NUCs are arriving. Codenamed "Wall Street Canyon," the NUC 12 Pro mini-PCs sport Alder Lake-P CPUs with 10 or 12 CPU cores.
The specific CPU models in question are the Core i3-1220P, Core i5-1240P, and Core i7-1260P. While they are all indeed ten- or twelve-core CPUs, there are some pretty big differences between these parts. All three have eight Gracemont E-cores, but the Core i3 model only has a pair of P-cores, while the two bigger processors have four Golden Cove P-Cores. The i5 and i7 are primarily differentiated by L3 cache, getting 12 and 18 MB respectively.

Chart from Intel's product specifications [PDF] for the NUC 12 Pro.
The NUCs come in four versions: your choice of slim or "tall" chassis, either in standard or "lite" versions. The slim models skip out on support for a 2.5" drive bay, while the "lite" models drop the pair of Thunderbolt 4 ports on the back. Those are one of the best parts of the new NUCs, so that's kind of a bummer.
Aside from the Thunderbolt ports, the back of the NUC 12 Pro comes with a pair of HDMI 2.0b ports, an RJ-45 2.5 Gigabit Ethernet jack, and a pair of USB-A ports, one of which is 2.0 while the other is USB 3.2 Gen 2 (10 Gbps). The front panel has another pair of USB 3.2 Gen 2 Type-A ports and a 3.5mm combo audio jack.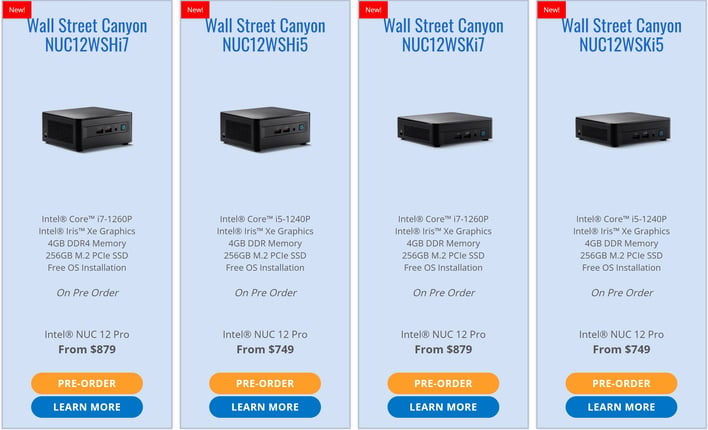 SimplyNUC has eight models of the Wall Street Canyon NUCs up for pre-order. You can have your choice of the Core i5 ($749) or Core i7 ($849) version, in slim or tall, with or without Thunderbolt—although the "Lite" models without Thunderbolt mysteriously aren't any cheaper, so we can't imagine why you'd want them. These models include memory and storage, although in all cases it's just a paltry 4GB of RAM and a 256GB M.2 SSD.
For Intel's part, it has a
gigantic list
of NUC 12 Pro models it will be releasing. Aside from the complete mini-PCs that SimplyNUC is offering, it'll also be selling bare-bones models without memory and storage as well as board-only SKUs for folks who prefer to fabricate their own chassis. No word on when those models will hit stores, but we'd expect them before too much longer.